5 Ecuadorian vacations centered on environmental sustainability
By Alfonso Tandazo on Aug 19, 2022 in Accommodation, Cruises & Boat Travel, Ecuador, Hotels, Regions, Resorts, South America, Speciality Travel
Despite being the smallest contender to make the list of the top ten most biodiverse countries, Ecuador nonetheless packs a big punch and exceeds all expectations in nature-based sustainable travel.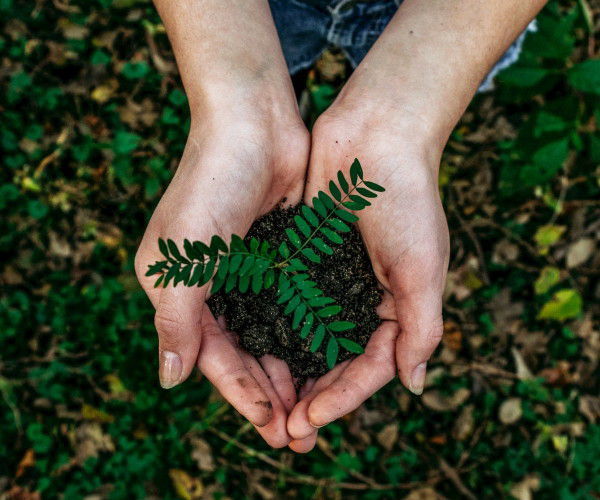 Though having taken a hit from the recent pandemic, premier Ecuadorian tour operators continue to lead the way regarding "sustainable ecotourism" – meaning travel that's careful to conserve the natural environment you explore and improve the well-being of local peoples and places you visit.
Ecuador combines its must-visit tropical rainforests, the Galapagos Islands, prehistoric volcanoes, and culturally rich indigenous communities with respectful and responsible conservation. To experience such journeys, here's a list of some of our favorite sustainable ecotourism destinations here in Ecuador.
1. Napo Wildlife Center: Discovering the Amazon
Amazon rainforest vacations allow you to paddle canoe on hidden creeks and lakes to discover monkeys, sloths, and pink river dolphins. Trips deeps into the jungle also offer authentic cultural contacts with indigenous rainforest communities.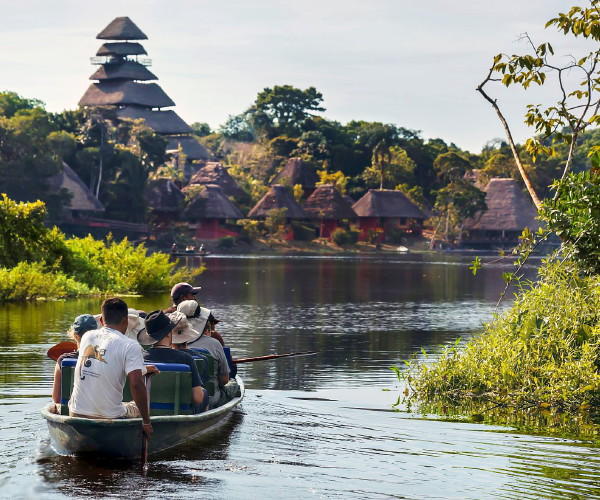 The best tropical adventure tours in Ecuador can be experienced in Ecuador's Yasuni National Park, a beautiful and incredibly biodiverse corner of the Amazon Rainforest. Home to indigenous tribes and a wealth of wildlife, this UNESCO-declared Biosphere Reserve covers nearly 2.5 million acres of lush tropical rainforest.
The only lodge within the park is the Napo Wildlife Center, which can provide you with a mind-altering introduction to the Amazonian rainforest – an experience as unique as this luxury lodge itself.
While offering a mind-boggling array of jungle wildlife species in their native surroundings, the lodge itself offers five-star accommodations exuding luxury in every respect. The renowned first-class service suitably complements Napo's exquisite location.
Though upscale, the lodge maintains its grassroots eco-tourism focus. In fact, the Napo Wildlife Center is a prime example of a sustainable project operated in conjunction with the local indigenous Kichwa Anangu Community, whose members direct the operation and benefit from all proceeds.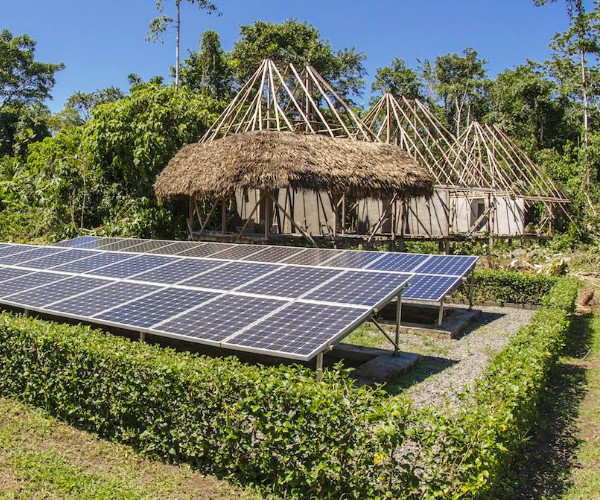 Being locally based, investments are continuously made in environmentally conscious local infrastructure. For example, energy is generated by solar panels, industrial batteries, and silent generators, which is an efficient system with minimal environmental impact. Even the wastewater is appropriately processed to maintain a healthy biome and keep the rainforest clean. Indeed, every aspect of life has been considered with both its guests and Mother Nature in mind.
2. M/C EcoGalaxy II Catamaran: A sustainable Galapagos cruise experience
Situated almost 600 miles from mainland Ecuador, the Galapagos Islands are one of the remotest places in the world. The archipelago of 127 islands, islets and rocks was the world's first UNESCO Heritage Site, is home to an amazing 9,000 species of flora and fauna and is easily one of the strangest and most intriguing places on Earth.
For an opportunity to enjoy the best of the Galapagos Islands, a live-aboard cruise-based tour of the archipelago offers fun-filled days, great educational experiences, and leisurely excursions with lots of adventure. Plus, all of this can be presented to you with unmatched high-quality service, delicious food, knowledgeable and helpful guides, and a professional crew.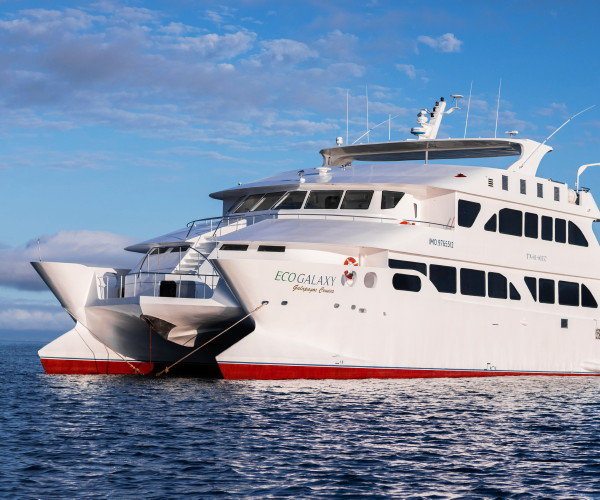 Such a cruise is provided by the M/C EcoGalaxy II, a catamaran that combines innovation, luxury, and high engineering that delivers first-class onboard experiences and daily land excursions, while protecting the world's best-preserved ecosystem, the Galapagos Islands.
The M/C EcoGalaxy II is a modern, motorized, first-class catamaran yacht that can accommodate 16 passengers in eight attractive and comfortable double cabins while boasting good food, well-furnished social areas, and an excellent crew for its clients during any of its Galapagos Islands tours. In addition, the M/C EcoGalaxy II Yacht offers a spacious sun deck with a great area for enjoying Galapagos landscapes, an ample dining room, a bar, and a lounge.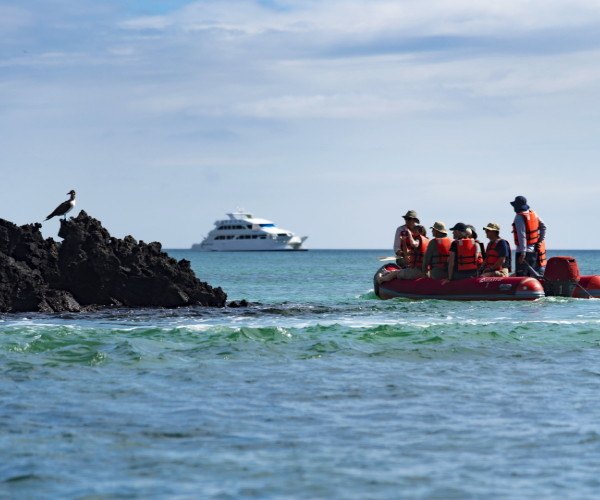 One of the main characteristics of this catamaran is that it was built based on ecological parameters aiming to reduce any negative environmental impact of tourism. These features include:
• The lowest fuel consumption of all the first-class 16-passenger vessels sailing the Galapagos
• The treatment and re-use of water for washing the ship
• Energy-saving LED lamps and light bulbs
• Tin-free paint and the minimal use of wood in the construction of the ship
• Food prepared with locally grown products, supporting the islands' local population
• Water-saving faucets
• Biodegradable cleaning and bath products
• Non-toxic refrigerants
The M/C EcoGalaxy II motor yacht is one of the favorite yachts for people who are looking for a first-class Galapagos cruise under unique parameters linked to conservationism that generate less of a footprint on the ecosystem of the Galapagos National Park. All this makes a Galapagos Island cruise on board the M/C EcoGalaxy II motor yacht a once-in-a-lifetime experience.
3. Pikaia Lodge: A Galapagos land-based getaway
As we mentioned, the Galapagos Islands are one of the most ecologically diverse hotspots on the planet. For experiencing this, a new land-based tourism model — consisting of hotel stays and day tours, rather than the traditional cruise ship model — has been developed at Pikaia Lodge.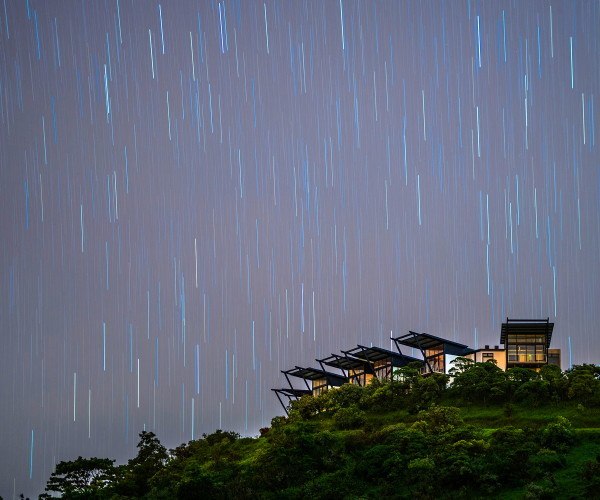 Pikaia is located in the Galapagos archipelago on Santa Cruz Island, a 2-½ hour flight from the Ecuadorian mainland. The luxury lodge itself is surrounded by 31 hectares of property and is situated at a mosquito-free elevation in a transition zone between volcanic highlands and lush tropical forests.
---
IMPORTANT NOTICE:
If you are reading this article anywhere other than on A Luxury Travel Blog, then the chances are that this content has been stolen without permission.
Please make a note of the web address above and contact A Luxury Travel Blog to advise them of this issue.
Thank you for your help in combatting content theft.
---
Having enlisted world-class design experts, this upscale lodge has been planned and equipped according to the highest environmental specifications. The result is a lodge that meets the challenge of offering guests five–star luxury and optimum comfort while achieving operational carbon neutral status.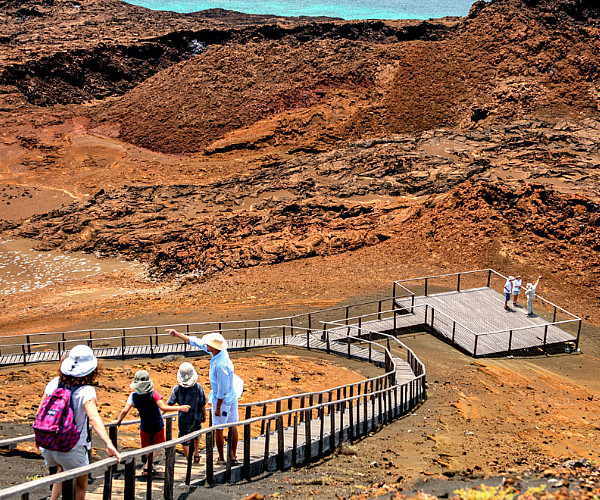 The lodge was designed to use the sun efficiently, for natural interior illumination, an optimal placing of solar water heating collector panels, and solar photovoltaic energy production. Passive cooling with cross-air ventilation is provided in all rooms and buildings, optimizing convection and natural air flows with a clever windows design. In addition, Pikaia has a modern, three-stage aerobic wastewater treatment plant, using UV treatment to avoid any polluted discharge. Most of the cleaned treated water is carbon-filtered, and the lodge uses biodegradable cleaning products, detergents, soaps, etc. On top of all this, Pikaia is actively engaged in a reforestation effort and a program of invasive species eradication
What this means is that the Pikaia Lodge provides ultimate luxury accommodation perfectly suited for the environmentally conscious.
4. Tren Crucero: From the Andean Highlands to the Pacific Coast
As the Ecuadorian Andes is an area punctuated with rolling hills, glacier-capped volcanoes, and cloud-piercing mountains, it's hard to imagine a better backdrop for train travel. While these types of trips are usually excessively costly and typically fail to put sustainability first, Ecuador prides itself on "breaking with the traditional model of luxury train rides" to offer an eco-experience where travelers as well as local communities all win.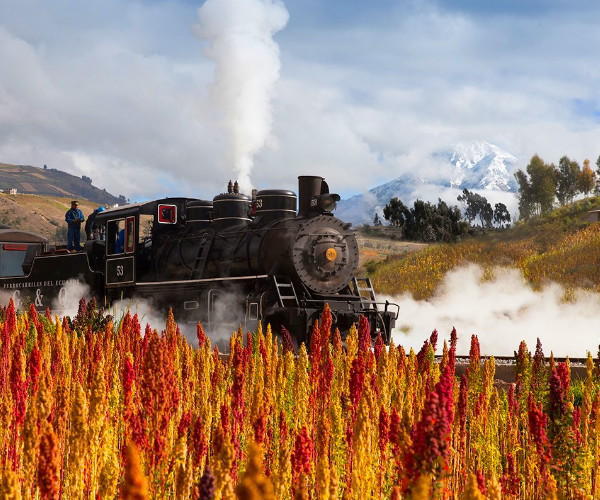 Recognized as the "Leading Luxury Train in South America," you can experience the wonders of Ecuador on board the Tren Crucero ("Cruise Train"). The outcome of a quarter of a billion-dollar national railroad investment, upscale Ecuadorian trains carry passengers across the country between various destinations in the Andes and as far as the coast (traveling between highland Quito and coastal Guayaquil).
The most stunning in vintage transportation, some of the legs of this journey use restored wagons from 20th-century steam locomotives. The classic train will take you on an exceptional voyage snaking through various locales and ages of the Ecuadorian past and present. All of these convoys feature four different coaches, each with its own thematic style reflecting Ecuador's history and culture.
In addition to operating under the United Nations' Global Code of Ethics for tourism, Tren Ecuador focuses on local economic sustainability by inviting nearby communities to take a leading role in tourism service provision, which are offered by several community-operated restaurants, artisanal markets, museums, lodges and indigenous dance groups along the train's route.
5. Mashpi Lodge: Eco-luxury in the heart of the Cloud Forest
Often shrouded in clouds, the alluring Cloud Forest of Ecuador is one of the most biodiverse regions on the planet! A recognized hotspot for birdwatching, orchids and epiphytes, butterflies and mammals, the forest's rivers, streams and waterfalls also provide the perfect playground for adventure activities like tubing and canopy ziplining.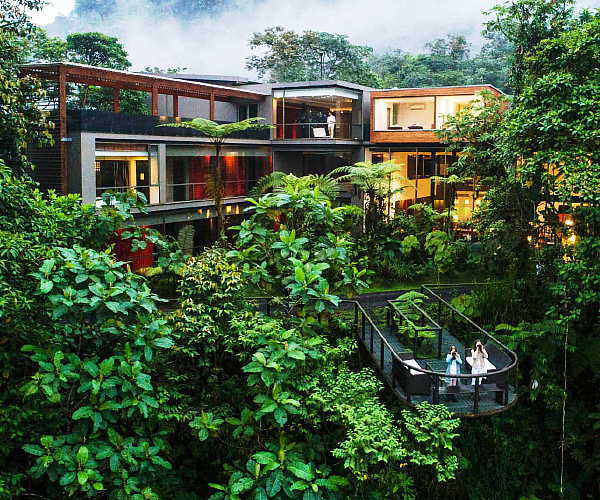 Within this mysterious wonderland is the high-end Mashpi Lodge. Located on a scenic plateau, the lodge features breathtaking views of the surrounding forested mountains and their unique ecosystems. Its site combines tropical and subtropical climates to create a spectacular destination that's teeming with a variety of flora and fauna seldom found in such startling variety. Like a cathedral to the natural world, Mashpi is a perfect blend of luxurious comfort and engagement with one of the world's most stunning environs – yet it's located only 100 km (60 miles) northwest of Quito.
Located at a former lumber mill, Mashpi Lodge was built using the latest techniques in sustainable construction in order to prevent damage to the forest. In fact, much of the structure was preassembled in Quito after having been planned around the topography of the site to prevent further damage to the trees. The lodge was designed to blend in perfectly with its natural environment, respecting the natural space it occupies. Stunningly contemporary and featuring modernist design and décor that mixes warm earth tones, steel, stone, and glass in striking perspectives, Mashpi Lodge makes for a true cocoon of luxury in the middle of the forest.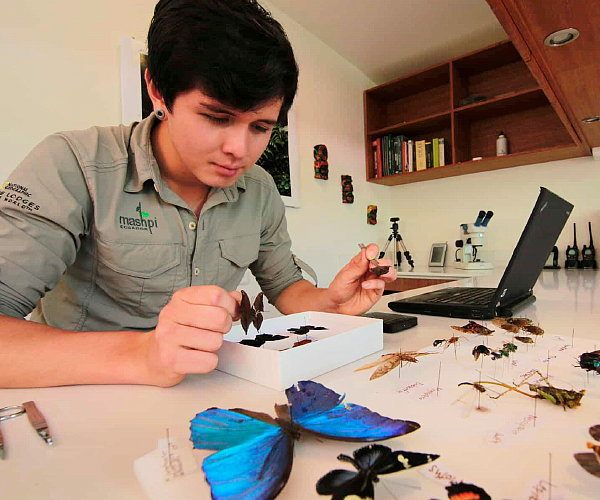 At the lodge's laboratory, both young and old can learn more about past and ongoing scientific projects aimed at understanding and protecting the environment. There's even a special area that's designed for children, with several activities to engage young minds.
So, if you're in search of a uniquely different experience, the cloud forest of Ecuador should definitely be on your radar.
In conclusion…
So, when planning a truly sustainable eco-tour, look for:
1) tour operators, lodges and cruise operations that maintain a connection between their values of community, culture and the environment (consequently, the profits and benefits should go equitably to the local communities – not to corporations or chains),
2) efforts undertaken so that the environment is protected and serves as an asset for creating awareness of the need to keep it intact,
3) concrete measures are taken so that local indigenous cultures are honored and preserved through realistic and stable employment opportunities.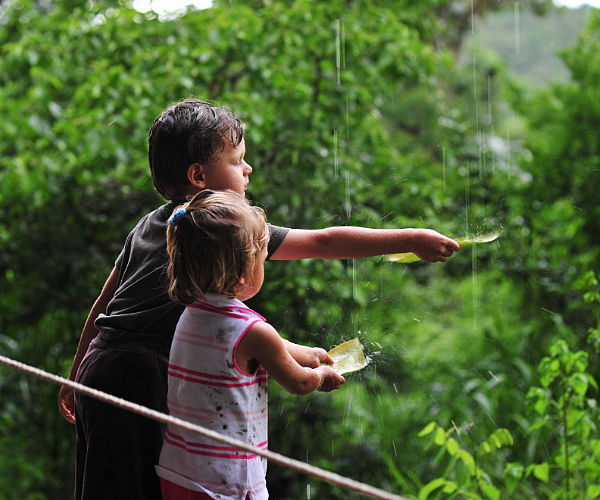 If these three attributes align, you'll have a purpose-driven, sustainable adventure for the benefit of current and future generations.
Alfonso Tandazo is President and CEO at Surtrek Tour Operator. Surtrek Tour Operator is a well-established firm, specializing in custom-designed luxury tours in Ecuador, the Galapagos and throughout the rest of South America.
If you would like to be a guest blogger on A Luxury Travel Blog in order to raise your profile, please contact us.