Húsafell Canyon Baths – what to expect from a trip to these geothermal pools in Iceland
By Paul Johnson on Sep 28, 2022 in Accommodation, Attractions, Europe, Going Out, Hotels, Iceland, Regions, Restaurants, Western Europe
A handy stop-off after a visit to Into the Glacier is Húsafell, home to Hótel Húsafell. And if you have been on the 10am tour (it takes around 3-4 hours), you could time it perfectly for lunch at Húsafell Bistro.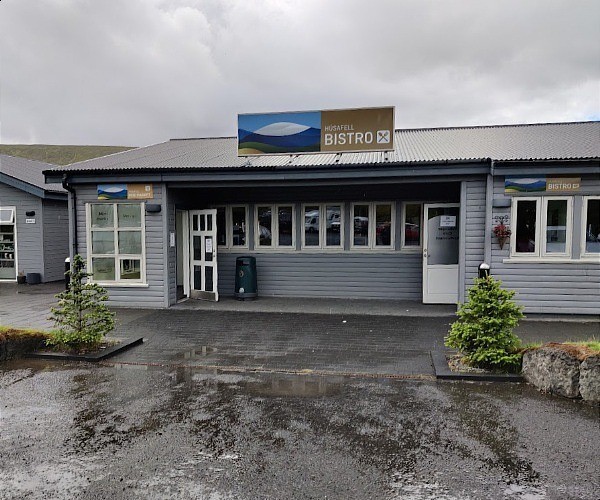 As well as an a la carte menu, the bistro offers a daily lunchtime hlaðborð (or buffet) where you can help yourself to kjötsúpa (Icelandic lamb soup) and vegetable soup, as well as pizzas and food from an extensive salad bar (chicken salad, pasta salad, sweet potato salad and tomato and mozzarella salad – and more) with a variety of dressings and oils. It's a great place to re-fuel after your morning's exertions or indeed to pre-fuel ahead of whatever activites await you next.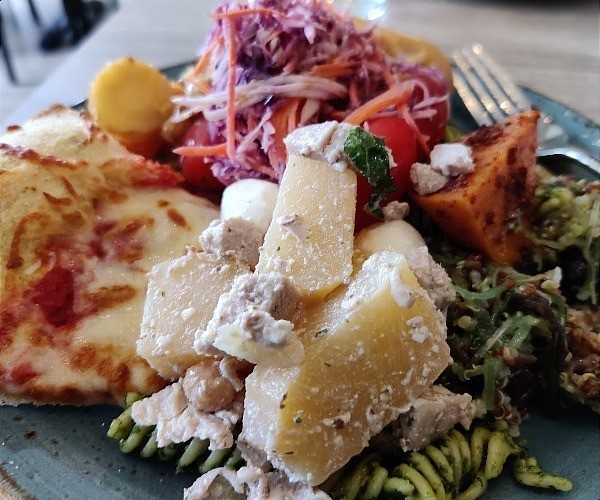 And what better thing to do afterwards than visit Húsafell Canyon Baths? These man-made geothermal pools are located in the Icelandic highlands and set in a surreal canyon landscape.
Entry to the Húsafell Canyon Baths cannot be made without permission, but you can buy tickets from Hotel Húsafell at an office next door to the bistro for an exclusive minibus tour that includes transport with a tour guide, access and time to spend there.
Trips are made with quite small groups that are taken on a short drive of around 10 minutes. Along the way, our guide told us about the area, about the Viking settles in around 940-950 AD and about the family that owns Húsafell Hotel that goes back seven generations. We also learnt about the cold springs in the area (that produce enough water to support half a million people on a daily basis) and the geothermal energy that allows the area to produce as 40 litres per second of 70-degree Centigrade hot water which is enough to warm the hotel, the swimming pools and 200 houses, as well as the surrounding farming areas.
---
IMPORTANT NOTICE:
If you are reading this article anywhere other than on A Luxury Travel Blog, then the chances are that this content has been stolen without permission.
Please make a note of the web address above and contact A Luxury Travel Blog to advise them of this issue.
Thank you for your help in combatting content theft.
---
The parents of the family now running the area were entrepreneurs in rural tourism – other farmers in the area thought they had 'lost it' when they killed their sheep and started 'farming' with tourists instead. They made a swimming pool and camping area, and started renting out small recreational houses in the Summer months. But it turned out to be the right decision, and is why Húsafell thrives to this day.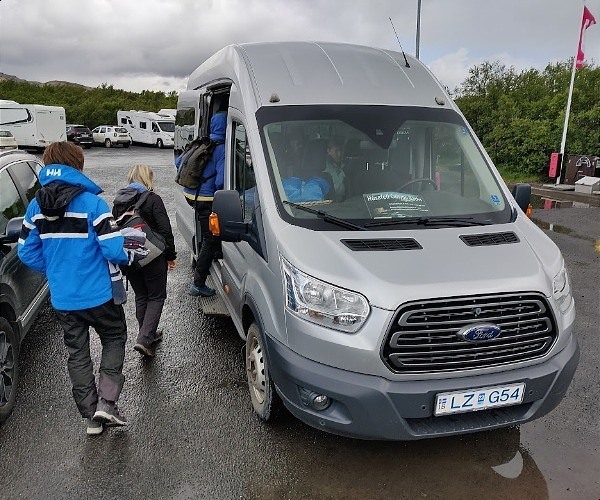 As we got closer to our destination, a dark hill to the right was pointed out and the snowy patches on it. This was the shield volcano named 'Ok' on which the Okjökull glacier was declassified as a glacier in 2014. (To be classified as a glacier, the snow needed to have a certain thickness as well as a certain movement.) There is snow there year-round, but it does not behave like a glacier. A plaque was installed in 2019 and a ceremony held that was attended by Katrín Jakobsdóttir, the Prime Minister of Iceland, and other dignitaries.
Having heard this sorry tale, we took a turn and drove along the middle of three canyons, where we parked up and took a short walk to the Húsafell Canyon Baths. Although the land here is private, there are no signs saying 'do not trespass' – people are very welcome to hike and enjoy the area's nature so long as they are respecting the environment and not littering.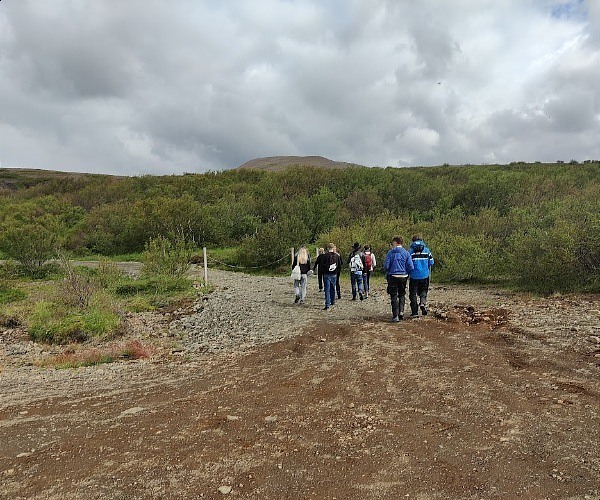 The last part of the walk down to the geothermal pools is down a long wooden staircase.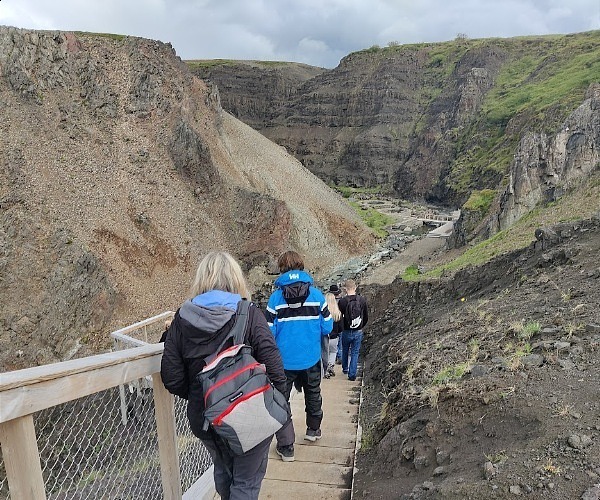 And once at the bottom, there are male and female changing rooms, as well as an outdoor shower – you must shower before entering the pools (but don't worry, it's warm!).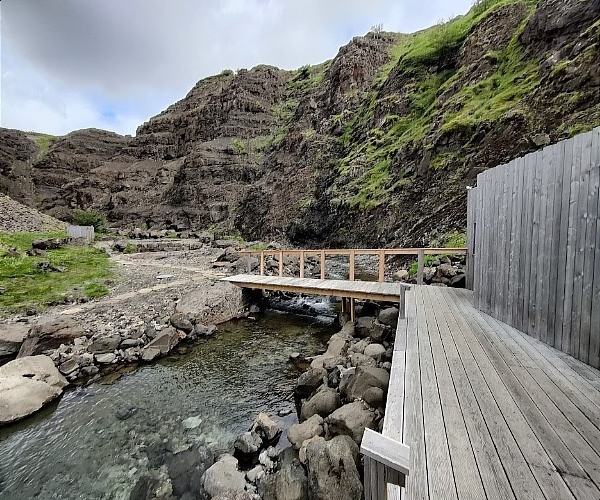 The wooden-clad changing rooms are simply furnished, with bench seating and upturned horseshoes re-purposed as clothes pegs.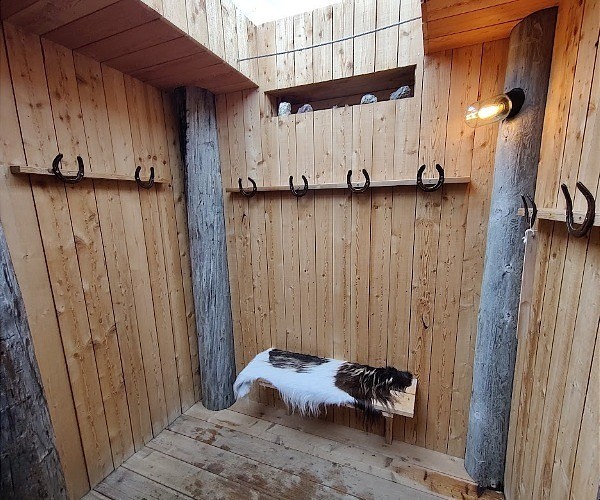 The setting of the baths is as spectacular as it is tranquil – it's nice that they only take small groups as this makes it a more intimate experience. There are two tubs – the higher of the two has one large rock just beneath the water surface that you must negotiate as you climb into the water, so it's possibly best to enter backwards to avoid falling.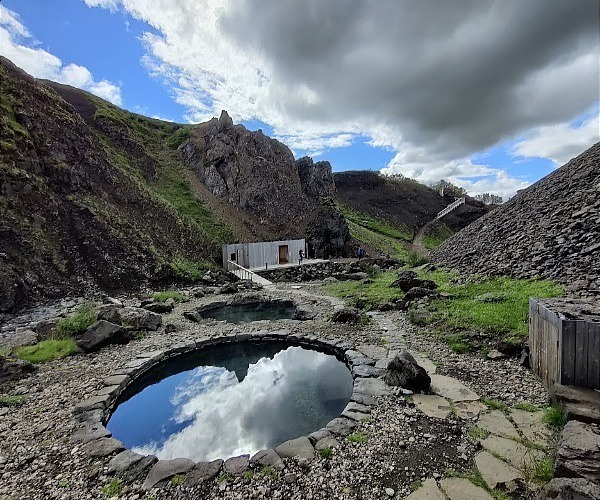 The pool closest to the bridge and changing rooms is easier to enter via some steps and has big rocks where you can sit and relax in water that is just a little above body temperature. If you wish to experience cold water, you can have a lie down in the creek (but, be warned, it's icy cold!).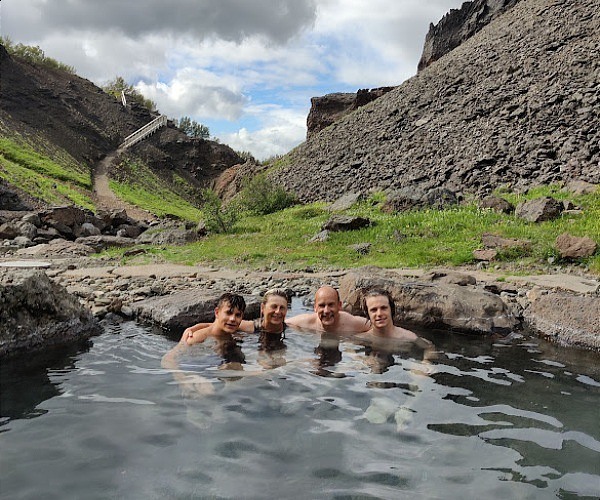 A surprise on the way back to the minibus, which I hadn't expected, was a short stroll to a wooden viewing platform.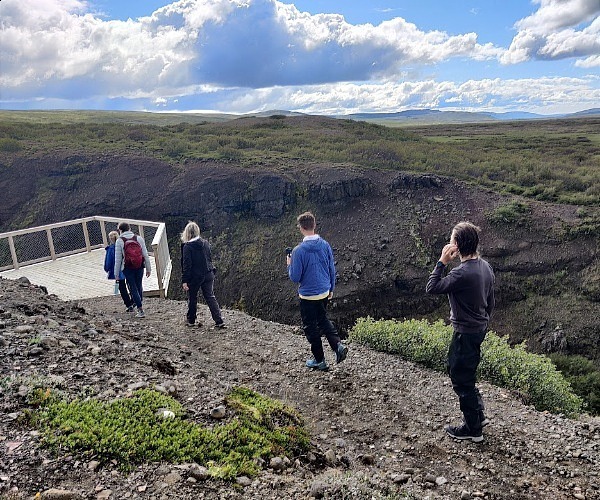 From there we could admire the two-tiered Langifoss waterfall. Ordinarily we would then have ambled down the valley to be picked up by the minibus further down. However, as can happen in Iceland, the weather took a turn for the worse (I could have sworn it was trying to snow… in July!) and we instead took the more immediate route back to our transport.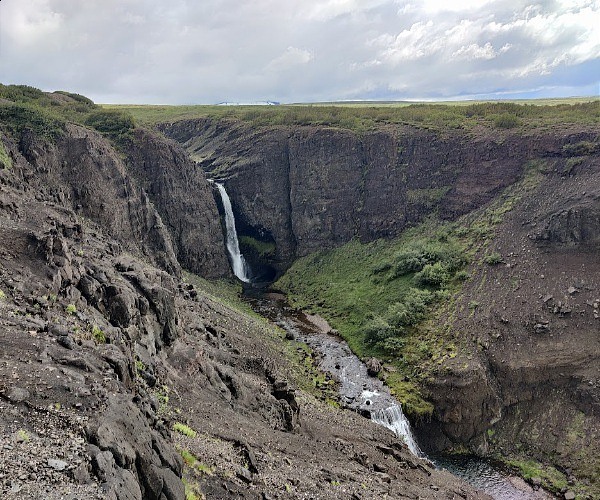 On the journey back, we learnt about Reverend Snorri Björnsson who moved to Húsafell in 1747 as a 37 year old. He was already famous for having saved many lives since he had grown up in the Westfjords of Iceland and taught himself how to swim (at a time when Icelanders did not know how to swim). He was very strong and a foreman on a ship and, when small fishing boats would capsize, he would save many a fisherman. In Húsafell, he is perhaps best known, though, for the Húsafell stone, a legendary lifting stone that weighs 186kg (410lbs) that he used as the gate to a stone sheep and goat pen he built. This very stone can still be seen at the pen in Húsafell today and was used in the 1992 World's Strongest Man competition as well as in multiple Iceland's Strongest Man competitions since.
Planning a trip to Iceland yourself? You can watch a video from our trip to Iceland here:
Disclosure: This post is sponsored by Hótel Húsafell. Our trip to Iceland was also sponsored by Helly Hansen.