Krauma Natural Geothermal Baths & Restaurant – what to expect from one of Iceland's newest geothermal spas
By Paul Johnson on Sep 29, 2022 in Attractions, Europe, Family Travel, Going Out, Iceland, Leisure Travel, Regions, Restaurants, Spas & Pampering, Speciality Travel, Western Europe
The journey from Reykjavik to the geothermal baths at Krauma is just under an hour and a half, so this is easily a place you could visit on a day trip out of the capital. For us, the journey was an even shorter one, as we happened to be travelling from nearby Húsafell. Although only 25 minutes away, we chose to take in two of Iceland's iconic waterfalls along the way – Hraunfossar and Barnafoss – an area that was declared a national monument in 1987.
You can easily visit both falls on foot from a car park situated just off route 518, following marked trails and a series of viewing platforms. The Hraunfossar waterfalls are the first that you'll come to; these falls consist of numerous springs of clear water that emerge from the Hallmundarhraun lava field before flowing into the River Hvitá among rocks and birch-scrub vegetation. Surface water and meltwater from the glaciers runs between layers of pillow lava, forming the 1km-wide Hraunfossar falls
The Barnafoss waterfall, or Children's Falls, on the other hand, is a much narrower, more violent torrent of water that rushes through rocks and stone arches, sculpting them with its force. The average flow rate is 80 cubic metres per second, but in flood it has reached up to 500 cubic metres per second.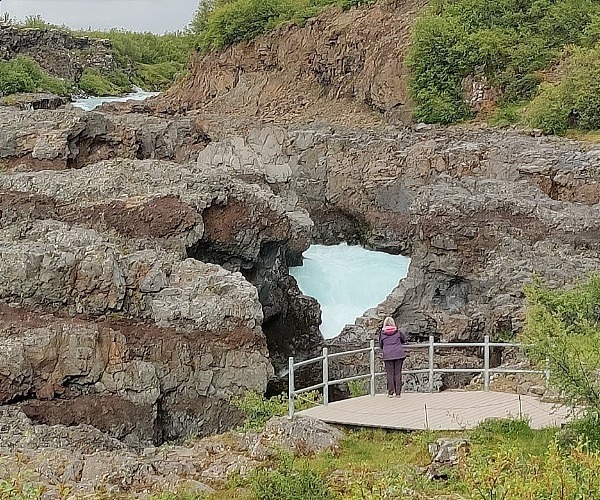 There's a sad tale that accounts for the waterfall's name, and for the disappearance of the stone arch that used to bridge the waterfall. One Christmas day the household at Hraunsás went to attend mass, with the exception of two children who were to stay at home. When they returned, the children has vanished but their tracks led down to the river. Very sadly, the children had fallen off the stone arch and drowned. Their mother then had the arch destroyed to prevent the recurrence of such a tragedy.
With our detour complete, we continued along route 518, enjoying the open road, beautiful scenery and some big, dramatic skies.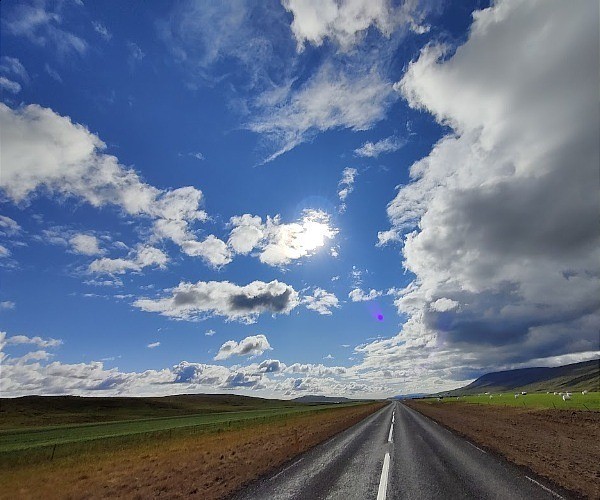 If you want to experience hot spring culture in Iceland, then you'll want to look up Krauma, but first take a moment to admire Deildartunguhver, the highest flowing hot spring in Europe, producing 180 litres of hot water – 100°C (212°F) – per second. Afterall, it's the reason why Krauma exists.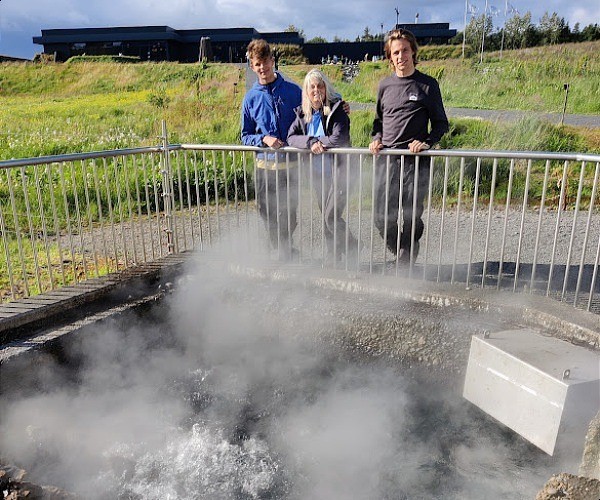 Situated in Reykholtsdalur (the valley of the river Reykjadalsá), between Borgarnes and Husafell, Krauma opened in late 2017. Today, with its minimalist black design, it blends in really nicely with the surrounding landscape.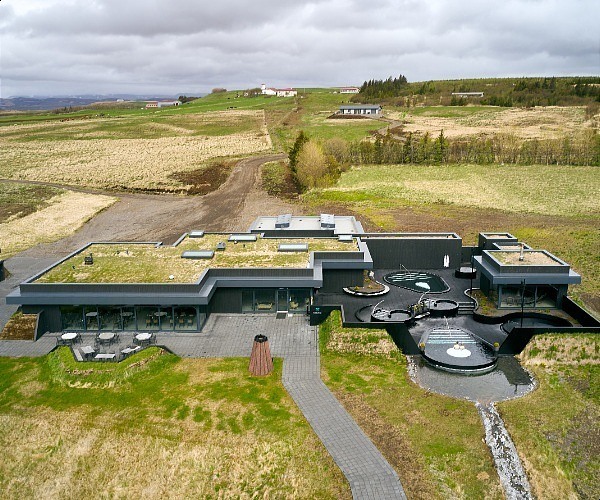 The water in Krauma's geothermal baths comes directly from Deildartunguhver. It is not mixed with cold water and no excess chemicals are added to the water. The purity is ensured with high water flow into the baths. And the hot water is rich in minerals such as iron, calcium, magnesium and sulfur, all of which are elements that are also common in Icelandic soil.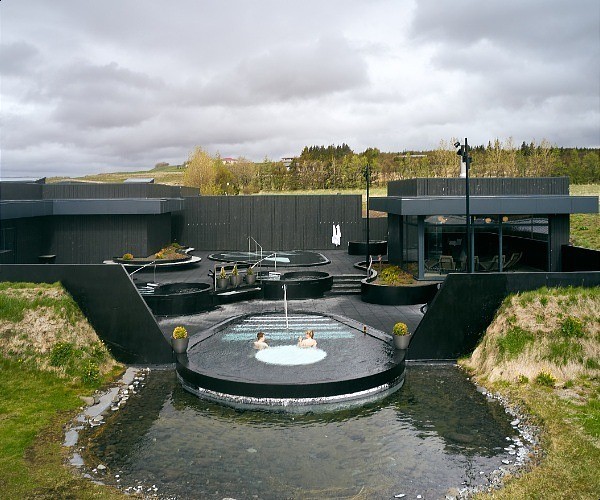 On arrival, you are welcomed and given a towel and bathrobe and directed to the changing rooms. As with all pools in Iceland, you must shower beforehand.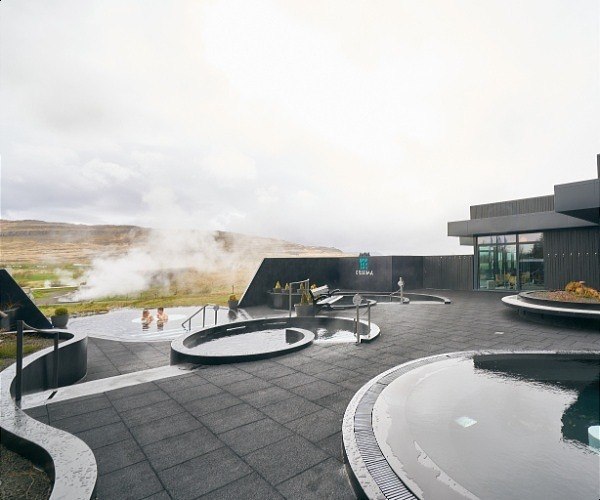 There are five different hot pools to choose from, each of varying temperatures (each labelled). There's plenty of space and it did not feel too busy when we were there, making it the perfect place to unwind, admire the landscape and soak up Iceland's natural beauty in a truly relaxed setting.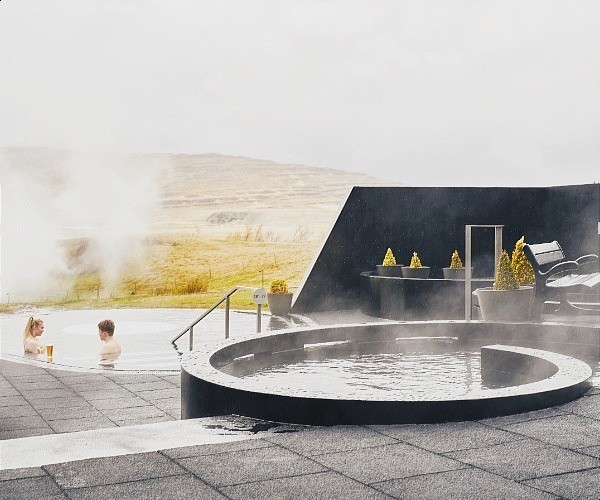 There is a cold pool as well – immersion in cold water is great for lymphatic drainage. It causes your lymph vessels to contract which in turn pumps lymph fluids throughout your body, helping to flush out metabolic waste. This in turn has a positive effect on the immune system, which ultimately keeps you feeling healthy.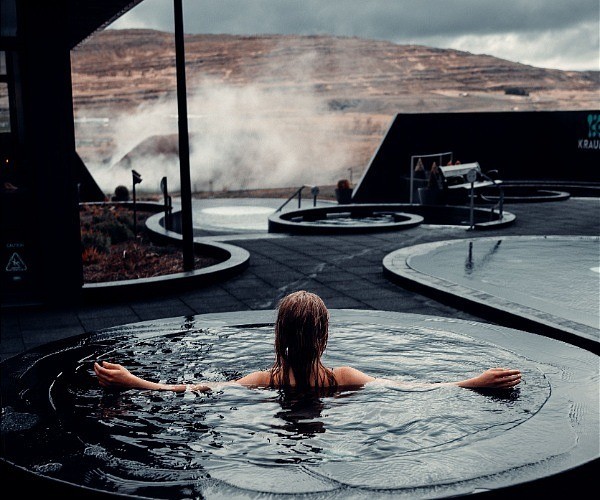 Additional facilities at Krauma include a steam bath and infra-red sauna, as well as a relaxation room with comfortable lounger chairs. You won't want to leave!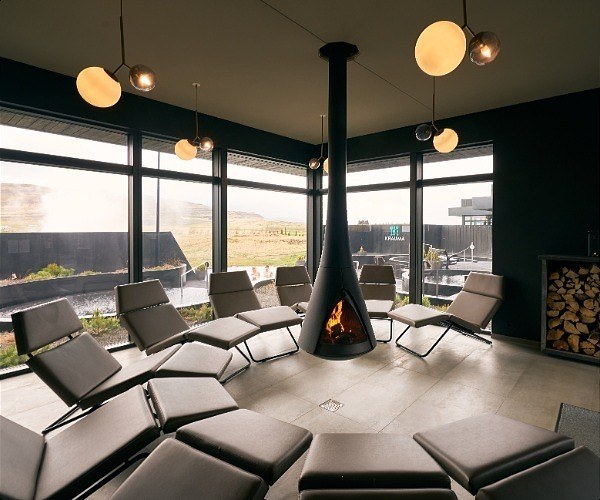 ---
IMPORTANT NOTICE:
If you are reading this article anywhere other than on A Luxury Travel Blog, then the chances are that this content has been stolen without permission.
Please make a note of the web address above and contact A Luxury Travel Blog to advise them of this issue.
Thank you for your help in combatting content theft.
---
But, once you are feeling refreshed and rejuvenated, how about dinner at Krauma's restaurant? The scenery from the restaurant is spectacular and looks back towards Deildartunguhver, with seating outside for those warmer days.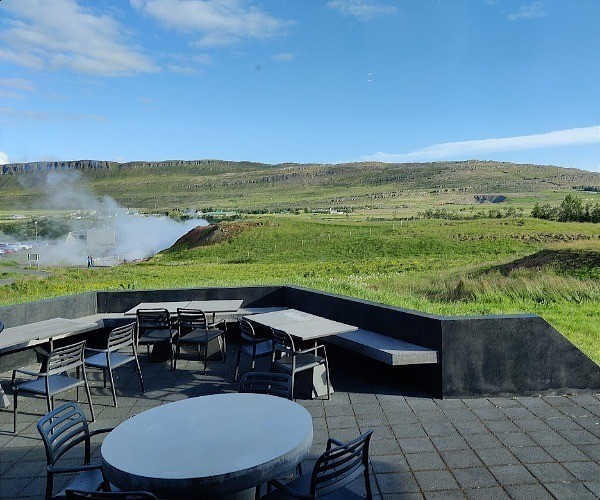 The restaurant serves Icelandic cuisine from the freshest local farm produced ingredients, with the menu accessible online via a QR code. Between us we had the delicious Sólbyrgi salad (Sólbyrgi is a small 10-hectare organic farm just a 2km drive from Krauma) with baked beetroot, pickled red onion, grilled paprika, croutons, sunflower seeds, ricotta cheese and a lemon and dill dressing.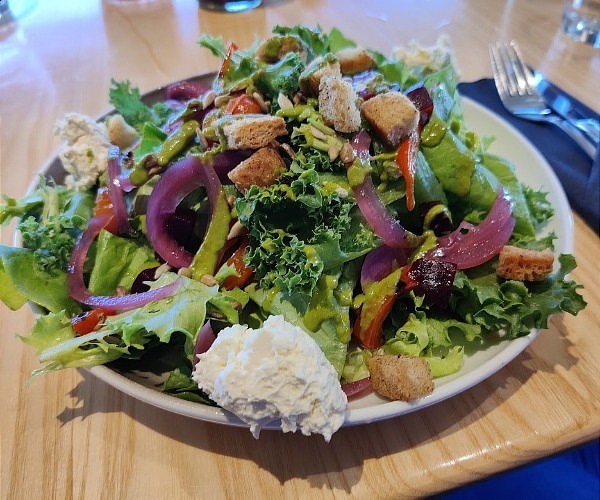 The Caesar salad – also from Sólbyrgi – came with grilled chicken breast, cucumber, red onion, tomato, croutons, Parmesam, bacon and aioli.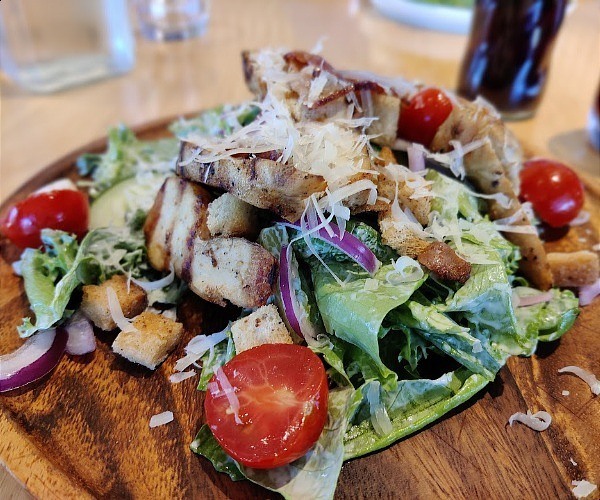 If you're vegan, you'll want to try the 'Krauma Vegan' which consists of assorted mushrooms, salt baked beetroot, lentil and bean salad, and a carrot purée with a lemon and dill sauce.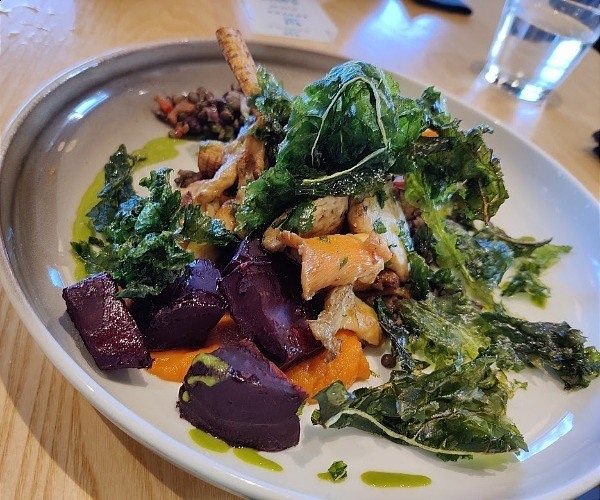 Also highly recommended is the slow-cooked cod – the stand-out dish for me – presented in that instance with creamy brussel sprouts, mushrooms, bacon, celery root purée and a garlic balsamic sauce. In my book, it's an Icelandic classic that is always a winning dish.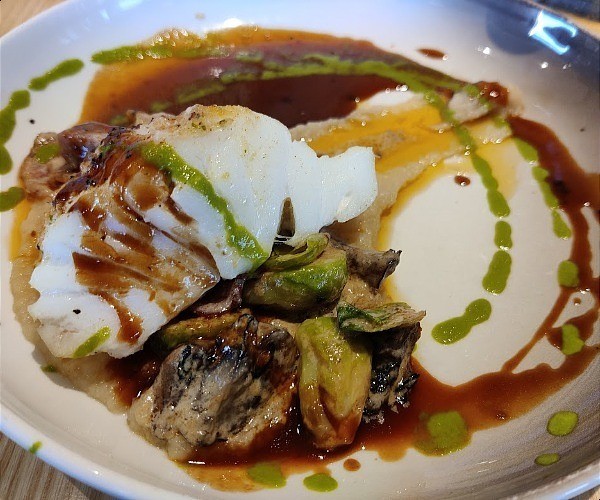 Dinner at Krauma Restaurant was a great way to round off a really enjoyable and memorable day, before a scenic drive back to Reykjavik.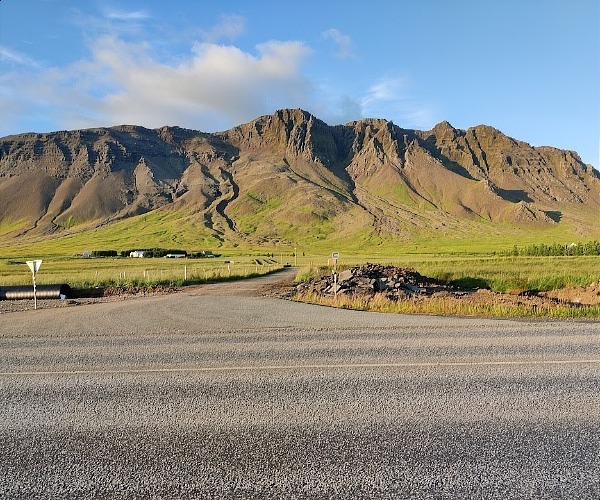 Planning a trip to Iceland yourself? You can watch a video from our trip to Iceland here. You can see Hraunfossar, Deildartunguhver and Krauma between 54s and 1m 06s within the video:
Disclosure: This post is sponsored by Krauma. Our trip to Iceland was also sponsored by Helly Hansen.