Luxury arrives in one of Japan's most historic and scenic leisure destinations
By Paul Johnson on Sep 12, 2023 in Accommodation, Asia, Hotels, Japan, Regions
The Luxury Collection, part of Marriott Bonvoy's global portfolio of 31 extraordinary hotel brands, has announced the opening of Shisui, a Luxury Collection Hotel, Nara in one of Japan's most historic and scenic leisure destinations. The extraordinary property is nestled on the western edge of Nara Park and beautifully combines Japanese architecture with the lush greenery of a traditional Japanese temple garden, which forms part of the hotel grounds. The name "Shisui" was inspired by the purple trunks and green leaves or "Shikan Suiyou" of Nara's scenic vistas, cherished since ancient times. The hotel beautifully embodies the destination's history, culture and indigenous traditions, offering global explorers unique and authentic experiences of Nara.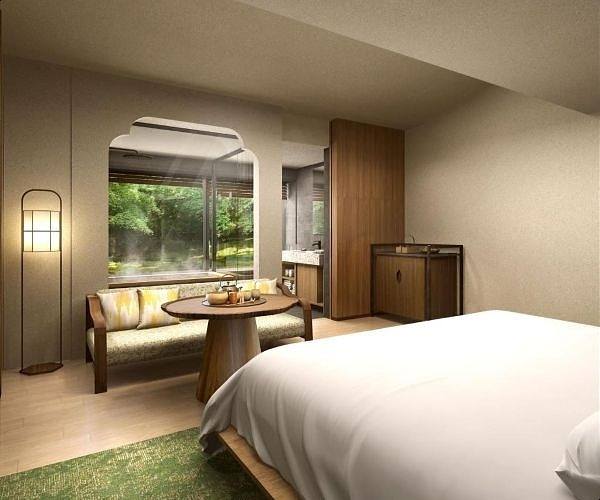 "We are thrilled to mark the opening of Shisui, a Luxury Collection Hotel, Nara, the fifth Luxury Collection hotel in Japan. Each Luxury Collection hotel captivates guests with local culture, evocative moments and breath-taking scenery, creating priceless memories for a lifetime," said Philipp Weghmann, Vice President and Global Brand Leader, The Luxury Collection. "Shisui is a rare and exceptional property that is intrinsically connected to Nara and its scenic natural beauty. Through its exquisite design, impeccable service and array of luxurious amenities, the hotel defines the destination and transforms it into a truly exceptional experience for visitors."
Shisui is nestled in an enchanting classical Japanese garden that was once part of the grounds of Kofuku-ji temple, the family temple of the aristocratic Fujiwara clan, which was established in Nara in 710 AD. The temple is one of the "Historic Monuments of Ancient Nara" and remains a timeless showcase of Japanese architecture and culture. Once Japan's imperial capital during the eighth century, Nara is home to an incomparable collection of UNESCO World Heritage-listed sites, some of which surround the hotel – Kasuga Taisha Shrine, Kofukuji Temple and Todaiji Temple. Beyond the grounds, Nara Park, pristine forests, valleys and traditional Japanese villages await discovery and exploration. The hotel is located a 10-minute walk from Kintetsu-Nara train station, which offers direct connections to Kyoto and Osaka in 35 minutes and 45 minutes respectively. Osaka Itami International Airport is approximately 48 kilometers, or about 45 minutes' drive away from the hotel.
Renowned Japanese architect Kengo Kuma and Associates conceptualized the overall design direction and interiors of the hotel, breathing new life into traditional Japanese architecture and the beauty of the Yoshiki-en temple garden with modern aesthetics to create a rare luxury stay experience for guests. The hotel's reception lobby, restaurant and lounge are situated in a charming low wooden structure, first built in 1922 as the residence of the Governor of Nara, with its classical Japanese roofed gate preserved as the hotel's main entrance.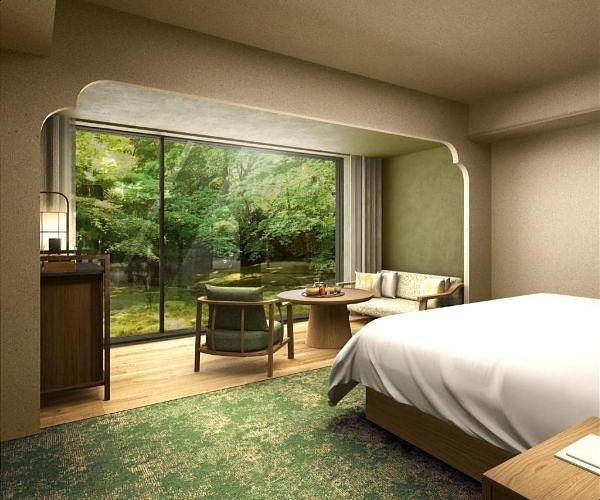 Floor-to-ceiling windows illuminate Shisui's 43 guest rooms and suites with natural daylight, and immerse guests in the beauty of the historic gardens and greenery. The exceptional interiors feature Nara's indigenous crafts, honoring the renowned traditional artisans of the region. Select guest rooms also feature captivating views of nearby Mount Wakakusa, and for relaxation in unparalled luxury and tranquillity, deluxe rooms and suites offer private in-room hot spring or open-air baths.
Shisui invites visitors to discover Nara's rich epicurean traditions with two distinctive restaurants and a bar, which authentically showcase the styles and presentations of the destination's cuisine. Restaurant Suiyou is the hotel's smart-casual all-day dining restaurant serving a curated menu of local and international fare. Within the restored storage rooms of the former Governor's residence, Sushi & Bar Shousou delights diners with exquisite, innovative interpretations of traditional sushi.
---
IMPORTANT NOTICE:
If you are reading this article anywhere other than on A Luxury Travel Blog, then the chances are that this content has been stolen without permission.
Please make a note of the web address above and contact A Luxury Travel Blog to advise them of this issue.
Thank you for your help in combatting content theft.
---
Guests can enjoy an invigorating workout in an exclusive Fitness Center, and for the ultimate indulgence, the hotel's SUI Spa invites guests to be immersed in the restorative powers of volcanic hot springs in two private rooms. Expert therapists offer locally inspired therapeutic spa treatments using rare aromatic oils and herbs that were once transported on the ancient Silk Road. Inviting guests to explore the captivating tapestry of Nara's rich traditions and cultural heritage, the hotel's Destination Discovery program shows guests how to create hand-made ink stick rubbings on ink stones. This serene and contemplative activity not only evokes a deep sense of mindfulness, but also transports participants to a realm of tranquillity and inner harmony.
"Nara is one of Japan's most popular travel destinations, and we are proud to reflect and showcase the history, culture and traditions of this destination for local and international visitors," said Hiroyuki Hatori, General Manager, Shisui, a Luxury Collection Hotel, Nara. "We look forward to welcoming guests who seek a journey that is both transformative and unforgettable when they come to Nara."