Luxury on hydrofoils: The Candela C-8 electric boat
By Paul Johnson on Jan 21, 2023 in Cruises & Boat Travel, Speciality Travel
The new Candela C-8 'powered by Polestar' is the first product from a partnership between Polestar and Candela. The two Swedish premium mobility brands reached an agreement last year for Polestar to supply batteries and technology to power Candela's electric hydrofoil boats.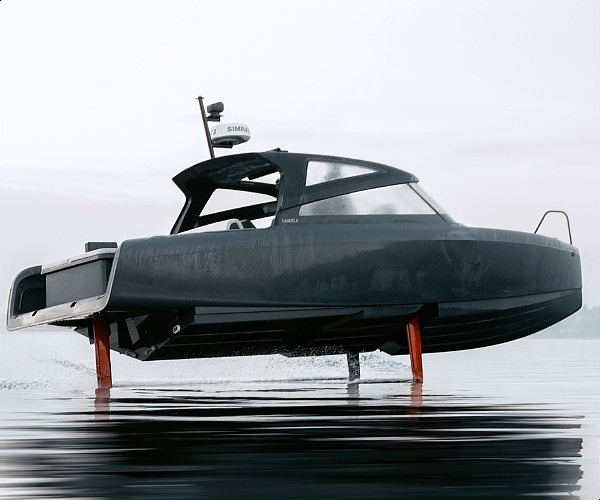 The Candela C-8 'powered by Polestar' is intended to use the same 69 kWh battery pack and DC charging technology as the Polestar 2 Standard range Single motor. Candela expects range of up to 57 nautical miles on one charge at a cruising speed of 22 knots, comparing favourably with internal combustion engine powerboats, and with a high-speed range 2-3 times longer than conventional electric speedboats.
"With batteries from Polestar, the Candela C-8 becomes the first electric vessel that can travel to destinations that were previously only reachable by combustion engine boats. The Candela C-8 powered by Polestar marks a significant breakthrough for electrification at sea," says Gustav Hasselskog, CEO and founder of Candela.
This high electric performance at sea is possible thanks to a combination of innovative technology from both Candela and Polestar. The Candela C-8 uses an efficient direct drive pod motor – the Candela C-POD – and 'flies' on computer-guided hydrofoils that lift the hull above the water at high speeds, reducing energy consumption by up to 80% compared to traditional motorboats.
In addition to the 69-kWh battery pack from Polestar 2, Polestar also supplies DC fast charging technology for the Candela C-8, as well as sharing Research and Development capabilities to integrate the technology and software in a marine application to transfer it from land to sea.
"Sharing know-how on batteries and vehicle engineering with Candela will help reach our shared goal of transitioning to a future where all forms of transport are sustainable," says Thomas Ingenlath, CEO of Polestar.
The supply of batteries and charging componentry to a third party in this way is a first for Polestar as an EV manufacturer and extends Polestar's efforts to drive sustainable electric mobility beyond the automotive industry.