New eco initiatives from Dusit International
By Paul Johnson on Sep 02, 2023 in Accommodation, Asia, Hotels, Maldives, Regions
Dusit International has launched a new group-wide sustainability program, 'Tree of Life' and Dusit Thani Maldives has achieved Google eco-certification in recognition of its sustainable tourism endeavors.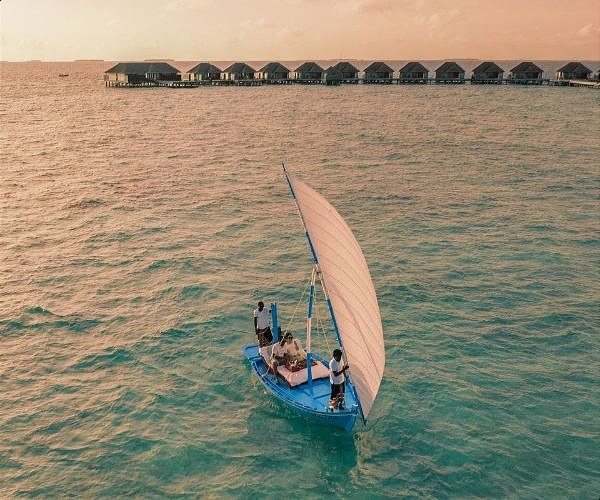 The new programme clarifies Dusit's sustainability intentions and includes actionable and easy-to-follow steps that its business units can take to benefit the environment, their people, and their broader communities. Tree of Life, designed to ensure the company delivers on its promise to always have a positive impact wherever it sets foot. Designed by the company's Sustainability Committee, the Tree of Life program has 31 criteria aligned with selected United Nations' Global Sustainable Development Goals, as well as industry-specific targets, set over four levels of achievement. It includes Environment, Social, and Governance (ESG) elements, ensuring that Dusit properties operate as sustainably as possible.
Dusit Thani Maldives, a luxury resort nestled within the stunning landscapes of the Maldives, is proud to announce that it has been awarded the prestigious Google Eco-Certification in recognition of its exceptional commitment to sustainable tourism practices and environmental conservation.
The Google Eco-Certification is a testament to Dusit Thani Maldives' unwavering dedication to promoting eco-conscious hospitality and minimizing the resort's carbon footprint while delivering unparalleled guest experiences. This achievement underscores the resort's continued efforts to provide a harmonious blend of luxury, nature, and responsible tourism.
"Dusit Thani Maldives is deeply honored to have received the Google Eco-Certification, which reflects our strong commitment to environmental preservation and responsible travel," said Mr. Reinhold Johann, General Manager at Dusit Thani Maldives. "We believe that luxury and sustainability can go hand in hand, and this recognition motivates us to further innovate and lead the way in sustainable tourism within the Maldives and beyond."
Dusit Thani Maldives has implemented a range of initiatives to reduce its environmental impact and contribute to the well-being of the local ecosystem, including:
Energy Efficiency: The resort has invested in energy-efficient systems and technologies, such as solar panels and LED lighting, to significantly lower its energy consumption.
Water Conservation: Dusit Thani Maldives employs advanced water management strategies to minimize water consumption, including desalination processes and water-saving fixtures.
Marine Conservation: The resort actively participates in marine conservation efforts, including coral propagation programs and regular reef clean-ups, to protect and restore the fragile marine ecosystem of the Maldives.
---
IMPORTANT NOTICE:
If you are reading this article anywhere other than on A Luxury Travel Blog, then the chances are that this content has been stolen without permission.
Please make a note of the web address above and contact A Luxury Travel Blog to advise them of this issue.
Thank you for your help in combatting content theft.
---
Community Engagement: Dusit Thani Maldives collaborates with local communities on education and sustainability projects, fostering a sense of responsibility towards nature and supporting the livelihoods of nearby residents.
Waste Management: The resort emphasizes waste reduction, recycling, and responsible waste disposal practices to prevent pollution of the land and oceans.
The Google Eco-Certification serves as a recognizable symbol of Dusit Thani Maldives' commitment to environmentally friendly operations. By achieving this prestigious certification, the resort aims to inspire other players in the hospitality industry to embrace sustainable practices and contribute to the preservation of our planet.
In 2022, Dusit Hotels and Resorts became the first hotel chain in Thailand to source 100% organic jasmine rice at all its properties throughout the kingdom. By directly purchasing from small-scale farms in northeastern Thailand, Dusit not only provides nutritional benefits to its guests, customers, and employees, but also generates sustainable income for the communities it supports. The company also began procuring cage-free eggs for six of its hotels, with plans to implement similar projects as it further enhances its supply chain management this year.