Off-grid luxury and total privacy at the top of New Zealand's South Island
By Paul Johnson on Jan 10, 2023 in Accommodation, Hotels, New Zealand, Oceania, Regions, Resorts, Vacation Rentals
Falcon Brae is an exclusive use luxury villa located at the confluence of the Stanley Brook and Motueka River, near Nelson at the top of New Zealand's South Island. The "falcon" in the name resonates in the elliptical curved wing-like roofs and refers to the resident falcons on the property, and "brae" is Scottish for "a hill above a river. The Villa perches high above the Motueka river with 360-degree views of the mountainous million-acre Kahurangi National Park and the picturesque Motueka Valley. Nearby are two additional national parks, Abel Tasman along the coast, and Nelson Lakes at the foot of the Southern Alps. Though private and secluded, Falcon Brae Villa can be reached by road (50-minutes) or by helicopter (15 minutes) from Nelson Airport.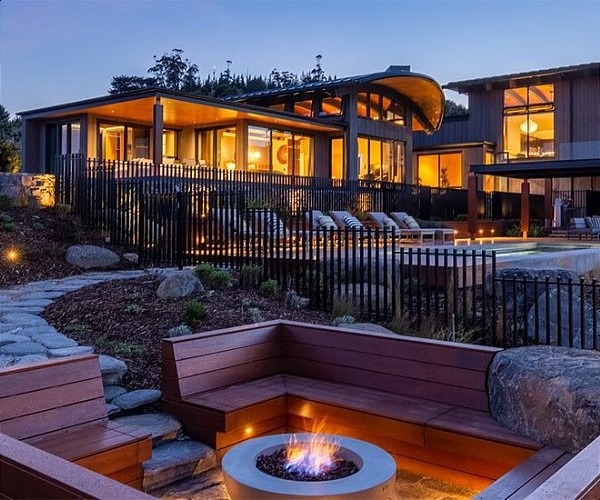 The award-winning architecturally designed contemporary Villa features a sumptuous and expansive Great Room with a soaring 5 meter ceiling (16.4 ft), magnificent stone fireplace, and sunken bar. As the owners of this Villa are musicians and recording artists, the Great Room is designed for excellent acoustics, with a grand piano and guitars available for guest use. In addition, the Villa boasts a media theatre, show kitchen, 4 dining areas, and a stunning collection of New Zealand art. Directly in front of the Helipad Terrace, guests can relax in the "Games Den" housing modern gym equipment, pool table, table tennis, darts and a classic video game arcade table.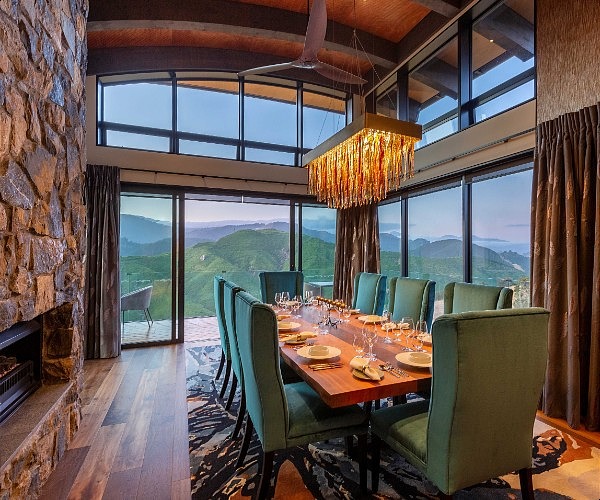 The large entertainment deck overlooking the mountains and river has multiple features including a sparkling pool, outdoor heated spa, seating area around a fire pit and a barbeque for outdoor dining and relaxing under a shaded pergola. On the other side of the Villa, a secluded outdoor hot tub surrounded by native bush is the perfect place to catch the stunning sunsets and the magical star studded night skies.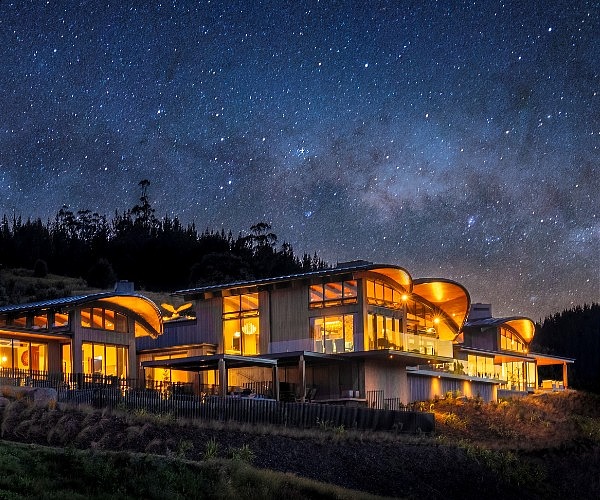 With an extensive 720 square meters (7,750 square feet) of living space, including 3 spacious suites and a family bunk room, Falcon Brae Villa offers complete privacy, making it perfect for families, friends, celebrities and small corporate retreats. The Villa sits on a stunning 142-hectare (350-acre) property with a private forest, spectacular native bush walks and breath-taking 360-degree views over the surrounding mountains, valleys and the Motueka river below; famous for large brown trout with some of the best fly fishing (catch and release) in the country. The Villa has security gate access and is completely off the grid, with its own solar powered energy supply. There is also a charging point for electric cars.
Jeremy Hancock, the Operations Manager and charming host, has extensive local knowledge and has been involved with the property since its inception. He and his team ensure that every aspect of the guests' stay is seamless. A concierge service is also available.
For larger bookings, a sister property, Stonefly Lodge nestled in the landscape 2 km (1.25 miles) away, can be utilized for an additional 8 guests making a total of 17 between the two properties. Stonefly Lodge offers four deluxe rooms with super king or twin bed configurations and is also an off-grid property. All guests can be catered for at Falcon Brae Villa for dining.
Activities
This private luxury retreat is a destination in itself and makes a perfect base to explore all the region has to offer the luxury traveller including 22 wineries, over 30 craft studios and galleries, the Great Taste Cycle Trail, scenic helicopter flights, guided wilderness hikes, kayaking, white water rafting, heli-hiking, heli-fishing, Lord of the Rings heli-tour, horse riding, catch and release fly fishing, sporting clays and shooting sports, fishing in the Marlborough Sounds and more. Alternatively, guests can just enjoy the Villa and its peaceful setting and soak up the local ambiance in a world of their own, taking a total break from their busy schedules (and devices if they wish) and immerse themselves in nature.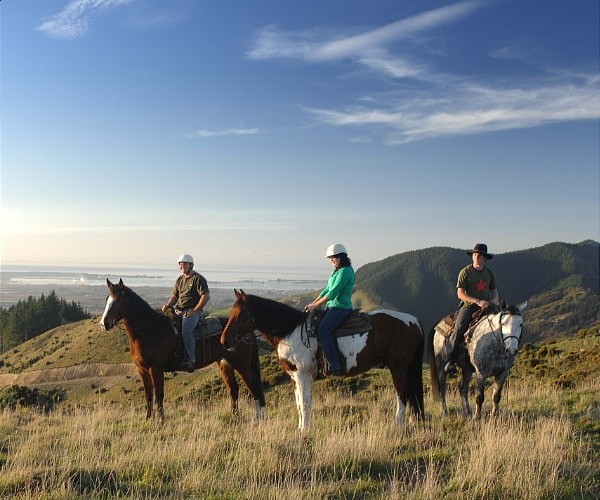 On site activities include exploration of 18 km (11.25 miles) of hiking trails, leisurely river walks, archery, golf chipping range, e-bikes, outdoor hot tub, pool and heated spa pool, animal hobby farm tour and sheep shearing, bird watching, games den and gym, private cooking classes, in-house massage and yoga, spectacular night sky gazing, and learning about the property's restoration of native bush and the creation of its Manuka plantation (with honey samples available to taste and take home).
Luxurious suites
All suites have a large private deck, super king beds, luxurious bathroom, deep soak bath tub, spectacular fireplace, full cocktail bar, tea and coffee making facilities, underfloor heating and heated towel rails, high-quality TV and audio system, air conditioning and floor to ceiling windows and private balconies from which to enjoy the spectacular views.
The exquisite pool-front Tasman Suite (135 sqm or 1,453 square feet) opens onto an expansive manicured lawn and enjoys easy access to the pool, fire pit and spa deck with shaded pergola. The river view and hilltop spa Kahurangi Suite (124 sqm or 1,335 square feet) has a large central lounge area and bedroom, a sunken bath and a private deck that leads to an outdoor hot tub nestled into the edge of the hillside and surrounded by native bush. The floor plans of both suites are virtually identical, providing equally spectacular accommodations for couples travelling together.
The romantic Motueka Suite (57 sqm or 614 square feet) has a private terrace and outdoor fireplace directly overlooking the river. Located adjacent to the Kahurangi Suite, it is ideal for multi-generational families. The Family Bunkroom (25 sqm or 270 square feet) is directly across from the Motueka Suite. It includes a double bed, two bunk beds and en suite. It can sleep up to 3 children or accommodate a driver, pilot, security guard or nanny.
Garden to table cuisine and private Executive Chef
The dining experience at Falcon Brae Villa is an integral part of the guest experience, featuring garden to table cuisine prepared by their Private Executive Chef Michael McMeeken. Seasonal menus change daily and cater to any special dietary requirements. All pasta, pastries, bread, ice-cream, sorbets, chocolate and sauces are hand made on site.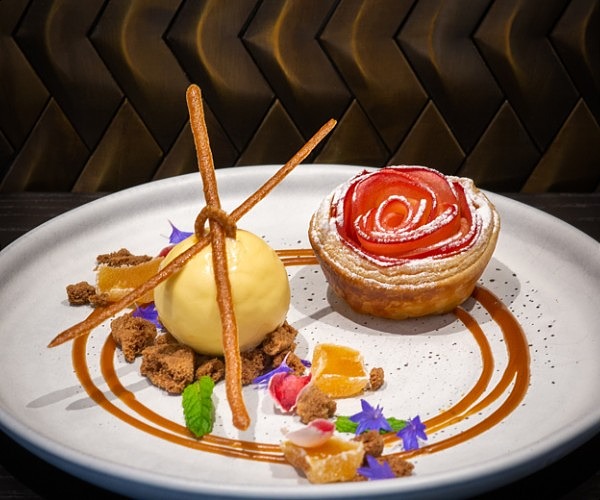 Chef Michael uses the best quality local ingredients including freshly harvested produce from the on-site organic gardens and bee-hives, watercress from the bubbling creeks and items foraged from the native bush undergrowth on the property. Daily continental or a hearty cooked country breakfast are included as well as pre-dinner drinks with canapes and a four-course gourmet dinner. Gourmet picnics can be arranged to accompany guests on their excursions and cooking classes are a popular activity. An impressive private wine selection is available on the beverage menu. The owners of Falcon Brae Villa and Stonefly Lodge have published a coffee table cookbook titled "Flavours to Savour" which showcases an impressive selection of sumptuous recipes for their cuisine, and makes an ideal souvenir or gift.
Design and awards
The elaborately designed entrance door panels honour the traditions of New Zealand's Māori culture, welcoming people from all corners of the Earth. The magnificent outdoor falcon sculpture alludes to the name of the Villa and the majestic falcons that reside on the property. In 2021 shortly after completion, the NZ Institute of Architects named Falcon Brae Villa the Nelson/Marlborough regional award winner for hospitality and the Registered Master Landscapers bestowed a Landscapes of Distinction Gold Medal. The intricate masonry work features local stone. Furniture fabrics and materials showcase New Zealand artisans with most of the joinery, cabinetry, furniture, carpets and other furnishings sourced and made in NZ. Most of the exquisite art and sculpture throughout the Villa was purchased from local artists and galleries.
Rates – inclusive of 15% GST
Low season (1 June – 31 October) – minimum 2 night stay
Rates for individual suites at Falcon Brae Villa start from NZD2,990 per night and exclusive use from NZD 6,500 per night (up to 9 guests).
High season (1 November to 31 May) – minimum 3 night stay
Exclusive use only is available during this period and starts from NZD10,000 per night.
Daily flights to Nelson from the 3 major international airports of Christchurch, Wellington and Auckland enable easy global access. Road transfers from Nelson Airport (50 mins) are NZD350 each way for up to 2 people and NZD500 each way for 3-8 pax). Helicopter transfers (15 mins) are dependent on the number of passengers and amount of luggage. Rates are inclusive of 15% GST.