Review: Riverside Mozart, Treasures of the Danube Eastbound
By Michael Edwards on Jul 10, 2023 in Austria, Cruises & Boat Travel, Eastern Europe, Europe, Featured, Hungary, Leisure Travel, Regions, Speciality Travel, Western Europe
"Best ship on the Danube", announced a veteran of countless cruises, both ocean and river, as he sat at the cocktail bar. He was congratulating himself on his astute selection of Riverside Mozart from around 200 ships that cruise the Danube.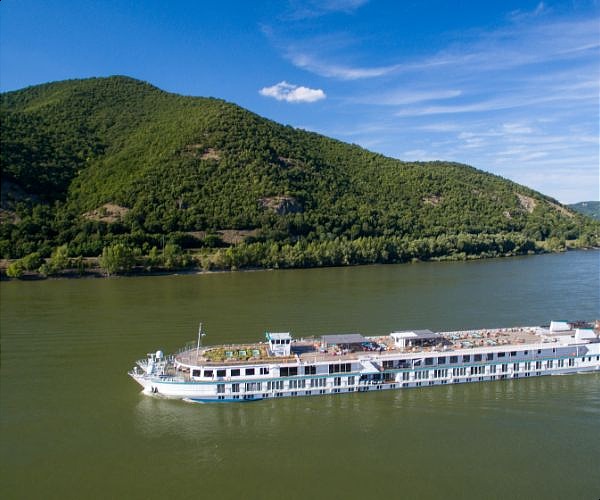 Acquired from Crystal Cruises after their bankruptcy, Seaside Collection has added a few extra touches to the double-width, all-suite, butler-service Riverside Mozart.
Riverside's Treasures of the Danube, either eastbound or westbound, is an epic voyage of castles, cathedrals, capital cities, operas, palaces, waltzes and wines. It tells stories of battles over land, religion and even Sacher torte, the traditional Austrian cake.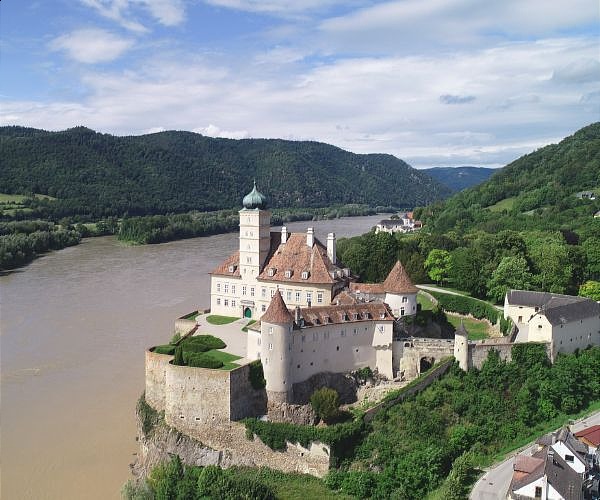 Recalling too, the characters of Central Europe. Mozart dying mysteriously as he wrote a requiem. Marie Therese known as the mother-in-law of Europe, after giving birth to 16 children. Pianist Liszt, as close as the 19th century got to a rock star, having an open house every Tuesday afternoon. And of cause Hitler celebrating Germany's Anschluss with Austria from a Viennese balcony.
The welcome
Accidentally arriving early for our 1pm check-in, our luggage is whisked away and we are guided to the bow's Blue Restaurant for lunch. A crisp salad, chunky salmon fillet and impeccable service all bode well.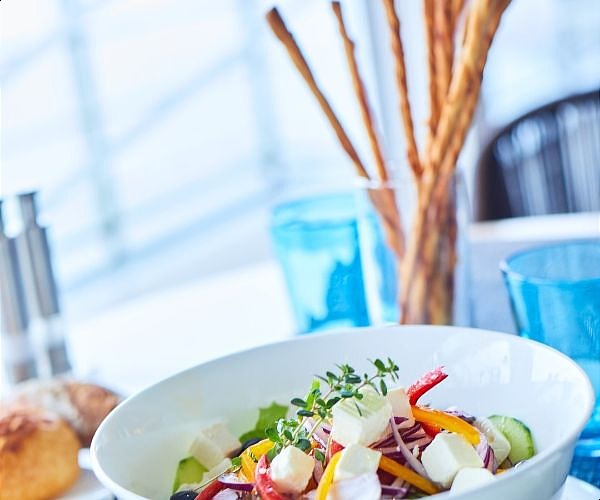 After lunch, our not-a-hair-out-of-place gleaming butler guides us to our penthouse suite on Deck 2. Champagne, fruit and petit fours welcome us.
The suite
Riverine blues, browns, greys and greens mirror the soothing riverscape that will slip by over the following eight days and seven nights.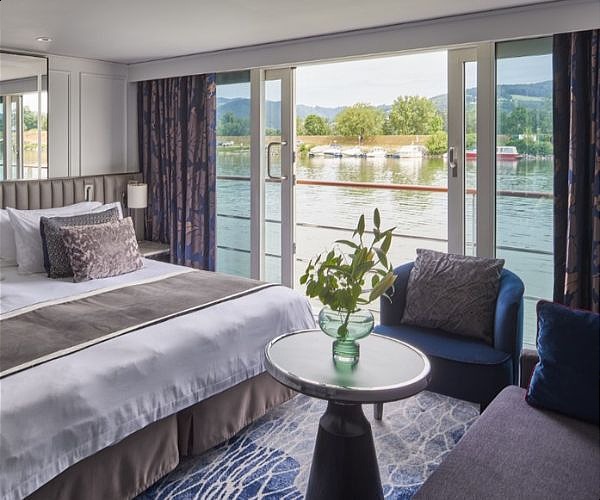 Our penthouse suite features a huge double bed, two seater-sofa and arm chair. Twice a day our cabin attendant refreshes the refrigerated minibar and coffee / tea station.
A small second room has a dressing table / desk which leads into the bathroom and a superbly designed walk-in wardrobe with ample hanging space and drawers.
The bathroom
Unusually for a ship's cabin there is room in the bathroom for both bath and shower. In the bathroom, push-button lighting with four levels from "brilliant" to "relaxed" adapts to the needs of cosmetic maintenance through to midnight wanderings.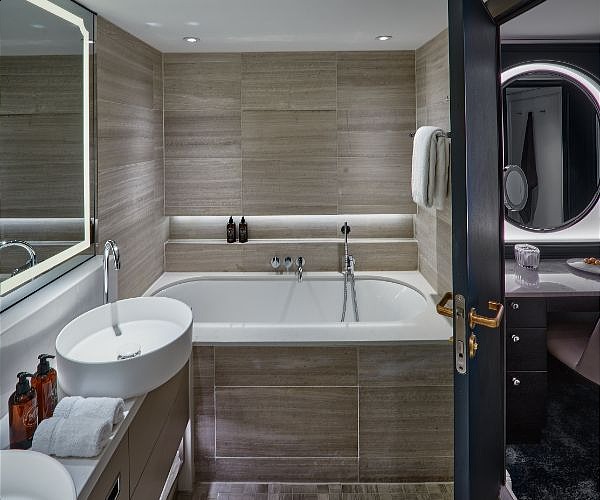 Amongst guests, the jury is out on the remote control Japanese automated loo's dashboard. "50 years ahead of its time," says one guest nervously.
Food and drink
A galley tour shows how the double width ship makes the 15 strong catering team the envy of the Danube. They bake bread, create ice-cream, make their own pasta and conjure up fresh soups.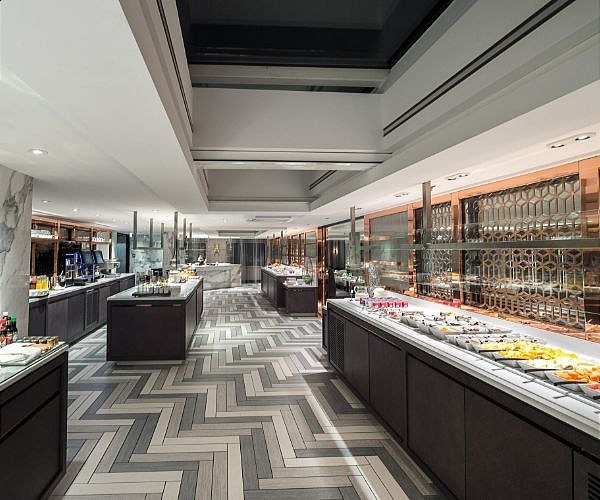 Offering many tables for two and flexible eating times, Waterside is the main restaurant for breakfast, lunch and dinner.
"Plummy with rich tones of blackberry," advises Kristun, using his Court of Master Sommeliers qualification, as he pours the inclusive house wines. Later he returns with a dessert wine recommendation. Such respect for wine combines well with eye-catching food presentation. Riverside Mozart is nudging culinary standards ever upwards.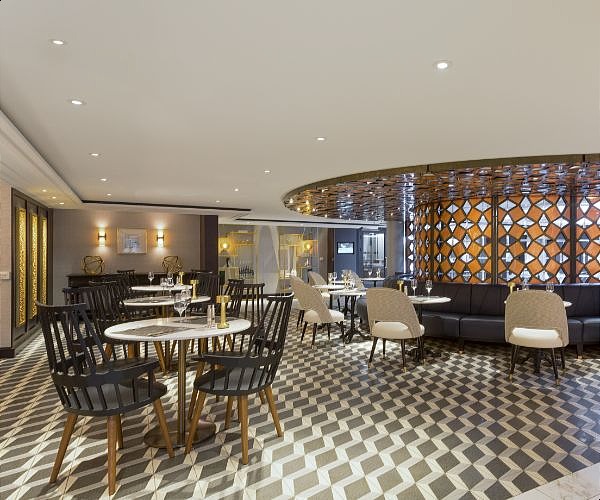 Waterside is one of four restaurants on board. Throughout the day the Bistro offers drinks and snacks, plus a tapas menu on some evenings. Whilst Blue is a scenic stop for lunch.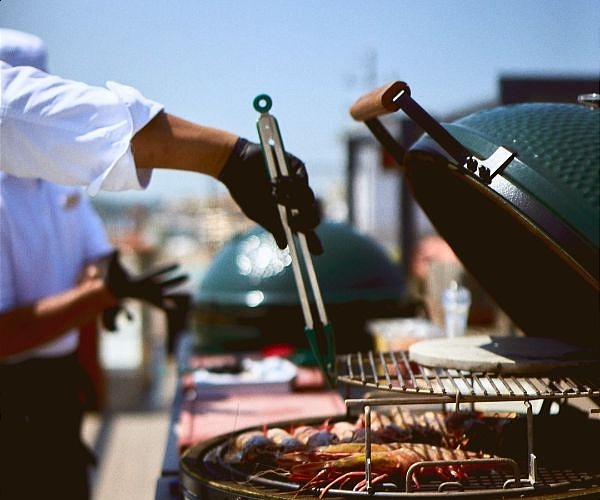 A pop-up grill, powered by Egg BBQs, operates on the Vista Deck when the weather is fine. Ask your butler to book a table as the ship glides through the hills of the Wachau Valley, one of the most spectacular stretches of the Danube. Or for when the Mozart Riverside is moored in Budapest as the evening lights of the city reflect on the Danube's silky waters.
Facilities
Bean bags, loungers and deckchairs create a chic beach club aura on the Vista Deck.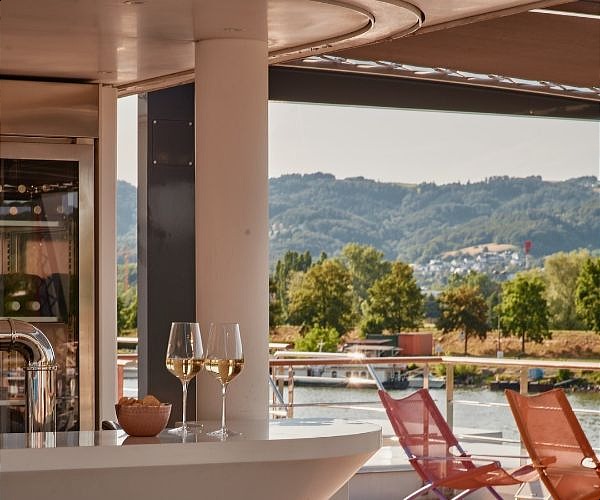 The Palm Court lounge, with a pianist playing jazz, classical music and requests on the Bösendorfer grand piano, has the quiet elegance of a cocktail bar from a bygone era.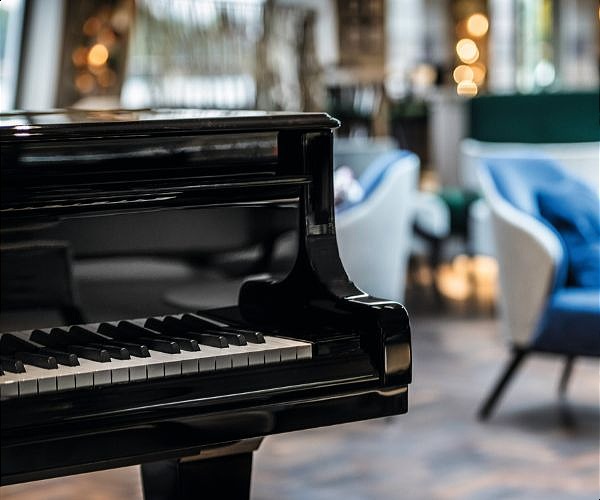 Again width brings benefits. An indoor pool, by the whirlpool, is half-a-dozen strokes wide and long. Serious swimmers push a button to swim against the counter-current for a vigorous aqua workout. Nearby are the spa, hairdresser, sauna and steam room. Below on Deck 1, there is a well-equipped gym.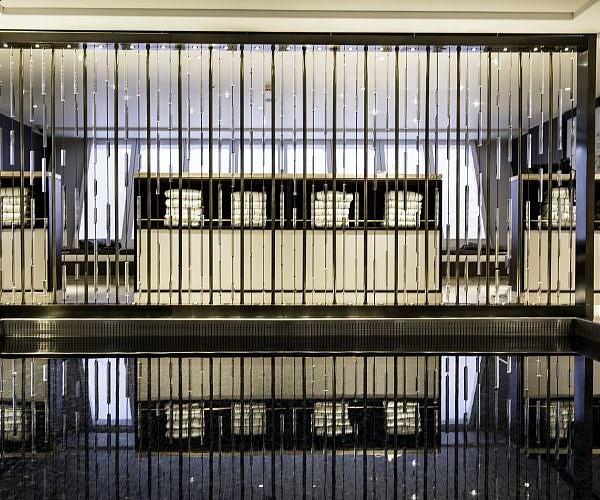 Alternatively for a jog or brisk walk, a promenade encircles Deck 3.
Excursions
Aiming to keep the group size to around 15, we are guided around the imperial architecture of Vienna, once capital of the Austrian-Hungarian that ruled half of Europe.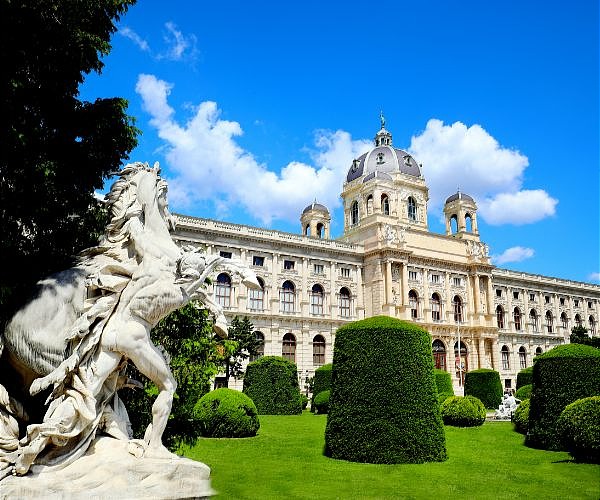 Briefly heading west, we call in at pretty cobbled Durnstein for wine tasting, rebranding itself as Austria's apricot capital after a 19th century virus attacked the vines. Later in the day, the golden gilded glory of Melk Monastery shows the Catholic church's no-expense spared response to austere grey Protestantism.
On longer excursions such as the drive to Salzburg, through the spectacular Austrian Lake District, guests appreciate the comfort of Riverside's own air-conditioned coaches. As they travel, the guide reveals that Maria of The Sound of Music fame had not been a nun and that there was outrage when, at the age of 23, she married 47-year-old Captain Von Trapp. Though Salzburg's real star is Mozart, so our guide takes us to the composer's birthplace.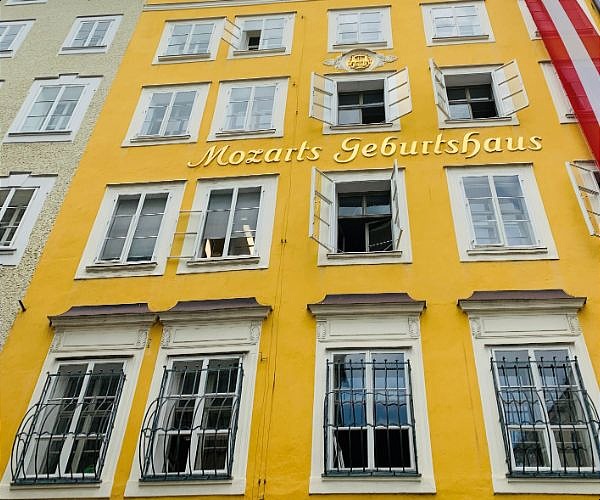 Another day, another country, another capital and Riverside Mozart docks in Bratislava for a tour with a guide who demonstrated as part of the Velvet Revolution. Over a spot of late-afternoon beer tasting, she tells us of the Velvet Divorce that dissolved Czechoslovakia.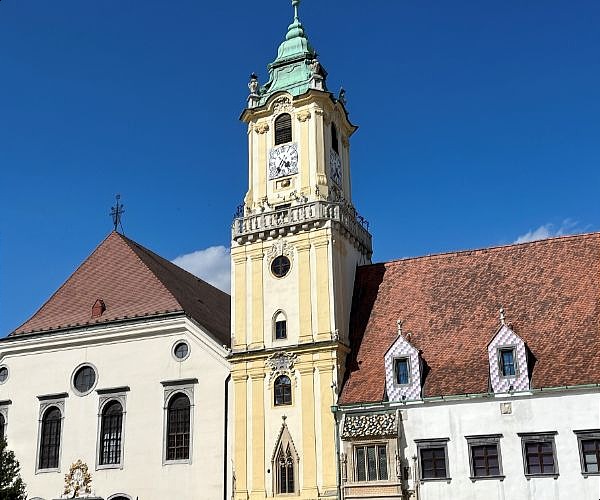 Esztergom, on a scenic bend of the river, Hungary's former capital, showcases a basilica that is Europe's third largest church. Once border country in the battle with the Ottoman Empire, some of the church's statues had their heads removed by disapproving Ottomans.
Finally, Riverside's guide takes guests on a tour of Hungary's neo-gothic parliament where they see the royal crown. In 1945 it was given to American soldiers for safe keeping until Jimmy Carter negotiated its return in 1978. Having explored Pest, or "Peshhtt" as locals say, an after lunch tour takes passengers to hilly Buda and its castle on the north side of the Danube.
Other nice touches
Suites are equipped with binoculars for viewing castles on valley hillsides and fluttering bird life. A guests' laundry has washing machines, dryers, washing capsules and distilled water for the iron. Included transfers to and from airports or local hotels take the stress out of arriving and departing.
---
IMPORTANT NOTICE:
If you are reading this article anywhere other than on A Luxury Travel Blog, then the chances are that this content has been stolen without permission.
Please make a note of the web address above and contact A Luxury Travel Blog to advise them of this issue.
Thank you for your help in combatting content theft.
---
Bikes and e-bikes are available for the biking excursions or a jaunt along the Danube cycle path. Similarly alpine walking poles help out with hikes.
The cost
Sailing from Vienna, in September 2023, prices begin from €2991 per person for full board. Premium all-inclusive, also covering standard excursions, starts at €4316 per person.
The best bit
An evening private guided tour of Upper Belvedere's art, after the public has left the palace, including Klimt's "The Kiss", is a privileged experience.
Then a small orchestra, plus baritone and soprano, convene in Prince Eugene's Marble Hall to perform a concert of Mozart, Strauss and other Viennese classics exclusively for Riverside guests. Our guide reminds us that this was where Prince Eugene kept his tame lion.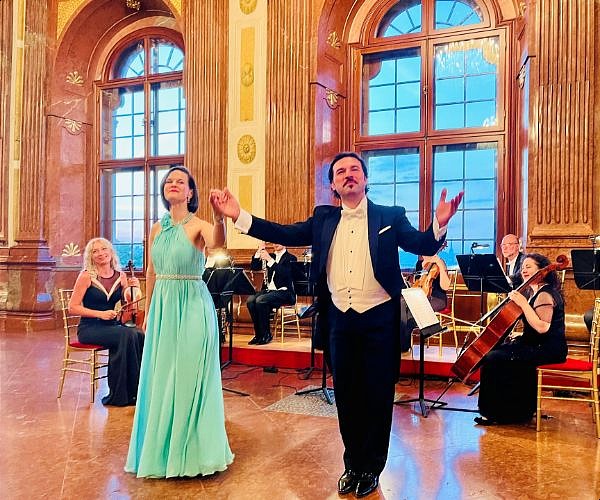 The concert triumphantly concludes with the General Radetzky March, who incidentally was refused permission to retire at the age of 82.
The final verdict
Hosting just 162 passengers, warmly cared for by 91 staff, Riverside Mozart is gaining a reputation as the cosiest and most elegant of all Danube ships.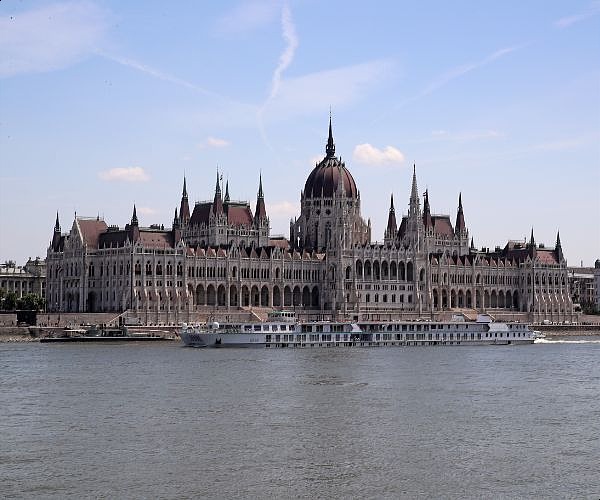 Disclosure: Our cruise was sponsored by Riverside Luxury Cruises.