Review: Swan Hellenic expedition cruise to Antarctica and the Weddell Sea (part 1)
By Kristof Eyckmans on Feb 23, 2023 in Antarctic, Cruises & Boat Travel, Featured, Polar Regions, Regions, Speciality Travel
Antarctica, a place that is still covered in mystery and only seen by brave explorers and in recent times by scientists and crazy adventurers that don't shy away from this cold elusive continent. Well, that's what most people say when you ask them about this vast wilderness at the very bottom of our planet. However, because it's one of those "last frontiers" it's becoming an increasingly popular destination and the cruise industry is all for it. As a result there are dozens of ships exploring this white desert every year, allowing over 150.000 people every year to discover Antarctica in the most comfortable way possible.
So last month it was my turn and even though I'm back home now, I'm still processing all the impressions from this epic journey. Because there are so many unknowns regarding this destination and type of travel, I've split my review into 2 parts, hopefully answering all of your questions (if not just pop them below in the comment box). Here we go!
Why Swan Hellenic?
Swan Hellenic is a brand that has been around for over 70 years but ever since 2020 it has known a true renaissance when plans were made to begin operations with a fleet of newly purpose-built expedition ships. The first one, the sleek 337 ft long SH Minerva entered service by the end of 2021, offering space for 152 guests and 120 crew. Its sister-ship the SH Vega followed not long after in spring 2022 and the third and momentarily last one in the pipeline is the slightly larger SH Diana that will commence service in the coming months.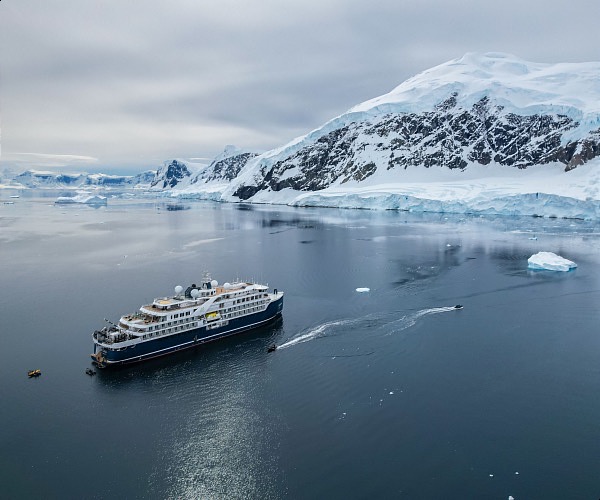 I was looking for a company that operates smaller ships and the reason behind that is the fact that in Antarctica there's only a maximum number of 100 guests that can go ashore at any given moment. But I don't want to be roughing it either so that's when Swan Hellenic as a true 5 star company came on my radar, offering all of that and then some. And a luxury boutique brand that is relatively new always tickles my curiosity, irrelevant if its a cruise company or a new hotel brand.
Staterooms
There are 3 distinct stateroom categories being Oceanview, Balcony or Suite. All of them offer ample space, warm and cozy interiors, soft textures and most importantly an amazing bed in which you can easily drift away while listening to the crackling noise of the fireplace. No worries, it's not a real one, but it looks pretty darn alike and gives that instant "hygge" feeling!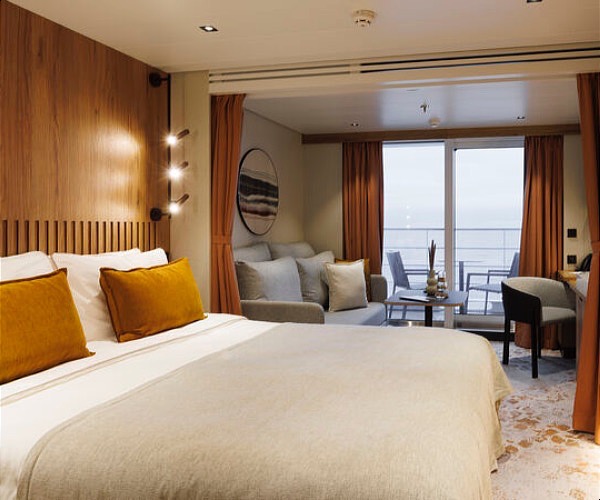 I always go for a balcony stateroom or higher, and this time was no exception. Our room 614 was located on deck 6 and from the moment I walked in I was not only taken away by how spacious it was but also by the high quality finishes, the ridiculous amount of storage and the overall homely feeling it instantly gave me. The slightly Scandinavian look and feel that runs throughout the ship makes the room feel even larger than it is thanks to the soft tones, clever use of space and the burst of light that pierces through the floor to ceiling sliding windows which give access to the balcony.
The bathroom is practical and while it doesn't have a bath like the suites it does have an amazing rain shower which is probably double the size of what you typically get on a cruise ship. Trust me, you're really going to appreciate that when trying to shower while crossing the Drake Passage!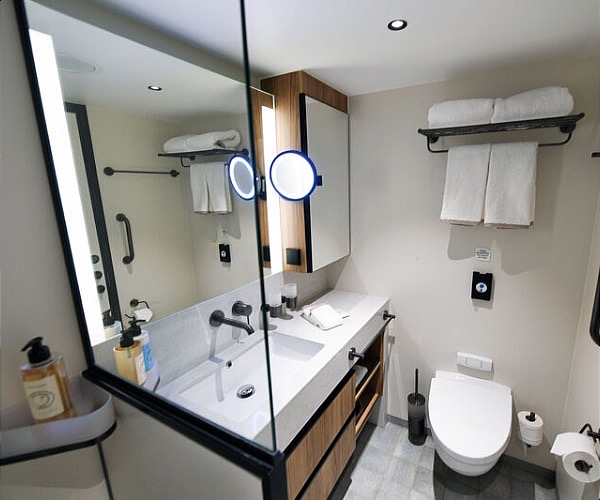 Culinary journey
One of the key stones of a good expedition cruise, is how well-fed the guests are and Swan Hellenic clearly understands the importance of it. On the SH Vega there's only one real restaurant, the Swan restaurant where you'll have breakfast, lunch and dinner. While the first two are offered in a really nice buffet-style where you can still order your preferred eggs or similar on the side, the dinner is where the true class of Swan Hellenic shines. Every evening you'll get a different menu with the choice of appetisers, soups, salads, entrees, cheese and desserts allowing you to create your own 6-course meal if you feel like it. Mostly I was glad to have just 3 or 4 courses cause you will not go hungry at any given moment during your voyage. It also allows you to truly enjoy every dish and due to their collaboration with Michelin star chef Andrea Ribaldone and chef Sang Keun Oh , every plate that is put in front of you looks like a painting and the taste is equally impressive. All guests were raving about it and I couldn't agree more.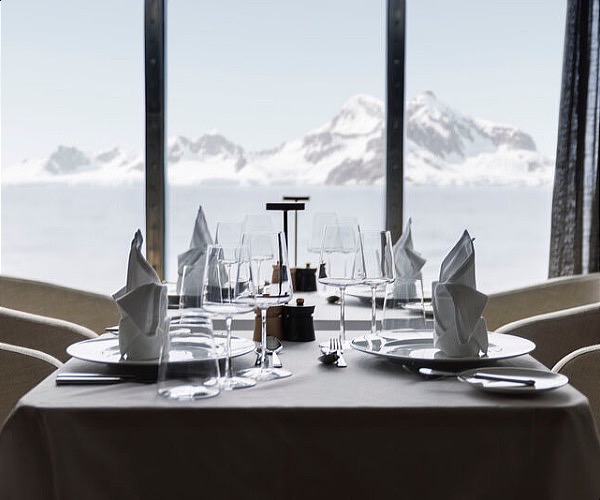 The Club lounge isn't technically a restaurant yet you do get to enjoy afternoon tea here on a daily basis and there are all sorts of nibbles and finger food on display 24/7. The freshly baked cookies are impossible to pass by without grabbing one so don't tell me I didn't warn you.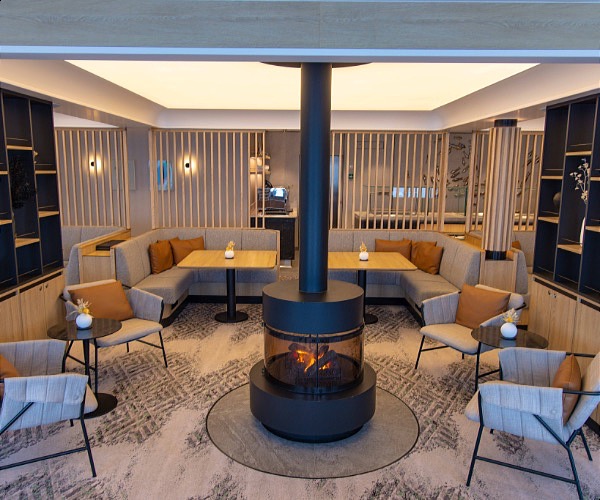 Weather permitting there's also an outdoor kitchen that allows for alfresco dining, a truly remarkable experience when cruising through massive icebergs or past those imposing glaciers.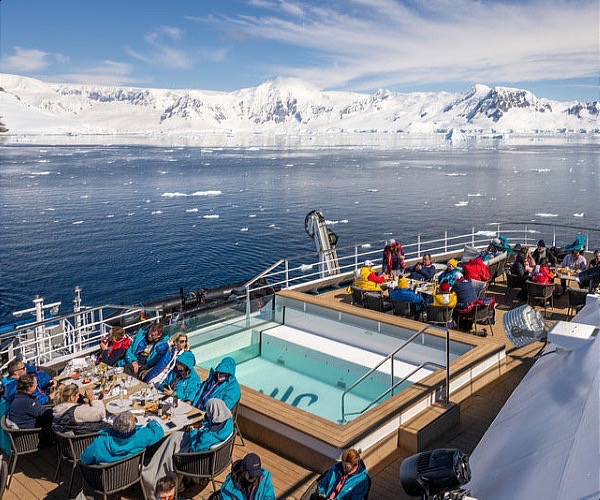 And if all of the above isn't enough yet, there's also room service available around the clock, with some very tasty options which are hard to deny. The perfect alternative for those days when you don't want to leave the comfort of your room anymore.
The team
You can have the most amazing ship with all the bells and whistles but everything will be in vein if it isn't backed by a team of skilled professionals. Luckily Swan Hellenic understands this and hired some of the best in the industry which instantly adds so much value to the overall experience. From the moment I walked on the ship the staff found the perfect balance between being professional and at the same time interact in a slightly more leisurely way to make us feel right at home. And it doesn't stop there cause due to its size the staff knew our names, drink preferences and so on after merely a day, something you won't get on the larger ships.
Of course there's also the expedition team which plays a crucial role in turning a trip to Antarctica into a lifetime memory. No less than 12 expedition crew members were on hand to guide us during landings, give explanations while on zodiac cruises and so on. And this team under the watchful eye and guidance of Antony Jinman (Google will tell you all about him) had some proper experience with Antarctica like skiing all the way to the geographic South Pole, a feat not to be underestimated. Naturalists were equally on board to give us some great insight into the environment, the wildlife and everything we saw and experienced during our time down south.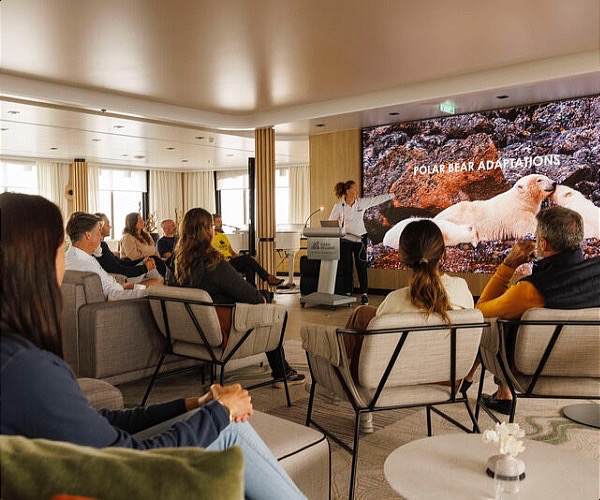 There was even a guest lecturer on board, and not just any random guy they picked up in Ushuaia but Ed Sobey, a well known oceanographer and meteorologist that had all the guests eating out of his hand when he gave yet another lecture. It's these small details that really add value to the overall experience and make a difference in the end.
Facilities onboard
It might be a smaller ship but that doesn't mean you have to give up on luxury or facilities! First up is the gym, not massive but more than adequate with peloton bikes, treadmills, weights, …. It's more than enough to keep you fit and by the amount of people (at least on our expedition) that worked out in the gym every day, I can tell it has everything you need.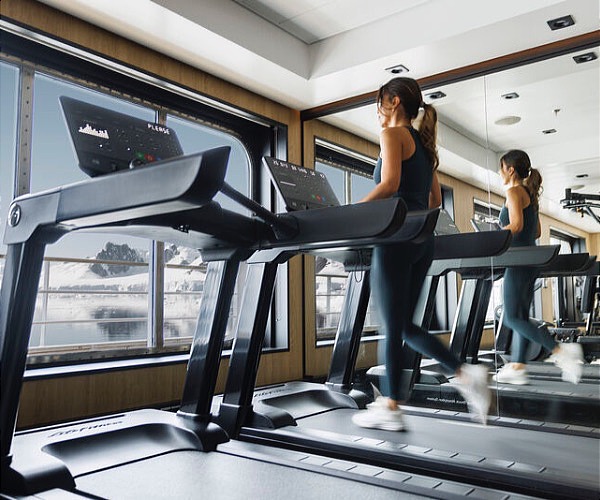 Right across is the sauna and outdoor jacuzzi, much more up my sleeve and much more relaxed but hey… who am I? The sauna is huge, has a large window to watch outside in case there are any whales swimming by and can easily fit 12 or more, and while it might be a tight squeeze the jacuzzi will probably accommodate about the same amount of people.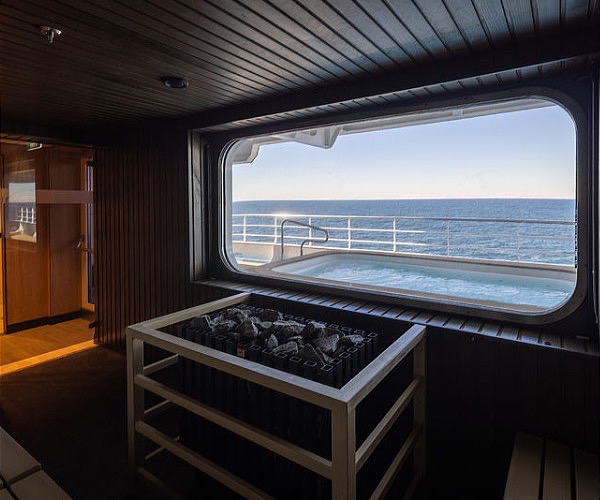 Rather have a proper pool, then head over to deck 7 and you'll find a decent sized outdoor pool in the aft, perfectly located to gaze over the sea or the nearby mainland. Especially when the sun comes out it's a joy and simultaneously a surreal experience to swim in the coldest place on earth. But not to worry, the water temperature is always very enjoyable to the point where it almost feels like you're swimming in a huge bath tub.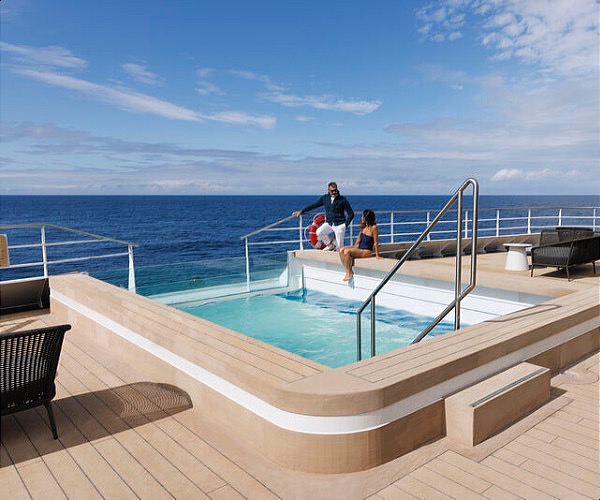 Bookworms will equally have a great time thanks to the library on deck 3. Its low and central location on the ship also makes it less vulnerable for rocking up and down during rough seas meaning you can read a book in this tranquil oasis while feeling a gentle motion rather than a rollercoaster.
Citizen Science
Science… while you're on a trip of a lifetime? Absolutely! Antarctica (and the Artic too for that matter) is mostly visited by guests like you and me. Sending scientists and researchers to these areas is a costly affair so why not use the time we're spending in these regions to help science along? The Citizen Science programme does just that and it adds an extra layer to the overall experience. It gives you the chance to help understand, research and observe these remote places while equally gathering important data which can be used by the scientific community. The SH Vega even has its own laboratory onboard. It's not like the massive ones you see in Hollywood movies but nonetheless it's big enough to get the job done.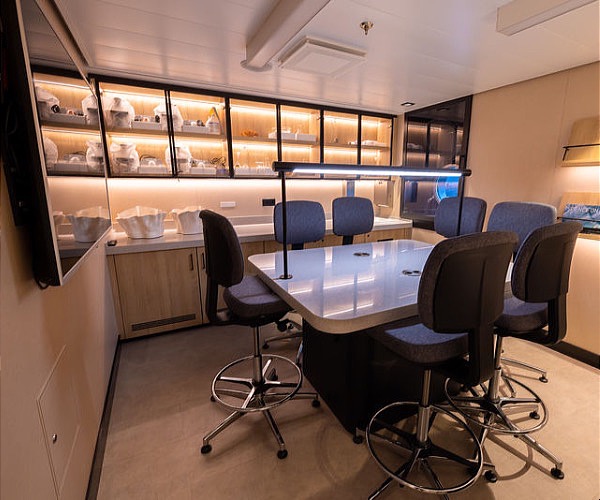 There are countless ways of helping with the programme, and during our expedition I mostly joined in the bird survey with Carine and Sue (both naturalists and ornithologists) which saw us observing, counting and recording all the birds for a full hour during our time on the Drake Passage. Of course, all of this is on a voluntary basis but it gave me much joy to help even if it's in the slightest way + I learned a lot during those observations on the aft deck. Most guests on expeditions cruises like these are interested in our environment and how it's evolving, and through this programme you get a chance to help scientists understand it better and possibly find ways to help our planet, something which in my books is a free and important bonus to a voyage like this.
---
IMPORTANT NOTICE:
If you are reading this article anywhere other than on A Luxury Travel Blog, then the chances are that this content has been stolen without permission.
Please make a note of the web address above and contact A Luxury Travel Blog to advise them of this issue.
Thank you for your help in combatting content theft.
---
Is there more than just Antarctica?
In short… absolutely!
Currently Swan Hellenic puts its focus on the polar regions during their respective summer seasons but in between these and with the third ship the SH Diana coming into play, there is literally no limit to the destinations on offer. It all depends on what your personal preferences are or which bucket list destination you want to tick, be it Antarctica, the west coast of Africa or the remote pacific islands like Vanuatu and the Solomon Islands.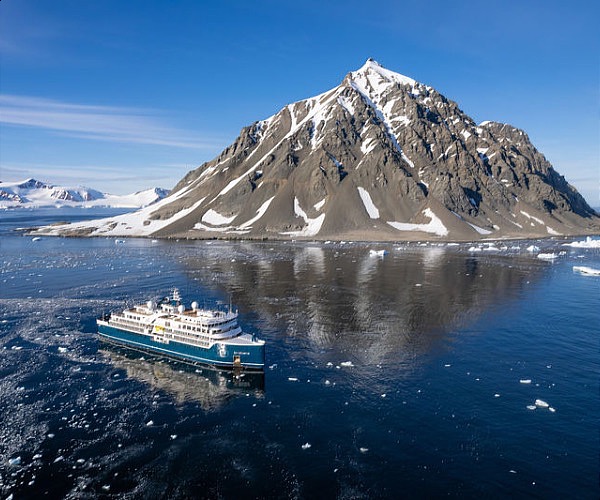 The key to success here is the fact that the major advantages of the ship remain the same, irrelevant of the destination it's exploring. It's small enough to get into places bigger ships just can't reach, and due to the limited amount of guests on board it is also very flexible with the itinerary making sure it maximises all the opportunities that present themselves along the way.
What's included
Well, unless you want to drink Louis Roederer Cristal champagne all day long, there's really nothing that isn't included.
From the moment you gather at the designated luxury hotel in Buenos Aires the day before setting sail, till the moment you arrive back in the city after an amazing expedition, everything is included. And with that I mean everything! The accommodation in Buenos Aires, the chartered flight to and from Ushuaia, transfers, the whole expedition cruise onboard the ship, all the food and drinks (yes even the alcoholic ones),…. They even provide you with a proper parka, drinking bottle and waterproof backpack, all of which you can take home afterwards. Boots you don't need to worry about either cause they will loan you these for the duration of your time onboard the ship.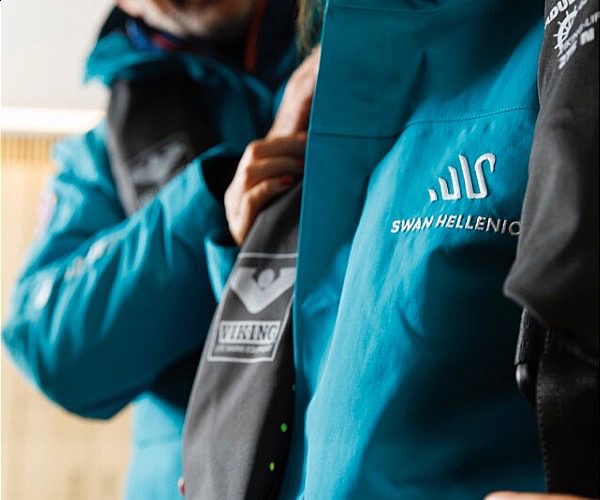 If however your cash is burning in your pocket and you do want to spend it on something, then consider one or several spa treatments, an item from the gift shop or a fancy bottle of wine or spirits from the reserve list. But that's about the only options you'll have, cause all the rest is included, even the lifetime memories!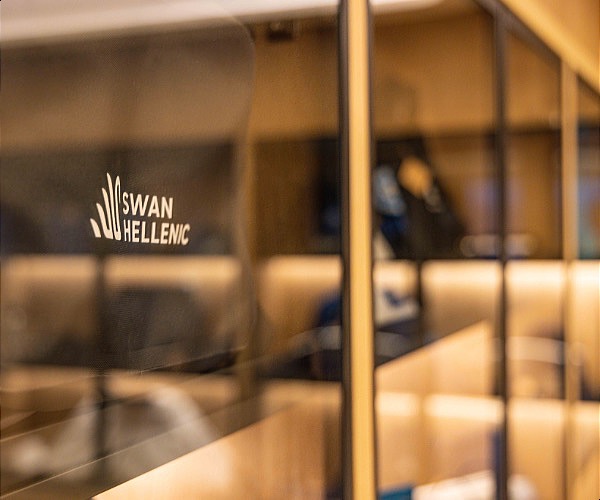 Conclusion
If there's one conclusion I have from this whole experience, it's the fact that you really have to chase those dream trips and not delay them any longer. For me Antarctica was always on my mind and I wanted to experience it in the best way possible, and I feel that Swan Hellenic was the perfect choice for that. Their approach towards the whole experience and the fact that it's done in a select group guided by some of the best in the business is more than what you could wish for.
The only downside is the fact that I'm now even more keen on exploring more of Antarctica, South Georgia, the Falkland Islands and the Arctic in the same way and luxury as I experienced this journey.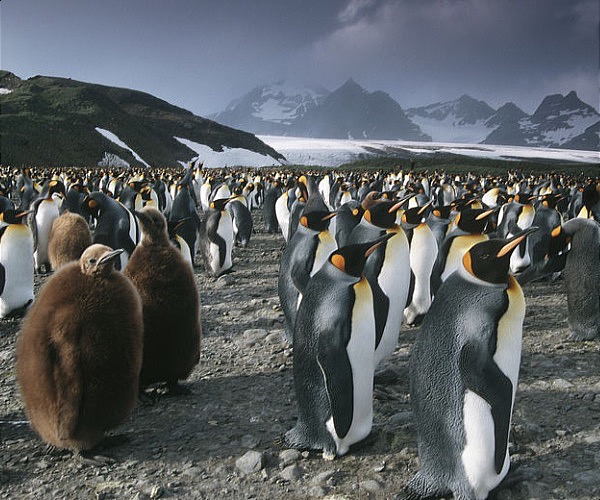 In part 2 of this review I'll dive deeper into what you can expect to do and see during an expedition cruise in Antarctica on Swan Hellenic and how a typical day looks like when visiting the 7th continent.
Disclosure: Our cruise was sponsored by Swan Hellenic.