Review: The Cavendish at Baslow, Peak District, Derbyshire, UK
By Paul Johnson on Aug 15, 2023 in Accommodation, Europe, Featured, Food and Drink, Going Out, Hotels, Leisure Travel, Regions, Restaurants, Speciality Travel, Travel Miscellany, United Kingdom, Western Europe
When we were invited to a wedding in the Peak District some months ago, we jumped on the opportunity of staying at the delightful Cavendish at Baslow which you may recall being mentioning previously on A Luxury Travel Blog. Part of the Devonshire Hotels group, this elegant 18th Century country house hotel prides itself on its warm hospitality and understated elegance.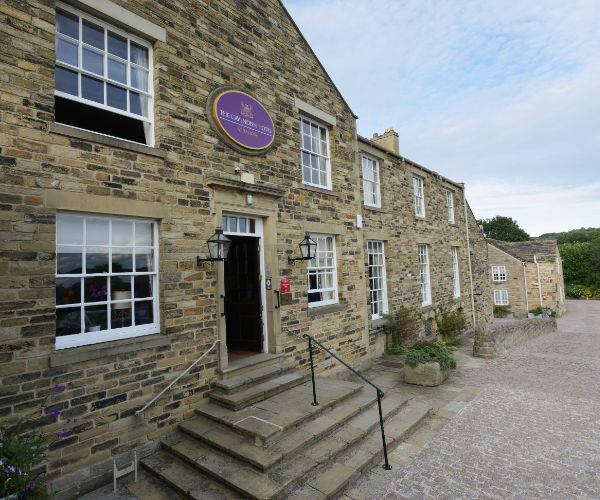 The welcome
We were warmly greeted at the reception desk and personally shown to our room, along an old stone-floored corridor, passing tasteful artwork, a wall-mounted stag's head and an amalgam of antique furniture. So far, so good… we were made to feel special and the ambiance was nothing but welcoming, all without being over the top.
The room
We stayed in Room 21 (Link) – a beautiful Superior Room with luxurious fabrics and furnishings that included a stunning period four poster canopy bed with floral upholstery.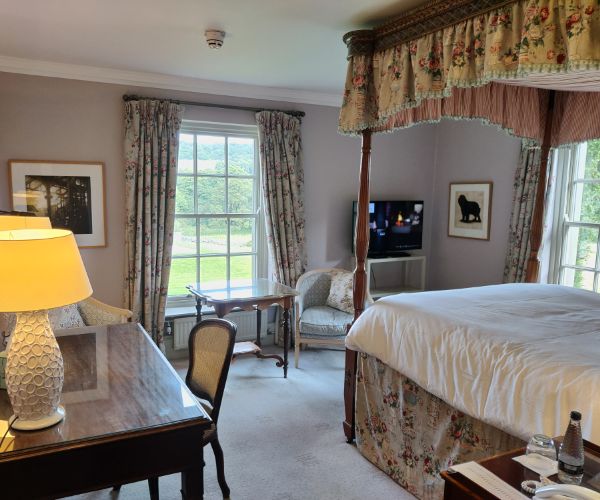 As four posters go, this one is substantially elevated from the ground, but there is a small bed step at the foot of the bed (once upon a time, these would have doubled as a chamber pot) to help anyone who may need a little assistance with their slumber.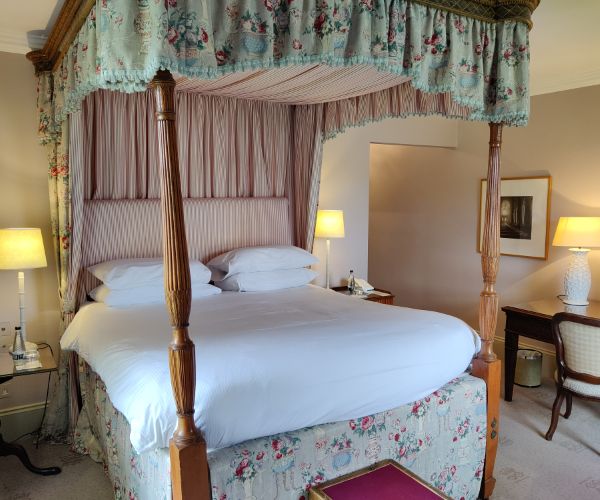 The bed of course takes centre stage but the room is also very spacious with a table and some comfortable seating at a south-facing window that overlooks the Peak District countryside, as well as a dressing table (or desk if, like me, you tend to take your work everywhere you go!).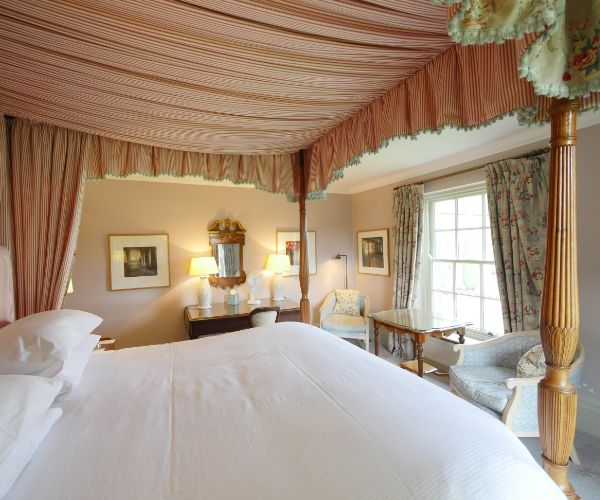 A second window looks west over more countryside.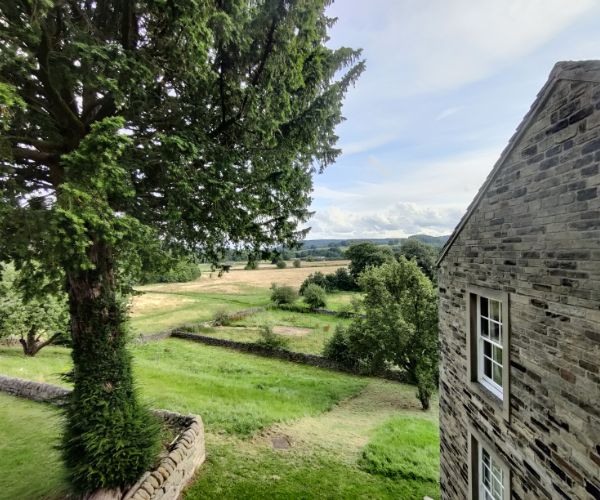 The bathroom
No chamber pots are required, of course, as the room is en suite. Our bathroom came with a bath and shower over it, basin, WC and fluffy robes and slippers.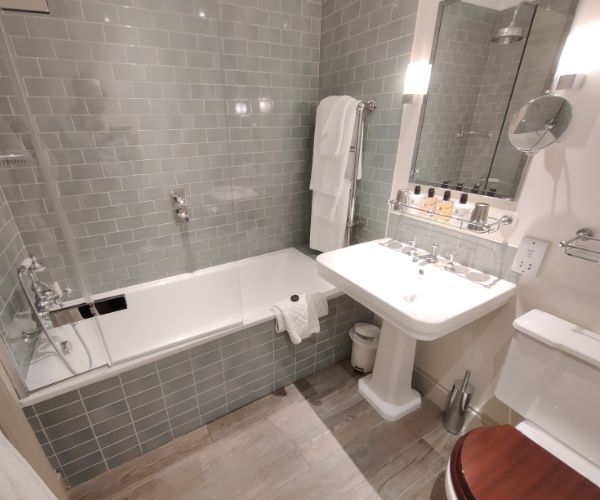 We were also provided with premium full-sized toiletries that included Noble Isle Perry Pear shampoo and conditioner, along with a refreshing Rhubarb bath and shower gel and Rhubarb body hydration.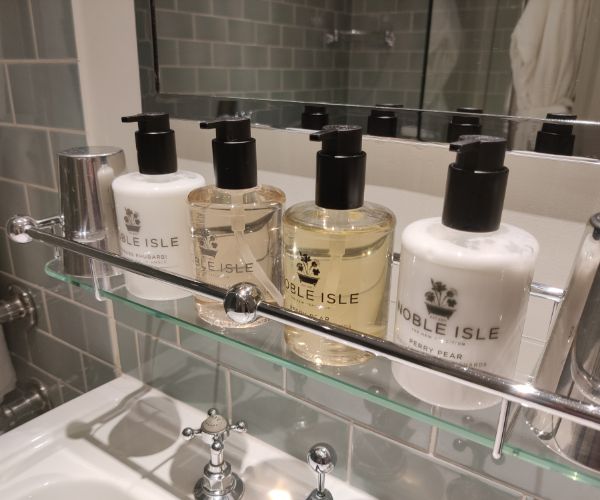 The facilities
One of the highlights of our stay was dinner at the recently extended Garden Room, the more relaxed and informal alternative to the hotel's Gallery Restaurant where Chef Adam Harper's carefully curated menu exhibits his passion for local food and produce. Adam also works with the gardeners at Chatsworth to select fruits, vegetables and herbs from the kitchen garden, which produces food for much of the year.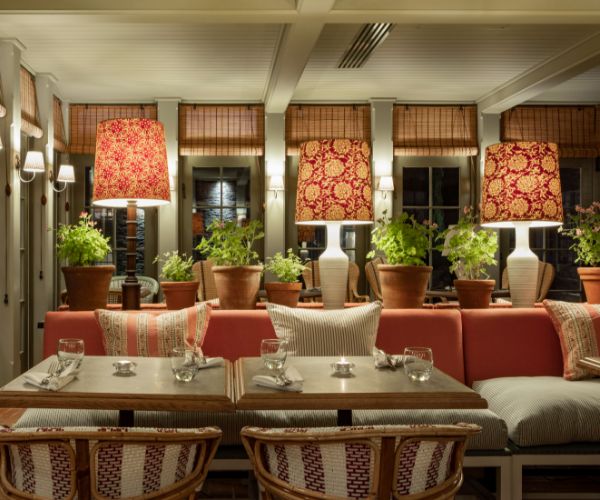 My tender home-cured beef Chatsworth Farm beef bresaola starter was a nicely balanced dish complemented by a creamy Peakland white cheese, the richness of rapeseed and the tanginess of sauerkraut.
My wife's starter of Estate wild mushroom was a rich medley of wild mushrooms nestled within a buttery croissant, topped with local Hartington blue cheese, made all the more memorable thanks to a touch of truffle.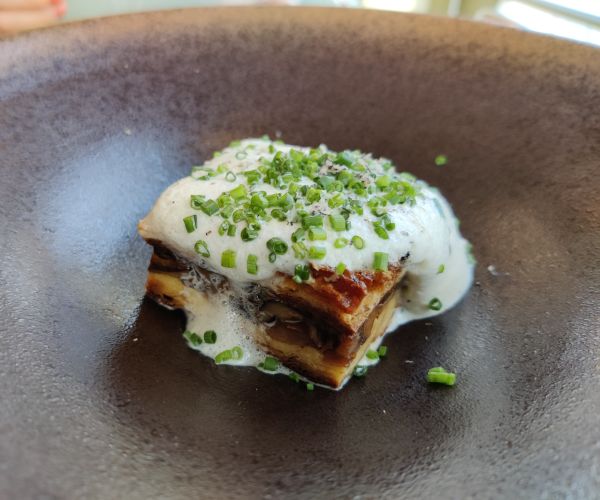 It might not have been the most photogenic dish but, from the mains, I can heartily recommend the lobster risotto, boasting not just tender lobster, but also mussels and clams, all perfectly combined with the aromatic flavours of lemon, garlic and parsley, and finished with Parmesan shavings.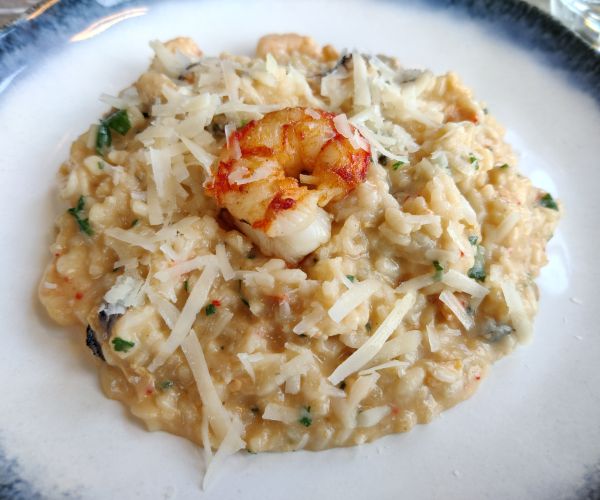 For vegetarians, the curried kitchen garden cauliflower is an inventive and flavourful dish complemented by a creamy hummus, spiced granola and coconut yogurt, offering a combination of textures and some wonderfully-declicate, curry-infused elements.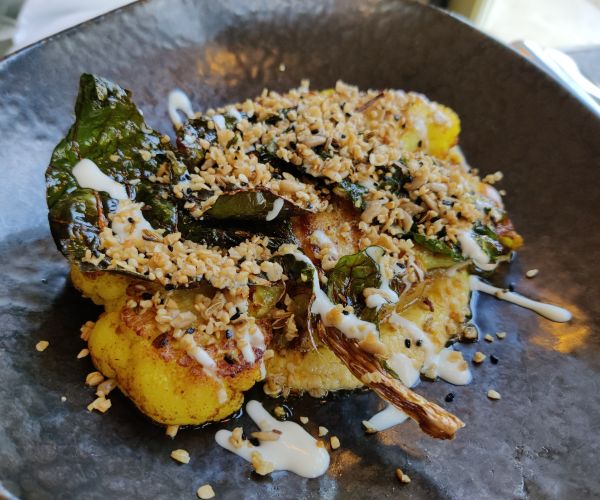 The hotel is less than 5 miles from Bakewell so it seemed fitting for me to try the Bakewell slice with a luscious white chocolate mousse and refreshing raspberry sorbet – a delicious combination of rich, creamy sweetness and a tart raspberry tang.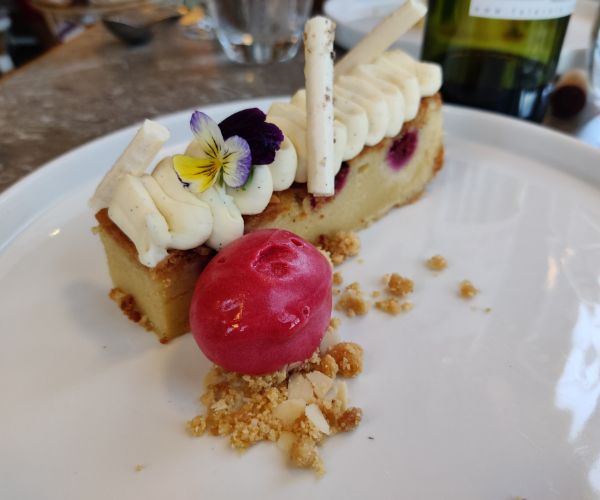 My wife's crème brûlée took centre stage on the presentation front and was accompanied by an ensemble of flavours including fennel pollen, mango, passionfruit, coconut and black sesame.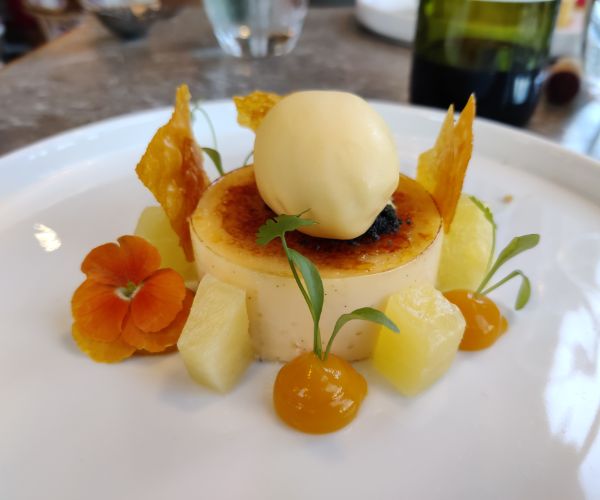 In the mornings, the elegant Garden Room transforms into a light and airy space offering panoramic views of the estate.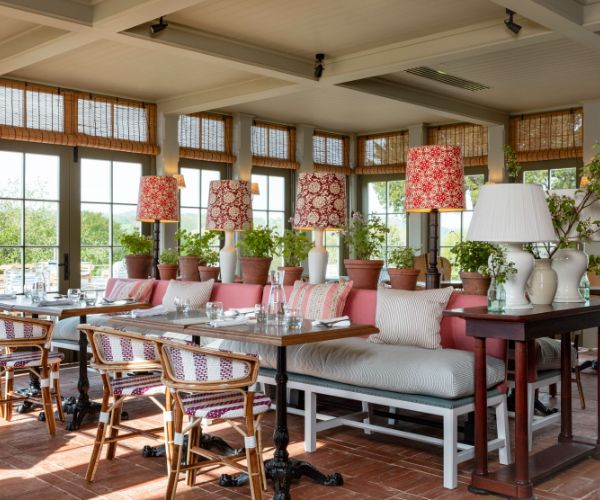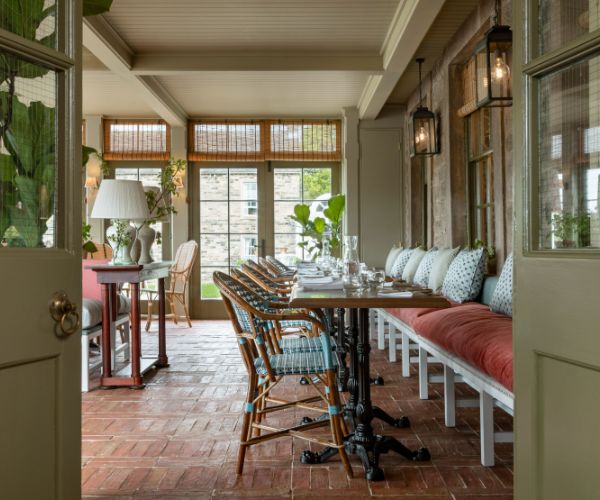 Since we were staying on a weekend, on our first morning we opted to do the nearby Monsal Trail parkrun, a picturesque and popular route just 5 miles away, and the staff were very kind in accommodating our slightly later breakfast time.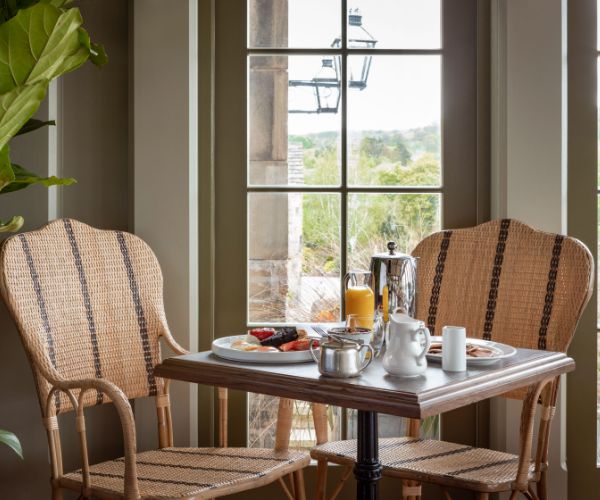 The hearty Cavendish at Baslow eggs forestiere is a wonderful way to start the day with its earthy flavors and the richness of the poached eggs, but you can also choose from a whole array of options included grilled kippers, shakshuka or the full Cavendish breakfast.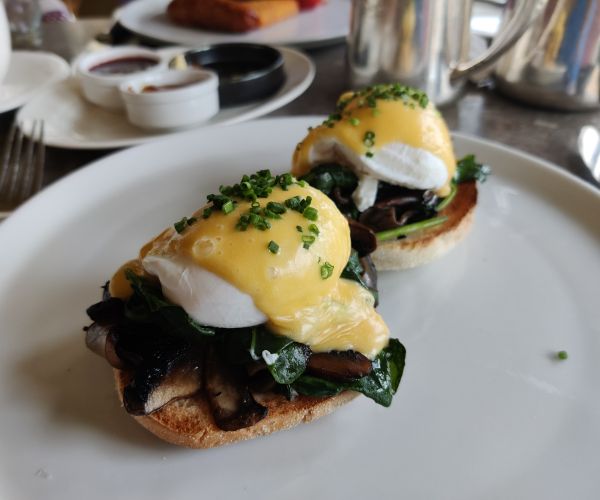 ---
IMPORTANT NOTICE:
If you are reading this article anywhere other than on A Luxury Travel Blog, then the chances are that this content has been stolen without permission.
Please make a note of the web address above and contact A Luxury Travel Blog to advise them of this issue.
Thank you for your help in combatting content theft.
---
Location
Nestled on the edge of the Chatsworth Estate, in the picturesque village of Baslow, the hotel enjoys a prime location within the Peak District. Despite its proximity to the main road through Baslow, guests enter on the other side of the building and, once inside, can enjoy the tranquility of the location along with the sweeping views of the countryside. And all this is just a short 15-minute drive from Sheffield and a mere 20 minutes from the M1 motorway, while the closest mainline station can be found in Chesterfield, approximately six miles away. From the hotel, you can leisurely stroll into the estate through a kissing gate and follow a path to Chatsworth House.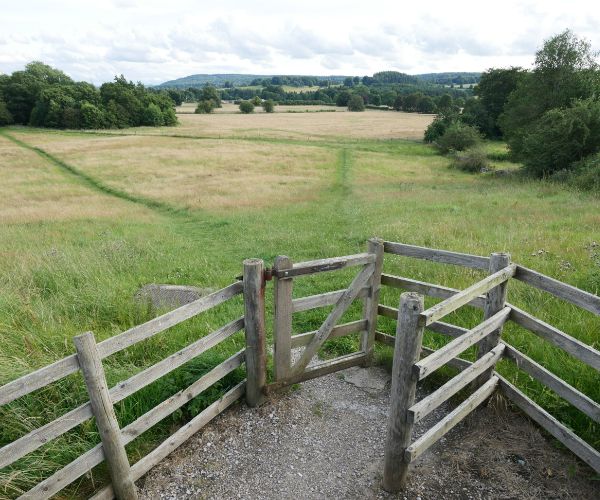 Other nice touches
Our room was not only equipped with the usual tea and coffee making facilities, and fresh milk in a mini-fridge, but also a complimentary box of Chatsworth's very own delectable, all-butter chocolate and hazelnut biscuits.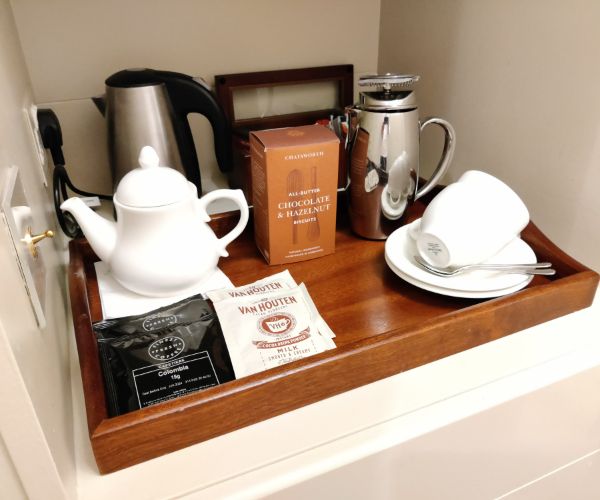 Cost
Standard doubles typically start from £210 per night.
The hotel is currently running a 'four for three' bed and breakfast offer for any bookings of four consecutive nights, that works out as £220 per night in a Superior room, across the four nights. Alternatively, there's a dinner, bed and breakfast offer from £358 per night based on a standard room.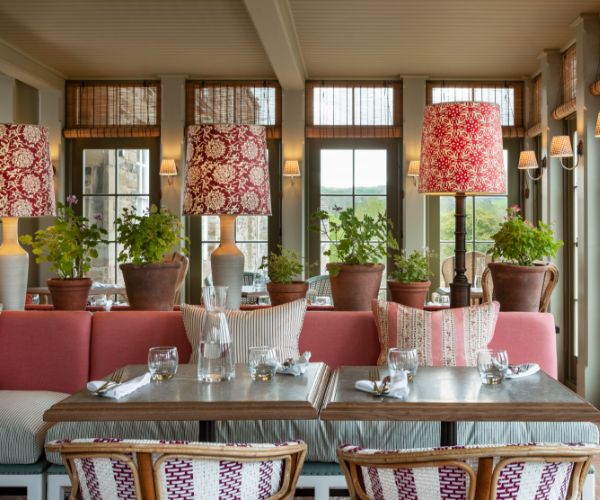 The best bit
What we really enjoyed about The Cavendish at Baslow is its enchanting ambience, surrounded by the serene beauty of the Peak District. The captivating views from the hotel, the lush countryside and the majestic Chatsworth hunting tower in the distance, combine to make it a delightful getaway.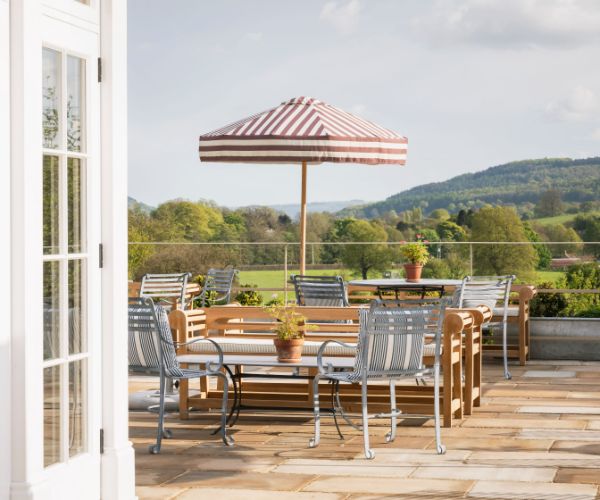 The final verdict
Nestled in the breathtaking landscapes of the Peak District, The Cavendish at Baslow is a hidden gem that transports you to a world of refined luxury and tranquillity, without any of the stuffiness that you might get from some luxury hotels, making it a place where we could properly unwind in a truly relaxed setting.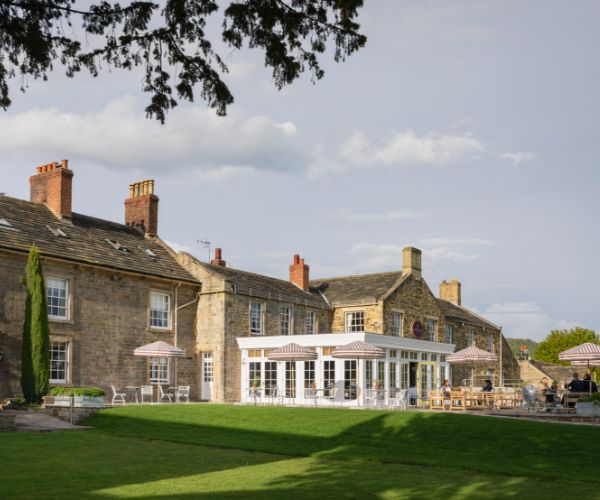 Disclosure: Our stay was sponsored by The Cavendish at Baslow.