Review: The Forest Side, Grasmere, Lake District, UK
By Paul Johnson on Aug 18, 2023 in Accommodation, Europe, Featured, Food and Drink, Going Out, Hotels, Leisure Travel, Regions, Restaurants, Speciality Travel, Travel Miscellany, United Kingdom, Western Europe
On the fringes of the popular village of Grasmere, famed not only for its gingerbread but also its literary connections with poet William Wordsworth, lies The Forest Side – a secluded Victorian haven where you can not only stay in luxury but also experience a Michelin-starred culinary journey that blends the richness of local ingredients with the artistry of modern gastronomy.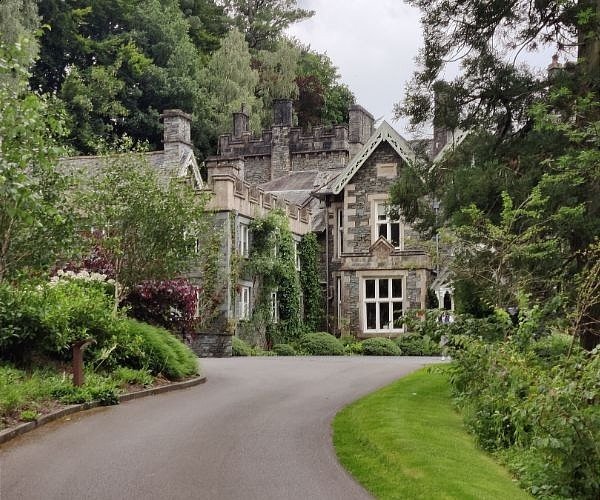 The welcome
After parking our car close to the hotel's kitchen garden and walking up the sweeping drive to The Forest Side among a symphony of birdsong, we were warmly greeted at reception, given a brief tour of the ground floor (and where we would be dining later), and personally shown to our room.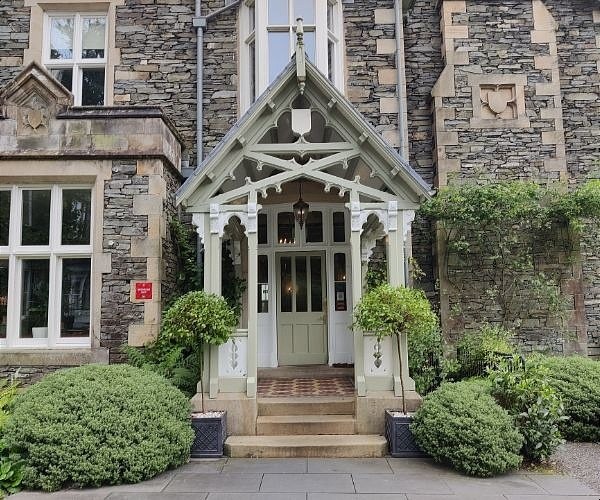 The room
Rooms at The Forest Side are categorised as 'Cosy', 'Superb' and 'Master'. Stepping into 'Oak', an exquisite Master bedroom, we were immediately struck by the contemporary elegance and space afforded by the room, at the centre of which is a beautiful canopy bed, adorned with luxurious bed linen.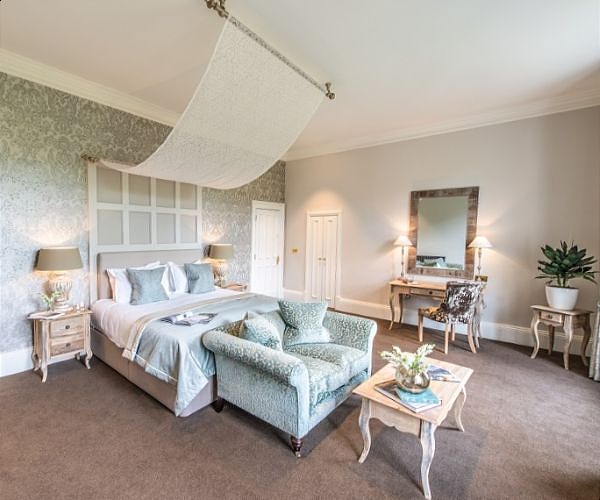 The mix of earthy hues and tasteful furnishings – the work of renowned designer James Mackie – combined with plenty of natural light streaming in through the expansive windows that overlook the grounds, and the softness of hand crafted deep pile Herdwick carpet underfoot, ensured we were in for a very comfortable stay – one that evoked an ambiance no doubt reminiscent of the tranquillity and serenity that Wordsworth famously sought in his beloved Lake District.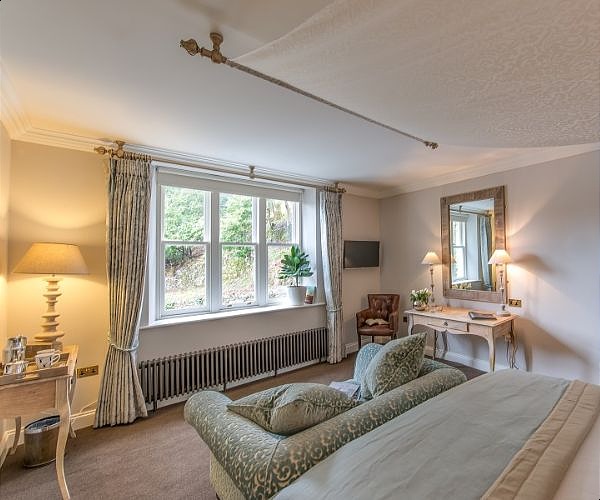 The bathroom
The large en suite bathroom boasts a deep bathtub that beckons you to soak away the cares of the world – a private sanctuary where luxury meets functionality. Sleek fixtures and elegant finishes create an atmosphere of understated opulence.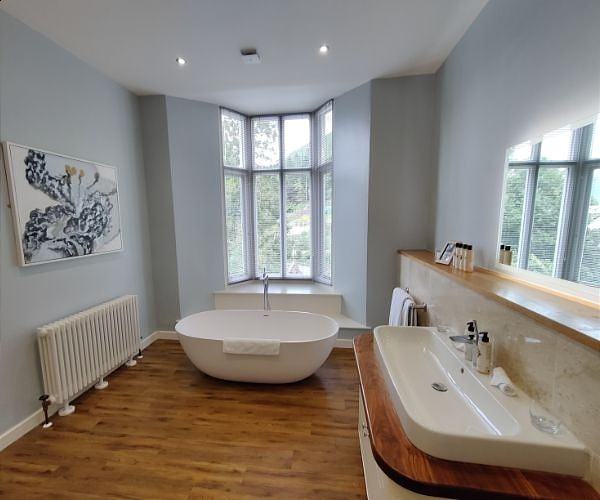 No details are overlooked and the thoughtful inclusion of natural bath and body products, lovingly handcrafted by Bramley, are a nice artisinal touch, infused with botanical goodness, that will transform even the most routine shower or bath into something more special.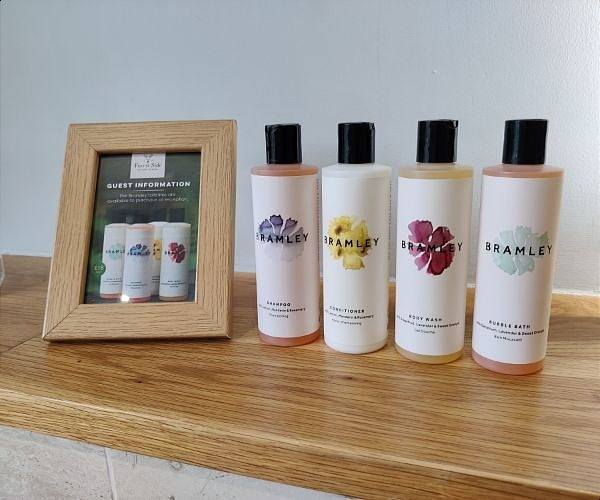 The facilities
The Forest Side has been part of Cumbria's burgeoning food scene for the past decade, during which time the region's culinary landscape has flourished so much that it is now one of an impressive ten Michelin-starred restaurants in the county.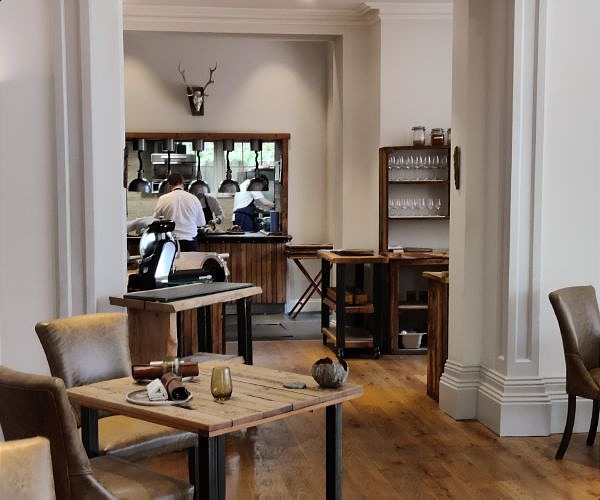 Consequently, no stay at The Forest Side is complete without dining at the hotel's restaurant led by Head Chef Paul Leonard, and the perfect way to begin this experience is at the hotel's bar and lounge where you can soak in the ambiance prior to dinner.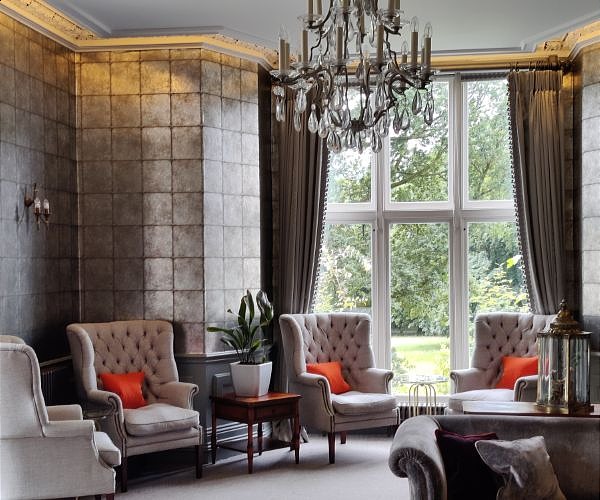 Once shown to our table, a rolled pouch of utensils was unveiled as a sign of things to follow. Normally I would know which cutlery to use by working from the outside in, but this left some of it to guesswork!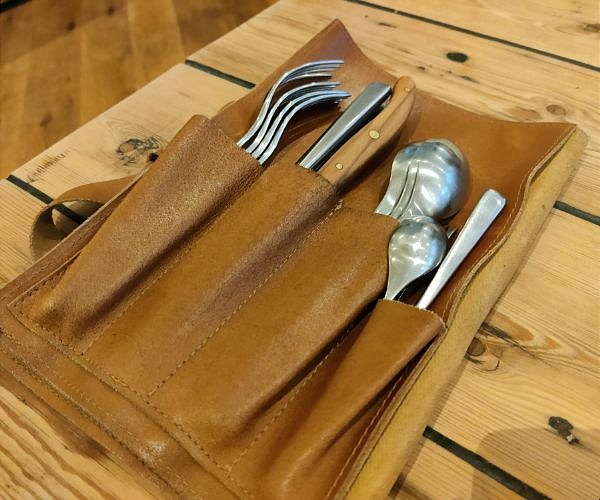 Our dining experience – an 8-course taster menu – opened with a selection of snacks that was not officially one of the courses – a croustade with a horseradish emulsion, gooseberry compote, cured mackerel, garden-fresh baby radish and apple marigold powder, and sable biscuits made with Hafod Cheddar and black truffle, accompanied by house-cured beef bresaola. Our favourite, though, was the celeriac taco which combined dehydrated celeriac with a broad bean hummus and fresh beans dressed in chive oil, crowned with a savoury pork salami and salami mayonnaise.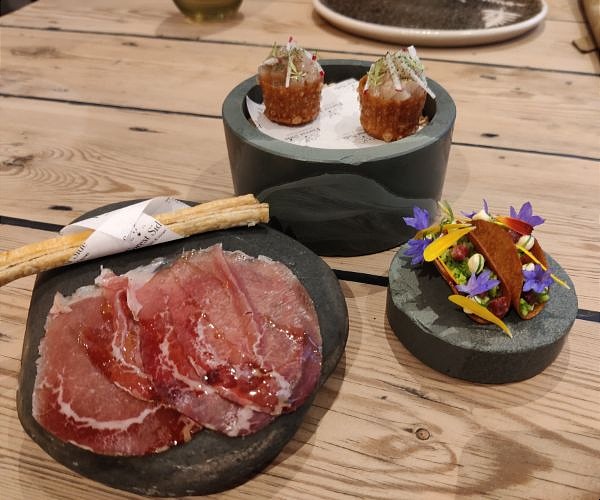 Our first course was a beautifully-cured chalk stream trout from the River Test in Hampshire, with subtle flavours and without the overbearing earthiness sometimes associated with trout, elegantly paired with a salsa verde and accompanied by salt baked and pickled kohlrabi, elevated with a touch of mirin-pickled trout roe.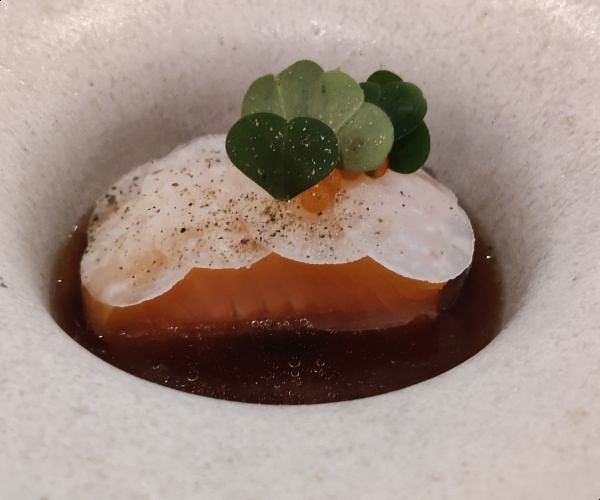 This was followed by a delightful BBQ native lobster dish where the tail had been barbecued and glazed with fermented honey before being topped with some cured pork collar and placed on a remoulade made from the lobster claw and Summer peas, finished with a sauce made from the lobster heads. The photograph does not do it justice, but it presented a wonderful medley of tastes.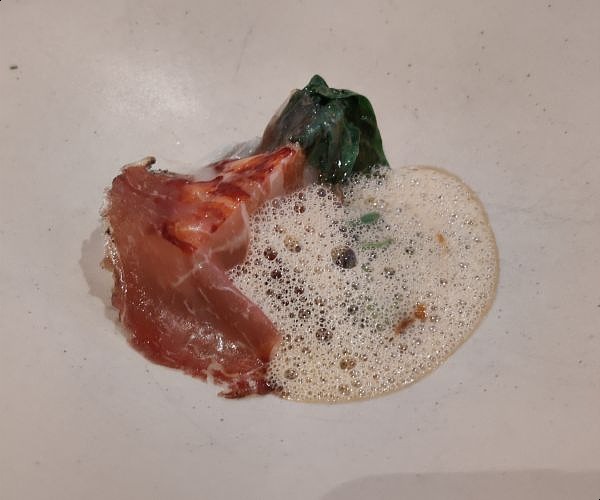 Next up was a very delicate tartare of Lakeland Dexter fillet, diced and dressed with smoked beef fat, with a little whipped bone marrow butter at its base. There was some salt-baked celeriac running throughout and it was topped with beer vinegar gel and oxalis, before being finished with Exmore Oscietra Caviar which has a nutty, hazelnut cream flavour.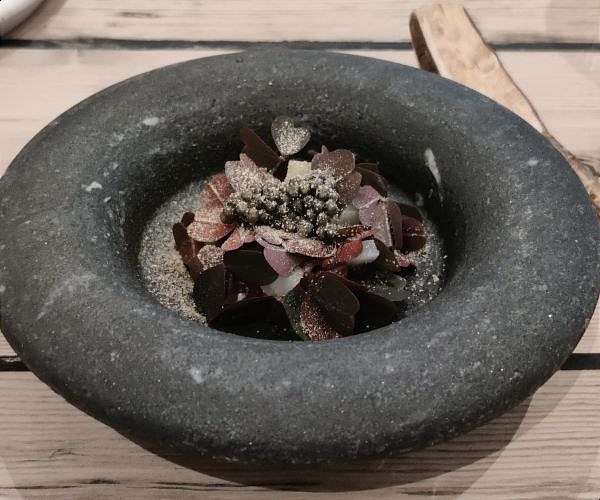 Perhaps the most surprising dish for us was a set Summerfield custard base topped with Ratte potatoes from Northumberland, confited in smoked eel oil, with pieces of smoked eel with a wonderful richness and chanterelle mushrooms, all topped with a sauce made from the eel trim and potatoes with a little whey, and finished at the table with shavings of black truffle.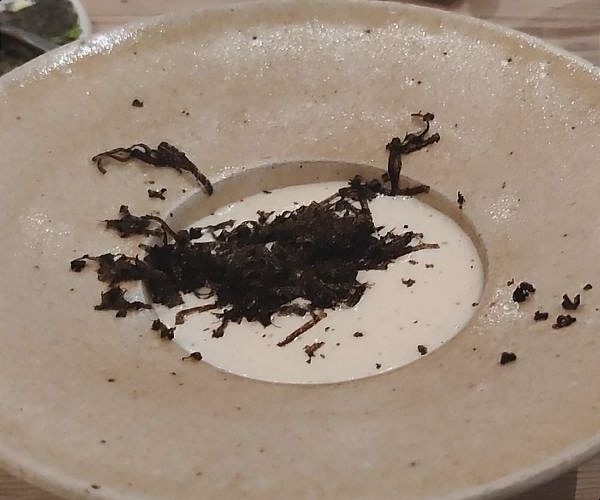 Poached North Atlantic cod with barbecued Shetland mussels followed, accompanied by coastal herbs (monk's beard and sea aster) and nasturtiums from the garden and finished with a delicious buttermilk and mussel sauce.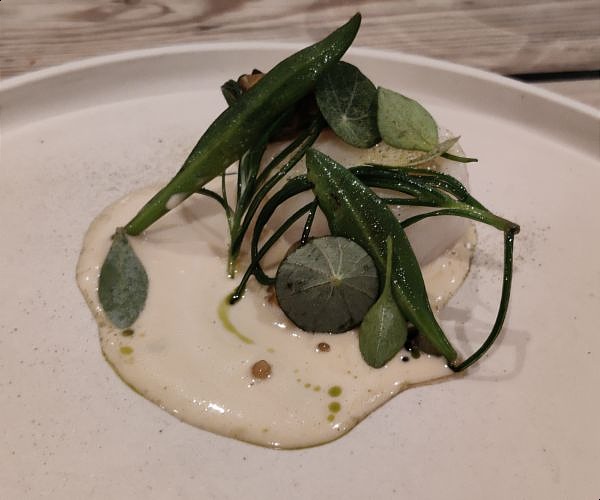 A truly local dish – in every sense – followed. It was Penrith aged Texel lamb with a salad of grilled garden brassicas (kale, purple sprouting broccoli) from the garden, dressed with ramson oil. This was arguably one of the most complex dishes and came with a pate made from the lamb loin and shoulder, the latter having been marinaded with mint, yoghurt and anchovies, and served with some of The Forest Side's own hung sheep's yoghurt. Next to this is the barbecued lamb belly, and all of this is finished with a rich lamb sauce with a confit of lamb's tongue, pickled red mustard seeds and pickled onion capers.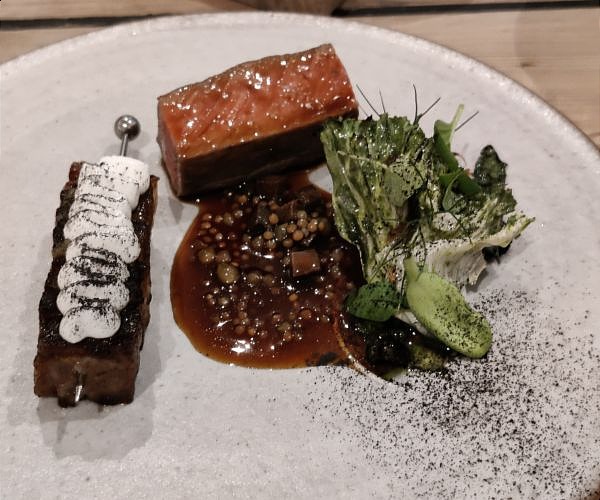 At this point, we could choose an optional, additional course of cheese supplied by The Courtyard Dairy near Settle. It looked very tempting indeed but was really more than we needed, so we instead moved on to a little refresher of cucumber pickled with lemon verbena, toasted oats and lemon verbena sherbet.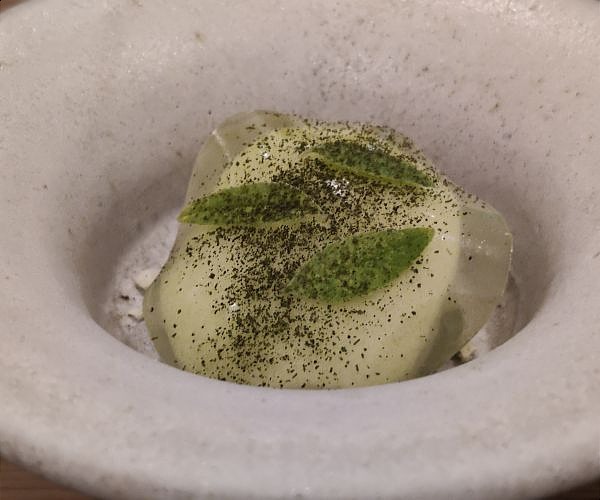 A sweet cicely bavious filled with strawberries from the garden concluded the eight courses. These had been compressed in their own juices to intensify the strawberry flavour and were accompanied by a strawberry sorbet under a strawberry tuille. And in case that wasn't enough, it was finished with a reduced strawberry juice!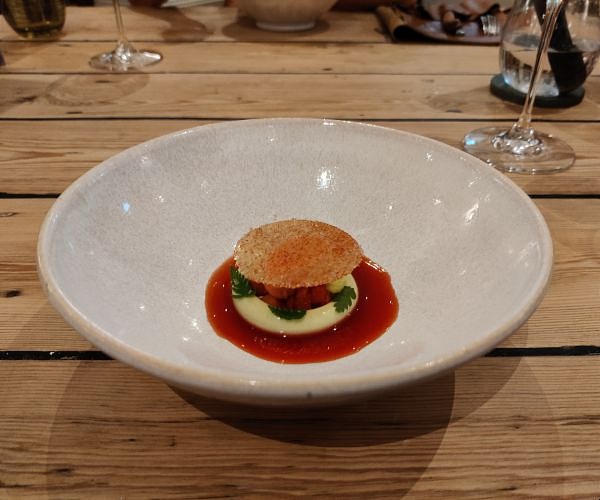 Breakfast in the morning was in the same dining room, with an initial that included fresh fruit salad (pictured), Forest Side's own granola with vanilla yoghurt and berries, and pink grapefruit with ginger and garden mint.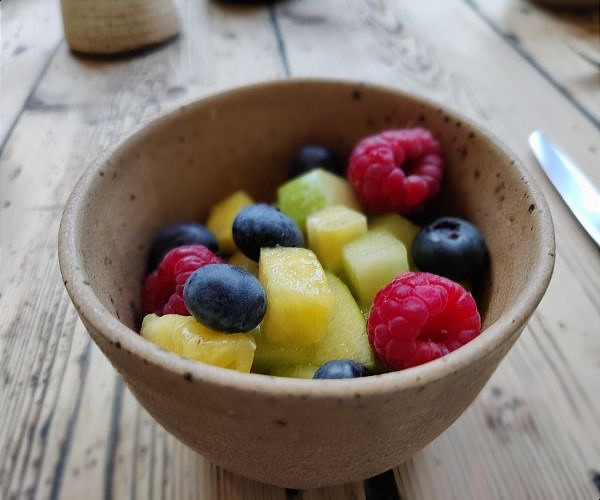 The options that followed included a full Cumbrian breakfast with your choice of Lakeland free range eggs, Cartmel Valley smoked salmon, scrambled eggs and crumpet or, what I chose and enjoyed very much, the smashed avocado, toasted seeds, tomato chutney, poached Lakeland free range eggs and rye toast.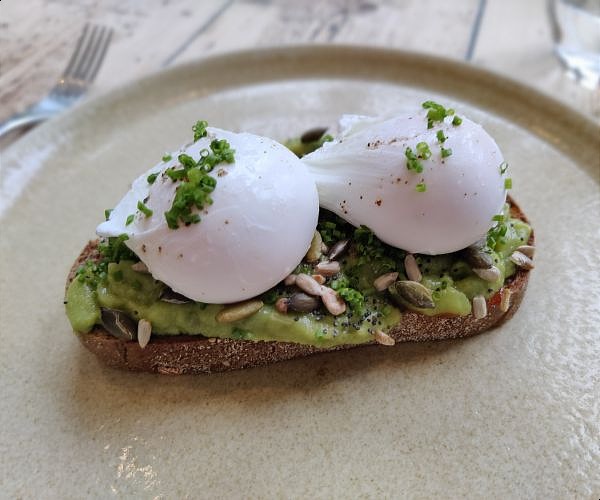 Location
Grasmere is one of the centralmost villages in the Lake District in north-west England, so The Forest Side enjoys an enviable location, surrounded by the majestic peaks and rolling hills of the National Park. The iconic Langdales are within easy reach, as well as the lakes of Grasmere and Rydal, Thirlmere just four miles to the north and the northern tip of Windermere, England's longest lake, just five miles to the south.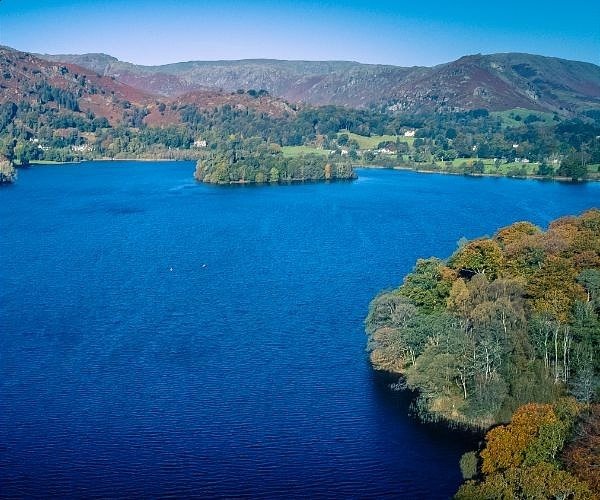 The village holds a profound connection with the renowned poet William Wordsworth since it was here that the poet, most famous for his poem 'Daffodils', spent much of his life, living at Dove Cottage and Rydal Mount and finding inspiration in the surrounding natural beauty and serene landscapes of the Lakes.
---
IMPORTANT NOTICE:
If you are reading this article anywhere other than on A Luxury Travel Blog, then the chances are that this content has been stolen without permission.
Please make a note of the web address above and contact A Luxury Travel Blog to advise them of this issue.
Thank you for your help in combatting content theft.
---
Whilst there are many famous walks to enjoy in the area, some can be done from the doorstep of the hotel – so, before dinner, we took the opportunity to do the circular walk to Alcock Tarn, nestled in the hills, where you can enjoy stunning vistas that encompass the soaring peaks of Fairfield and Heron Pike.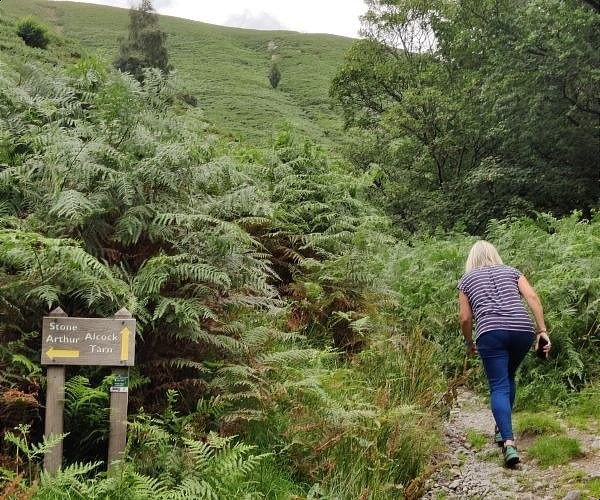 Other nice touches
On arrival in our room was the 'cake of the day' – two delciously indulgent complimentary treacle tarts, and a taste of things to come!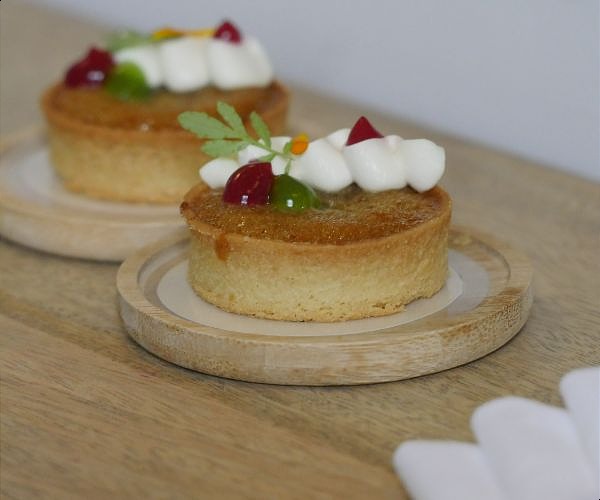 The Forest Side is also dedicated to the protection of red squirrels and regular readers with an exceptional memory may recall that six years ago, as part of an assignment for Hertz car hire, I called at The Forest Side to sample a canape of the invasive grey squirrel, a non-native species that is culled in a bid to help the reds survive. The Forest Side actively supports local conservation efforts where the future of the red squirrel is very fragile by inviting guests to donate to the Grasmere Red Squirrel Group.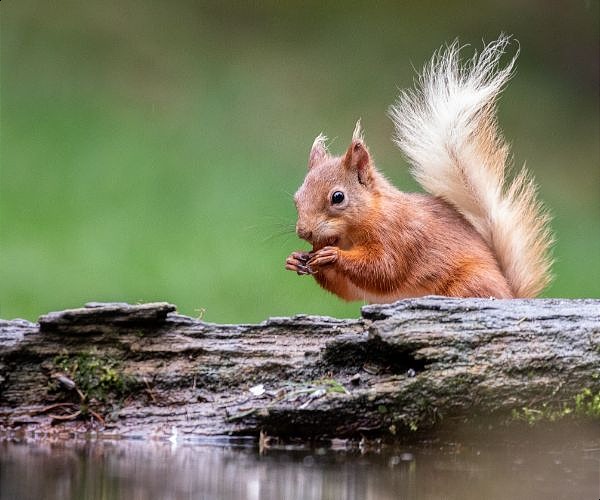 Cost
Rooms at The Forest Side, to include an 8 course dinner, bed and breakfast, start from £519.
The best bit
It's difficult to choose a 'best' when everything appears so seamless, but if you're to pick out one thing from a stay at The Forest Side, it would undoubtedly have to be the gastronomic experience. Here every bite is a journey and a revelation of the finest ingredients expertly assembled by Paul Leonard and his team.
The final verdict
Despite its very central location within the Lake District National Park, The Forest Side offers a tranquil escape where time slows and senses awaken. This Michelin-starred restaurant with rooms is deservedly popular not just locally and nationally, but also internationally, and will leave you feeling rejuvenated and provide you with a culinary experience that you'll remember fondly for years to come.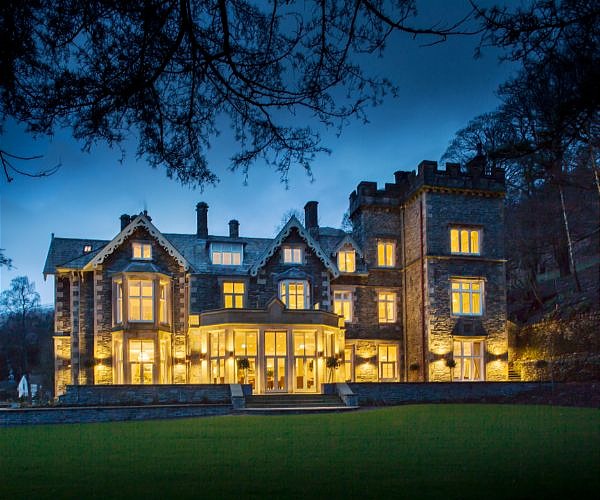 Disclosure: Our stay was sponsored by The Forest Side.