Review: The Talbot Inn, Ripley, Surrey, UK
By Michael Edwards on Jul 14, 2023 in Accommodation, Europe, Hotels, Regions, United Kingdom, Western Europe
Passengers often wrote their will before undertaking a stagecoach journey. Not only were the flinty roads dangerous, but they were also beset by ruthless highwaymen.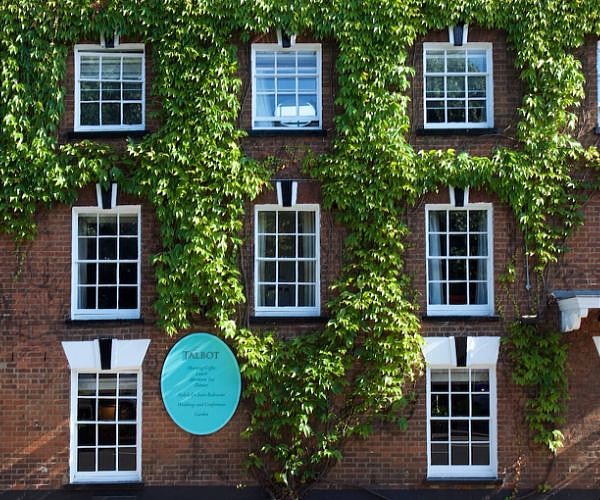 There has been a coaching inn in this Surrey village since 1453. Christopher Columbus was merely a two-year-old toddler, and the Wars of the Roses hadn't even begun.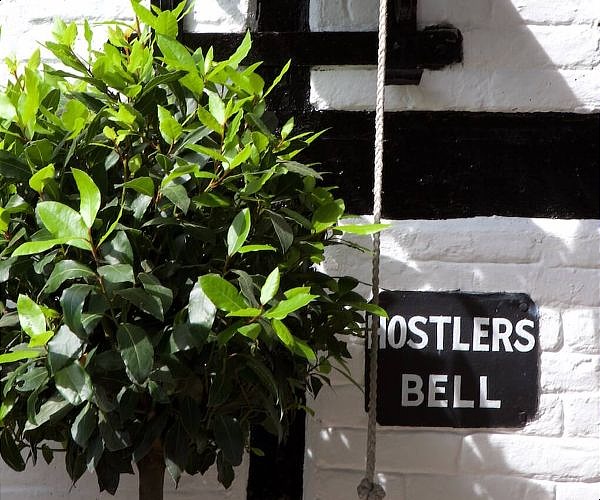 Passengers risking journeys on the London to Portsmouth Road, were relieved to arrive at the cosy Talbot Inn, 25 miles from London. Pulling in through the tall carriage archway, for the horses to be changed for the next 10 to 15 mile leg, guests would be relieved to feel the warm, cosy hug of The Talbot. They needed a pint of ale and a hearty meal.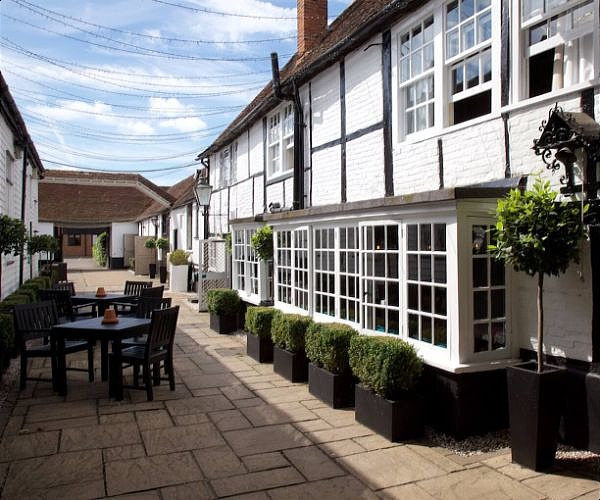 Visitors arriving at the Talbot Inn today, with its ancient beams, some sourced from ships' timbers, and dark wood panelling, still sense a sanctuary.
The welcome
Although parking is a challenge in busy Ripley, the hotel has plenty of spaces for patrons.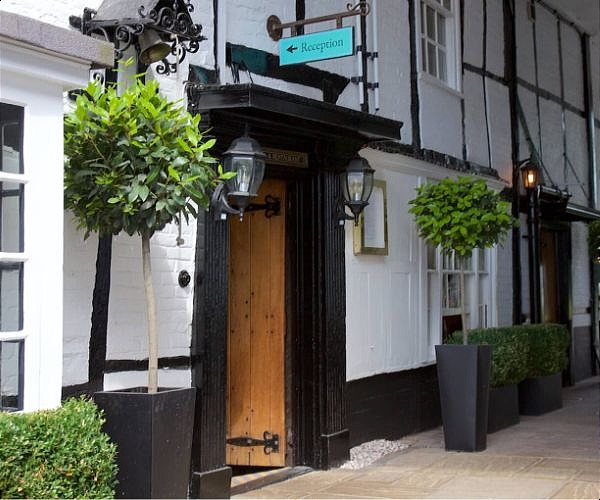 At reception, our restaurant dinner booking is checked, and the key handed over.
The room
Trafalgar, otherwise known as Room 1, is one of the fourposter rooms, up creaking stairs, on the first floor of the original inn. A dark wood fourposter bed matches the antiquated colours of the ceiling beams. Ivy fringes windows that are now doubled glazed.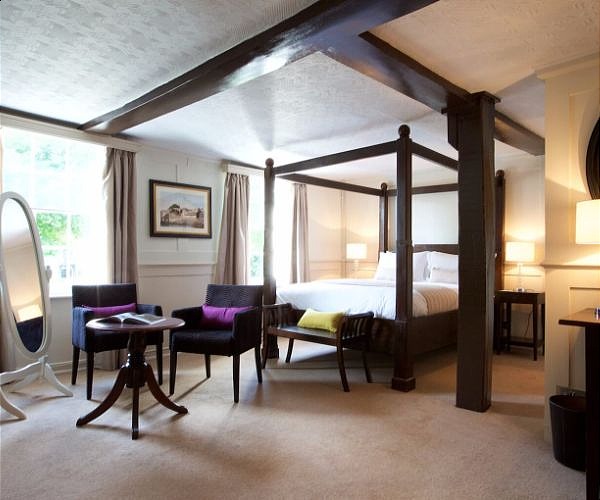 Two armchairs sit either side of what was once a chimney breast, now filled with a small ornamental trunk. Prints of pencil-drawn grand buildings of The Regency era, hung on pale cream walls, take guests back to the stagecoach era.
Fourposter rooms are equipped with both kettle and a coffeemaker.
The bathroom
Stagecoach passengers who had endured chilly bone-shaking travels could only have dreamed of robust stainless steel taps dispensing lashings of hot water into a long bath.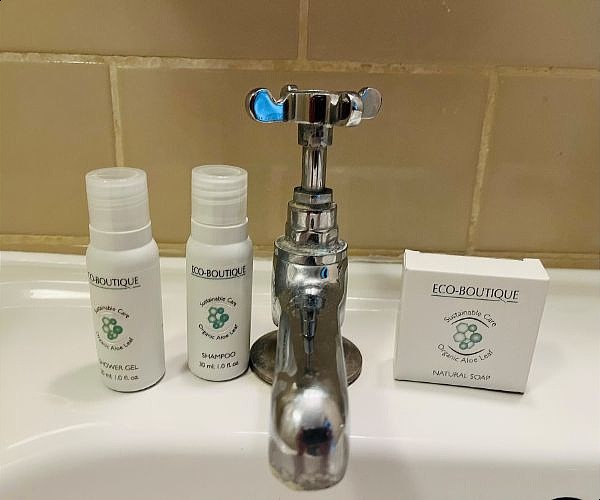 For more 21st century cleansing tastes there is also a shower. Sustainable aloe leaf toiletries are by Eco-Boutique.
---
IMPORTANT NOTICE:
If you are reading this article anywhere other than on A Luxury Travel Blog, then the chances are that this content has been stolen without permission.
Please make a note of the web address above and contact A Luxury Travel Blog to advise them of this issue.
Thank you for your help in combatting content theft.
---
The facilities
Large walled gardens, stylishly furnished and shaded by large umbrellas, are perfect for coffee and afternoon tea.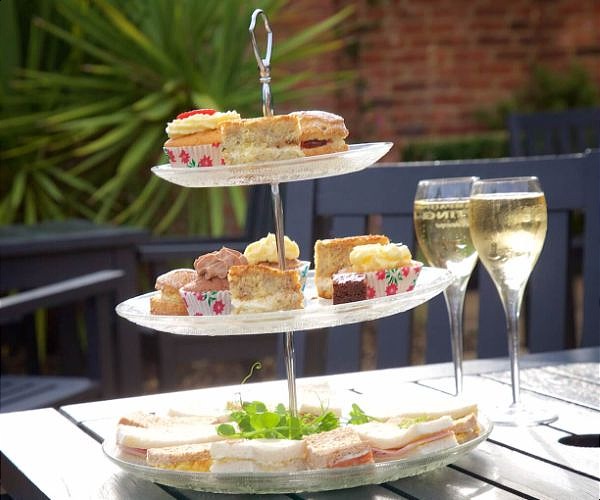 Heading indoors, the low-timbered bar with pints of Hogs Back beer on tap, is quintessential Merrie Olde England.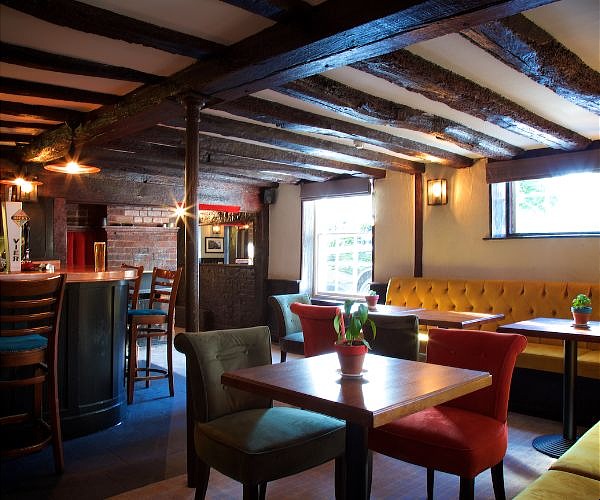 The restaurant slides from book-lined, exposed brick, copper-ceilinged historic to a contemporary bright conservatory overlooking the garden. Softly furnished chairs – aubergine, mustard, sage, and russet – wait at light wooden tables.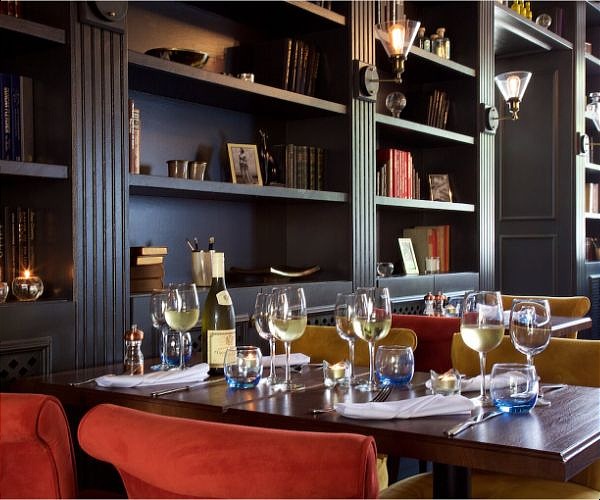 With small plates on the menu and many dishes offered as either starter or main size, it is tempting to go tapas style. Perhaps the shichimi squid or ham hock fritters. Maybe combined with a pear and Stilton salad or a Caesar or Niçoise salad.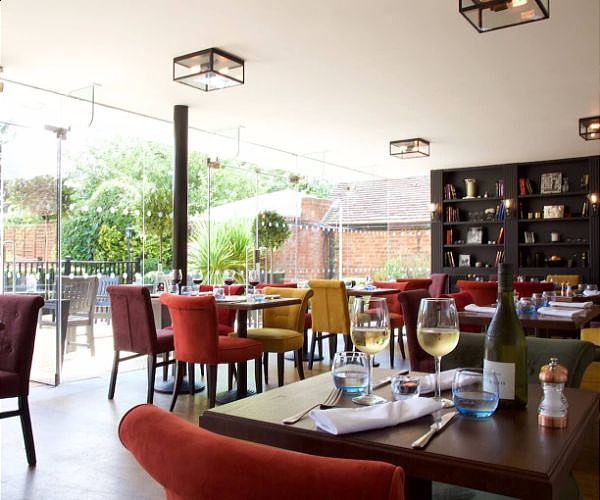 Grilled sea bass is one of the stars of the menu's classics section that also includes chicken supreme and fillet of beef. A sea bass fillet, firm and succulent, rests on a compote sea of tomato, fennel and capers. A cautious scattering of capers ensures that the gentle flavour of still crisp fennel comes through.
Nowadays, the dessert menu is a little lighter than it would have been in the days of hearty coaching puds. There are ice creams, lemon posset and sorbets. In addition, guests are tempted by warm chocolate brownie or a delicious baked peach and raspberry tart with shortbread overtones.
Location
With pubs called The Ship and The Anchor in the village, though it is still a full 50 miles to the sea, there is no doubt that Ripley, on the Great Portsmouth Road, was appealing to the maritime yearnings of travelling seafarers. Listed buildings with their timbers and bottle-glass windows create a sense of history.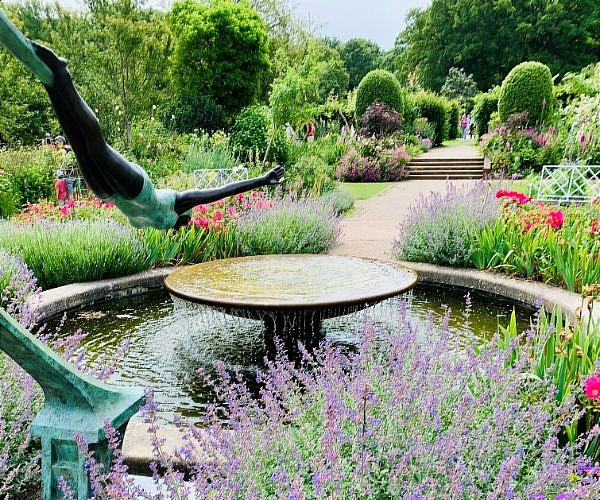 A mere five minutes drive takes guests to the gardens of RHS Garden Wisley and it is only eight miles to the National Trust curated historic house of Polesden Lacey.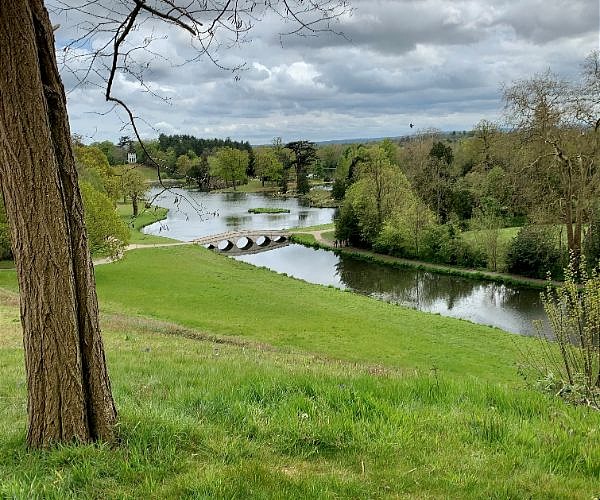 Landscaped gardens, in the style of the 18th century at Painshill, add to Surrey's grand gardens collection.
Other nice touches
Throughout the historic inn, the artwork focuses on The Talbot's rich past, there are portraits of naval battles and of Lady Emma Hamilton, a frequent visitor.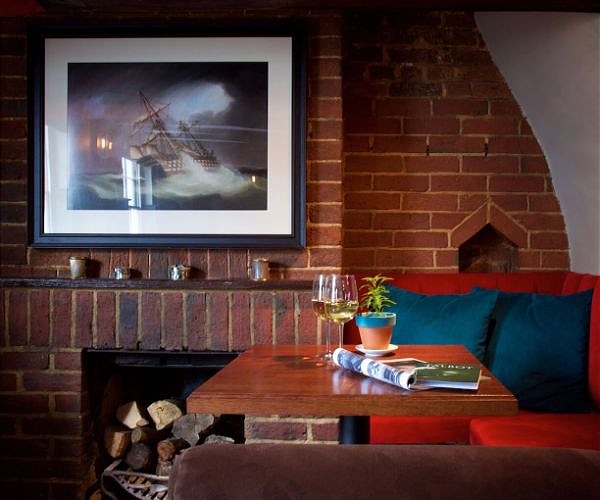 A page on the website tells of the visits of Lady Emma Hamilton and Lord Horatio Nelson, of a Daisy Wheel carved into the banister to ward off evil spirits, and of the ghost of a drunken sailor and a lady in black.
The cost
Four poster rooms, including breakfast, begin from £149.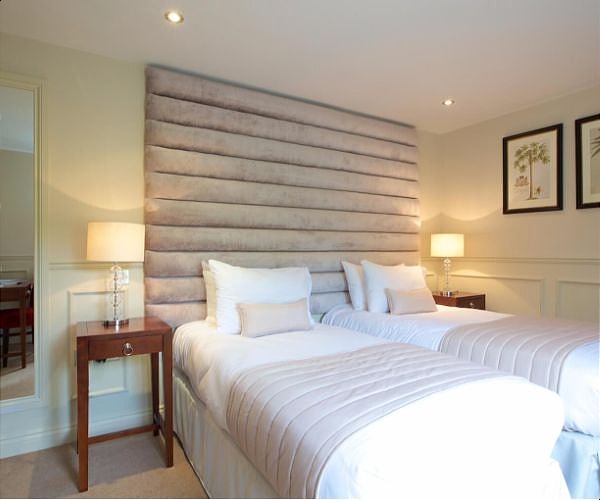 More contemporary rooms, beyond the main building, start from £89 per night, again including breakfast.
The best bit
Emma's room celebrates the scandalous meetings of Lady Emma Hamilton and Lord Horatio Nelson that took place in a secluded nook by the fireplace. They were both married and society was outraged.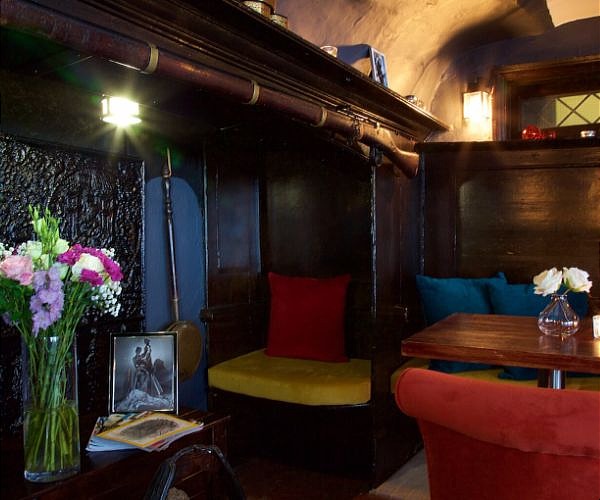 When Emma moved to Merton and Nelson was travelling from Admiralty House to Portsmouth, the Talbot Inn became a convenient rendezvous for their liaisons,
Later, though both still married, they lived as a married couple and had their daughter Horatia. Although Nelson's will asked for Emma and Horatia to be cared for, after his death at Trafalgar they were not.
The final verdict
A sensitive blend of Merrie Olde England charm and contemporary comfort. The Talbot Inn instinctively knows when to lovingly preserve and when to tastefully modernise. Coaching inn fare never looked nor tasted so good.
Disclosure: Our stay was sponsored by The Talbot Inn.