Riding the rails with Rovos Rail – Africa's most luxurious train
By Sarah Kingdom on Jan 29, 2023 in Africa, Rail Travel, Regions, South Africa, Speciality Travel
With a hiss and a screech, the locomotive, complete with suites, lounges and dining cars, starts to move and we are on our way.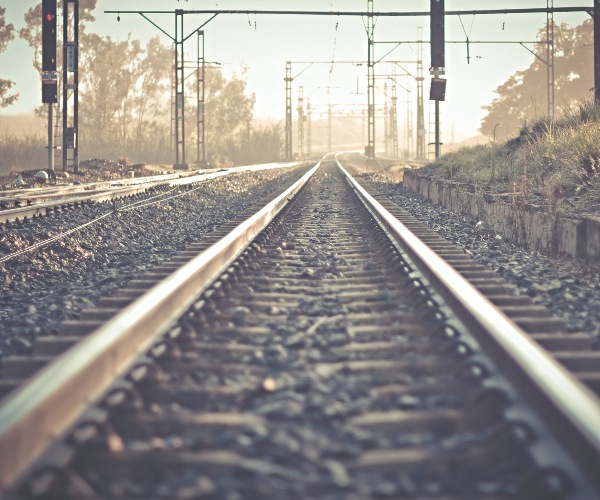 From the minute we'd arrived at the railway station in Cape Town we'd known we were in for a treat. Our bags were whisked away, and transferred to the wood paneled, deluxe suite that was to be ours on the journey.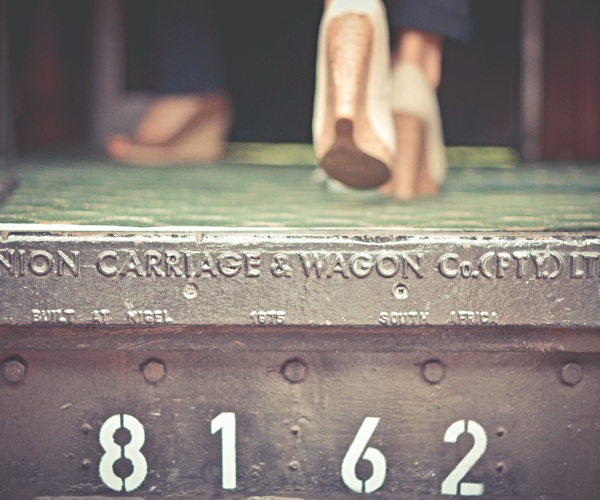 We, meanwhile, were ushered into a private lounge area, and plied with sparkling wine and canapés as a violinist serenaded us. Once all our fellow passengers had assembled, and were comfortably seated around the room, we were welcomed by Rohan Vos, the man behind the family owned Rovos Rail, and the man responsible for developing it into what it is today – the most luxurious train in Africa, indeed one of the most luxurious in the world – The Pride of Africa.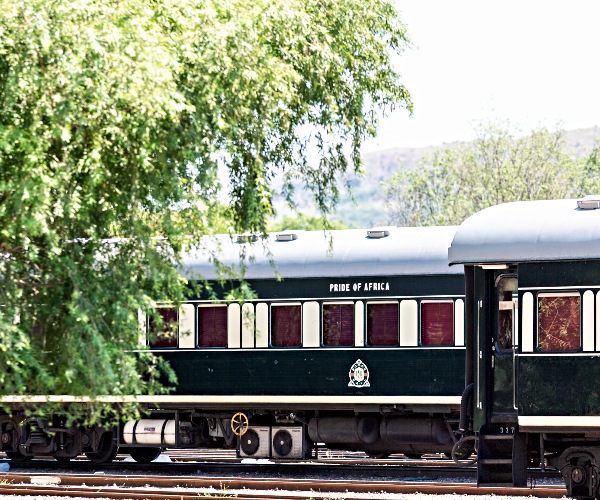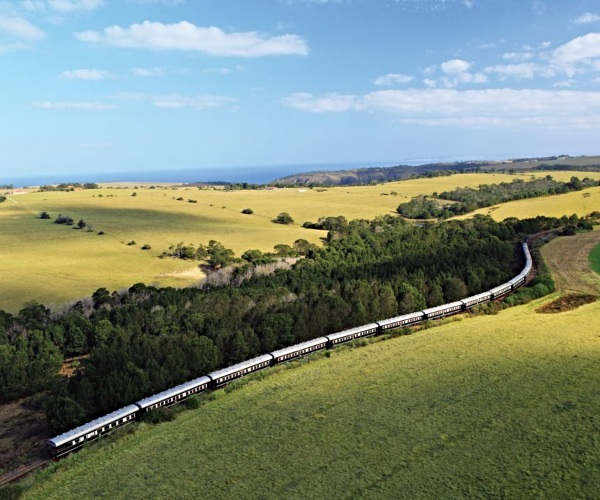 Introductions done, we're ushered across the road to the waiting locomotive, where liveried staff are lined up to formally greet the 37 guests, and direct them to their compartments. Stepping off the grey concrete platform, and onto a red carpet, we knew this was going to be a trip to remember. With more than 30 staff on board, from chefs to bar tenders, wait staff, security guards, housekeepers, train drivers, technicians, and jovial train manager Hennie, to oversee them all, this was a railway trip in a league of its own.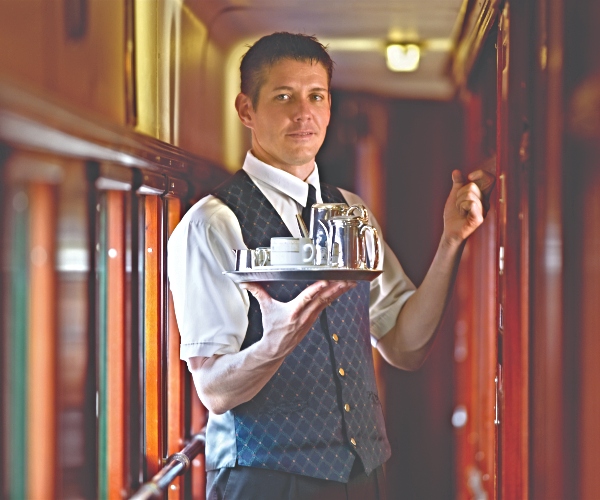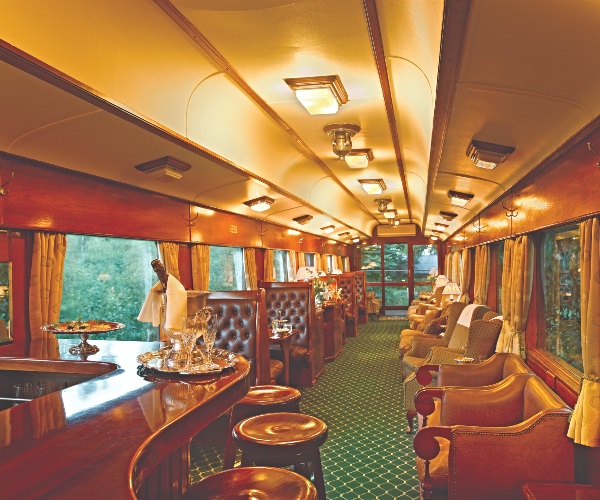 When it comes to travel, convenience and efficiency are usually priorities. So often, when we travel, especially by plane, we forget to enjoy the scenery and forget to slow down and enjoy the journey. Instead, our heads are filled with schedules, connecting flights, terminals, gate numbers and all the other stressful elements of travel. Every once in a while, though, you crave something slow, leisurely and luxurious, an old-world mode of exploration that allows you to take in the sights in a more indulgent way. Imagine leaving the stress and worry behind, and instead making the purpose of the trip nothing more than in-the-moment enjoyment – a trip on South Africa's Rovos Rail gives you exactly that. As the train chugs out of the station, our journey begins.
Since its establishment in 1989, Rovos Rail has earned an international reputation as a truly world-class travel experience. The trains, which may be hauled by diesel or electric locomotives at various stages of the journey, carry a maximum of 72 passengers, in 36 superbly appointed suites. For our 3 day journey, from Cape Town to Pretoria, we had 17 coaches, with 37 passengers aboard.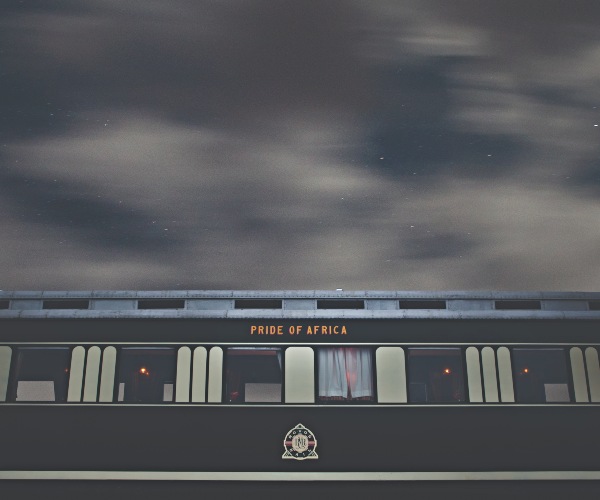 The beautifully restored carriages of Rovos Rail combine luxury travel with the chance to experience living history. Restaurant cars, observation carriages and sleeping compartments are all restored originals from a bygone era of rail travel, with vintage wood paneled coaches, soft velvet upholstery and period fittings, designed for pioneering travelers from a simpler, more elegant, era of African exploration.
Rovos Rail is known as one of the world's most luxurious trains. Offering world class train travel experience through the heart of Southern Africa, with destinations including Cape Town, Victoria Falls, Zambia, Angola, Namibia's Etosha national Park and Zimbabwe's Hwange National Park, and all the way to Tanzania's Dar es Salaam. Pride of place in the Rovos stable goes to the historic, restored Capital Park Station and locomotive yard in Pretoria, which is the heart and headquarters of this private railway company.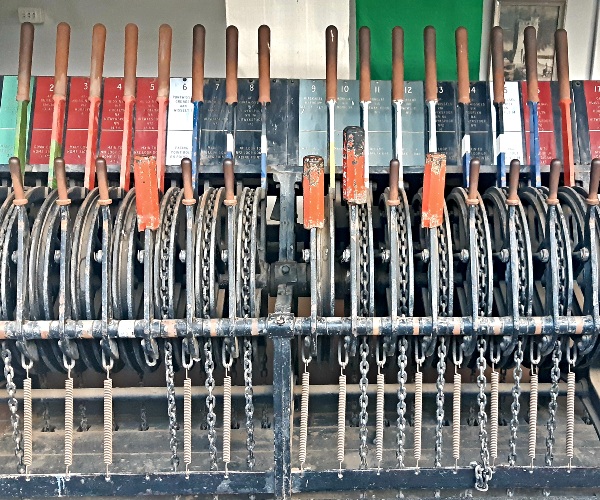 For those 'train spotters'/aficionados amongst you, the train consists of the locomotive, generator car, staff car, guest sleepers, a non-smoking lounge car which can accommodate 26 guests, two non-smoking dining cars, a smoking lounge car, and the observation car with plentiful space for 32 guests, complete with an open-air balcony, at the end of the train. Maintaining the spirit of a bygone era, there is no Wi-Fi, and no radios, newspapers or television sets on board, and the use of electronic devices is restricted to suites only – all in the aim of reviving the sometimes forgotten art of conversation.
The Pride of Africa offers so much more than mere rail transportation. Rovos Rail has a style all of its own. The rebuilt sleeper coaches, all with ensuite bathrooms, combine original Edwardian features and fittings, with all the modern amenities you'd would expect from a 5 star stay – air-conditioning, hot showers, hair dryers and a bar fridge filled with your choice of beverages, including such 'survival necessities' as MCC (Méthode Cap Classique) Champagne. Befitting such a journey, you have a dedicated host/ess at your call and available at all times, as well as around the clock room service.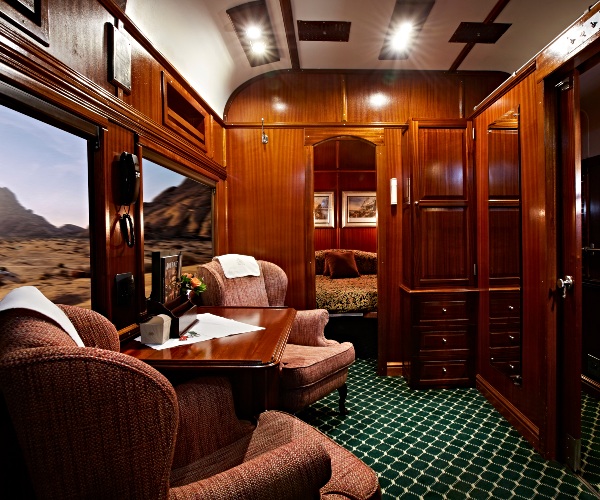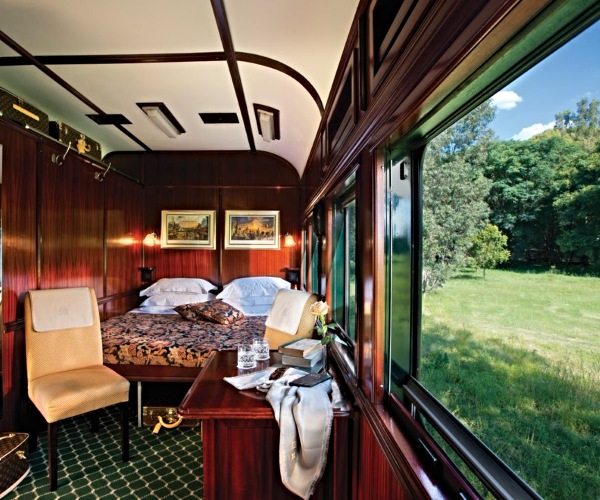 ---
IMPORTANT NOTICE:
If you are reading this article anywhere other than on A Luxury Travel Blog, then the chances are that this content has been stolen without permission.
Please make a note of the web address above and contact A Luxury Travel Blog to advise them of this issue.
Thank you for your help in combatting content theft.
---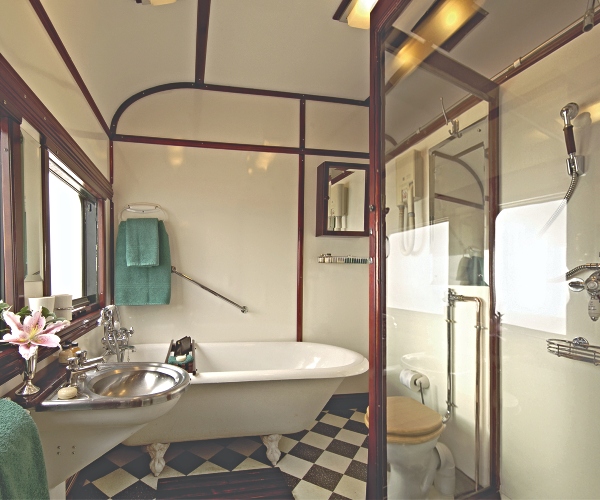 The spacious suites, some of the most spacious train suites in the world. Each can accommodate two people, and offer passengers the opportunity to travel in privacy, comfort and luxury. There are three styles guests can choose from (Royal, Deluxe, Pullman), each with varying levels of luxury.
Royal Suite – The Royal Suites are named after colorful characters of the Victorian Era in South Africa, including Cecil John Rhodes and Alfred Beit, and are definitely fit for royalty! Taking up a generous half a carriage (around 172 sq ft), they come complete with their own private lounge, and feature an ensuite bathroom with shower and clawfoot Victorian bathtub – how often does one have the opportunity to have a soak in a full-sized bath on a train?
Deluxe Suite – The Deluxe Suite is also sizable at 118 sq ft, with an ensuite bathroom with shower and a small lounge area. It's quite a decadent experience to be able to lie in bed and watch the passing scenery slide past your window without exerting any effort whatsoever!
Pullman Suite – The Pullman at 76 sq ft in size, is ideal for shorter trips. During the day the suites have a comfortable sofa seat which is converted to double or twin beds in the evenings, and the ensuite bathroom has a shower.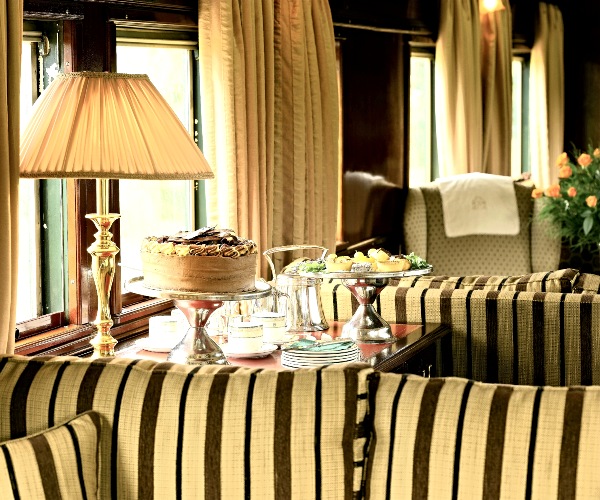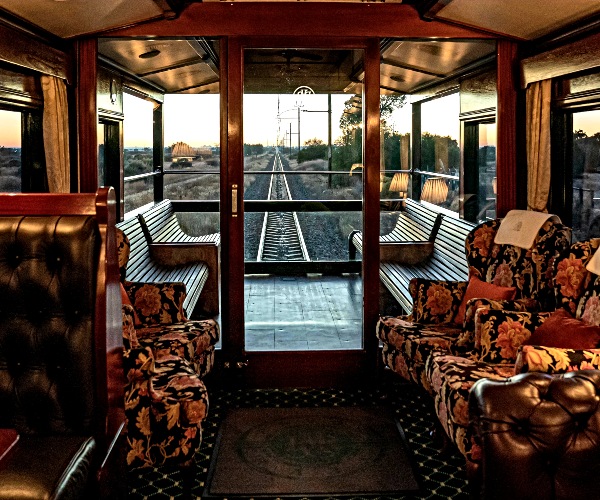 Aside from the private guest sleeping quarters, there are three lounge areas and a dining area on the train. The lounges consist of a non-smoking lounge car, a smoking lounge and the Observation Car – deep sofas and wingback armchairs make for a comfortable ride in any of the lounges, while you relax and watch the spectacular scenery roll past. The Observation Car, in the tail end of the train, was definitely one of my favourite spots, and I loved the experience of being outside whilst the train is moving, looking back the way we had come – I found the site of train tracks receding behind us decidedly mesmerizing.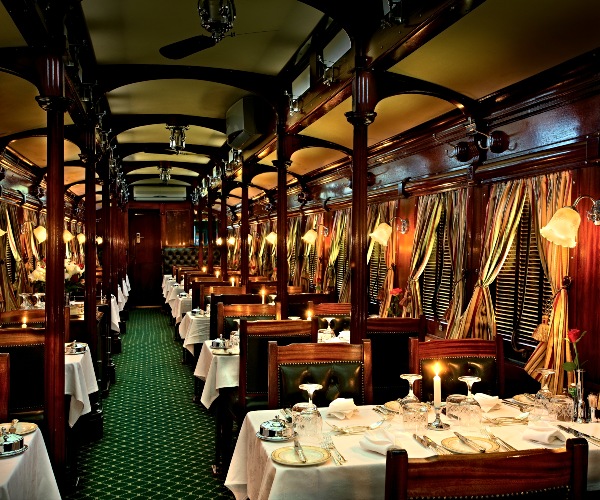 Guests are summoned to dine by a mini-xylophone, and dressing for dinner is expected – men are required to dress in a jacket and tie and ladies at cocktail or evening dresses. This ceremonial 'dressing for dinner' makes the whole experience feel special, and the food is certainly worth the effort. Four-course meals are served in the beautifully restored cherry-paneled, teakwood-pillared restaurant car, with cut-crystal wine glasses, fine china, starched linen napkins, silver cutlery and seamless service.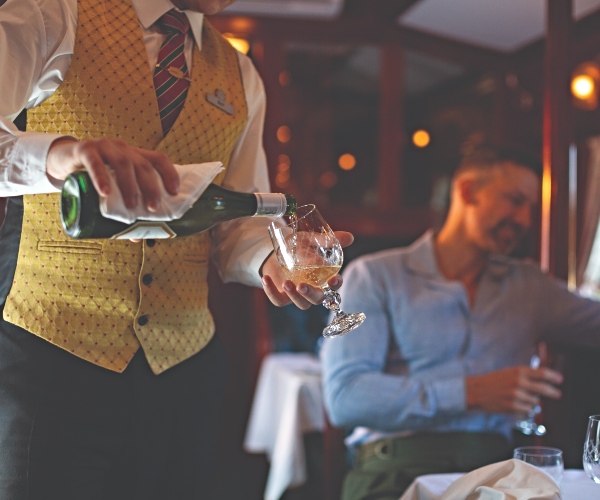 When catering for a full complement of guests, within the limited space of a train kitchen car, achieving a standard that rivals that of fine restaurants is a challenge. There is an emphasis on fresh, local ingredients. Traditional dishes such as game meat are a specialty, and a selection of fine wines from some of South Africa's most renowned estates complements the menu. Your tastebuds will be treated to a selection of South African delights that include Karoo lamb, bobotie, melktert and Cape brandy pudding. Considerable thought and meticulous planning go into devising the menus, and an enthusiastic team of chefs is responsible for overseeing the task of ensuring that all the guests enjoy the indulgence. I must say, a full stomach, wine, liqueur and the soporific rhythm of the train definitely helps lull you to sleep when you retire to your compartment after dinner.
A full breakfast is served in the morning, with a selection of cold meats, croissants and preserves as well as dishes cooked to order, and lunch is another four-course meal, though a little lighter than dinner.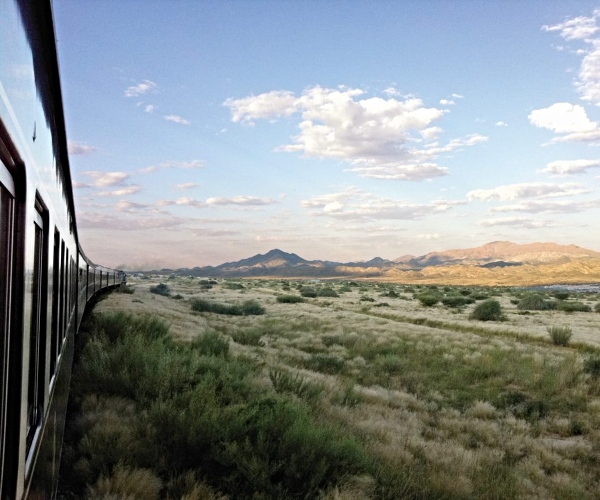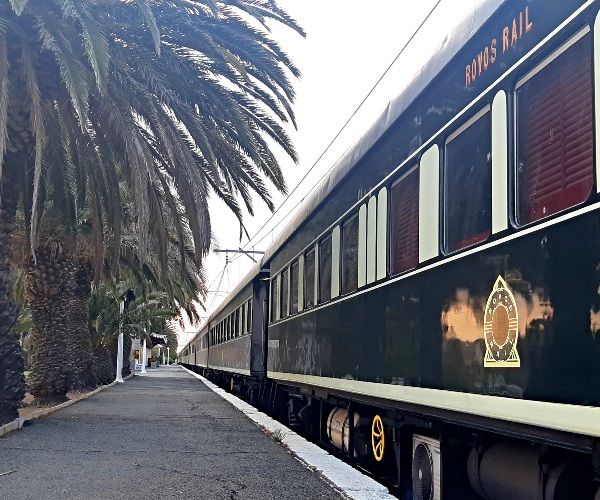 In a series of train journeys ranging from 3 nights to a fortnight, Rovos Rail links some of Africa's greatest destinations – from Cape Town, at the tip of Africa, to Dar es Salaam at the Indian Ocean in Tanzania, with scenery as diverse as Kruger National Park to the Victoria Falls, from the desert landscapes of Namibia, to the stark beauty of the Karoo and the lush cane fields of KwaZulu-Natal
We were travelling from Cape Town to Pretoria, a driving distance of 1,500km, normally just a one hour flight, or an overnight journey on a standard train, but on Rovos Rail it takes a leisurely two and a half days of comfort, style and elegance.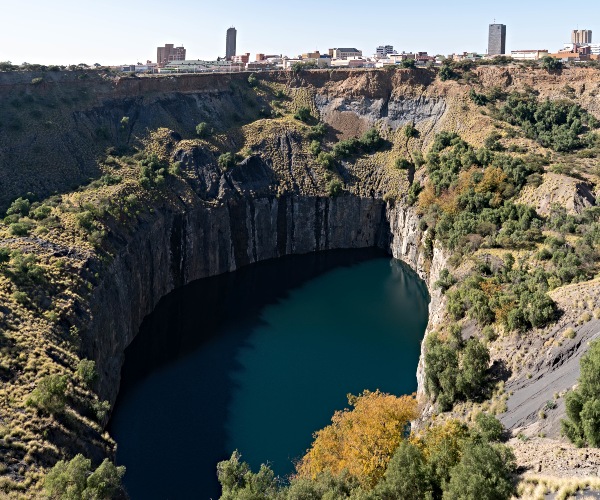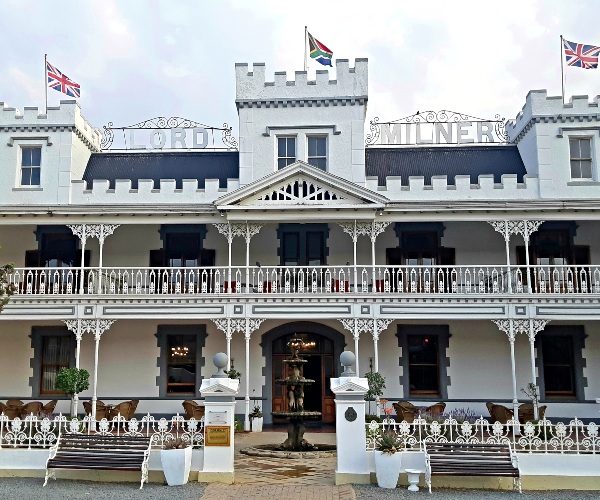 The journey took us through Cape Town and into the valleys and mountains of the Cape Winelands, before crossing the mountain range and entering the vast semi-desert of the Karoo, famous for its lamb, which would make an appearance on the menu that night. Enroute, we disembarked at the tiny historic town of Matjiesfontein, an authentically preserved Victorian village on the fringe of the Karoo, which was founded as a refreshment stop in 1890 and was a renowned Victorian health resort where those suffering from lung complaints found respite in the clear dry air. It was also a station for British troops during the Boer War (1899 – 1902) and the town's historic buildings, like the Lord Milner Hotel, have been restored to their former glory.
The next day's destination was the diamond mining town of Kimberley, where miners in the 1800s excavated the largest man-made hole in the world, which descends a staggering 2,755ft below the earth. We paid a visit to the Diamond Museum and learnt about the heady days of the diamond rush, before visiting the 'gift shop', though sadly my husband could not be enticed to open his wallet! Kimberly is also home to the colonial 'Kimberly Club', where Cecil Rhodes once dreamt of a railway line from Cape Town to Cairo, and all of Africa under British rule.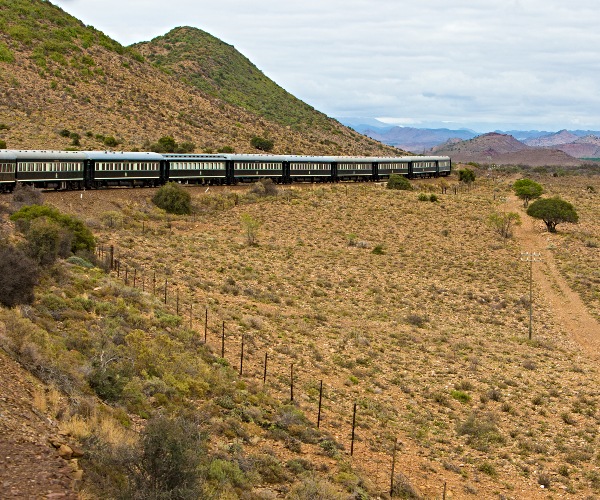 Leaving the Karoo behind, the tracks take you through the savannah-like Highveld, before arriving the next morning in the city of Pretoria, the executive capital of South Africa and known for its stunning, purple-flowering, jacaranda trees. We've reached the end of the line and our journey is done.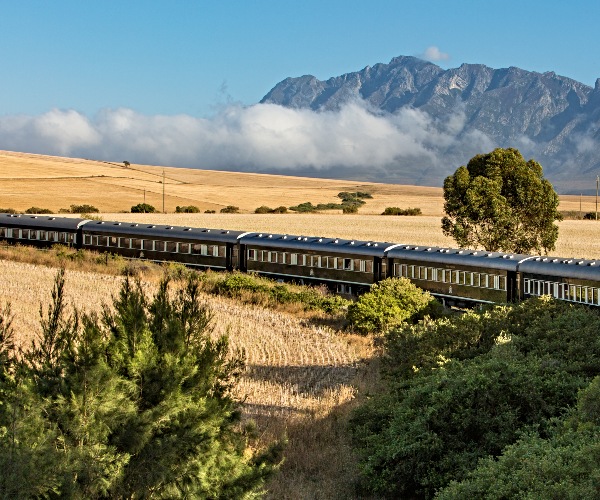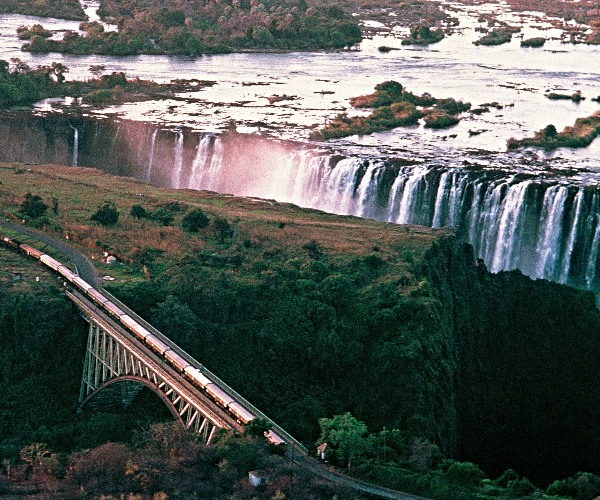 Whilst the three-night Cape Town journey is a classic, if you're feeling more adventurous or have more time to spare, perhaps opt for one of the other numerous routes on offer, like the fifteen-day 'Trail of Two Oceans' itinerary, which starts in Dar es Salaam, Tanzania, crosses Zambia, traverses a sliver of the Democratic Republic of Congo, and concludes in Lobito, Angola. Rovos offer a series of train journeys lasting anything from 48 hours to a fortnight, the Pride of Africa links some of Africa's greatest destinations from Cape Town at the tip of Africa, to Dar es Salaam in Tanzania, from scenic splendors as diverse as the game reserves of Mpumalanga to the Victoria Falls, from the desert landscapes in Namibia, and the stark beauty of the Karoo, to the lush cane fields of KwaZulu-Natal – there's a myriad of itineraries to choose from.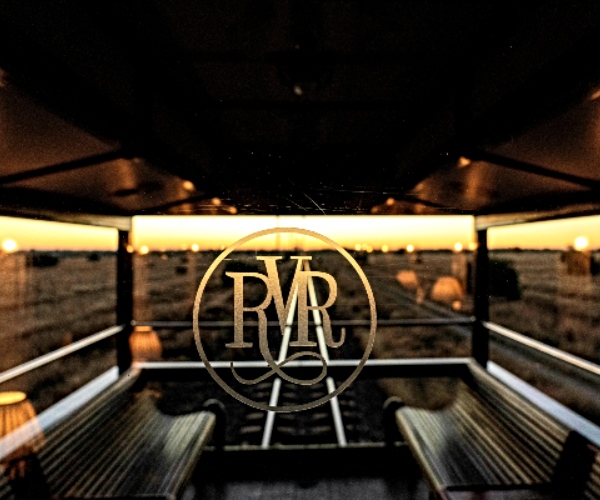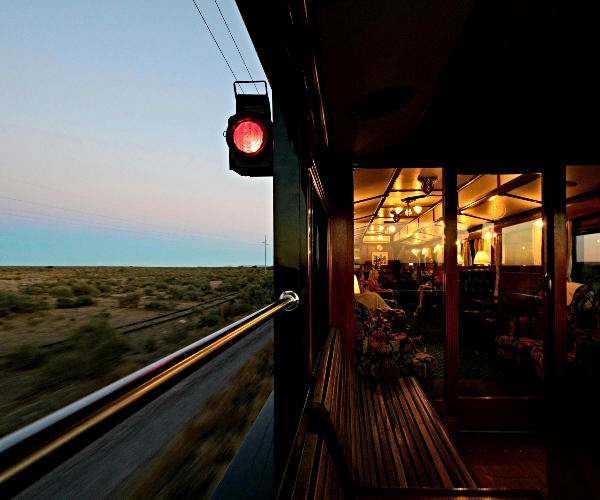 Rail can be one of the most indulgent and comfortable ways to travel – with a spacious suite all to yourself, you can pass the days relaxing, or mingling with fellow passengers, while the beauty of Southern Africa's scenic landscapes passes by the window. This extravagant railway has been traveling throughout Africa for over thirty years and offers one of the world's most luxurious train travel experiences, combining the golden age of rail travel with modern conveniences and giving you the chance to explore Africa in all the luxury of a bygone era. If you fancy stepping back into time, but in the utmost style, travelling across Africa's vast plains with Rovos Rail is the journey for you.