Romantic Valentine's Day experiences with Four Seasons Hotel Prague
By Paul Johnson on Jan 05, 2023 in Accommodation, Czech Republic, Eastern Europe, Europe, Hotels, Regions
There is no better way to celebrate love than staying in one of the world's most beautiful and romantic cities. Between February 10 and 14, 2023, guests can book their stay at Four Seasons Hotel Prague, wake up to the stunning views of the Vltava River and Prague Castle, and personalize it with romantic dining experiences,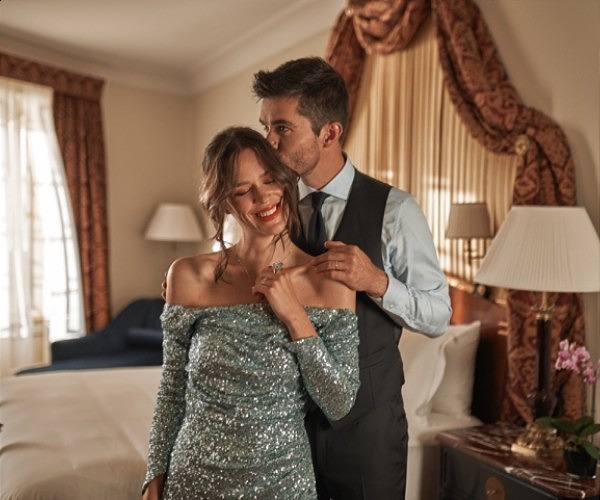 Afternoon Tea: Love is sweet
Guests can indulge in an Afternoon Tea served with a sweet touch. Chef Marco Veneruso and Pastry Chef Giovanni Marco Carandino have created savoury bites and exquisite sweets, which will be served at the elegant Gallery, the perfect place for a culinary experience for two. Guests can also enjoy Love is Sweet Afternoon Tea in the privacy of their rooms with magical views of the Prague Castle and Charles Bridge.
Date: Friday, February 10 – Tuesday, February 14, 2023
Time: 1:00 to 6:00 pm
Location: The Gallery or in the privacy of guests' rooms
Valentine's Day dinner: Love is best shared
In a perfectly romantic, candlelit atmosphere and against the spectacular backdrop of Prague Castle and Vltava River, CottoCrudo restaurant offers its special "Love is Best Shared" six-course degustation menu created by Chef Marco Veneruso and his team to delight all senses.
Date: Tuesday, February 14, 2023
Time: from 5:30 to 10:00 pm
A toast for two
The cosy CottoCrudo bar is the ideal place for a romantic evening with a drink. The team of bartenders has prepared a special duo of cocktails, for her and for him, to put guests on the right Valentine's note.
Date: Friday, February 10 – Tuesday, February 14, 2023
Time: 12:00 noon to 12:00 midnight
You may also be interested in:
Four Seasons Hotel Prague welcomes Martin Dell as new its General Manager
Sweet relaxation at AVA Spa
For guests who like to indulge in a little pampering, the AVA Spa offers relaxation with a sugar body scrub in rhassoul, an indulgent aromatherapy massage and a brightening beauty treatment followed by a cup of luxurious hot chocolate in the spa relaxation area.
Sail to a romantic sunset
What better way to celebrate love than with a cruise in one of the most romantic cities in the world? Guests can enjoy a private ride aboard the FS boat and marvel over the beauty of Prague from a different perspective as they sip on champagne.
Love is a beautiful ride
Discover Prague's famous monuments, secret corners and delightful sceneries together in a luxurious vintage car. In true Four Seasons fashion, the Hotel will provide guests with a picnic-style basket packed with snacks and drinks to enhance the ride.