Short stay: Billesley Manor Hotel and Spa, Billesley, Stratford-upon-Avon, UK
By Michael Edwards on Jan 16, 2023 in Accommodation, Europe, Hotels, Leisure Travel, Regions, Spas & Pampering, Speciality Travel, United Kingdom, Western Europe
Set in Shakespeare Country, Billesley Manor Hotel is just five miles rural north-west of Stratford-upon-Avon. On the short drive in to Stratford, you will pass Mary Arden's farm where Shakespeare's father grew-up and Anne Hathaway's Cottage.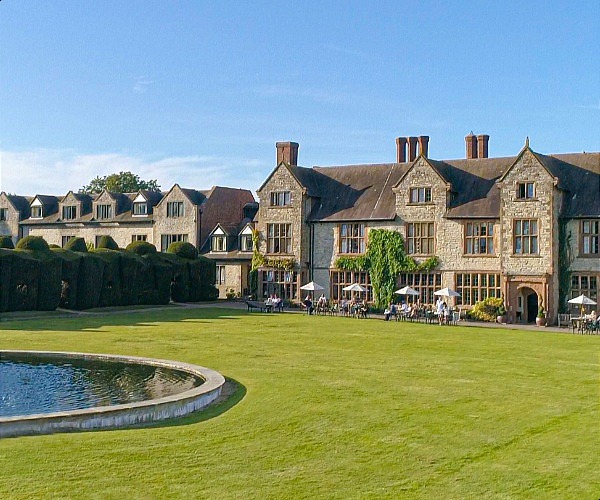 There had been a house on this site in Billesley since at least 705. Then, just as Shakespeare was completing Othello in 1603, work began building a stone Manor House to replace Billesley's previous wooden structure. Late Victorian times brought both significant restoration and development to Billesley.
The welcome
In front of the reception, there is an area for dropping off luggage.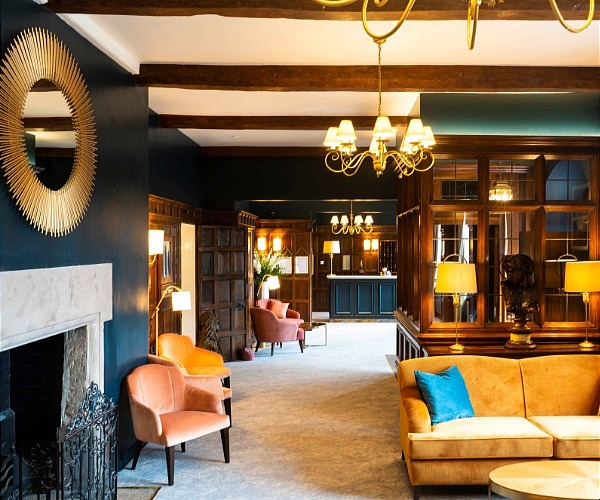 Issuing keys and checking our dinner reservation, the receptionist takes our luggage and guides us up the stairs to our room.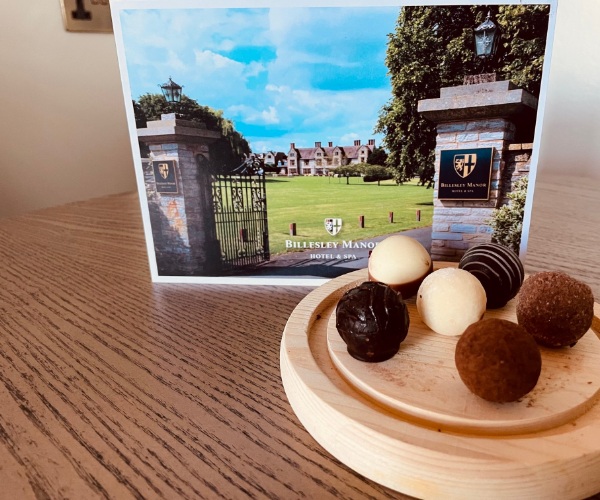 Chocolates await in our room, alongside a card wishing us a pleasant stay from the management.
The room
A sturdy fire door and deep-pile carpets insulate our wing from any hubbub around reception and the bar. Room 1, of yesteryear generous proportions but with contemporary styling, looks across the courtyard to parkland. Two vibrantly floral armchairs are strategically positioned for serene rural views.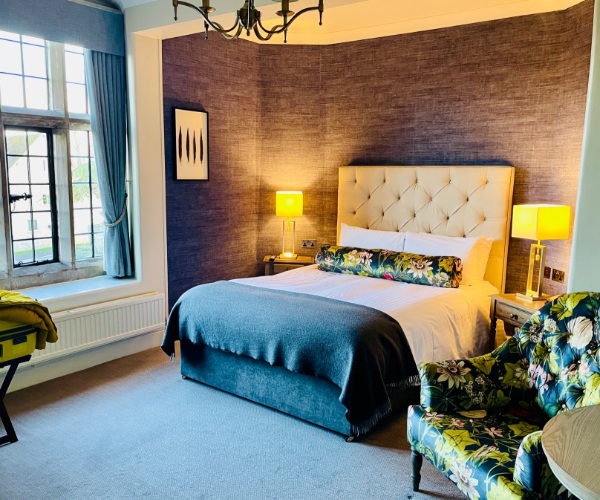 Clusters of black-framed vertical feathers remind guests that they are in the country, even when the calming light green curtains are drawn. A large midnight-blue alcove frames a king size bed. Square-shade standard and table lamps add a gilded hint of art deco glamour.
The bathroom
Measure for Measure this ice-white bathroom is large, probably big enough for a dressing room for a roving troupe of theatrical players in Shakespeare's day.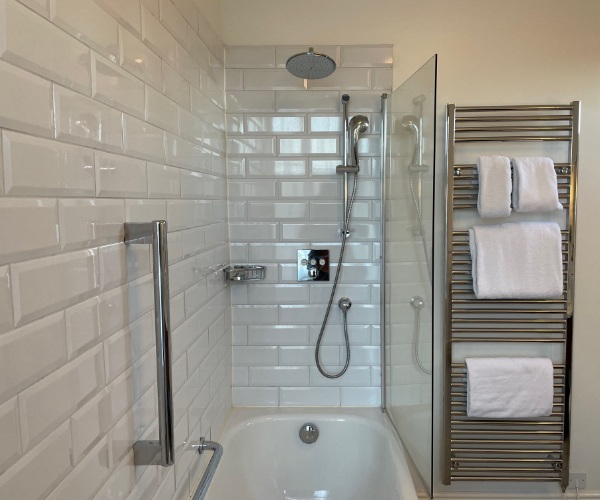 Push-button controls operate the rainfall shower, hand-held shower and bath water.
The facilities
Gins from the local Shakespeare Distillery feature in a well-stocked bar. Oak panelling dating from the sixteenth century, featuring heraldic crests, surrounds a large log-fire.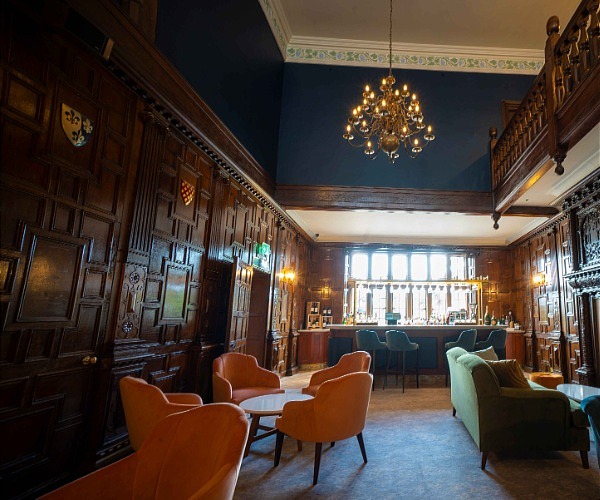 In summer, guests and non-residents take their drinks out onto a lengthy terrace over-looking the lawns, fountain and topiary gardens. The dark wood panelling flows into the Stuart Restaurant. Portraits of ruffed and long-departed Stuart gentleman look down on diners. Splashes and splotches of primary colours lighten their sombre looks. Billesley Manor, and particularly, it's warmly accommodating staff, never take themselves too seriously. Although the restaurant name refers back to the 17th century, there is a light modern touch to the menu.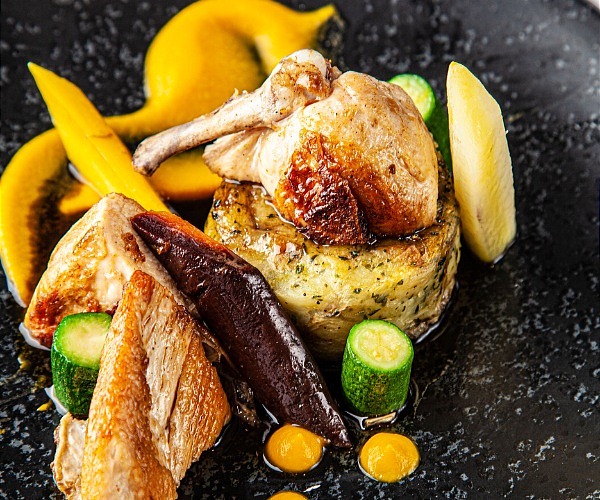 For starters, alongside a rabbit terrine, scallops, and duck leg confit, there is a willingness to push boundaries with scorched pumpkin and truffle emulsion given an appropriate crunch with pumpkin seeds.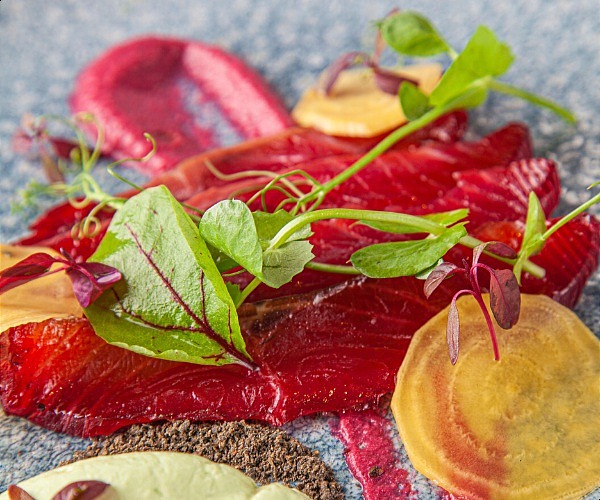 Keeping sourcing fresh and local wherever possible, a trio of leeks is served with halibut, blackberries with the duck breast and parsnips with the pan seared chicken supreme.
Unusually for a country hotel, the Spa and Health Club is part of the main building. No chilly outdoors walk to access an indoor swimming pool, a well-equipped gym, steam and sauna rooms. There is also a yoga and exercise studio plus treatment rooms offering therapies by leading spa brand ESPA.
Location
Shakespeare's Schoolroom and Guild Hall is the place to begin an exploration of Shakespeare's Stratford-upon-Avon. Stratford's oak-timber, lime-washed wattle and daub Guild Hall was completed in 1420.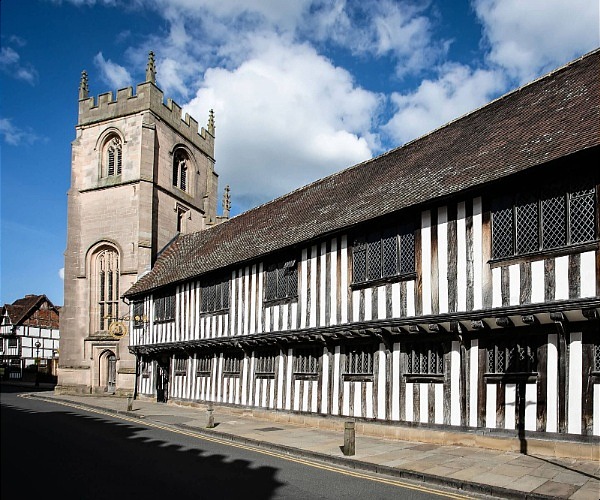 Featuring a huge triple lock chest for collecting duties and taxes, the counting house illustrates Stratford's prosperity. Up above, a young William Shakespeare sat in a class of 50 – 60 boys for seven years. In summer, school began at 6am and finished at 5pm for six days a week: starting at 7am in winter.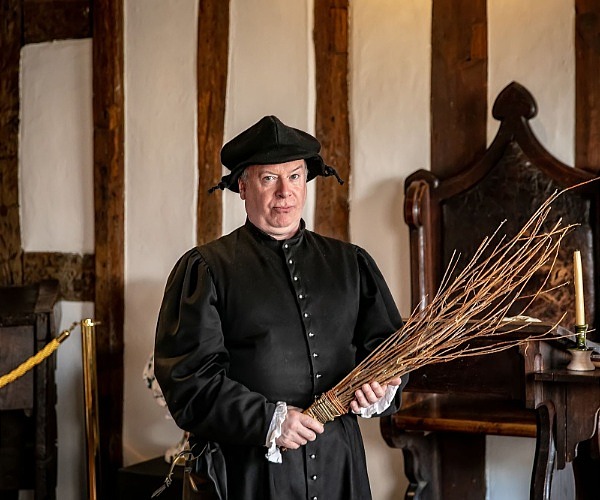 A school-master menacingly equipped with a birch, talks visitors through a curriculum of bible study and the classics. Shakespeare's ambitious wheeling-dealing father, hoped that young Will would become a lawyer. History records that 12 travelling groups of players visited the Guild Hall during Shakespeare's schooldays and it is their performances which seemed to have the greatest impact on Shakespeare.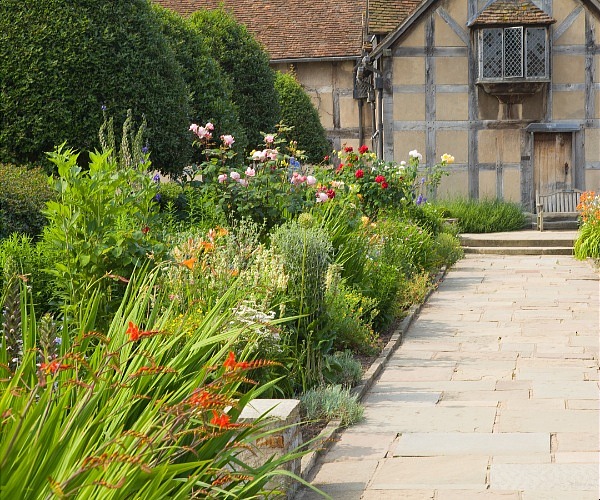 A visit to Shakespeare's Birthplace with its colourful traditional country gardens further puts Shakespeare's life in context. Alongside the house is the workshop where Shakespeare's father's business created gloves. When you've finally pieced together Shakespeare's history, it is time to watch one of his plays at the RSC Theatre.
---
IMPORTANT NOTICE:
If you are reading this article anywhere other than on A Luxury Travel Blog, then the chances are that this content has been stolen without permission.
Please make a note of the web address above and contact A Luxury Travel Blog to advise them of this issue.
Thank you for your help in combatting content theft.
---
Other nice touches
Legend has it that Shakespeare wrote As You Like it, after a visit to Billesley Manor. Not only is the As You Like It lounge book-lined, the hotel's interior designer explodes books from the shelves up onto the ceiling, as a tribute to Shakespeare's creativity.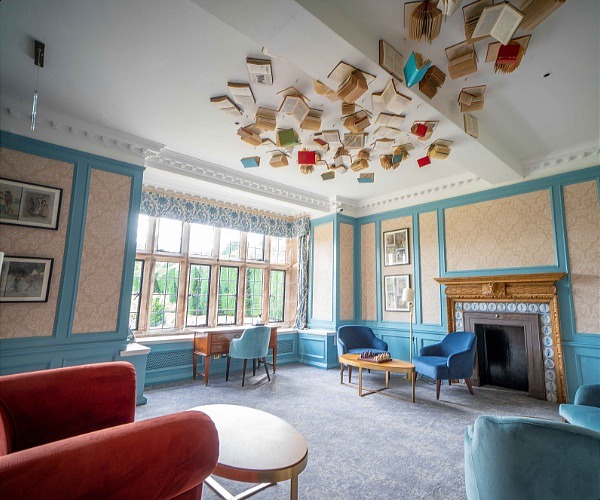 Artists' depictions of scenes from Shakespeare's romcom hang on the walls. Around the building and grounds there are reminders of Shakespeare. Next to a wicker hamper of blankets, for chill days on the terrace, there is an ironic quote from Hamlet, "Neither a borrower or a lender be."
The cost
Billesley Manor Hotel and Spa rates start from £139 per night for Bed and Breakfast based on two people sharing.
The best bit
Billesley Manor Hotel and Spa introduces guests to its history. When the Black Death devastated Billesley village's population, the wooden houses steadily decayed leaving only the church and the Manor House. A map shows the layout of the former village.
Although the small 11th century All Saints Church is no longer regularly used it is open for guests to explore. Like other Warwickshire churches, there are rumours that it hosted the marriage of Shakespeare and Anne Hathaway. However, there is more conclusive evidence that Shakespeare's grand-daughter's marriage ceremony took place there.
The final verdict
Appropriately, Billesley Manor Hotel and Spa's by-line is "Luxury – As You Like It." Although the Manor House's place in history is revered, the hotel fully understands that today's guests expect relaxed indulgence.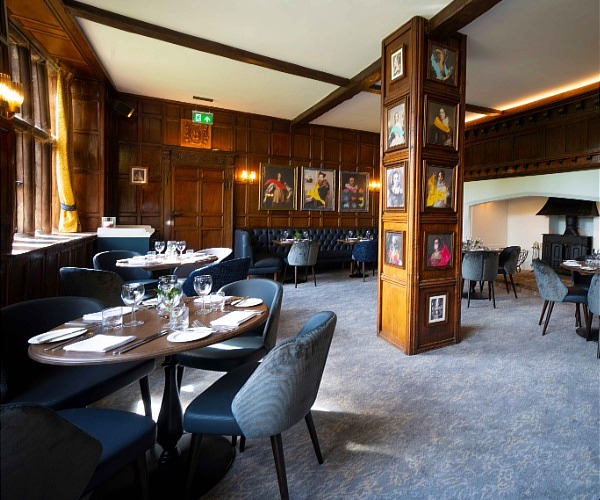 After a multi-million pound refurbishment during lock-down, it really is a case of All's Well That Ends Well. Today, Billesley Manor Hotel and Spa is a grand country house hotel set in 11 tranquil acres.
Disclosure: Our stay was sponsored by Billesley Manor Hotel and Spa.