Short stay: Radisson RED Liverpool, UK
By Judy Johnson on Feb 28, 2023 in Accommodation, Europe, Featured, Food and Drink, Going Out, Hotels, Regions, Restaurants, Travel Miscellany, United Kingdom, Western Europe
Whilst the Radisson RED Liverpool is brand new – just two months old when we visited – the building itself is Grade II Listed and was originally opened as the first railway hotel in the country, dating back to the 1800s. The refurbishment has cost £30 million and the hotel has 201 rooms along with 5 meeting rooms.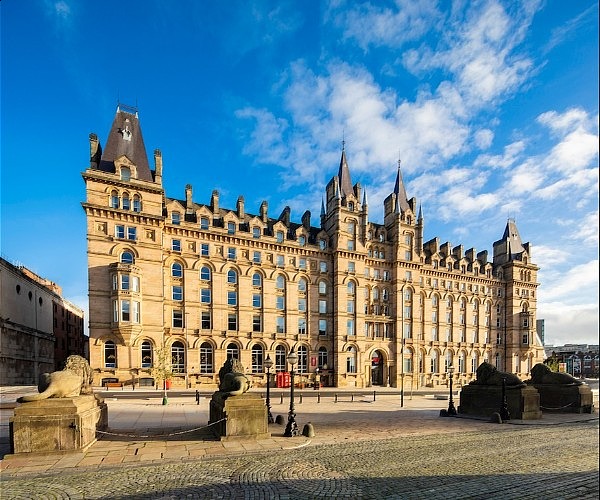 The welcome
There is the opportunity to check into the hotel online but as we had one or two items that needed personal clarification, this option was not used by us, but it could prove to be very useful for those in a hurry. Our welcome was both warm, fast and efficient and Nicole was charm itself, promising to help us with anything we needed – which I did later on when I didn't fully understand the workings of the coffee machine in my room.
It is instantly evident that this is a very modern, quirky hotel. The design features throughout use contemporary black and white paint with splashes of vibrant red on items such as the Vespa scooter and sidecar and small diving submarine found in the foyer.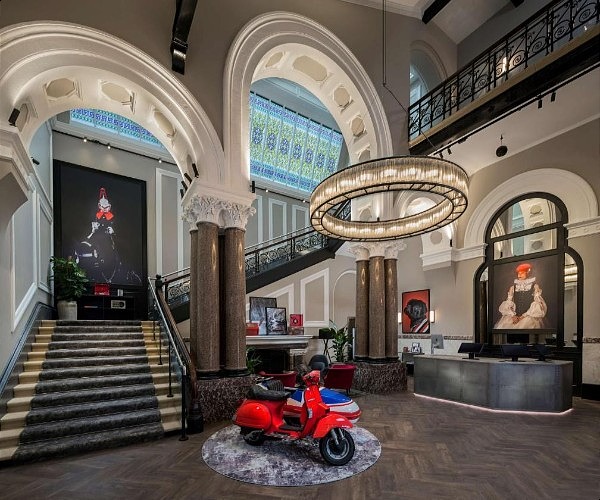 The art in both the main body of the hotel as well as in the guest rooms is bold and modern, featuring ladies in different costumes and poses but all in the trademark black, white and red giving a cohesion to the hotel's contemporary feel.
The room
I stayed in a Premier room which was spacious and featured two armchairs and a wonderful view of St. George's Hall. The bed linen and duvet were luxurious and very comfortable, and it was easy to fall asleep despite the slight vibration and rumble from trains during the night.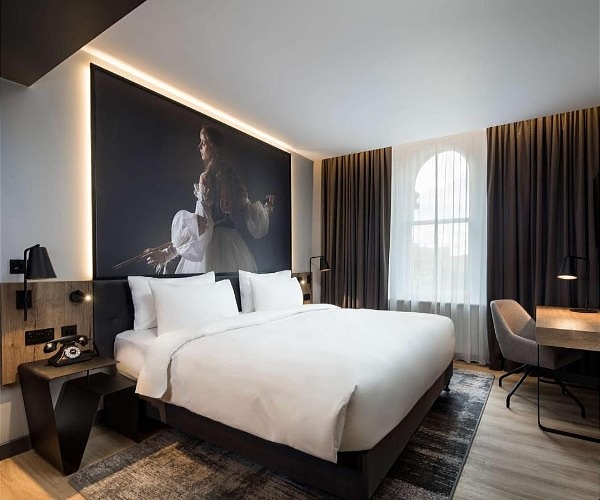 The bathroom
The bathroom featured both rainfall and standard showers, and wash basins set in beautiful black and white marble. There is also an array of goodies for luxurious cleansing of both body and face along with special additions such as a vanity kit and much needed shower cap for use under the rainfall shower. Fluffy towels are also provided, with bathrobes and slippers being a nice little extra that's afforded by Premium rooms.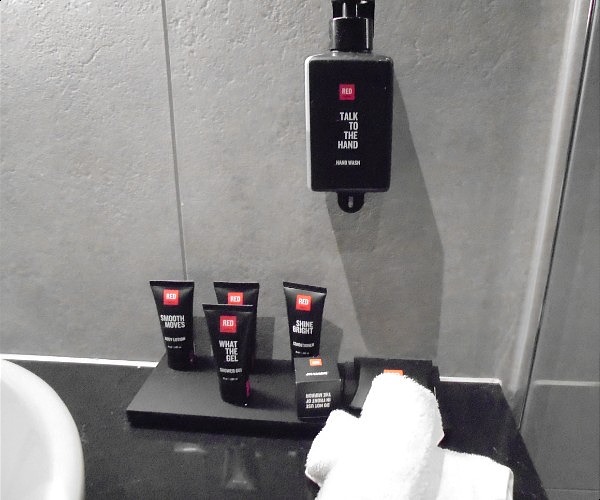 The facilities
As neither of us had eaten lunch when we arrived, we each had a delicious starter from the a la carte menu at Stoke, the hotel's restaurant, that consisted of roast carrots with hummus, and Stoke Korean-style sticky barbecued chicken pieces with a Korean barbecue glaze.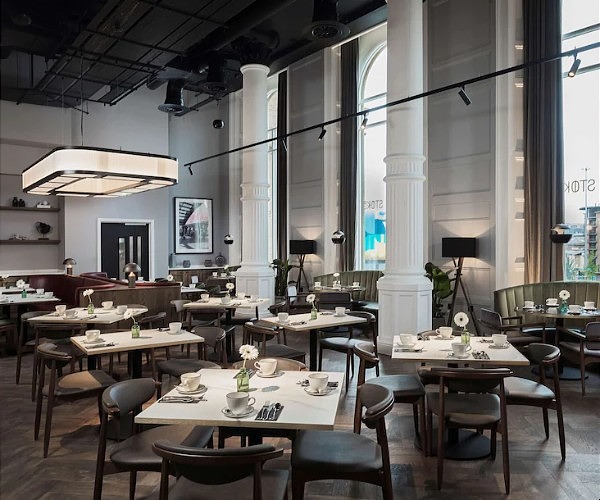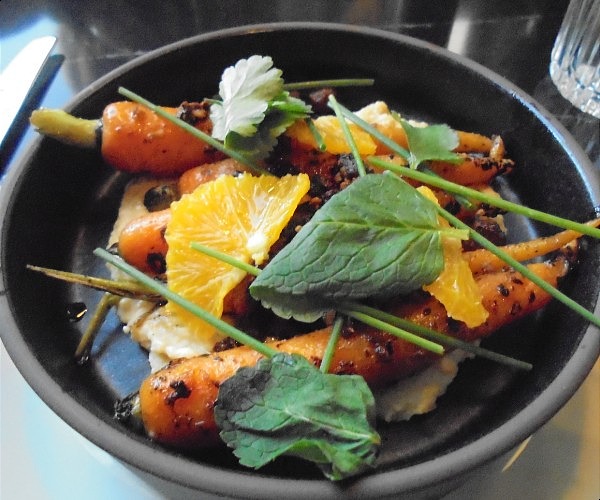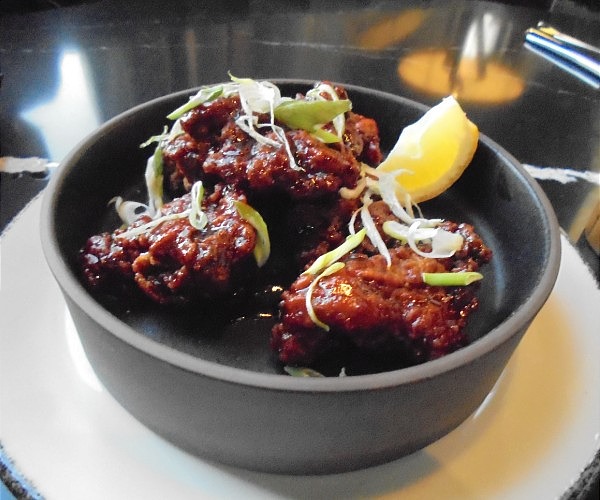 Dinner later in the day was anticipated with much pleasure having savoured these earlier dishes. Whilst the menu is not extensive and obviously caters for guests who only stay for a short time, it caters for all dietary requirements with fresh ingredients cooked with flair and integrity. The menu, however, changes monthly, and the chefs are not afraid to use flavoursome ingredients to highlight the dishes. We ate sweet beetroot cured salmon, sticky barbecue oyster mushrooms with vegan cheese custard, sesame and soy glaze and crispy squid with bonito mayo, togarashi, cashews, cashews and coriander. If you don't enjoy food that is too spicy, just let the chef know and he will happily reduce the chilli heat.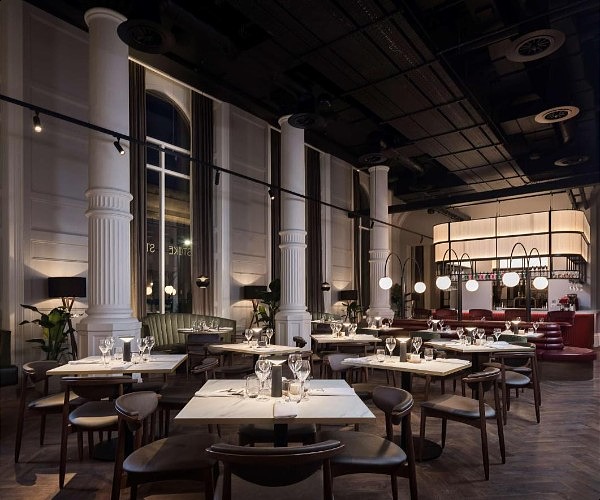 For the main course we enjoyed a Stoke burger with wagyu patty, smoked cheddar, truffle mayonnaise, crispy onion and brioche bun, British rack of lamb with smoked aubergine purée, pickled shallots and black olive, and Dover sole with seasonal herb salad and lemon with a side of broccoli. We did not sample the desserts, feeling more than satisfied with a starter and main course.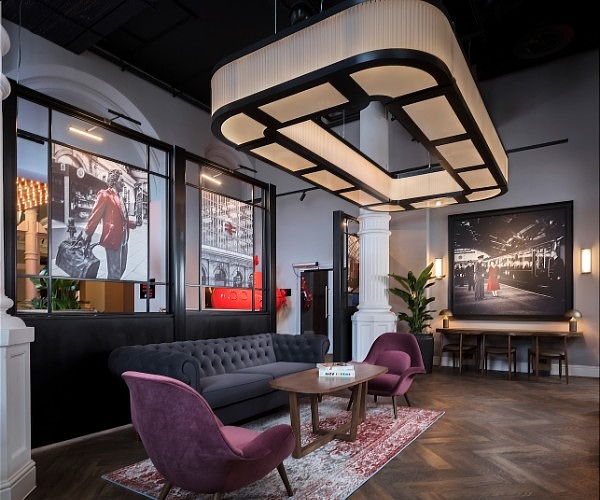 Breakfast covers the full range of continental to full English options, in a buffet style. Every kind of tea and coffee was covered to accommodate all tastes, along with an array of fruit juices and flavoured water.
The kitchen is open plan and visible from the dining area giving you an insight into how your meals are prepared and cooked, and the attention to detail with presentation was very evident on each plate.
---
IMPORTANT NOTICE:
If you are reading this article anywhere other than on A Luxury Travel Blog, then the chances are that this content has been stolen without permission.
Please make a note of the web address above and contact A Luxury Travel Blog to advise them of this issue.
Thank you for your help in combatting content theft.
---
For those who like to work off any over-indulgences at Stoke, there is a gym on the lower ground floor that is for the use of hotel residents only.
Location
Liverpool became a city in 1889 but had become a borough in its own right in 1207 so it has an extensive history that spans many important events. Situated on the eastern bank of the River Mersey, which has brought it great fortune over the years, Liverpool was the fifth most visited city in the UK in 2019. Its good transport links and culture, musical tradition of all varieties and architecture make it an ideal subject for a short trip away.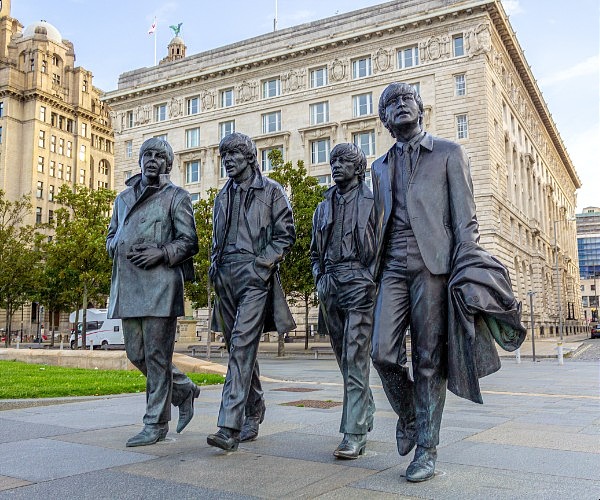 The growth of the port of Liverpool co-incided with the Industrial Revolution that turned the UK from a purely farming and land-dominated society to one of manufacturing and industry. The port handled general cargo and freight but was also very involved with cotton, coal and the infamous slave trade. Irish emigrants departed from Liverpool to America on many of the liners that were associated with the City – the RMS Titanic, RMS Lusitania, RMS Queen Mary, RMS Queen Elizabeth and RMS Olympic.
Sport is well catered for in the city, hosting as it does two Premier League football clubs – Liverpool and Everton. Followers of horse racing will find Aintree racecourse close to the city – home to the famous Grand National.
Architecture, art galleries, national museums and wonderful gardens abound throughout the area. The city also boasts two cathedrals quite close to each other. The Church of England is built in the traditional style and took 98 years to complete whilst the Roman Catholic church was built in the 1960s and is known fondly as Paddy's Wigwam being built in the style of a huge tent – rather like a Big Top.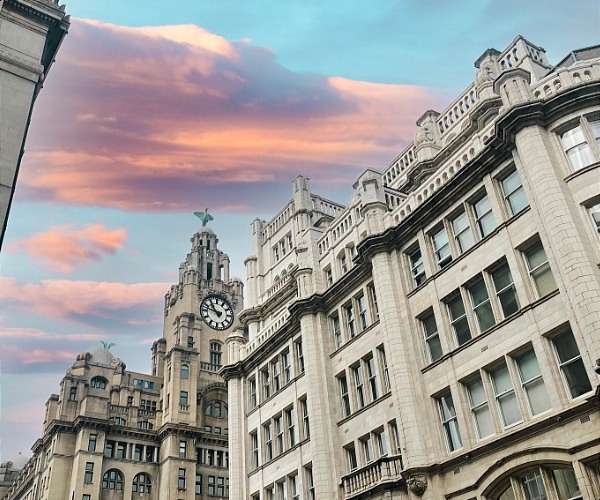 All these sights can be seen from excellent "hop on hop off" sightseeing buses with knowledgeable guides on board. They depart from the Albert Dock, a short walk away from the hotel. Staff at reception are well versed in what is available locally and can recommend what to see and where to go.
Other nice touches
Mineral water is available for those in Premier rooms, in addition to a full range of teas and coffees.
The staff throughout the hotel were exceptional – knowledgeable, caring and very personable – all credit to their training, enthusiasm and their emphasis on ensuring that guests have everything they need.
Finally, there is a door that you can easily walk past without noticing that leads directly onto Lime Street station which, if you are travelling by train is especially useful. For guests' security and safety, however, you cannot enter the hotel this way.
Cost
Standard rooms start from £80 per night.
Premier rooms start from £95 per night.
Each of the hotel's two Suites start from £220 per night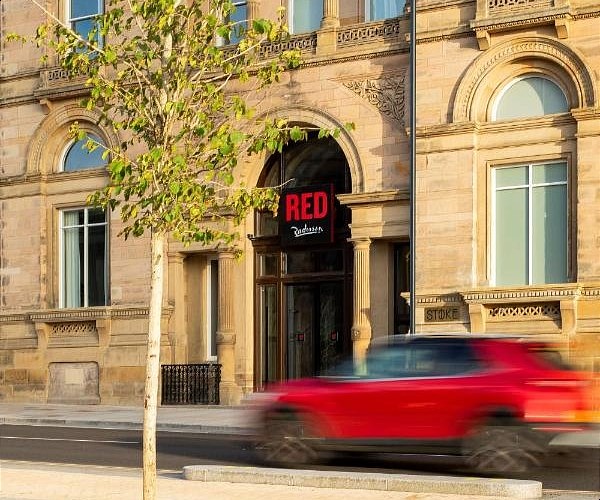 The best bit
On the last night of our stay there was a singer/guitarist playing during dinner. His input really gave a wonderful ambience to the dining room, reminding diners that they were in a city that appreciates its music.
The final verdict
Liverpool is a city that has long been known around the world for many reasons, the latest of which is the hosting of Eurovision 2023 on behalf of Ukraine – the winners of the 2022 competition – which is unable to host the event because of the ongoing war waged by Russia. (Eurovision 2023 will be staged at the M&S Bank Arena, just a mile from the hotel.)
If you are looking for a well situated hotel with great comfort and food and wonderful staff with access to good access to public transport, Radisson RED Liverpool will more than satisfy your requirements. In fact, the slight rumble of the trains on the tracks serves as a lullaby that will have you nodding off to a restful night's sleep in no time.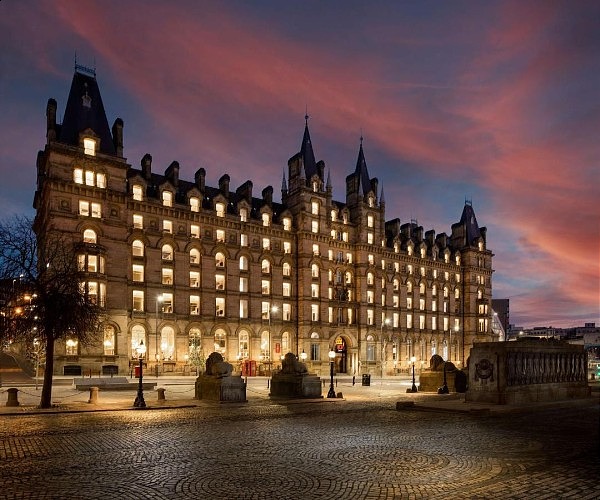 Disclosure: Our stay was sponsored by Radisson RED Liverpool.