The 5 best hotels in St. Barts
By Guido Graf on Sep 22, 2022 in Accommodation, Caribbean, Guadeloupe, Hotels, Regions
This beautiful island is home to some of the best hotels in the world. From the stunning views to the friendly people, you'll be blown away by everything St. Barts has to offer. So, if you're looking for a place to stay that will make your vacation unforgettable, check out our list of the best hotels in St. Barts.
Le Sereno St Barth
Le Sereno St Barth hotel sits between palm trees and sandy shores. This family-owned hotel offers warmth and intimacy unlike any other. This hotel exemplifies quality over quantity, with its 39 suites and three stunning villas. It provides everything vacationers want from their travels, from comfort and privacy to creativity and inspiration.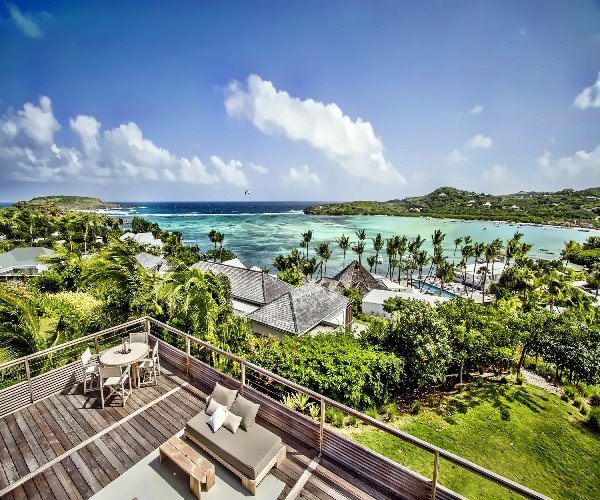 Saint Barthelemy is a Caribbean Paradise awarded to tourists and adventurers. People who seek relief from the mundane monotony of life are drawn to Cul-de-Sac's most beautiful hues in St Barts. Moreover, its luxury hotels and restaurants make this place so unique.
Thirty-nine villas and suites are elegantly decorated in ivory and white silk chiffon colors. The beds feature plush pillows and absorb the effects of fatigue. Besides, all rooms, even the villas, come with free Wi-Fi, DVD players, and flat-screen high-resolution LEDs.
Additional bathrooms are available in the attached bathroom. These bathrooms include everything guests might need, from Ex Voto Paris toiletries to high-tech lighting and dressing spaces to bathtubs. Adventure-seekers will also find plenty of opportunities to paddleboard, kayak, and jet-ski at the resort.
Eden Rock St. Barths
Eden Rock St Barths is one of the most prestigious resorts in the Caribbean. It lies on a rocky protrusion surrounded by turquoise waters and the white sand of Baie de Saint-Jean. It's a perfect spot to enjoy beaches or other activities. Indulge in many activities such as boat trips, water sports, designer shopping, and spa treatments.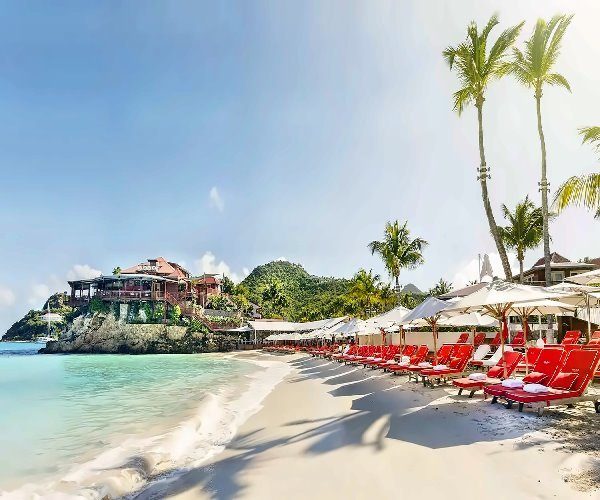 This hotel is situated on St. Jean Bay's northern coast. You will also find plenty of bars, restaurants, and shops within walking distance. Moreover, the famous Nikki Beach club is a short walk away, and Gustavia's boutiques and shops are a 10-minute drive away. You can also find grocery shops and medical supplies within a few minutes walk.
The 34 rooms and suites come with modern luxury. Some are built directly on the rocks or along the beach, while others are hidden among lush greenery. There are many options. You can choose from basic Eden Rooms, Diamond Suite James, or the ultra-luxurious Christopher Columbus Suite. For gourmets, the Eden Rock-St Barths restaurant is a delight.
There are also many fun activities that the hotel offers for kids. Sandcastle-building, watersports such as body-boarding, and other activities will keep your children entertained.
Cheval Blanc St Barth
Cheval Blanc St-Barth still treats guests like family over the past two decades. You will enjoy idyllic vacations with stunning views from the rooms, suites, and villas. Moreover, the spacious bedrooms are sure to please, with beautiful ocean views or gardens. You can also relax in the brightly lit bathrooms after a tiring day.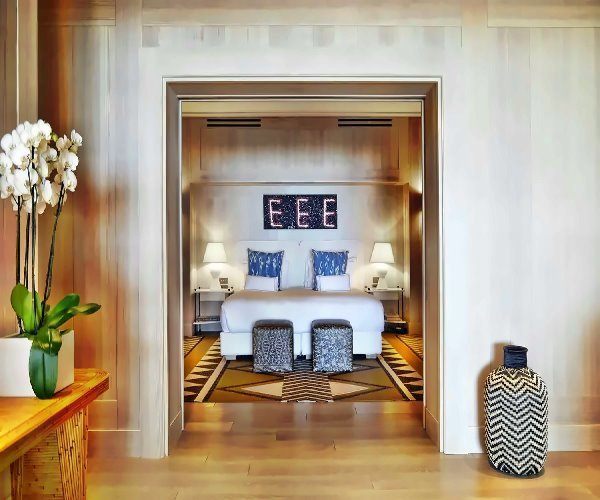 Besides, Anse des Flamands beach is on the northwest coast. It is only a 10-minute drive from the airport. The beach is well worth a visit. It is beautiful and only takes 15 minutes to walk. But, please be cautious as there aren't any lifeguards. You must also sign the hotel waiver allowing you to use it.
Colombier's beach is also a hidden gem. The beach is only accessible by foot and boat, so it is tranquil. Plus, the 45-minute trek west of the restaurant is worth it. The unique sand and surf make it well worth the effort.
You can relax and feel rejuvenated at the Cheval Blanc spa. It is the ideal spot to escape from everything and recharge your batteries. It's also a peaceful place to spend a few hours, surrounded only by nature and the sound the waves make against the shore.
Rosewood Le Guanahani
St Barts in the French West Indies (or St Barthelemy) is a beautiful, uninhabited island. The hotel's prime location overlooking the two white-sand beaches has made it a popular destination for celebrities and international visitors since 1986.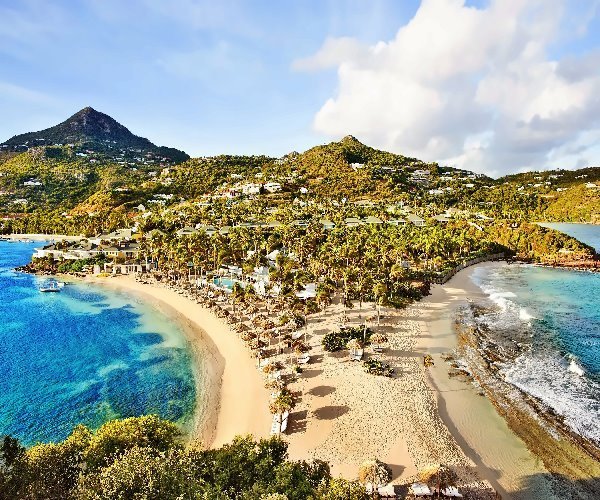 Rosewood Le Guanahani offers luxury and casual comfort in an 18-acre private enclave. The iconic hotel also sits in the Grand Cul-de-Sac in the trendy northeast corner of the island. Here, you'll find high-end bistros and watersports.
You will find both beaches in the bay's natural reserve. Also, the hotel is 10 minutes from Remy De Haenen Airport. You can also connect by sea or air to many other Caribbean islands.
The resort is in beautiful tropical gardens bursting with bougainvillea and palms. From the hotel, you can also see stunning views across Marechal's sandy beaches and the turquoise reef lagoon.
There are 29 guest rooms. Suites and signature suites come with elegant furnishings. Each has delicate fabrics as well as a host of modern amenities. Most rooms offer stunning views, large covered terraces, sitting areas, and private pools. You can also choose from a beachside bar or a full-service in-room restaurant. Moreover, Mediterranean cuisine is available at the restaurant.
---
IMPORTANT NOTICE:
If you are reading this article anywhere other than on A Luxury Travel Blog, then the chances are that this content has been stolen without permission.
Please make a note of the web address above and contact A Luxury Travel Blog to advise them of this issue.
Thank you for your help in combatting content theft.
---
Christopher St. Barth
The Hotel Christopher St. Barth invites you to an extraordinary lifestyle in a beautiful setting. Imagine a simple and timeless hotel located at the end of a long road leading to the ocean. The Christopher hotel, nestled between Pointe Milou (clear water) and Pointe Milou (protected by the trade wind), offers stunning views of the sea, mountains, and ocean.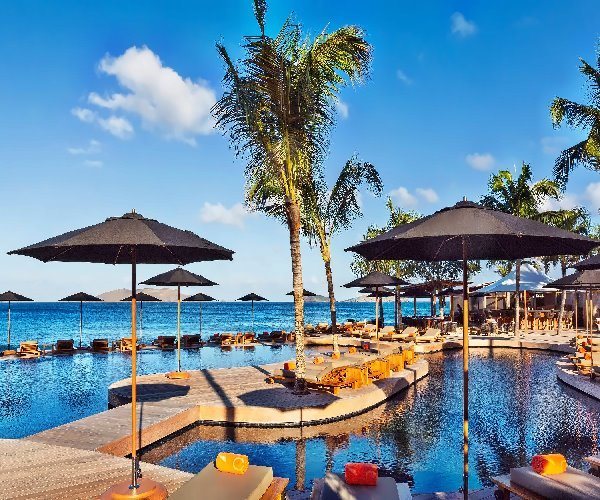 There are 48 rooms and suites in a modern and refined style. Moreover, every window offers views of the ocean. The place is charming because of its simplicity and Creole architecture. The hotel also provides a unique experience with elegant Villas. Besides, RIVYERA Restaurant is directly open to the ocean. It offers a unique experience that will leave you captivated. Start your Riviera adventure with the Signature cocktail menu.
This little island in the Caribbean is home to some of the best hotels in the world. You'll be spoiled for choice, from the stunning views to the fantastic amenities. The above are our top picks for the best hotels in St. Barts for a romantic getaway or family-friendly resort.
Guido Graf is Founder of Privateupgrades. Privateupgrades is a global luxury travel club with over 20 years of experience in luxury hotels, ensuring exclusive VIP privileges like upgrades, free breakfast, free nights, rate discounts, free airport transfers, free massages and much more.
If you would like to be a guest blogger on A Luxury Travel Blog in order to raise your profile, please contact us.