The 5 best luxury hotels in Gettysburg, Pennsylvania
By Jessica James on Sep 26, 2023 in Accommodation, Hotels, North America, Pennsylvania, Regions, USA
If you're looking for luxury accommodations within driving distance of major cities on the East Coast, you're in luck. Although Gettysburg, PA has the reputation of being a small town with a lot of history, it is also home to some truly indulgent and lavish luxury stays.
Located just 90 minutes from the major metropolitan areas of Baltimore and Washington, D.C., the historic town makes a perfect retreat for those seeking a weekend getaway. From upscale boutique hotels that blend lavish comforts with timeless charm, to countryside Bed and Breakfast with picturesque landscapes and extravagant spas, Gettysburg offers accommodations that cater to even the most discerning travelers.
Take a look at some of the most luxurious lodging options available in Gettysburg, and treat yourself to a getaway that is sure to create lasting memories.
The Inn At White Oak
Nestled on 30 private acres of gardens, ponds and pastures, The Inn At White Oak offers luxury and tranquility just minutes from Gettysburg's Lincoln Square. The Inn features 12 large common rooms, including a billiard room, tea room, library, and formal parlor. You can relax and swim in their heated, indoor swimming pool, walk around the grounds, or enjoy some down time in their full spa that offers massages, facials, body treatments, and skin care services.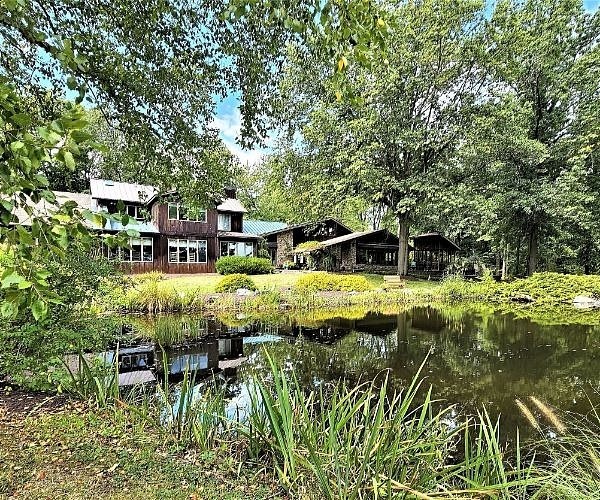 Laid out like a village in 1865, The Inn At White Oak provides a unique, private, relaxing experience that keeps guests coming back. This Inn's secluded location is close to everything, but the experience it offers far from ordinary.
1 White Oak Trail, Gettysburg, PA
The Union Hotel
If you're looking for a luxury room with a convenient location, the historic Union Hotel in downtown Gettysburg is the place for you. Located just half a block from Lincoln Square, this hotel puts guests within walking distance of pubs, restaurants and museums. If you'd rather not venture far, the hotel also has its own high-end restaurant on the first floor called Sign of the Buck that offers everything from rockfish and trout to venison steak and pork roulade.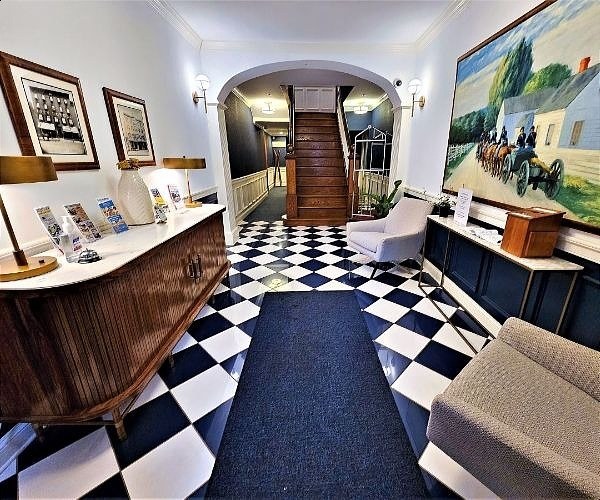 Recently renovated with many luxury touches, the hotel features 12 rooms that are all suites. The hotel has the feel of a luxurious bed and breakfast, but offers privacy and comfort in the large suites that feature a living room, bedroom, bathroom and kitchenette.
This historic downtown hotel has its own distinctive style and is a perfect retreat for those seeking luxury amenities in the most famous small town in America.
27 Chambersburg Street, Gettysburg, PA
The Lodges at Gettysburg
Perched atop one of the highest ridgelines in Gettysburg and offering magnificent views, The Lodges at Gettysburg is a destination that is unlike any other. You can't help but be touched by the tranquility and elegance of this estate the minute you enter the gates. Beautifully maintained grounds and lodging are surrounded by 63 acres of rolling Gettysburg countryside.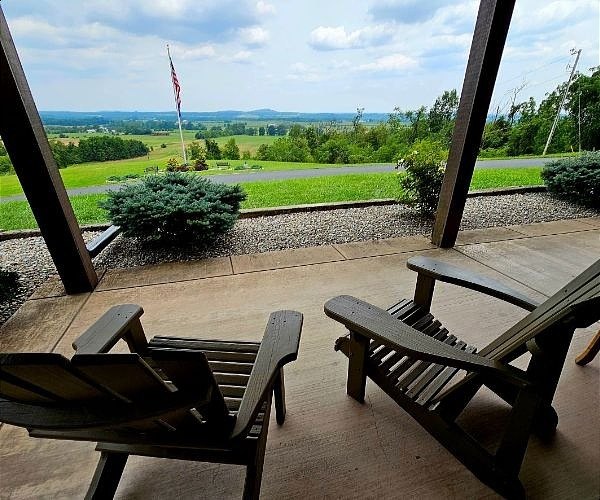 Twenty-eight guest lodges made of stone and rustic wood, are each furnished with period pieces, fireplaces, full kitchenettes and private porches. Features of this getaway include fishing for bass in their lake or you can meander through 35 acres of mature woods by foot or bike. By the way, don't forget your camera. The Lodges is a natural home to deer, red tail fox, wild turkey, beaver, Canadian geese, ducks, red tail hawk and the American bald eagle.
If a glass of wine is more your style, you can just enjoy the spectacular views from Gloryridge Tavern before returning to relax in your room by the fireplace. The Lodges' luxury accommodations are conveniently located less than 8 miles from Liberty Mountain Ski Resort in Carroll Valley.
685 Camp Gettysburg Road, Gettysburg, PA
The Baladerry Inn
For those seeking a combination of historic allure and modern luxury, The Baladerry Inn supplies plenty of both. Guest rooms are located in the original home that was built in 1812, an 1830 addition, and in the separate Carriage House.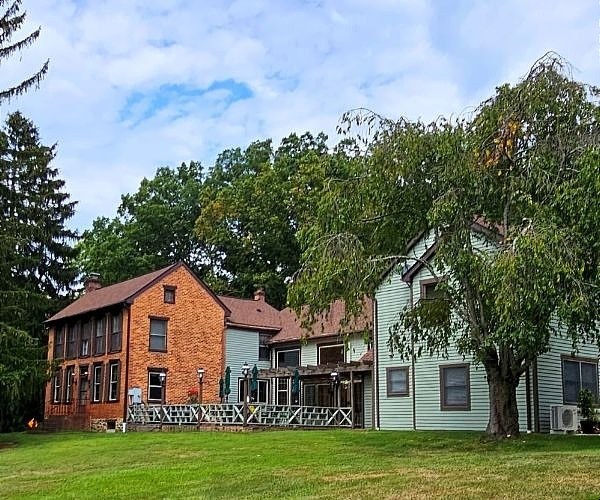 Among other rooms, the Carriage House features a two-room suite with a queen size sofa bed in the sunroom, large bedroom with king-sized bed, fireplace and private patio.
The property, which sits on the edge of the battlefield, was used as hospital after the Battle of Gettysburg. It features beautifully landscaped grounds, romantic terraces, a majestic great room, and free wi-fi access.
There is also a centrally located hot tub available for the use of guests, and a full country breakfast is served each morning.
40 Hospital Rd, Gettysburg, PA
The Federal Pointe Inn
How many people can say they've spent the night in a schoolhouse? Well you can if you book a stay at the beautifully restored boutique hotel called The Federal Pointe Inn. This historic Gettysburg hotel was built in 1896 as the "Meade School," whose photos are chronicled in the Library of Congress. Used as the very first high school in Gettysburg, this majestic building blends federal and gothic architectural features that make it an iconic landmark in the historic downtown district.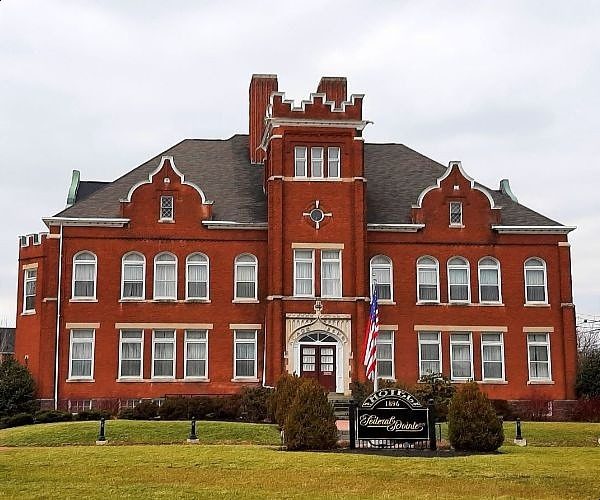 Guests seeking extravagant accommodations can book a stay in one of the 23 upscale suites that seamlessly marry rich history with luxury. The Federal Pointe Inn also offers a classroom themed pub that serves local wines, craft beers, and spirits. If you want to tour the battlefield, the hotel will coordinate transportation for you.
In addition to its refined elegance this hotel is known for attention to detail. This is a bucket list hotel if you're looking for charm, rich history and luxury.
75 Springs Avenue, Gettysburg, PA
---
IMPORTANT NOTICE:
If you are reading this article anywhere other than on A Luxury Travel Blog, then the chances are that this content has been stolen without permission.
Please make a note of the web address above and contact A Luxury Travel Blog to advise them of this issue.
Thank you for your help in combatting content theft.
---
You don't have to be a history enthusiast to enjoy a getaway in the charming town of Gettysburg, PA. Brick-paved sidewalks dotted with unique stores, pubs and restaurants invite you to explore the vibrant tapestry of this small town's local culture and culinary delights. Best of all, you won't have to compromise on your overnight accommodations. Whether you're a Civil War buff or simply seeking a serene escape, there are plenty of luxurious stays that will provide an unforgettable experience. Pamper yourself by taking a step back in time and restore your spirit in this one-of-a-kind town.