The top 5 luxury hotels in Oman
By Simon Williams on Jul 31, 2023 in Accommodation, Hotels, Middle East, Oman, Regions
If you're looking ahead and planning an escape for some winter sun then skip the glitz of Dubai in exchange for the authenticity of neighbouring Oman. There are several compelling reasons to visit Oman and here are a few key factors that make Oman a captivating destination:
Natural Beauty: Oman boasts diverse and breathtaking natural landscapes. From the rugged mountains of Jebel Shams and Jebel Akhdar to the pristine beaches along the coastline, the country offers a stunning blend of mountains, deserts, wadis (valleys), and turquoise waters. Nature lovers will appreciate the opportunity to explore dramatic canyons, hike through lush oases, and swim in crystal-clear pools.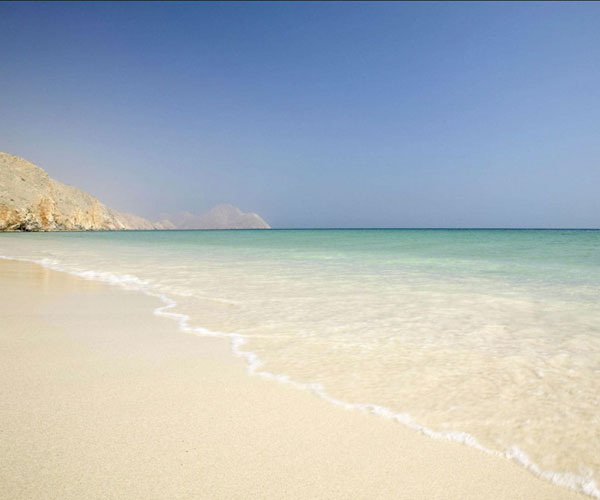 Rich Cultural Heritage: Oman has a deep-rooted and fascinating cultural heritage. The country is known for its well-preserved historic sites, such as the forts and castles that dot the landscape. Visitors can immerse themselves in traditional Omani culture by exploring vibrant souks (markets), attending cultural festivals, and witnessing traditional crafts such as pottery and weaving. The people of Oman are known for their warm hospitality and friendliness, providing a welcoming environment for travellers.
Authentic Arabian Experience: Unlike its neighbouring countries, Oman has preserved its traditional Arabian charm. Traveling in Oman allows you to experience an authentic Middle Eastern culture and way of life. You can visit traditional villages, witness traditional dress and customs, and indulge in local cuisine. The country has struck a balance between modernization and preservation, offering visitors a unique blend of old-world charm and modern comforts.
Adventure and Outdoor Activities: Oman offers numerous opportunities for adventure and outdoor enthusiasts. Whether you're interested in hiking, camping, dune bashing in the desert, snorkelling, or diving in the pristine waters, Oman provides a playground for thrilling experiences. The varied landscapes and diverse ecosystems make it an ideal destination for outdoor pursuits.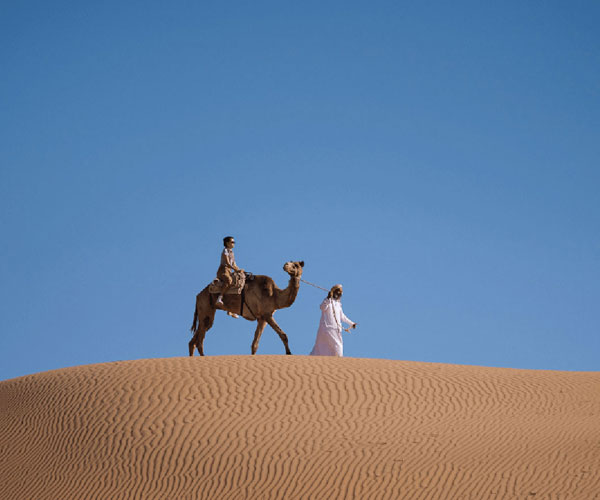 These factors combined make Oman an enticing destination for travellers seeking a unique and enriching experience without the high rise buildings which symbolise so many of the other countries of the Arabian peninsula. Whether you're interested in exploring natural wonders, immersing yourself in local culture, embarking on outdoor adventures, or simply relaxing in tranquil surroundings, Oman has much to offer.
Here are the most luxurious hotels to stay in on a holiday.
Al Bustan Palace, A Ritz-Carlton Hotel (Muscat)
Al Bustan Palace, A Ritz-Carlton Hotel is a luxurious five-star hotel located in Muscat, the capital city of Oman. This iconic hotel is nestled along a pristine stretch of private beach, offering guests a picturesque setting overlooking the Gulf of Oman.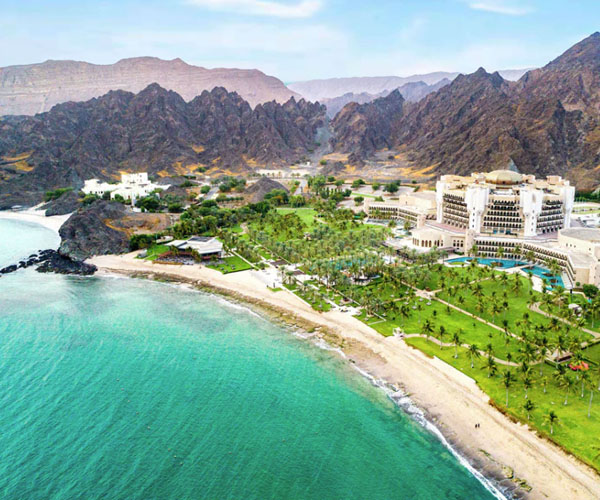 The architecture of Al Bustan Palace is striking, showcasing a blend of traditional Arabian design and contemporary elements. The grand entrance welcomes guests with its majestic marble columns and an expansive lobby adorned with stunning chandeliers and intricate Arabesque details.
Rooms and suites at Al Bustan Palace are opulent and spacious, featuring elegant furnishings, plush beds, and luxurious amenities. They are designed with comfort and style in mind, offering beautiful views of the sea, gardens, or the surrounding mountains.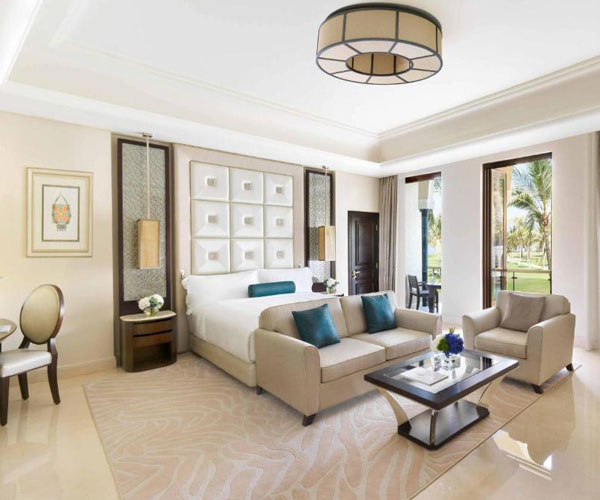 The hotel boasts an impressive array of dining options, ranging from fine dining restaurants to casual eateries. Guests can indulge in international cuisine, Arabic specialties, seafood, and more, all prepared with the finest ingredients and served in elegant settings. There are also several bars and lounges where visitors can unwind and enjoy refreshing beverages.
Al Bustan Palace offers a range of facilities and services to enhance guests' experiences. The hotel features multiple swimming pools, including a stunning infinity pool overlooking the beach. The award-winning Six Senses Spa provides a tranquil oasis for relaxation and rejuvenation, offering a variety of treatments and therapies inspired by local traditions. Other amenities include a fitness centre, tennis courts, and a private beach with water sports activities.
The hotel's staff is renowned for their warm hospitality and attention to detail, ensuring that guests receive personalized service throughout their stay. Whether it's arranging excursions, providing recommendations for local attractions, or fulfilling any specific requests, the dedicated team strives to create a memorable and unforgettable experience for every visitor.
It provides an idyllic setting for leisure travellers, honeymooners, and those seeking a sophisticated and indulgent escape in Muscat, Oman.
---
IMPORTANT NOTICE:
If you are reading this article anywhere other than on A Luxury Travel Blog, then the chances are that this content has been stolen without permission.
Please make a note of the web address above and contact A Luxury Travel Blog to advise them of this issue.
Thank you for your help in combatting content theft.
---
Anantara Al Jabal Al Akhdar Resort
Anantara Al Jabal Al Akhdar Resort is one of the great hotels of the world, a luxury retreat nestled in the majestic Al Hajar Mountains of Oman. Situated on a cliffside, the resort offers breathtaking views of the surrounding rugged landscapes, deep canyons, and distant villages.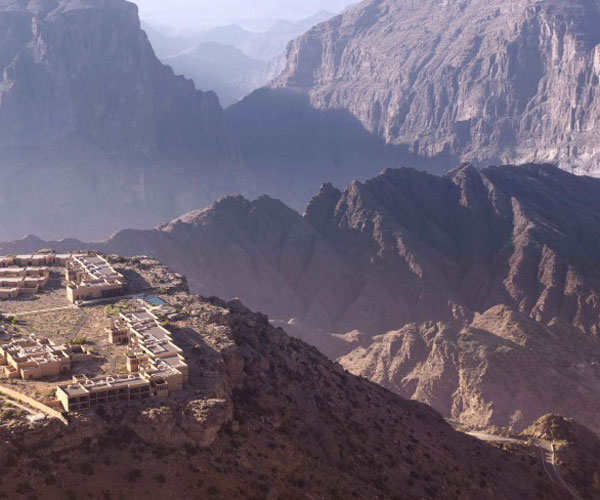 The architecture and design of Anantara Al Jabal Al Akhdar Resort harmoniously blend contemporary elegance with Omani cultural elements. The resort features stylish and spacious rooms, suites, and villas that offer a perfect blend of comfort and luxury. Each accommodation option is tastefully furnished, equipped with modern amenities, and designed to showcase the stunning natural beauty of the surroundings.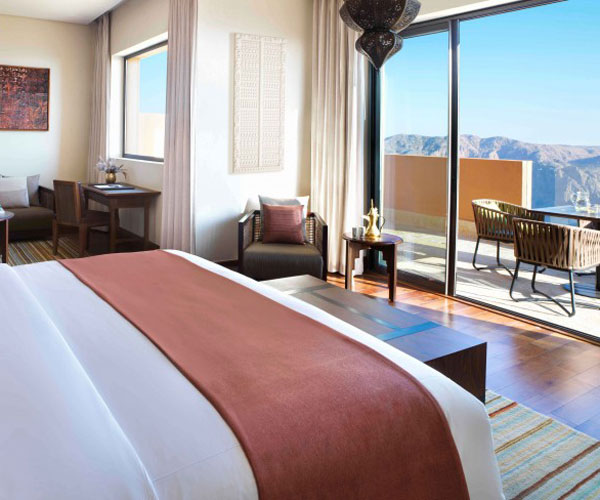 Dining at the resort is a delightful experience, with a variety of restaurants and lounges offering a diverse range of cuisines. Guests can savour international flavours, traditional Omani dishes, and Mediterranean delights in atmospheric settings. The resort also offers unique dining experiences, such as cliff-edge dining overlooking the canyon, creating memorable moments for guests.
Anantara Al Jabal Al Akhdar Resort is renowned for its world-class spa, which provides a sanctuary of relaxation and rejuvenation. The spa offers a range of treatments inspired by local traditions and uses natural Omani ingredients. Guests can indulge in therapeutic massages, body scrubs, and facials while enjoying panoramic mountain views.
The resort offers a range of recreational activities to suit every taste. Adventure enthusiasts can embark on guided hiking and mountain biking expeditions to explore the rugged terrain, discovering hidden wadis and ancient villages along the way. Other activities include rock climbing, abseiling, and even a Via Ferrata experience. For a more leisurely experience, guests can enjoy swimming in the infinity pool, practicing yoga, or simply soaking in the stunning surroundings.
Anantara Al Jabal Al Akhdar Resort takes great pride in providing exceptional service and warm Omani hospitality. The attentive and knowledgeable staff goes above and beyond to ensure that every guest's needs are met, creating a truly personalized and memorable stay in the Omani mountains.
The Chedi Muscat
The Chedi Muscat is a prestigious luxury hotel located in Muscat, the capital city of Oman. This exquisite property is renowned for its sophisticated design, serene atmosphere, and world-class amenities, making it a favoured destination for luxury travellers.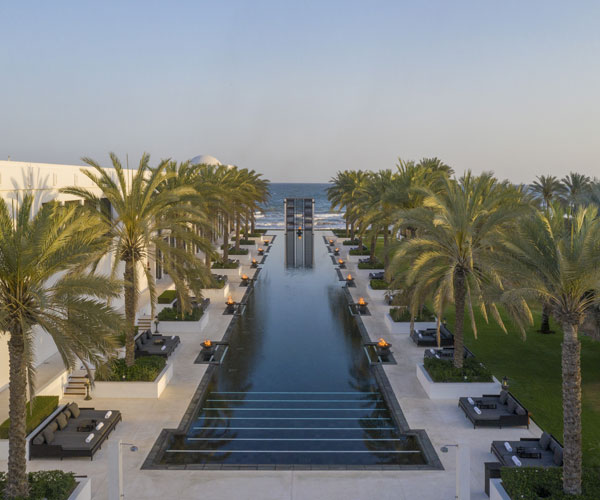 The architecture of The Chedi Muscat showcases a perfect fusion of contemporary elegance and traditional Omani charm. The hotel's design is characterized by clean lines, minimalist aesthetics, and a harmonious blend of water features, lush gardens, and serene courtyards.
The accommodations at The Chedi Muscat are meticulously designed to provide guests with the utmost comfort and relaxation. The hotel offers a variety of rooms and suites, each featuring stylish décor, modern furnishings, and luxurious amenities. Some rooms provide stunning views of the tranquil gardens, while others offer vistas of the turquoise waters of the Gulf of Oman.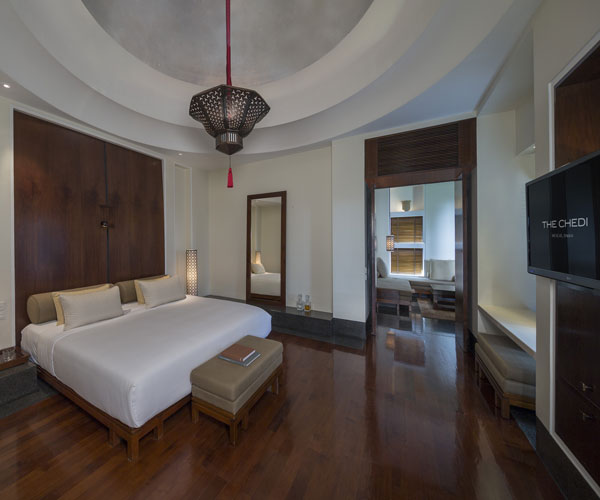 Dining at The Chedi Muscat is an exceptional culinary experience. The hotel features a diverse range of restaurants and lounges, each offering its own unique atmosphere and cuisine. Guests can indulge in a variety of culinary delights, including international flavours, Middle Eastern specialties, and Asian fusion cuisine. The dining venues are beautifully designed, with outdoor terraces, soothing water features, and elegant interiors that create an ambiance of refined luxury.
The Chedi Muscat is also renowned for its world-class spa, which provides a sanctuary of relaxation and rejuvenation. The spa offers a comprehensive range of treatments, including massages, facials, and body therapies, all designed to restore balance and well-being. The tranquil spa facilities include serene treatment rooms, a steam room, and a fitness centre equipped with state-of-the-art equipment.
The hotel's beautifully landscaped gardens and stunning infinity pools provide the perfect setting for relaxation and leisure. Guests can unwind by the poolside, soaking up the sun or enjoying refreshing drinks from the poolside bar. For those seeking active pursuits, the hotel offers recreational facilities such as tennis courts and a private beach.
The Chedi Muscat is known for its exceptional service and attention to detail. From arranging excursions to recommending local attractions and providing tailored experiences, the team at The Chedi Muscat strives to create memorable moments for every visitor.
In summary, The Chedi Muscat is a luxurious haven in Muscat, combining contemporary elegance, impeccable service, and world-class amenities. Its tranquil ambiance, exquisite dining options, rejuvenating spa, and beautiful surroundings make it an ideal choice for those seeking a refined and indulgent stay in Oman's capital city.
Six Senses Zighy Bay (Musandam Peninsula)
Six Senses Zighy Bay is an exceptional luxury resort situated on the beautiful Musandam Peninsula in Oman. Known for its unique and breathtaking location, this resort offers guests an unforgettable experience in a secluded and serene setting.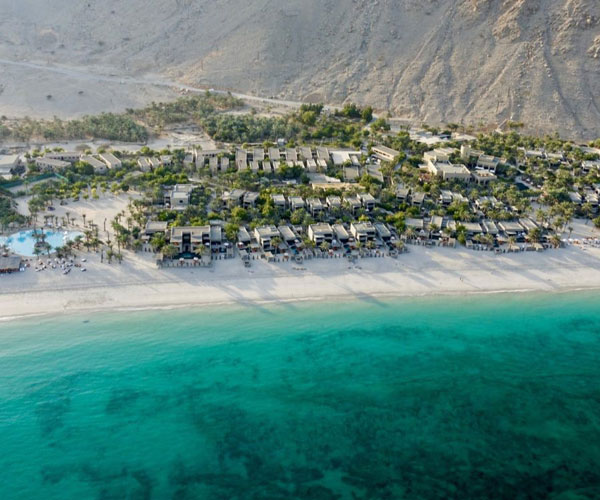 The architecture and design of Six Senses Zighy Bay seamlessly blend traditional Omani elements with modern comforts. The resort features rustic yet elegant villas made from natural stone and traditional materials, creating a harmonious integration with the surrounding landscape. Some villas are nestled on the mountainside, while others are located on the pristine sandy beach, offering stunning views of the Gulf of Oman.
Accommodations at Six Senses Zighy Bay are designed to provide ultimate privacy, comfort, and luxury. The spacious villas feature private pools, outdoor showers, and expansive living areas. Each villa is beautifully decorated with local touches, providing a sense of tranquillity and serenity.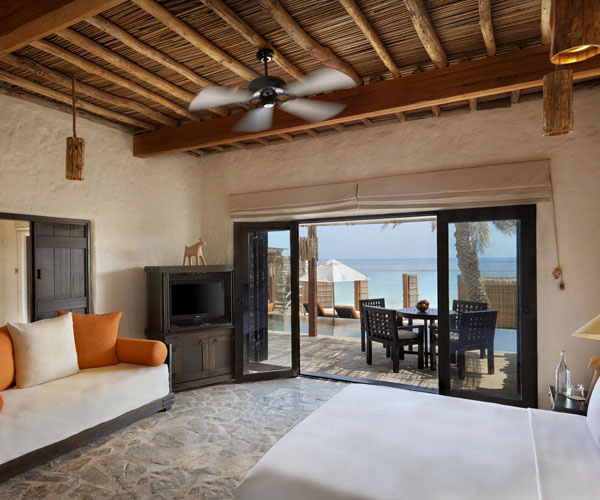 Dining at Six Senses Zighy Bay is a culinary journey of exquisite flavours. The resort offers a range of dining options, including signature restaurants, beachside grills, and private dining experiences. Guests can savour delectable dishes inspired by local Omani cuisine, as well as international specialties, all prepared with fresh, locally sourced ingredients. The resort also boasts an impressive wine cellar, featuring an extensive selection of fine wines.
Six Senses Zighy Bay is renowned for its array of unique and thrilling experiences. Guests have the opportunity to arrive at the resort in style, either by paragliding from the mountaintop or by a traditional dhow boat. The resort offers a wide range of activities, including snorkelling, diving, kayaking, mountain biking, and sunset cruises. For a more serene experience, guests can indulge in holistic spa treatments, practice yoga, or simply relax on the beach and enjoy the breathtaking natural surroundings.
The resort places a strong emphasis on sustainability and eco-conscious practices. It strives to minimize its environmental impact through initiatives such as waste management, energy conservation, and supporting local communities.
The dedicated and attentive staff at Six Senses Zighy Bay ensures that every guest's needs are met with genuine warmth and hospitality. They are knowledgeable about the local area and are always available to provide recommendations, organize excursions, and assist with any requests, ensuring a personalized and memorable stay for each visitor.
The Six Senses Zighy Bay offers a truly exceptional luxury experience in a stunning and secluded location. It's actually most easily accessed from the United Arab Emirates but the Musandam Peninsula is a great spot to finish your stay in Oman.
Shangri-La Barr Al Husn
Shangri-La Barr Al Husn is a luxurious resort located in Muscat. As part of the larger Shangri-La Barr Al Jissah Resort & Spa complex, it is the most exclusive and upscale property within the resort.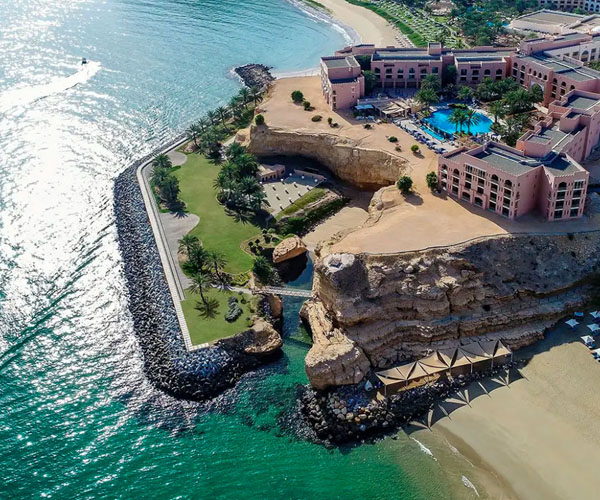 Shangri-La Barr Al Husn is situated on a picturesque bay, overlooking the azure waters of the Gulf of Oman. The resort's architecture reflects traditional Omani design with its elegant Arabesque details, grand domes, and beautifully landscaped gardens.
The resort offers a selection of lavish accommodations, including spacious rooms and suites, designed to provide a serene and indulgent retreat. The interiors are tastefully decorated with a mix of contemporary and traditional elements, offering a blend of comfort and luxury. Some rooms feature private balconies or terraces with stunning views of the sea.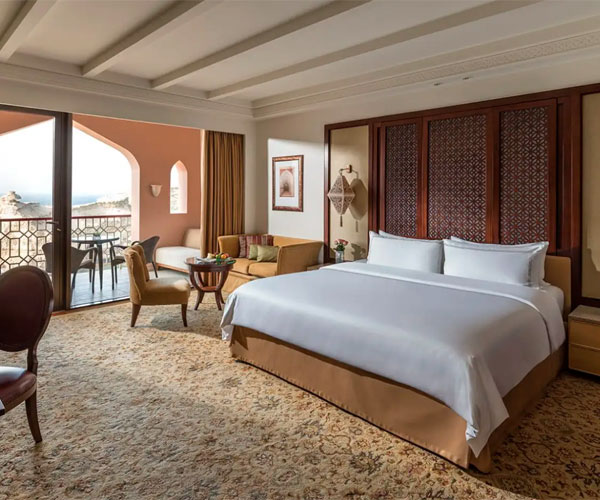 Guests of Shangri-La Barr Al Husn enjoy exclusive access to a private beach, ensuring a tranquil and secluded experience. The resort's infinity pool is a highlight, offering panoramic vistas of the coastline and providing a perfect spot for relaxation and sunbathing.
Dining at Shangri-La Barr Al Husn is a culinary delight. The resort features a variety of restaurants and lounges that cater to diverse palates. Guests can savour exquisite flavours ranging from international cuisine to authentic Omani dishes, all prepared with the finest ingredients and presented with meticulous attention to detail. The resort's signature restaurant offers a romantic and intimate dining experience, perfect for special occasions.
Guests of Shangri-La Barr Al Husn have access to a range of amenities and services designed to enhance their stay. The resort features a state-of-the-art fitness centre, a luxurious spa, and a private beach club. Guests can also enjoy activities such as snorkelling, kayaking, and sailing, or simply relax and unwind in the serene surroundings.
The staff at Shangri-La Barr Al Husn is dedicated to providing exceptional service and ensuring a memorable experience for every guest. From arranging personalized excursions to attending to individual preferences, the attentive team goes above and beyond to cater to guests' needs and preferences.
With its stunning location, opulent accommodations, exceptional dining options, and attentive service, the Shangri-La Barr Al Husn resort offers a refined and indulgent experience for discerning travellers seeking relaxation and luxury in Muscat, the perfect start or finish to any trip in Oman.
Simon Williams is Director of Humboldt Travel. Humboldt Travel is a luxury travel company specialising in tailor made holidays to Latin America, Africa and Asia.
If you would like to be a guest blogger on A Luxury Travel Blog in order to raise your profile, please contact us.