Time travel, slow travel and other African adventures
By Willow Constantine on Dec 31, 2019 in Adventure Travel, Africa, Botswana, Congo, Kenya, Rail Travel, Regions, South Africa, Speciality Travel, Zambia, Zimbabwe
In the 21st century, life for many has taken on a pace that sometimes feels too busy and far too fast. We are increasingly exposed to vast amounts of information, and although beneficial, this can lead to a sense of overwhelm.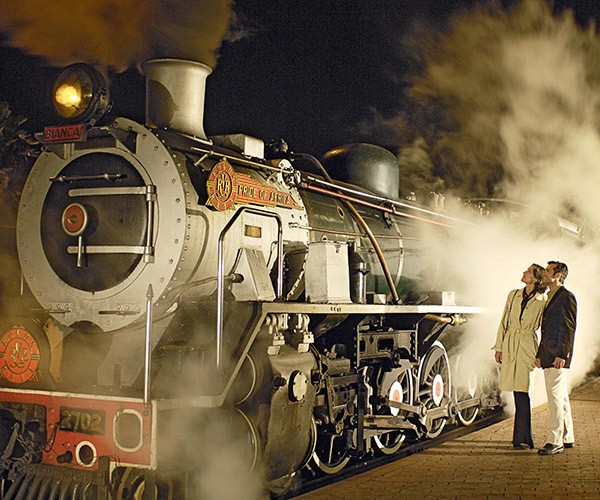 Current trends towards 'digital detox' and 'slow living' are indicators of a growing need to steady the perceived lightning speed of time. These five unforgettable African adventures provide unique opportunities to slow down, unwind, and even travel through time.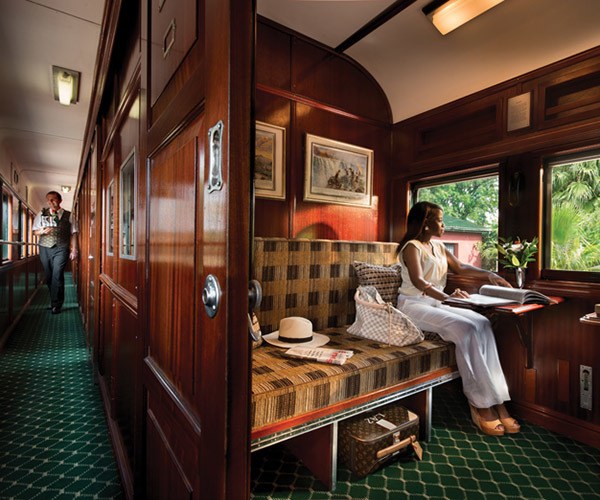 1. Rovos Rail
Time travel really does exist. Or, at least, travellers can adventure as if stepping back in time – to the 1930s on the Rovos Rail. Each luxurious locomotive has a fascinating story originating in the early 20th century, setting the stage for an adventure reminiscent of a bygone era. Guests are invited to switch off devices in favour of mingling in the Club Lounge, or sit quietly in the Observation Car absorbing the changing African landscape.
The sleeper cars are beautifully appointed in a decadent late art deco style, yet have all the modern amenities to ensure deep lulling sleep as the train chugs towards its intended destination.
Rovos Rail journeys cover most destinations in Southern Africa. Explore Hwange to Vic Falls, revel in the vast landscapes of Namibia, venture through the South African Karoo, or travel East to West – right across Africa. Ideal for singles, couples or even as a private charter for special events, The Rovos Rail provides a timeless way to travel and an adventure to remember.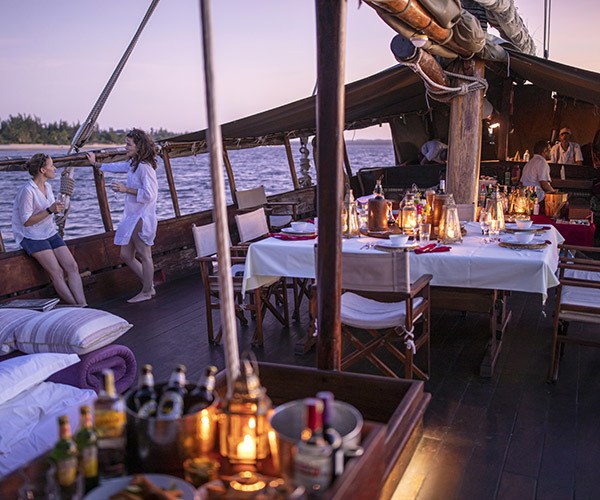 2. Tusitiri dhow safari
Tusitiri is a restored ancient dhow originally used for trade on the iconic Spice Route. Stepping onto the dhow gives the sense of crossing a threshold into another era. The fifty-foot wooden vessel has an extensive deck with canvas shade and comfortable antique chairs for lounging with a G&T in hand. An outdoor shower hangs over the ocean, providing exhilarating views – an adventure in itself.
Below the expansive deck, ladies enjoy dressing up in a 'mirror room' complete with antique fixtures and the perfect lighting to prepare for a world-class meal prepared by the chef and served at a long table with folding safari chairs and crisp white linens.
At night, the real magic begins aboard the Tusitiri. The canvas shades come off, revealing a vast African sky full of stars. Lanterns are lit, and luxurious beds are rolled out on the deck for a night sleeping in the open air.
For active travellers, the Tusitiri crew brings a litany of water toys along. Guests can choose from kayaking, fishing, kite surfing, snorkelling, or diving – arriving at the ideal place for these activities with a dedicated dhow.
Journeys aboard the Tusitiri can be tailored to individual clients, and they usually start in Lamu Town on the Kenyan Coast.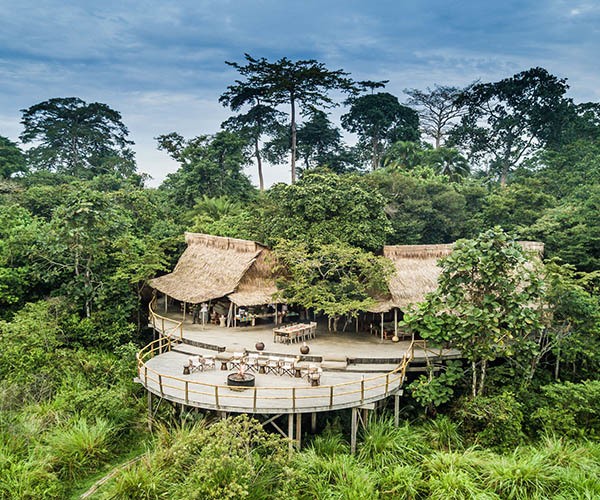 3. Odzala kayaking and gorilla trekking
Odzala in Congo-Brazzaville offers the gorilla trekking adventure of a lifetime. There are few wildlife interactions on the planet which rival the experience of witnessing a species so similar to ourselves, that we are inspired to reflect on our own humanity through their eyes.
This primate adventure begins as an in-depth dinner meeting with the local research team to thoroughly understand primate behaviours, the way in which they have been habituated, and how to engage with the gorillas in a respectful manner. After trekking with the gorillas through thick vegetation, there is ample time to relax then set out again on a night walk to observe nocturnal wildlife in the jungle at Ngaga Camp.
Adventurous clients transfer themselves between camps on river kayaks, while guides transfer luggage between the camps. Each camp offers a unique way to experience the gorilla habitat, the other smaller wildlife, and the flora of the thick jungle.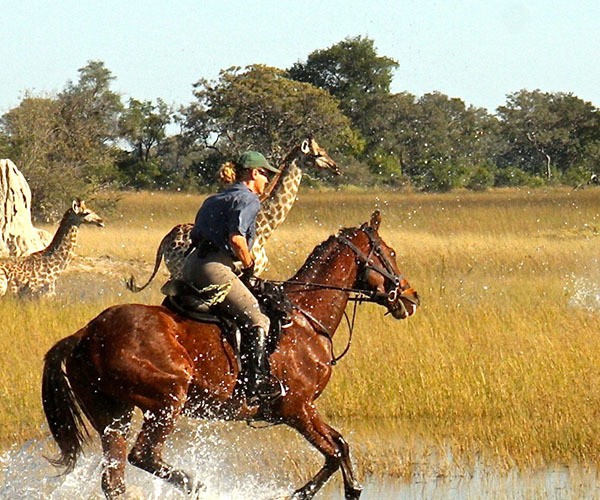 4. Okavango Horse Safaris
Established in the 1980s, Okavango Horse Safaris has deserved its reputation as one of the best horse safaris in Southern Africa. For experienced riders, it is pure magic to get out of the safari vehicle and onto the ground, witnessing game on horseback.
The riding safaris are run with limited numbers in private concessions around the Okavango Delta, so the game viewing is undisturbed for the most part by game viewing vehicles. Each day, riders will be on horseback for only 4-6 hours, leaving the rest of the day for leisure, swimming, or mokoro canoe rides. For longer rides, a gourmet picnic is provided by a professional team of staff on hand to ensure guest comfort. Evenings are spent at luxurious yet authentic camps, allowing time to recover with a good meal and possibly a glass of great wine after a day of riding.
Horses and guides at Okavango Horse Safaris are amongst the best, ensuring guest safety and comfort within the context of an unforgettable riding adventure in Africa.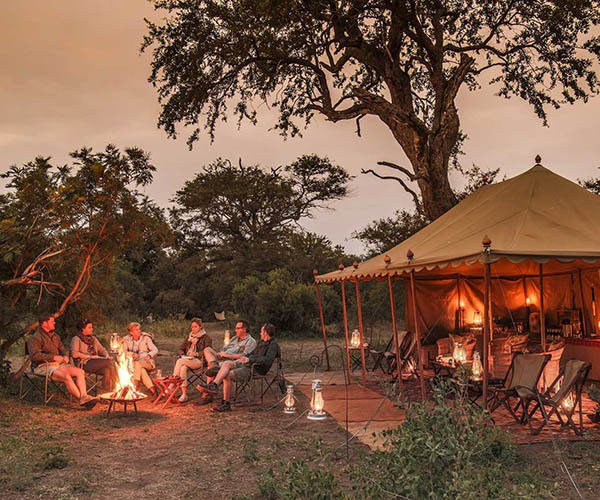 5. Tanda Tula Field Camp
If you love walking, exploring subtle flora and fauna while also on alert for big game – Tanda Tula Field Camp would be the ideal way to experience your African safari.
The guides at Tanda Tula Field Camp are amongst the best in the greater Kruger area, taking guests on a curated walking experience which brings the wild to life in a way that cannot be rivalled from the confines of a game viewing vehicle. Situated in Timbavati, a private concession, guests will be spoiled with far fewer crowds compared with staying in the national park.
Each night during the point-to-point field camp itinerary, a dedicated team of staff creates a dinner and fire under the stars for an unforgettable evening of glamping. For those who want a balance, it's possible to do a few days at the field camp and the last day in the luxury safari camp at Tanda Tula.
Tanda Tula Field Camp provides one of the best possible ways to get an intimate view on the wild and understand the surroundings in a deeper way – travelling slowly and savouring the full spectrum of wild things.
Where would you most like to time travel, if you could imagine anywhere, any time?
Willow Constantine is the Founder of Bespoke Safari Co. Bespoke Safari Co. is a boutique travel agency offering cutting edge curated travel experiences in Africa.
If you would like to be a guest blogger on A Luxury Travel Blog in order to raise your profile, please contact us.