Top 5 high-end experiences in Scotland
By Dorothy Welsh on Jun 17, 2021 in Cruises & Boat Travel, Europe, Leisure Travel, Rail Travel, Regions, Speciality Travel, United Kingdom, Western Europe
Scotland is much more than castles, whisky and tartan. It is also much more than just the Highlands. If visitors are looking for a unique and unforgettable experience, there is an abundance of opportunities. For luxurious accommodation the days of rigidly formal 5-star hotels and traditional castle accommodation have gone.
The investors in luxury brands have become very creative and inventive in offering something new and attractive so a high-end experience in Scotland does not need to be confined to a hotel suite. Your bedroom can also be on rails, on board a ship, in a floating hotel, on a sea safari or somewhere surrounded by works of art. If you are intrigued by these choices, please read on and find out more about my top 5 deluxe experiences in Scotland.
The Belmond Royal Scotsman
Travelling on the Royal Scotsman train is certainly one of these pinch-me moments. Ranking among the world's most luxurious trains, the mahogany-clad cars combine Edwardian elegance with the comforts of a country house. Just ten intricately designed carriages form a majestic palace on tracks, including two wood-panelled dining cars, a bar carriage with live music in the evening, the sublime Bamford Haybarn Spa and an observation car which includes an outdoor viewing verandah with the best vantage point. From the moment the guests step on to the train at Waverley Station in Edinburgh, they are swept up in a world of myth, legend and timeless luxury where they can sit back and relax and discover the many wonders of Scotland in the company of like-minded fellow travellers.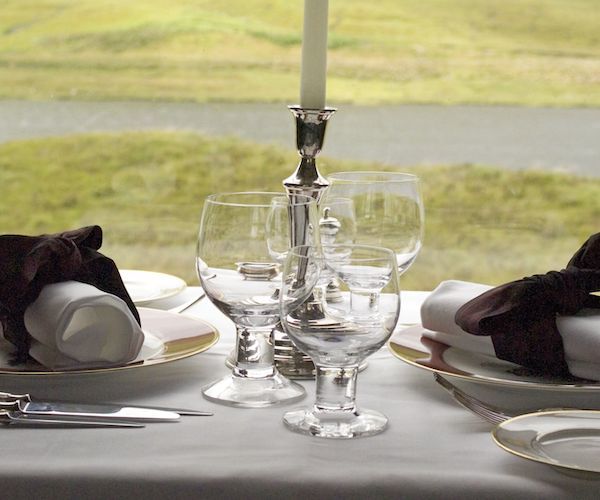 Twenty luxurious cabins provide a welcome sanctuary for a maximum of 35 guests after a day in the Highlands. Each cabin features plush lower-berth beds fitted with soft Scottish woollen covers and tartans. An elegant dressing table and en suite bathroom add to the indulgence, and the guest can enjoy the views through the huge picture window. Guests can choose between twin, double, single and interconnecting cabins. There is also the opportunity to charter the entire train for an unparalleled adventure with friends and family. From personal milestones to wedding celebrations, a journey aboard the Royal Scotsman on a customised itinerary through the Scottish Highlands is a matchless way to mark an occasion.
The Hebridean Princess
The Hebridean Princess is one of a kind! It is a unique and elegant way to cruise to remote and off-the-beaten-track locations on the west coast of Scotland. Departing usually from her home port of Oban, the Hebridean Princess takes her guests to the most beautiful and remote destinations. Guests are assured of the best of service from a hand-picked crew, for whom supreme attention to detail is the norm to make a Hebridean cruise the most relaxing, stress-free and therapeutic experience for their guests.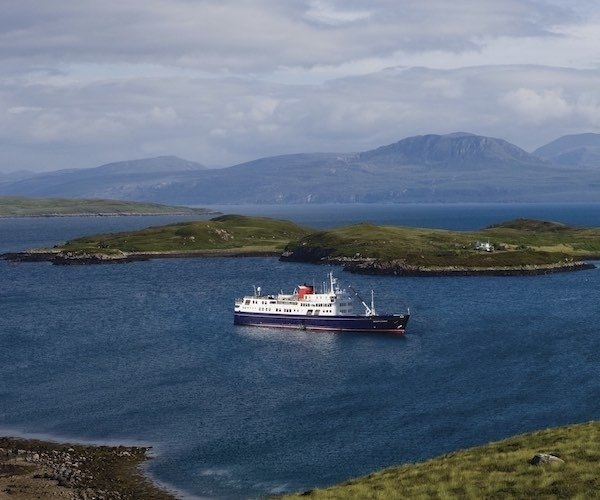 The Hebridean Princess offers the unrivalled comfort and refined service of a floating country house, with a maximum of just 50 guests in 30 spacious, individually designed en suite cabins, which makes the Princess probably the smallest luxury cruise ship afloat. From the comfortable lounges to the Columba Restaurant, the congenial atmosphere on the ship is ideal for old friends to meet up again and new acquaintances to be quickly made. Peaceful corners which are perfect for reading, and the home-from-home feel of the inglenook fireplace in the Tiree Lounge are additional delightful features. The crew-to-guest ratio of almost one-to-one ensures exceptionally high standards, which embrace every aspect of life on board and ashore, while the service remains unobtrusive, but always with that personal touch.
Fingal
Welcome aboard Fingal, a luxury floating hotel permanently berthed on Edinburgh's vibrant waterfront and meanwhile among the top 100 small luxury hotels in the world according to TripAdvisor. Guests can choose from a total of 23 cabins ranging from classic to luxury (some with an upstairs area), with the Skerryvore Suite offering an unrivalled penthouse experience. The Lighthouse Restaurant & Bar has a relaxed feel and the vast floor-to-ceiling windows give perfect views of the Firth of Forth for guests enjoying a delightful afternoon tea, spectacular cocktails or a romantic candle-lit dinner for two.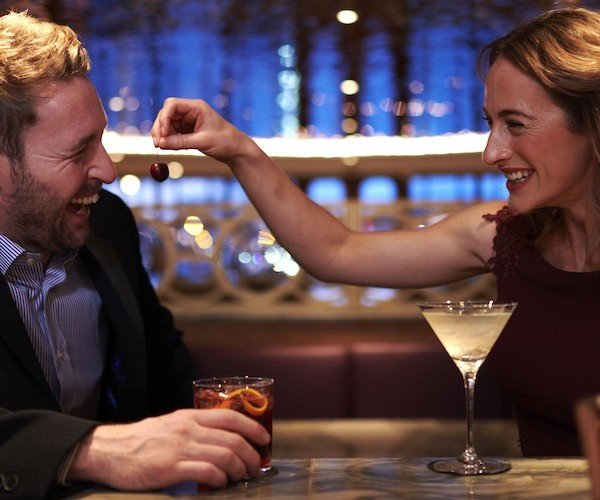 Fingal can also be chartered privately for family and wedding celebrations or for exclusive use as an event venue. The Bridge, previously the ship's command centre, can be booked for a board meeting, a whisky- or gin-tasting or as private dining space for up to 10 guests. The Ballroom can seat up to 60 guests for private dining or 100 for a lavish reception. With its own private bar and two grand, sweeping staircases, this double height ballroom creates a stunning backdrop for any product launch or other important company events. This magnificent room is also used for stylish Hogmanay and Burns' Supper celebrations.
Glenapp Sea Safari
After a night of fine dining at Glenapp Castle and being surrounded by the wonders of its estate, guests are invited to come on board the Glenapp boat to explore the Hebridean islands, and indulge in a unique experience of luxury glamping in the wild. A private chef will be on board, and the professional crew will sail the boat to remote islands, coastal castles and distant inns. Guests can enjoy delicious lunches at one of the many famous seafood restaurants, before arriving at an island or beach where the Glenapp concierge team will have prepared the overnight accommodation. A well-deserved hot shower and a dram of fine malt whisky can be enjoyed, before the chef prepares a memorable dinner under the stars. This will be an adventure which very few will ever experience.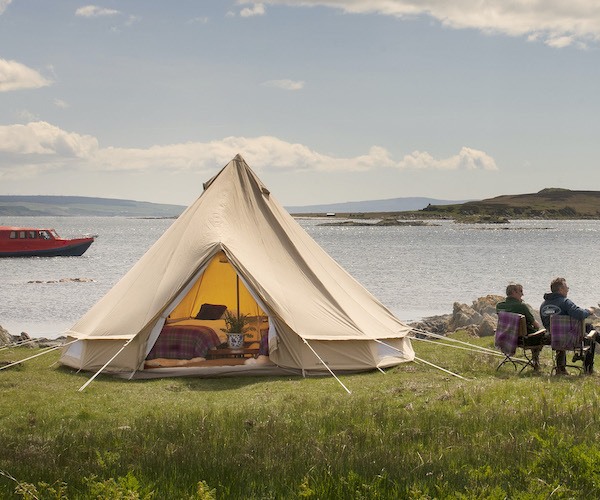 Travelling between islands, guests will spot bountiful sea and bird life, go ashore to visit the site of an ancient monastery, discover archaeological sites, roam hidden castle gardens or enjoy a tour of one of the many whisky distilleries along the coast. Guests should have their cameras ready, as this will be their most memorable sea safari through the Hebridean islands, a safari which has been inspired by the classic African safari adventure. Guests simply enjoy the seascapes and breathtaking views of cliffs and mountains from the sea, an ideal way to immerse in nature and recharge their physical and mental health.
Crinan – Gallery with Rooms
The Crinan Hotel is a magnificently eccentric hotel in Argyll on Scotland's beautiful west coast, with a charming artistic ambience. It is situated on the waterfront at the north end of the Crinan Canal and is famous for its Seafood Restaurant & Bar where jumbo prawns (langoustines) are landed just 20 metres from the hotel kitchen at 17.00hrs – just in time for dinner. All bedrooms have breathtaking views of the sea, some have private balconies, and each room is dedicated to a famous Scottish artist. Crinan, a fishing port for over 200 years, is remote and unspoilt in a stunning and wild environment.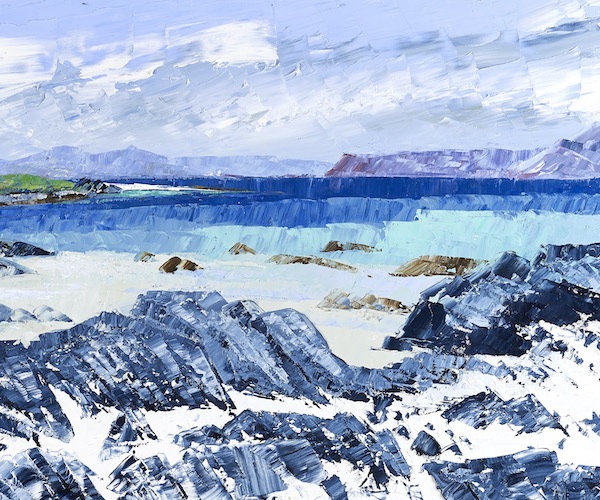 But what makes this hotel truly unique is the owner and resident artist Frances Macdonald. Over the years, Crinan has become a magnet for many of Scotland's top artists who stay, paint and exhibit here regularly, thus turning the Crinan into a "Gallery with Rooms". Frances herself exhibits at the Portland Gallery in London and the Scottish Gallery in Edinburgh. Painting holidays and art masterclasses are available at the hotel, and professional guidance can be arranged. Her son, Ross Ryan, who also exhibits internationally and holds a commercially endorsed yacht-master offshore ticket, is a member of the team, and is available for painting expeditions by private boat to stunning beaches, beautiful villages and other pristine locations.
Some of these high-end experiences can be combined into an ultra-luxurious Scottish holiday. For example, guests can first enjoy the scenery from the Belmond Royal Scotsman on a 3- or 4- night train journey departing from Edinburgh Waverley Station and then embarking on the Hebridean Princess at Oban for a luxury cruise with 4 or 5 nights on board. Similarly, the Glenapp Sea Safari with a pre- and post-overnight stay at Glenapp Castle can be combined with the unique maritime experience of spending 1 or 2 nights on the luxurious floating hotel Fingal moored in Leith Harbour.
The Crinan Hotel as a "Gallery with Rooms" is more of a destination on its own, because guests have the chance to meet Frances Macdonald, the owner and resident artist on a one-to-one basis. But it can also be combined with one or two nights in Edinburgh (e.g. on Fingal) where guests may be lucky enough to see a special exhibition by Frances Macdonald in the Scottish Gallery. Touring Scotland between Oban, Glenapp, Crinan and Edinburgh in a chauffeur-driven limousine will also cast a spotlight on the following attractions and possible extra activities:
– Oban: Oban Distillery Secrets Tour (classic malt), scenic flights along the Scottish west coast from Oban Airport at North Connel
– Glenapp: visit to an unforgettable horse racing event at Ayr Race Course, bespoke full day McLaren tour on the very scenic South West Coast 300 route
– Crinan: boat trips to the Isle of Jura (gin and whisky distillery) and the Gulf of Corryvreckan (the world's third largest whirlpool)
– Edinburgh: The Royal Yacht Britannia, Johnnie Walker Princes Street (new visitor experience opening in summer 2021), themed walking tours of Edinburgh (food, literature, etc)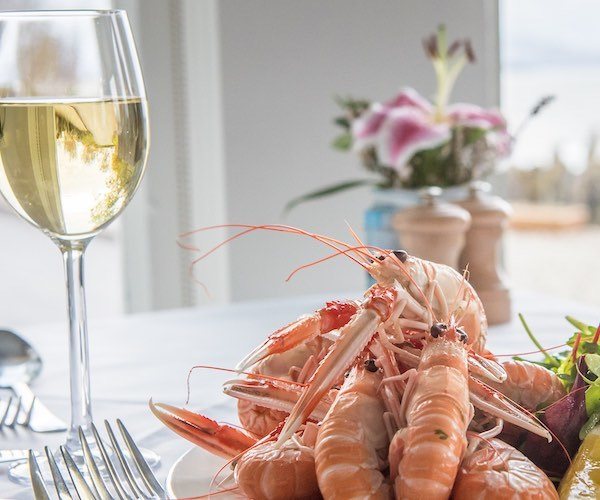 Dorothy Welsh is the CEO of Luxury Scotland. Luxury Scotland offers true Scottish hospitality, culinary delights and unique experiences.
If you would like to be a guest blogger on A Luxury Travel Blog in order to raise your profile, please contact us.