Top 5 safari lodges in Sabi Sands Game Reserve
By Simon Williams on May 19, 2023 in Accommodation, Africa, Camping, Hotels, Regions, Resorts, South Africa
Sabi Sands Private Game Reserve is a renowned wildlife sanctuary located in the Mpumalanga and Limpopo provinces of South Africa. It is situated adjacent to the iconic Kruger National Park, forming part of its western boundary. Sabi Sands is one of Africa's most prestigious and sought-after safari destinations, offering exceptional game viewing experiences and luxurious accommodations.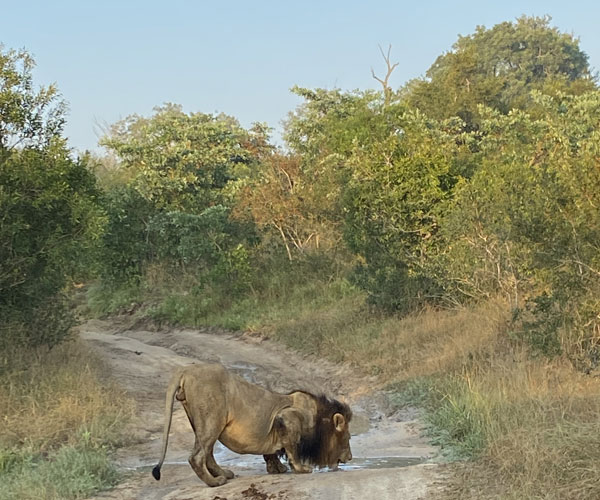 Covering an area of approximately 65,000 hectares (160,000 acres), Sabi Sands is characterized by diverse landscapes, including open grasslands, woodland areas, and meandering rivers. The reserve is known for its high concentration of wildlife, including the famous "Big Five" (elephant, rhinoceros, lion, leopard, and buffalo), as well as a multitude of other species such as giraffes, zebras, wildebeests, antelopes, and numerous bird species.
What sets Sabi Sands apart from many other reserves is its long-standing commitment to sustainable and responsible tourism practices. It offers a limited number of exclusive, private lodges and camps, ensuring a more intimate and immersive safari experience. These accommodations range from luxurious lodges to tented camps, each providing top-notch service, comfort, and stunning views of the surrounding wilderness.
One of the unique aspects of Sabi Sands is its open borders with the Kruger National Park, allowing wildlife to move freely between the two areas. This unrestricted movement creates incredible opportunities for game drives and guided bush walks, providing visitors with the chance to witness extraordinary wildlife encounters up close and personal.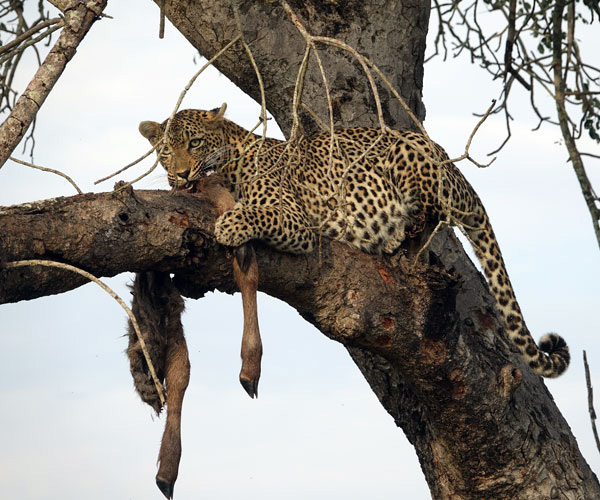 The reserve is famous for its exceptional leopard sightings. Leopards are known to be more relaxed and habituated to vehicles in Sabi Sands, leading to frequent and awe-inspiring encounters with these elusive and majestic big cats. Experienced and knowledgeable guides and trackers accompany guests on safari activities, sharing their expertise and ensuring remarkable wildlife encounters.
Sabi Sands offers both morning and evening game drives, allowing guests to explore the reserve during the optimal times for wildlife activity. The drives are conducted in open 4×4 vehicles, providing unobstructed views and excellent opportunities for photography.
In addition to game drives, many lodges in Sabi Sands offer other activities such as guided bush walks, birdwatching, and cultural experiences that provide insights into the local communities and their rich heritage.
Sabi Sands Private Game Reserve provides an exclusive and unforgettable safari experience, combining the thrill of encountering Africa's incredible wildlife with luxurious accommodations and exceptional hospitality. It is a destination that truly embodies the spirit of the African bush and offers an opportunity to create lifelong memories in one of the most pristine wilderness areas on the continent.
Below are our top 5 favourite places to stay in Sabi Sands.
Silvan Safari Lodge
Silvan Safari Lodge is a luxurious lodge and a regular winner of Africa's Leading Luxury lodge while also the winner of the World's Leading Luxury Lodge in 2018, 2019, 2020 & 2021. The lodge offers a unique blend of contemporary architecture and African decor, making it an ideal destination for guests who want to experience the best of both worlds.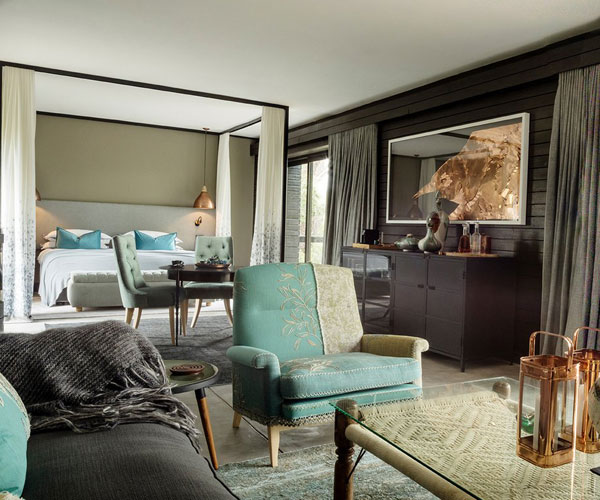 The lodge has six stunning suites that offer guests a panoramic view of the Sabi Sands Game Reserve. Each suite features a private plunge pool, outdoor shower, fireplace, and a viewing deck. The suites are beautifully decorated with African themes and are equipped with modern amenities such as air conditioning, free Wi-Fi, and an international charging station.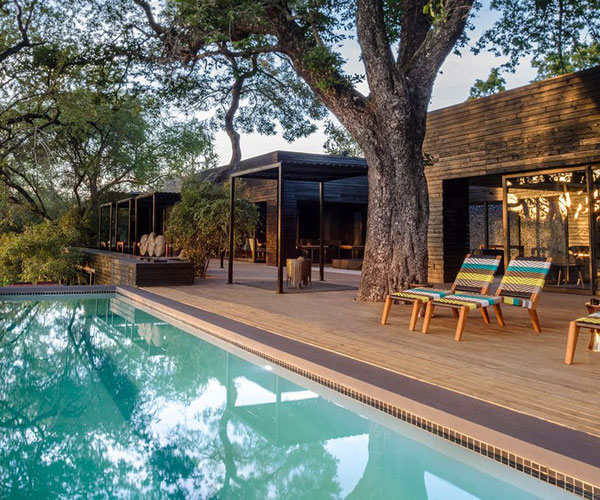 Silvan Safari Lodge also features a central area that includes a swimming pool, bar, living room, and dining area. The lodge's menu comprises locally sourced food, and the dining experience is always exceptional. The lodge offers a range of activities, including morning and evening game drives. The game drives are conducted by knowledgeable guides, who will take guests on an unforgettable safari experience. Guests can also indulge in spa treatments, bush walks, and stargazing.
In summary, Silvan Safari Lodge is a luxurious lodge that provides guests with a world-class safari experience while still offering all the necessary modern amenities. With its stunning suites, excellent dining, and range of activities, it's no surprise that Silvan Safari Lodge is one of the most sought-after lodges in Sabi Sands.
Lion Sands Ivory Lodge
Lion Sands Ivory Lodge is a luxurious and exclusive safari lodge located in the Sabi Sands Game Reserve in South Africa. The lodge is situated on the banks of the Sabie River and offers breathtaking views of the African bushveld.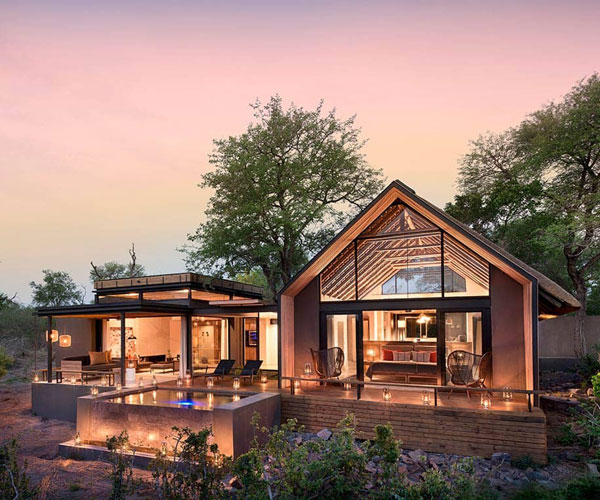 The lodge features eight spacious villas, each with its own private deck and plunge pool overlooking the river. The villas are elegantly furnished with a blend of contemporary and African décor, creating a warm and inviting atmosphere. The en-suite bathrooms come equipped with a deep soaking tub and an indoor and outdoor shower.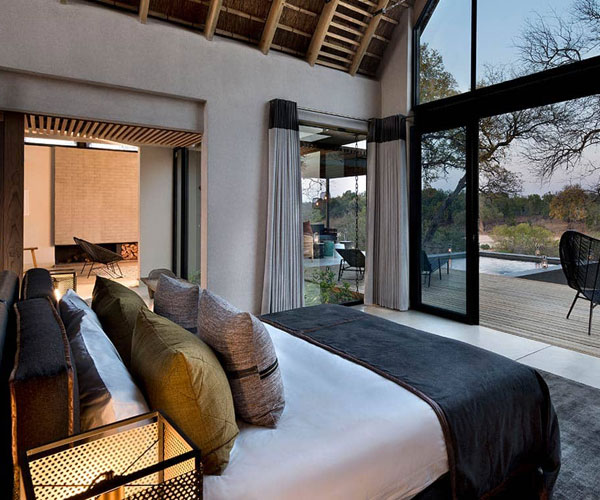 The lodge's main area features a lounge, bar, and dining area, all of which offer panoramic views of the surrounding wilderness. Guests can enjoy gourmet meals prepared by the lodge's skilled chefs and relax in the cozy lounge with a traditional African fire pit.
Lion Sands Ivory Lodge offers an exclusive safari experience, with expert guides taking guests on game drives to spot the Big Five, as well as other wildlife such as cheetahs, giraffes, and zebras. Guests can also enjoy guided bush walks, bird watching, and stargazing.
Other lodge amenities include a spa, gym, and a library. The lodge also has its own airstrip for easy access and private air charters. With its prime location, luxurious accommodations, and exceptional safari experience, Lion Sands Ivory Lodge is the perfect destination for an unforgettable African adventure.
Chitwa Chitwa
Chitwa Chitwa Lodge is an exceptional luxury safari lodge located in the Sabi Sand Game Reserve, a 2-hour drive from Hoedspruit. The lodge is situated on the banks of a large lake, where wildlife frequently visit, particularly hippos and elephants. The lodge has eight individually decorated suites and a private villa to accommodate guests. The suites have private decks and plunge pools, overlooking the lake or the bush.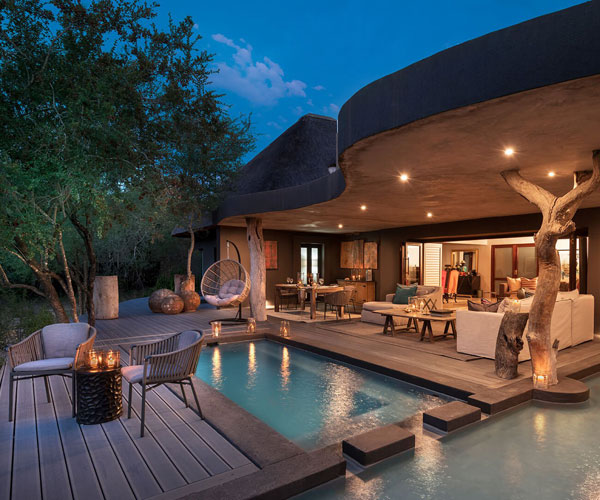 Chitwa Chitwa Lodge is famous for its Big Five game viewing, particularly leopard sightings. The lodge has its own team of experienced and trained guides who take guests on game drives and walking safaris. Besides, the lodge offers various other activities like bird watching, fishing, stargazing and spa services.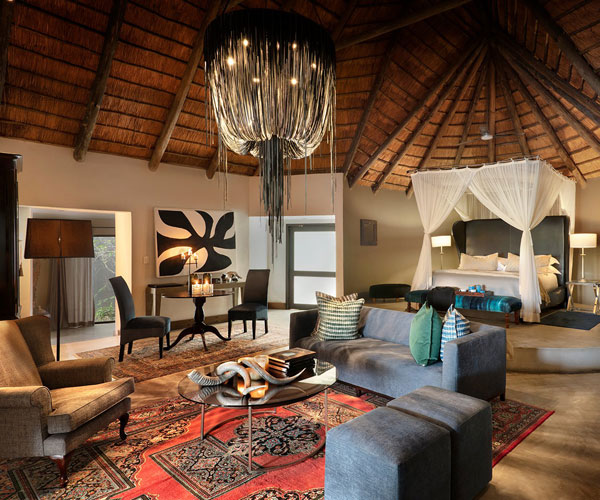 The main lodge area comprises open-plan lounges, dining areas, bar, and an expansive deck which is perfect for relaxation and sundowners. The lodge also has a swimming pool, library and a curio shop. The lodge provides excellent cuisine, with meals ranging from international to traditional African dishes.
---
IMPORTANT NOTICE:
If you are reading this article anywhere other than on A Luxury Travel Blog, then the chances are that this content has been stolen without permission.
Please make a note of the web address above and contact A Luxury Travel Blog to advise them of this issue.
Thank you for your help in combatting content theft.
---
Overall, Chitwa Chitwa Lodge is an intimate and luxurious safari destination in the Sabi Sand Game Reserve, offering a combination of breathtaking scenery, wildlife encounters and upscale amenities.
Londolozi Private Granite Suites
Londolozi Private Granite Suites is a luxurious lodge located in the Sabi Sands Game Reserve in South Africa. This Relais & Chateaux lodge consists of three private and exclusive suites, each with its own unique design and layout. The suites are nestled among towering trees and offer breathtaking views of the Sand River.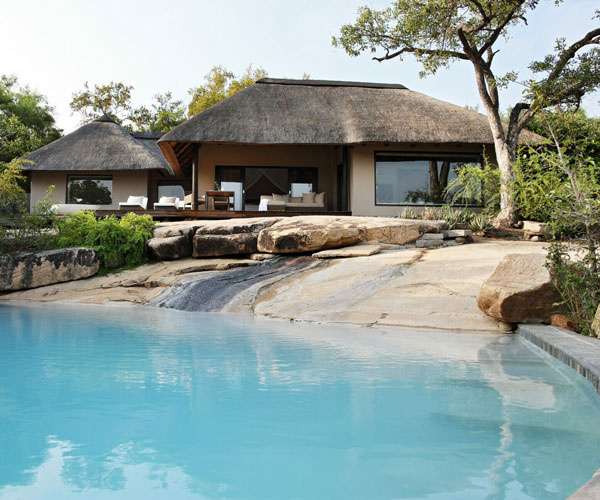 The suites are the epitome of luxury, with spacious living areas, opulent furnishings, and private plunge pools. They are all equipped with air conditioning, fireplaces, indoor and outdoor showers, and large bathtubs. The suites are built on elevated platforms, providing a sense of privacy and exclusivity.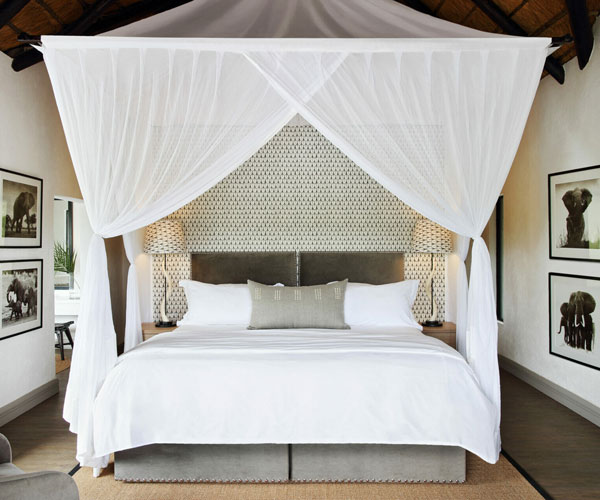 The main lodge area includes a beautiful lounge, dining area, and bar, all overlooking the river. The lodge also has a well-equipped gym and a spa offering an array of treatments. The lodge's outdoor area features a wooden deck, an infinity pool with a view of the river, and a boma for open-air dining.
Londolozi Private Granite Suites offers guests the opportunity to experience an unforgettable safari adventure. The Sabi Sands Game Reserve is home to the Big Five and many other species of wildlife, making it a prime location for game drives and guided walks. The lodge's expert guides and trackers ensure guests have an immersive and educational safari experience.
Overall, Londolozi Private Granite Suites is a magnificent lodge that offers guests the ultimate luxury safari experience in a stunning location.
Cheetah Plains Lodge
Cheetah Plains Lodge is a luxury safari lodge situated in the Sabi Sands Game Reserve adjacent to Kruger National Park and is known for its abundance of wildlife, including the Big Five (lion, leopard, elephant, buffalo, and rhino).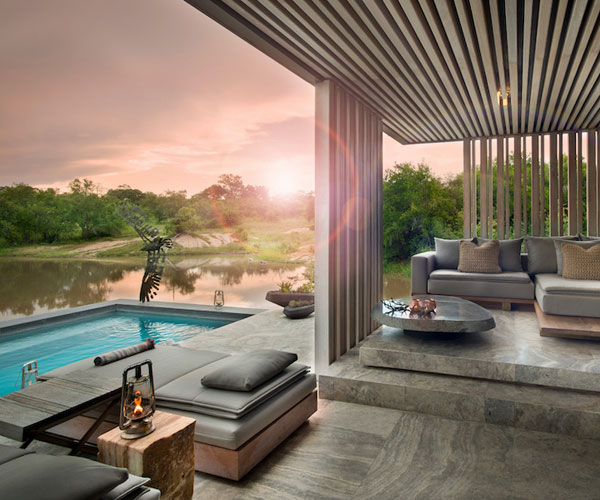 The lodge comprises of three exclusive-use, contemporary-style bush-style accommodation options each featuring a private pool and viewing deck. There is a common area which includes a library, bar, dining area, and an outdoor fire pit. The rooms are designed to offer privacy, comfort, and elegance with high-quality amenities and modern furnishings. The ultrachic accommodation flow onto the indigenous gardens and blend seamlessly into the African bush and each bush home includes a private safari vehicle and guide for the duration of your stay.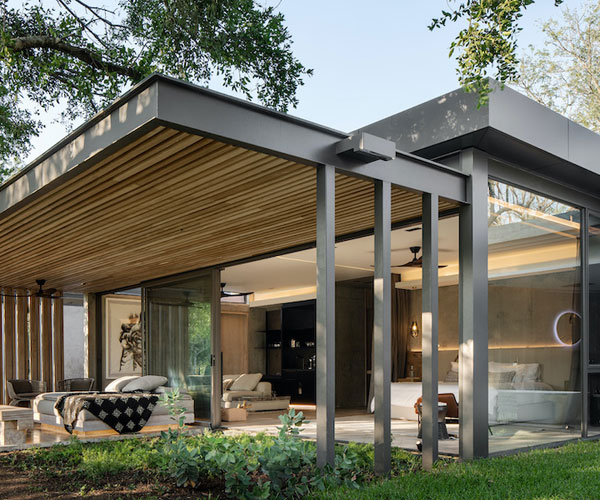 The lodge offers thrilling game drives and safari walks on the reserve, led by experienced guides who have extensive knowledge of the wildlife in the area. Guests can enjoy close-up sightings of Africa's iconic wildlife, including herds of elephants, prides of lions, and grazing buffalos. Additionally, there are opportunities to spot lesser-known species, such as wild dogs, cheetahs, and hyenas.
Guests can also indulge in various relaxation and wellness facilities at the spa; for example, indulge in a massage therapy. The lodge provides gastronomic experiences in a private boma, where guests can enjoy traditional South African meals prepared by skilled chefs.
Overall, Cheetah Plains Lodge is perfect for those seeking a luxurious experience in a prime wildlife location, making it an excellent choice for couples, families, and groups of friends alike.
Simon Williams is Director of Humboldt Travel. Humboldt Travel is a luxury travel company specialising in tailor made holidays to Latin America, Africa and Asia.
If you would like to be a guest blogger on A Luxury Travel Blog in order to raise your profile, please contact us.