Top tips for traveling to the Plitvice Lakes with children
By Tomislav Kovačević on Jun 17, 2022 in Croatia, Eastern Europe, Europe, Family Travel, Regions, Speciality Travel
The lakes, waterfalls and forests of the Plitvice Lakes National Park make it an interesting destination to explore for anyone – not only for experienced hikers, but also for families with children. This article contains tips and suggestions to make your time at the Park more pleasant, comfortable and enjoyable. We believe they'll help you in your adventures when making new memories at our National Park.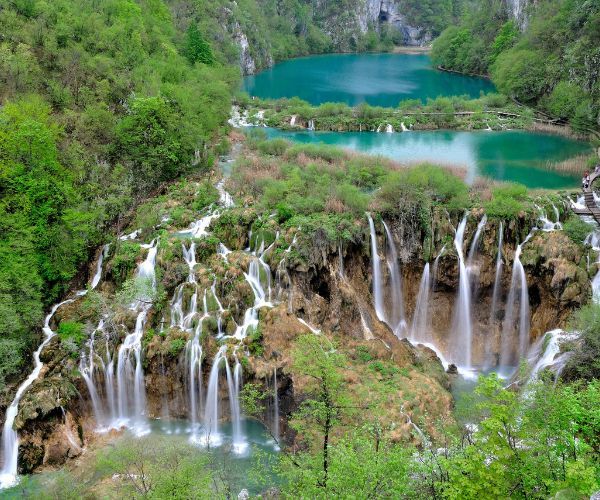 WiFi is not available everywhere
The twenty-first century is a time of rapid technological progress, new forms of communication, and faster information processing and gathering. Our children can't imagine life without smartphones and tablets, and not being able to connect to the Internet makes them tense and frustrated. The Plitvice Lakes National Park has several places where WiFi is available, and these are the service facilities within the Park and the Entrances.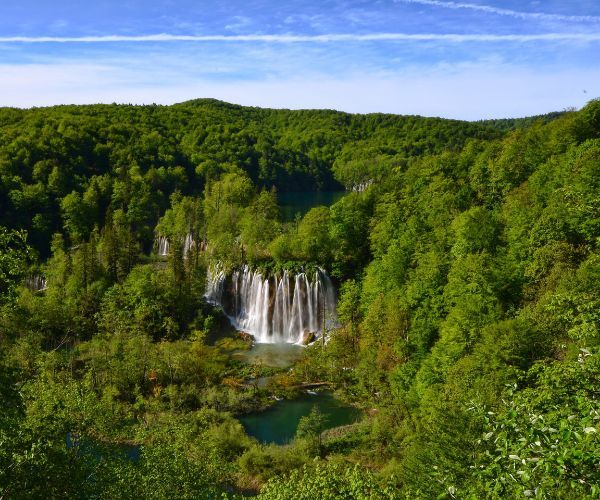 As you walk the trails of this mesmerizing park, we are sure that the Internet will be the last thing on your and your children's minds. The hours-long walk along the emerald lakes will seem to pass in the blink of an eye with all the beautiful sights, and your children will connect with nature. Unlike their time spent online, your children will remember that day forever and use their smartphones only to take photo memories.
Raising environmental awareness in children
Is there anything more beautiful than a walk in dazzling nature with your children? Head to Plitvice Lakes National Park to feel the true beauty of water and listen to the forest's heartbeat. Once your children get into the habit of enjoying their time in nature, they will probably keep coming back to it for the rest of their lives. What's more, planning a trip also brings the whole family closer together. When walking in nature, children encounter all kinds of plants and animals, and by coming in close contact with them, they learn to love them. This love is instrumental in raising awareness of the importance of taking care and the need to preserve the environment.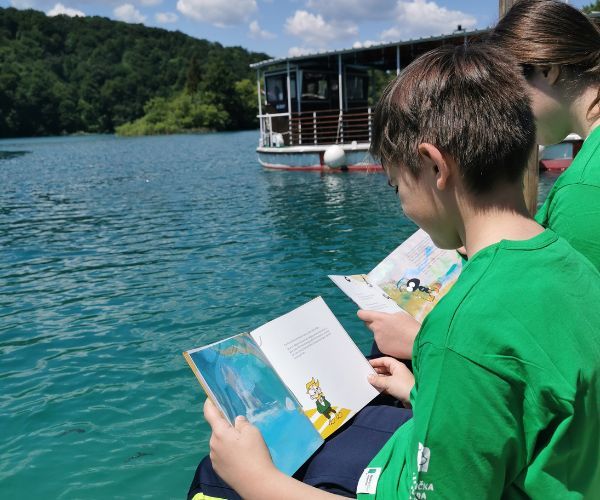 The Park provides an excellent opportunity to educate your children about nature conservation. Garbage cans are located only at the Entrances and tourist facilities of the National Park. This way, we make sure the environment is as natural as possible for the animals that pass by the lakes at night. Teach your children to hold onto their trash until they see a garbage can so they can help us conserve this beautiful home of many animal species.
Start your day early
Any visitor will definitely be delighted by the natural beauty of the Plitvice Lakes National Park – emerald and turquoise lakes, the murmur of water, the roar of waterfalls, as well as the sights and sounds of the forest environment will surely make the visit worth your time. Booking accommodation is the most important part of vacation planning and can have a significant impact on your experience. If you are looking for hotels, our hotels Plitvice and Jezero are ideal places for you and your children. The hotels offer adjoining rooms and suites, seasonal package deals which include tickets to the Park, and many other services.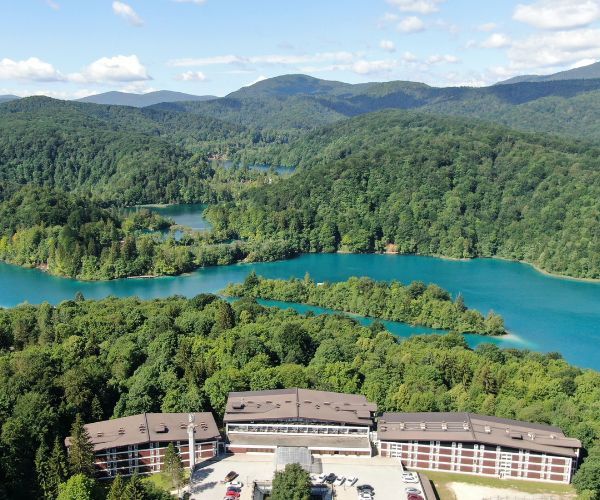 Additionally, their pleasant atmosphere, helpful staff, and attention to detail will make you feel comfortable and relaxed, as if you were in your own home. Ensconced in a green oasis, just a few hundred meters from Lake Kozjak and Entrance 2, they are the perfect opportunity to start your day earlier. If you would like to take a break from walking, take a lunch break, or just relax, you can return to the hotel and resume the tour after your break if you stay with us.
Strollers are not recommended in the Park
Many parents usually take a stroller when walking with their children because it seems easier to walk around the park and other interesting locations that way. Strollers may be ideal because they provide safety and are practical if your children cannot walk for long periods of time or if they have not started walking yet. However, if you take a stroller to the Plitvice Lakes National Park, be prepared for uneven terrain, sand, wooden paths, and many stairs.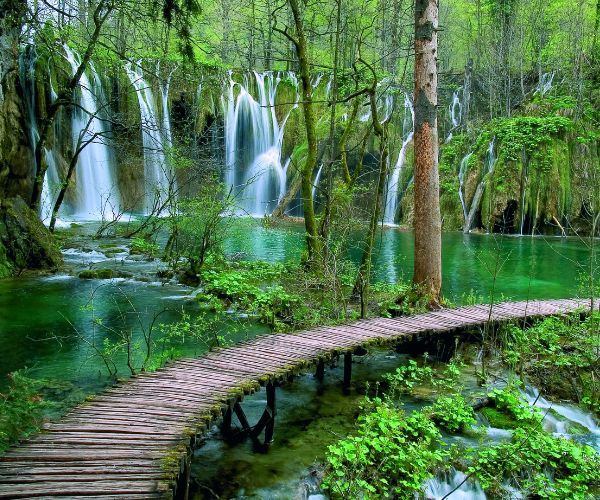 You will probably not be able to fully enjoy the beauty of nature, and your attention will be focused mostly on the floor, i.e. watching where you are walking. This can make you nervous, and neither you nor your children will be able to fully relax. In order to make your walk safer and more relaxed, we advise you to opt for a "kangaroo" baby carrier. That way you can keep an eye on your child while also enjoying the beautiful nature at the same time.
Picnic on Kozjačka Draga
A spacious meadow with a beautiful view of Lake Kozjak, surrounded by a forest on the other side, is the ideal place to relax and eat something in the Park restaurant or simply have your own picnic. You can spend your break on the terrace of the bistro or on the meadow with wooden tables and benches. You can make your little ones' day even better by buying them muffins, ice cream, or something from the rich souvenir shop offer.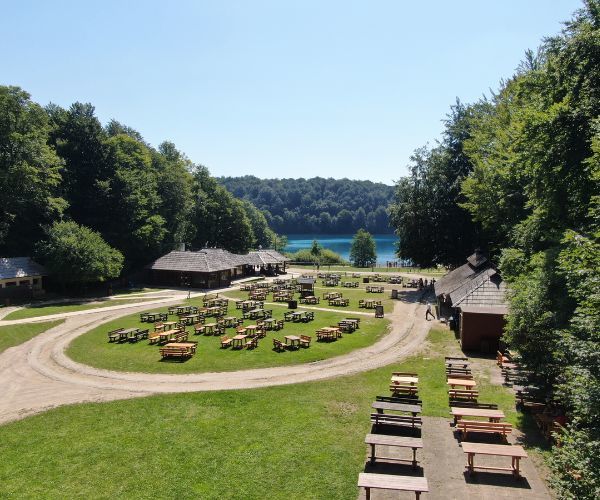 While you enjoy the beauties of nature, the chirping of birds and the sound of waterfalls coming from the Upper Lakes with your family, you can also see electric boats docking and sailing to the other side of Lake Kozjak. We are sure it will be easier for you and your children to continue your tour of Plitvice Lakes National Park after taking such a break.
Planning
Time is a scarce resource on vacations, especially with children, as they require extra attention. We often lose precious time due to trying to find information on the spot. A good idea would be to involve your children when planning a trip, so that they can get the most out of the planning and become interested in the trip. That way your trip becomes more enjoyable for the whole family. To enrich your children's experience, you can buy a small map of the park for children in the souvenir shops.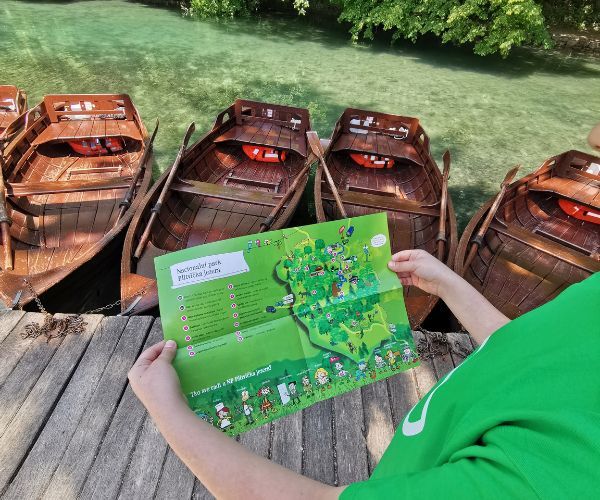 Websites are full of information about the Park and programs. You can find out how long each program lasts and how much walking it requires. We recommend you take into account how much your child can walk, as the shortest program is 3.5 km long. You can also buy a ticket online to make your visit as carefree as possible. Weather conditions are an important factor you should look up, as it is necessary to dress appropriately and wear appropriate footwear in order to enjoy the Park to its fullest capacity. Checking the weather forecast may prove to be essential for your plans to visit the Park.
Sledding
The Plitvice Lakes National Park has offered skiing and sledding in winter since the 80s. Since then, its offer has been expanding, and now you can rent skiing, snowboarding, and sledding equipment for children and others who might want it. The Mukinje Ski Resort is located in the village of Mukinje, near Entrance 2 to the Park. You'll find the Vučnica bistro near the ski resort where you can replenish your energy after some fun on the slopes.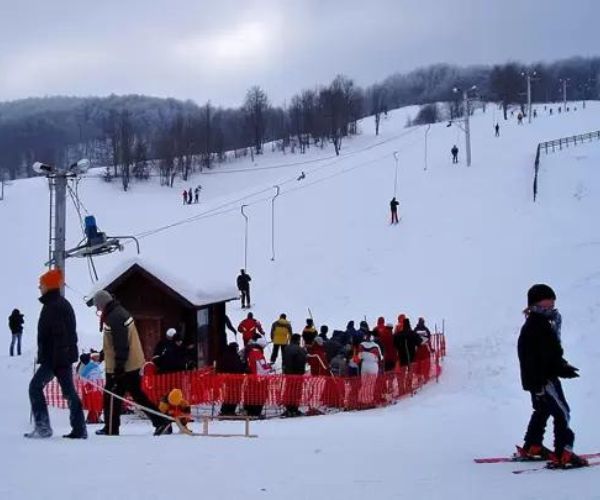 These activities are completely dependent upon weather conditions – i.e. the amount of snow. The ski resort is located in the Park area, there are no snow cannons and the snow is all natural, which is why the skiing and sledding season can be quite short. The mild ski slopes (average slope: 15%) are suitable for beginners, recreational skiers, and children. Sledding is a form of recreation and fun that should definitely not be overlooked. Take a trip down memory lane to your own childhood by enjoying this winter activity! Relax, drink a cup of hot tea and bask in a truly idyllic winter experience!
Talk about safety!
Each national park is unique and interesting, but what they all have in common is the fact that you are surrounded by nature and should thus exercise some caution, especially if you're bringing your children. This is not to say that you should be scared, just be aware of the fact that the nature in the park is mostly intact. When visiting, you should keep an eye on your children, hold their hand, or carry them when necessary. Older children should also be taught to read the signs and to take note of them around the Park.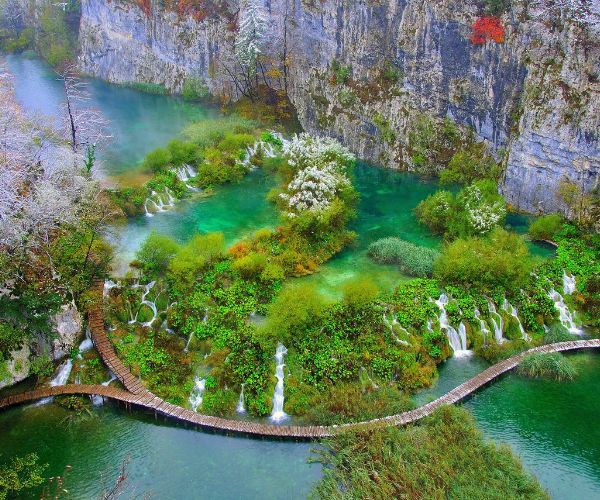 It should also be pointed out that you should not go off the marked trails. You should be careful on the trails, as well as other places near lakes and waterfalls, because most of them do not have fences. We recommended you keep to the right while walking through the Park and instruct your children to do the same. The Park contains different types of terrain, from chestnut wood paths, sand paths and stone paths to dirt paths, which should be taken into account when walking through the Park. The trails are lined with educational boards about the lakes and about the important people who had an effect the development of the Park. Tour programs contain approximate times and should not be strictly adhered to. The times also depend on how fast your family, as well as the other visitors in the Park, walk. The most important thing is to enjoy nature, relax while listening to the sound of waterfalls, and take in the incredible colors of the lakes. The Park itself is splendid, but the time your family spends together is what counts the most – the way your child excitedly looks at the waterfalls, or the joy they feel when they notice an approaching duck. Patience is a virtue, and probably the most important one when traveling with children.
---
IMPORTANT NOTICE:
If you are reading this article anywhere other than on A Luxury Travel Blog, then the chances are that this content has been stolen without permission.
Please make a note of the web address above and contact A Luxury Travel Blog to advise them of this issue.
Thank you for your help in combatting content theft.
---
Picture books for children
In 2020, the Park staff made picture books for children, as well as a children's map of the National Park for the World Environment Day, and they have been sold in the park souvenir shops ever since. These materials are both fun and educational, so not only do our children learn about water, forests and animals, but they can also look at interesting illustrations and try to find their way around the Park and its ecosystem. Older children can learn about the Park's virgin forest Čorkova uvala in the "Forest Story" picture book, about the mill in the village of Korana in the "Power of Water" picture book, or about the ant George in the "George, the Great Ant" picture book.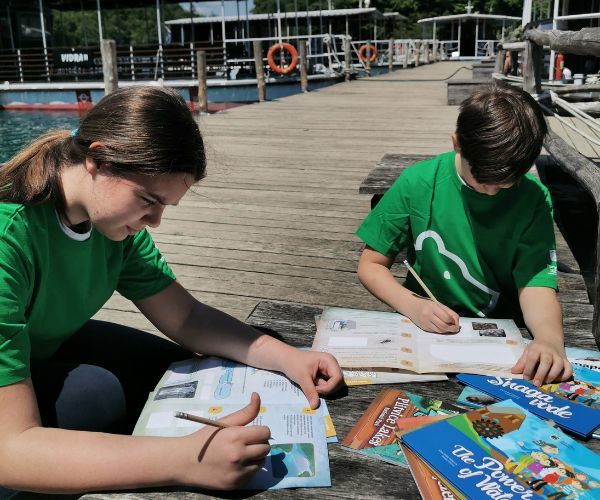 The youngest children will explore the Park through picture books about bears (Getting to Know Bears), otters (Getting to Know Otters), butterflies and moths (Getting to know Butterflies), and dragonflies (Getting to Know Dragonflies). With interesting illustrations and short educational texts, children will have a beautiful souvenir that reminds them of the Park and their trip into nature. These picture books, in addition to being a souvenir, will also stimulate their desire for a new journey and some new adventures.
Don't forget the basics
Of course, in addition to all of the above, let's not forget the basics, because this is nature we're talking about after all. Bring plenty of water, sunscreen, and a variety of snacks to enjoy on park benches or at one of the rest spots. Dress in layers and bring some extra clothes with you, or take a hat if it's sunny. In case of rain, we recommend using a raincoat rather than an umbrella. If you do not have one, you can buy one in our souvenir shops.
Tomislav Kovačević is General Manager at Plitvice Lakes National Park. Plitvice Lakes National Park is the oldest and biggest national park in Croatia.
If you would like to be a guest blogger on A Luxury Travel Blog in order to raise your profile, please contact us.