Ultra-luxe design innovations for Four Seasons Yachts
By Paul Johnson on Oct 10, 2023 in Cruises & Boat Travel, Speciality Travel
Four Seasons, together with luxury yachting company Marc-Henry Cruise Holdings Ltd. and venerated Italian shipbuilder Fincantieri, continues to build momentum towards the inaugural journey of Four Seasons Yachts. The venture brings together an unparalleled group of partners: Nadim Ashi and Philip Levine, entrepreneurs and bold visionaries of this distinctive yacht experience, paired with Four Seasons luxury hospitality leadership.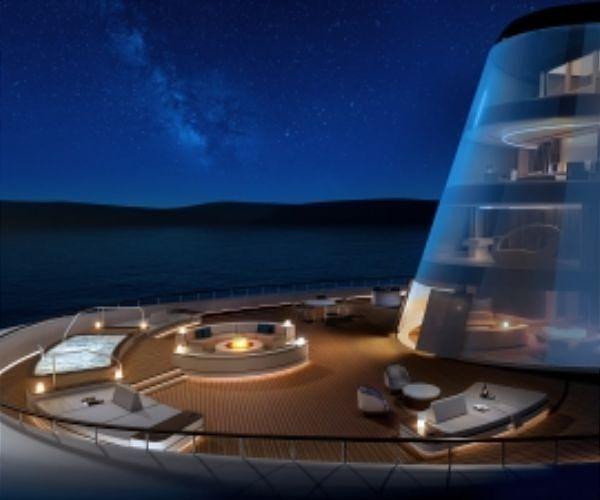 "Four Seasons Yachts represents a key pillar of our future growth and strategic vision, as we look to capitalize on new opportunities and build brand differentiation through immersive luxury experiences," says Alejandro Reynal, President and CEO, Four Seasons. "The inaugural Yacht is a manifestation of this vision, offering a world-class Four Seasons experience, at sea and on land, marked by the genuine, personalized service that our guests know and love."
Setting sail in late 2025, the vessel will be the first in the Four Seasons Yachts fleet. With a signed contract for the construction of the second Four Seasons vessel with Fincantieri to be delivered in late November 2026, this second vessel's order is worth more than EUR 400 million.
Larry Pimentel, President and CEO, Marc-Henry Cruise Holdings Ltd., Joint Owner and Operator, Four Seasons Yachts, and responsible for leading the enterprise, says, "When we launched Four Seasons Yachts in Monaco this time last year, we were humbled by the tremendous response and excitement about the offering, which sparked unprecedented interest in this stunning project."
Ultra-luxe design innovations
The first Four Seasons Yacht features 95 suites with remarkable custom design, focused on removing barriers between guests, the sea, and their surroundings. To enjoy outdoor yachting moments, each suite features extensive terrace decks ranging from 100 square feet (9.3 square metres) for the deluxe suite, to nearly 5,000 square feet (457 square metres) for the Funnel Suite, which will be the Yacht's most expansive accommodation. With an all-suite, residential style product, the Yacht will set a new standard for privacy and guest-centric layout. From the vessel's waterline to the top deck, the unequalled sea-to-sky design features will offer standout and unparalleled Four Seasons experiences.
The Funnel Suite will be an astonishing four levels, offering more than 9,500 square feet (898 square metres) of combined indoor/outdoor living space, including a private wading pool and dedicated private spa area, creating a sea-view home away from home.
This immense suite can be further expanded with vertical and horizontal connectivity, allowing guests to have one of the largest continuously connected living spaces at sea. The Funnel Suite's iconic floor-to-ceiling wraparound curved glass window modules, made up of the largest contiguous piece of glass at sea, will offer stunning 280-degree panoramic views. With the glass of the Funnel Suite costing a total of USD 4.5 million, this one-of-a-kind engineering innovation is nothing short of remarkable, from its steel web frame support structure to its double glass thermal performance.
Another design first is the Yacht's bespoke onboard transverse marina, allowing guests easy access to a world of water sports adventure filled with state-of-the-art water toys in ports that are traditionally exclusive to privately-owned yachts. Pushing the boundaries of creativity and craftsmanship, the cutting-edge marina design features expansive openings across the vessel from port to starboard, offering large platforms and tiered lounging decks on both sides to maximize light and sea views while fostering visual and physical links – creating yacht moments with the magnificence of the sea.
Outdoors, water sports enthusiasts will enjoy private and exclusive sailing, snorkelling and wind surfing. Inside, an elegant lounge area outfitted with a stylish bar and dedicated al fresco seating areas reveals panoramic ocean views. Rentable custom crafted sea limousines designed for transfers and coastal grand touring along with a pair of beach landers are also part of the ship's signature marina experience, accessible in most anchor ports. What's more, a dedicated marina team ensures that guests receive the impeccable service they have come to expect from Four Seasons.
For those wanting to enjoy the sun from the pool deck, the canoe-aft deck will boast a 20-metre (66 foot) pool, one of the largest at sea. It will serve as the bustling centre of the vessel and a gathering place for guests who share an affinity for the refined, leisurely pace of yachting. The salt-water pool is designed so that it can be quickly emptied, the floor raised and converted into a multi-function area for performances, fashion shows, and weddings to name a few programming options. This hydraulic lift design borrows inspiration from the classic Christina O yacht, which also had many famous-first features.
Unveiling Four Seasons Yachts to global travellers
Driven by the need to manage extraordinary demand with scarcity of inaugural inventory, priority access to reserve Yacht voyages is being distributed by invitation-only, beginning with loyal Four Seasons guests and valued travel partners. Equally as important, this distribution approach acknowledges and cares for Four Seasons patrons and their qualified luxury travel advisors in a manner deserving of their loyalty and commitment to the brand.
A dedicated private client service division has been created with an elite team of personal yacht consultants, committed to delivering on the personalized service and genuine heart that Four Seasons is known for. With high-touch and high-tech tools, they will manage by-appointment demand starting with priority access options for the inaugural season.
Exploring the yacht playgrounds of the Caribbean and Mediterranean
The 2025/26 inaugural season ushers in the start of extraordinary yachting itineraries offered throughout winter and spring in the Caribbean. The Yacht will then return to the Mediterranean to cruise iconic yachting locales, from the French and Italian Rivieras to the Adriatic coastline and Greek Isles. The average journey will be seven days, affording back-to-back voyages of 21 days with distinct daily deployments. The first year's planning represents 33 countries, 137 unique destinations, and 76 late night evenings and/or overnights. Unique Four Seasons pre-and-post hotel and overland programs are in development and will be unveiled soon.