27 events taking place across England this August Bank Holiday
By Paul Johnson on Aug 07, 2022 in Attractions, Europe, Events, Family Travel, Going Out, Leisure Travel, Regions, Speciality Travel, Travel Miscellany, United Kingdom, Western Europe
As Summer continues to bring long warm days and high spirits, England is all set to celebrate the August Bank Holiday weekend (Saturday 27 – Monday 29 August 2022) with a host of events and experiences across the country – many of which are free to attend. Festivals taking place range from Kent's White Cliffs Walking Festival (25 – 30 August) to Liverpool International Beatleweek (24 – 30 August), with a whole host of food festivals in between.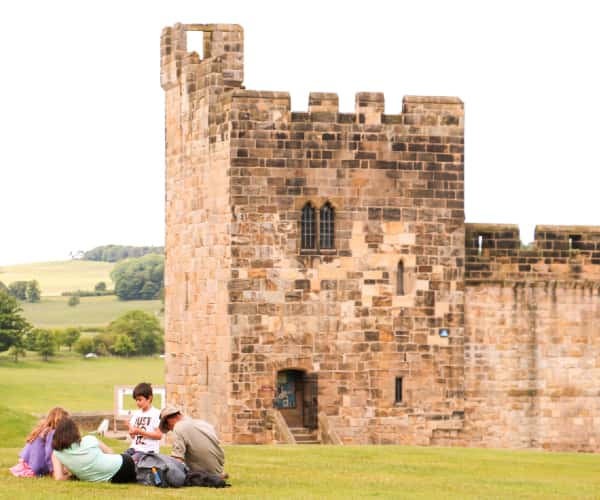 From carnivals bringing colourful parades to city streets, to family-friendly open-air theatre performances and knights' tournaments, here are some suggestions to get out and enjoy the long weekend.
Carnivals and street parades
Hereford River Carnival, Herefordshire (Free) – 26 – 27 August 2022

Hereford River Carnival has grown to become Herefordshire's biggest community event – and it remains entirely free for the public. The event typically attracts 20,000 people to sing, dance, make masks and carnival costumes, eat great local food and have fun on the Wye. This year's theme is Make Waves with the aim to bring the seaside to Hereford through music, dance, sport, arts, crafts and old-fashioned games.
Manchester Pride, Manchester (Free) – 27 August 2022
Rocking rainbow-flag capes and glittery face art (biodegradable, please!), join a loud and proud celebration of LGBTQ+ people, culture and expression at Manchester Pride. There will be a variety of events – some free, some ticketed – dedicated to queer people and their allies. Choose from the lively outdoor Gay Village Party, family-friendly festivities centred around fun, wellness and learning and a candlelit vigil to honour those who have been lost to HIV and AIDs. The highlight of the weekend is The Parade, a colourful procession of thousands of people marching together for equality.
Ryde Carnival, Isle of Wight (Free) – 27 August – 3 September 2022
The UK's oldest carnival, dating backing to 1887, Ryde Carnival is all-inclusive and joyous parades of colour and light marking the end of summer. Three parades will take place across the week, with one Main Carnival on 1st September, the Illuminated Carnival on 3rd September and a Children's Carnival Day on 27th August, which will include various activities and culminate in a Children's Parade along Ryde's high street.
Notting Hill Carnival, London (Free) – 27 – 29 August 2022
One of the world's biggest celebrations, Notting Hill Carnival returns to the streets of West London in 2022 for the first time since 2019. For two years, festivities have been strictly virtual, but now it's time to be back on the road to see the colourful world of Mas, Soca, Calypso, sound systems and so much more in splendid real life. During "Carnival", as it's known by locals, the streets of Notting Hill come alive with music, outrageous floats and jaw-dropping costumes.
Leeds West Indian Carnival, Leeds (Free) – 29 August 2022
Europe's longest running Caribbean Carnival parade, Leeds West Indian Carnival, is returning to Potternewton Park in Leeds this August. With colourful costumes, tropical music, and mouth-watering food, this is a true celebration of West Indian culture in Leeds.
Fantastic food festivals
African and Caribbean Food Festival, Leeds (Free) – 27 August 2022
Leeds' biggest African & Caribbean Food Festival is returning to Leeds Kirkgate Market where visitors are invited to explore Caribbean cuisines, showcased by some of the finest independent culinary chefs and emerging food vendors. This free event offers food tastings and a range of activities for all of the family, including live performances, face painting, live performances and a children's craft corner.
Harvest Seasonal Market, Raby Castle, County Durham (Free) – 28 – 29 August 2022
Raby is without doubt one of the most impressive intact castles in the North of England. Built in the 14th Century by the powerful Nevill family, it has a long history and makes for a wonderful day out in the Durham Dales. Over the August Bank Holiday, the castle is hosting its popular Harvest Seasonal Market. This is a free event with a range of local suppliers including food, drinks, jewellery, ceramics and homeware.
Hereford Indie Food at The Yard, Herefordshire – 27 – 28 August 2022
In the heart of Hereford city, Hereford Indie Food is an indulgent weekend to close summer. The event brings street food, creative cocktails and local ciders with chilled music by day and world class DJs by night. Add in stalls with local crafts people (such as knife makers, ceramicists) and producers (cheese, bread, coffee) in this cool corner of the city and you have all the ingredients for a great weekend. Tickets cost £18.
Fork to Fork Food and Drink Festival at Goodnestone Park, Kent – 28 August 2022
Fork to Fork brings together a range of local producers, artisans, and craftspeople to engage attendees in the whole lifecycle of food and drink production. The festival will have local food and drink producers plus interactive workshops in the walled garden and live music in the evening.
Malton Food Lovers Festival, North Yorkshire (Free) – 27 – 29 August 2022
Set across the streets of Yorkshire's foodie capital, Malton Food Lovers Festival is a three-day celebration of Yorkshire's finest produce and cooking. Over 150 artisan stalls and street food vendors take over the village while celebrity chefs show off their skills in demo tents with live music – from buskers to brass bands – providing the soundtrack.
Live music and performing arts
International Beatleweek, Liverpool – 24 – 30 August 2022
A weeklong celebration of the biggest band in the world takes place in Liverpool over the August Bank Holiday weekend. The annual International Beatleweek brings Beatles tribute bands from around the world to the famous Cavern Club where it all began. The Beatles played the Cavern Club nearly 300 times, helping it become the most famous live music venue in the world.
Sandwell and Birmingham Mela, Birmingham – 27 – 28 August 2022
Europe's biggest South Asian Music Festival returns to Birmingham this summer bringing some of the biggest British and International names to Victoria Park. Visitors can enjoy performances from up-and-coming and major artists alongside street theatre, visual arts, craft and dance workshops and a global food village.
Greenwich+Docklands International Festival, London (Free) – 26 August – 11 September 2022
Greenwich+Docklands International Festival is London's free theatre and performing arts festival, that tells compelling stories in spectacular style. This year expect Charon, a monumental 32ft high rotating zoetrope originally from the world-renowned Burning Man festival, a tidal wave of multi-colored foam at Greenwich Peninsula and a Royal Ballet collaboration with disabled dancer Joe Powell-Main. The programme will include a total of 25 premieres by a record number of international artists, from countries including Spain, Germany, Flanders, Italy, France, The Netherlands and the US.
10th Rye International Jazz & Blues Festival, Herefordshire – 25 – 29 August 2022
With a stellar line-up featuring jazz and blues artists from around the world, this year the Rye International Jazz Festival celebrates its 10th anniversary. Artists such as Curtis Stigers, Stanley Jordan, Imelda May and the Roberto Fonseca Trio will grace the stages at venues around the town, and there will also be a host of free music and fringe events taking place. A variety of ticketed and non-ticketed events are on offer throughout the weekend.
Victorious Festival, Portsmouth – 26 – 28 August 2022
The three-day Victorious Festival overlooking the sea returns to Southsea Common this August. Headliners are Stereophonics, Paolo Nutini and Sam Fender, who play alongside Bastille, Anne-Marie, Sugababes, Primal Scream and The Libertines. There's also a large family arena offering live music, activities and performances.
Family fun
Exeter's Gone Wild Festival, Devon – 25 – 28 August 2022
Nature Valley Gone Wild, the ultimate fun family festival, will return to Powderham Castle in Devon in late August. Created in partnership with Bear Grylls, the festival offers live music from The Script, All Saints and Sophie Ellis-Bextor and talks from famous explorers such as Sir Ranulph Fiennes. Exciting outdoor activities include an obstacle course, stand-up paddle boarding and bushcraft skill workshops. The festival raises money for RMA – The Royal Marines Charity, proudly supporting serving and former Royal Marines and their families.
Great Dorset Steam Fair, Dorset – 25 – 29 August 2022
The Great Dorset Steam Fair is said to be the world's largest heritage event showcasing Britain's industrial, agricultural and leisure history. Catch a glimpse of age-old steaming giants being put through their paces, watch authentic Victorian variety shows, admire the fabulous showman's steam engine line-up and explore the largest travelling fairground of its type in the UK, where many of the rides are powered by show-stopping steam engines.
Geronimo Family Festival, Cheshire – 26 – 29 August 2022
Geronimo Family Festival is back this summer at Arley Hall in Cheshire for a fun packed weekend with camping and glamping available. Geronimo has a kids' field like no other festival, catering solely to children and allowing families to connect for a fairytale weekend of fun and frolics.
Roman's Return – Big Birthday Bash, Vindolanda, Northumbria – 27 – 28 August 2022
The world-famous Ermine Street Guard will be celebrating its 50th anniversary year at Vindolanda, one of Europe's most important Roman archaeological sites. Part of Hadrian's Wall 1900 Festival, the event offers family friendly activities including Roman army school.
Jousting Tournament, Royal Armouries Museum, Leeds – 27 – 29 August 2022
The Royal Armouries Museum is delighted to bring live-action jousting to the heart of Yorkshire this August bank holiday weekend. The museum's impressive jousting arena in Leeds will resound to the cheers of crowds and the clash of lances on armour, as knights battle it out in an authentic Elizabethan-themed tournament. The twice-daily shows will feature knights and horses, plus plenty of pomp and pageantry fit for Queen Elizabeth I herself, who will be in attendance with her courtiers when our brave knights do battle for trophies and honours. Tickets priced from £5 – £20.
Kynren – An Epic Tale of England, Bishop Auckland, County Durham – 27 August 2022
Rebellions, wars, magic, majesty, celebration and heartache are vividly brought to life in an outdoor-theatre spectacular. Kynren is a spellbinding, family-friendly experience featuring Boudicca's battles with the Romans, two world wars, Vikings, Tudors, Stuarts, Queen Victoria and the Industrial Revolution.
David Walliams Awful Auntie Outdoor Theatre – The Alnwick Garden, Northumberland – 29 August 2022
Awful Auntie by David Walliams, adapted for the outdoor stage by Heartbreak Productions, is a truly thrilling tale. Owls, ghosts, chases, escapes, motorcycle rides and tiddlywinks all fill Stella's days as she evades her menacing aunt and saves the family home. Make sure to bring a blanket or chair to sit on, weather-appropriate gear, and a picnic, as the tale could take some time to tell, and storytelling can be hungry work! Tickets cost £13 per person.
Something a little different
White Cliffs Walking Festival, Kent – 25 – 30 August 2022
Explore the historical treasures of towns and villages on a variety of walks over the bank holiday weekend. There's a variety of walks to suit interests and abilities, from a gentle countryside stroll with an ice cream pit stop to an informative walk taking in the history and archology of Dover. Most of the walks are free to join, but booking is essential to ensure there are no more than 40 people per walk.
Telford Balloon Fiesta, Shropshire (Free) – 26 – 28 August 2022
Telford Balloon Fiesta will return to Telford Town Park and QE11 Arena for three days of free fun over the Bank Holiday weekend. Celebrations kick off on the Friday with a warm up evening featuring live music. Saturday brings more live music and entertainment as well as the popular Night Glow, and Sunday offers a day of family entertainment and have-a-go activities including crafts and circus performances. People all over Telford and further afield will be able to see hot air balloons travelling around the county throughout the weekend.
Gin Cruise on The Ouse, York – 26 – 28 August 2022
City Cruises is partnering up with York Gin to host a series of gin cruises across the August Bank Holiday weekend. For a date night with a twist, to blow-off-steam after work, or to round up some friends to enjoy York from the water, the two-hour cruise around the iconic Minster city and beyond is complemented with gin-based drinks mixed on board the boat. Tickets cost £34.50, covering the cruise and a selection of free drinks, with more available to buy on board.
Witches & Wizards Supper, Newcastle – 26 August 2022
Blackfriars Restaurant celebrates all things witches, warlocks and wizards in the surroundings of its 13th Century medieval friary. Chefs will be ready with cauldrons to stir up a mystical three-course menu served in the Banquet Hall. Fancy dress is actively encouraged to get guests in the mood for a magical evening with entertainment. £75 adults / £35 children including a drink on arrival, dinner and coffee.
Bridgerton-style Exclusive Garden Party at The Alnwick Garden, County Durham – 27 August 2022
This horticultural paradise at The Alnwick Garden will be aglow on the evening of the 27th August where jaunty dancing, fire performers and classic lawn games will engulf Alnwick society for a night of class and sophistication. With prosecco upon arrival, delicious and dainty bites and entertainment in abundance, this night is not to be missed. Ticket cost is £29.95 per person.