Fabulous Franschhoek
By Sarah Kingdom on Aug 07, 2022 in Accommodation, Africa, Hotels, Regions, Resorts, South Africa
It's a damp, chilly afternoon. Ancient oak trees are depositing droplets of water on the ground outside. But we are cosy and warm at Franschhoek's La Motte wine estate, and sampling a selection of the estate's award-winning wines, under the tutelage of Maritha duToit, La Motte's Brand Ambassador. We don't know a lot about wines, but Maritha, affectionately known as Zita does, and is happy to share some of her knowledge with us. An open fire warms the room, and a few other groups of people are scattered around the room doing tastings of their own. The walls are hung with original works of art, by acclaimed South African artist Jacob Hendrik Pierneef, after whom La Motte's Pierneef Collection of premium wines is named. Through floor to ceiling glass windows, we can see into the maturation cellar, where wooden barrels of wine wait their turn to be tasted. With its picturesque setting and historic charm, La Motte is the perfect destination for those who appreciate the finer things in life, and when you are finished with your wine tasting, there's a restaurant as well as a museum and art gallery, where a selection of permanent and temporary exhibitions are housed.
Franschhoek, from the Afrikaans word meaning 'French Corner', is one of South Africa's oldest settlements, founded in 1688 by Huguenots who, fleeing religious persecution, settled in the Cape. They planted vineyards and introduced wine, and many of the wine farms in Franschhoek are named after French wine districts, or still bear their original French names, like La Provence, La Terra de Luc, and La Motte. Sitting at the foot of the Mont Rochelle nature reserve and surrounded by vineyards and craggy mountains, Franschhoek lies in one of the most beautiful wine valleys in the world. At less than an hour from Cape Town this is the perfect escape from the city, and it's justifiably famous for its superb local cuisine and exceptional wine. The fertile valley is one of the most popular wine-producing regions in the Cape Winelands, and has an exceptional variety of wine estates that produce some of the finest wines in South Africa.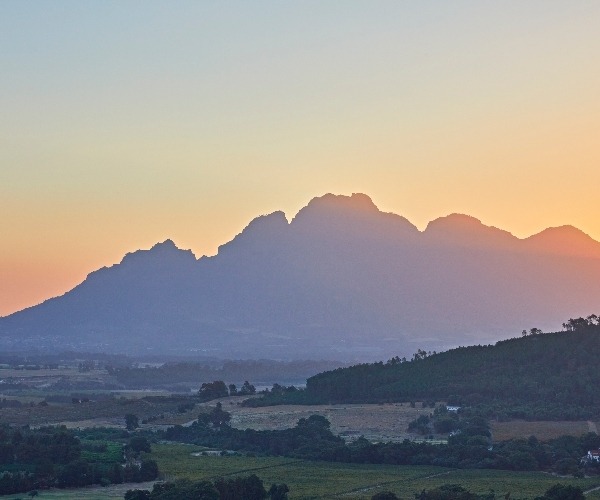 The choices for wine tastings in Franschhoek are endless. Leaving La Motte, the estates of Anthonij Rupert, Grande Provence, Haute Cabrière, and Le Lude are all still on our list. On a friend's recommendation we visit Vrede en Lust for a wine tasting with tapas pairing, and sample morsels of seared tuna, accompanied by their Kogelberg Chenin Blanc, and deep-fried goat's cheese with their Cabernet Franc. It's a rainy midweek day, and we had the place almost to ourselves.
Franschhoek's pretty village consists of one main road, where you can browse a wonderful collection of galleries and antique shops, bistros, restaurants, cafes, and artisanal food markets. Also famous for its fine cuisine, Franschhoek takes its title of 'culinary capital of SA' seriously. Restaurants take advantage of locally grown produce and you'll eat very well. The area is home to some acclaimed fine-dining restaurants, and with a conservative estimate of at least 36 eateries, and four or more 5-star South African chefs, you are spoilt for choice when it comes to food.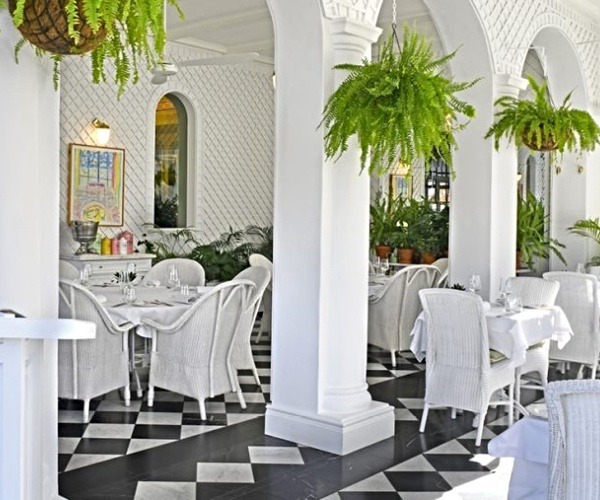 One of our favourite meals was at Orangerie Restaurant on Le Lude Estate, where tucked just around the corner from the cellar you'll find the Orangerie Restaurant. We started with some of the estate's award winning Le Lude Brut and Le Lude Rosé MCC, while deciding what to order from the delicious options on the menu. Chef Nicolene Barrow has created a menu of classic French cuisine with contemporary and Asian twists. Duck liver parfait with apple chutney, and Pork Belly ravioli with black truffle jus and whipped goat's cheese for entrees, before moving on to West Coast mussels, steamed in Le Lude Brut, and Beef Fillet with ossobuco ravioli and red wine jus – perfect.
Franschhoek certainly isn't undiscovered, and it does get busy in the summers, but it doesn't feel overwhelming, especially if you stay just outside the village, amongst the tranquil vines. With options ranging from luxury boutique hotels to quaint B&Bs or self-catering cottages, Franschhoek has a variety of places to stay. You can choose somewhere within walking distance of the main street, or perhaps opt to stay on a wine estate, for the quintessential winelands experience. We chose the majestic La Residence followed by the farmhouse chic of the stylishly renovated 7 Koppies.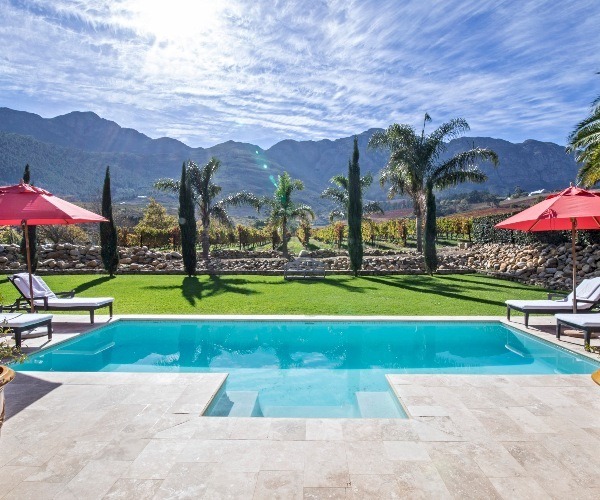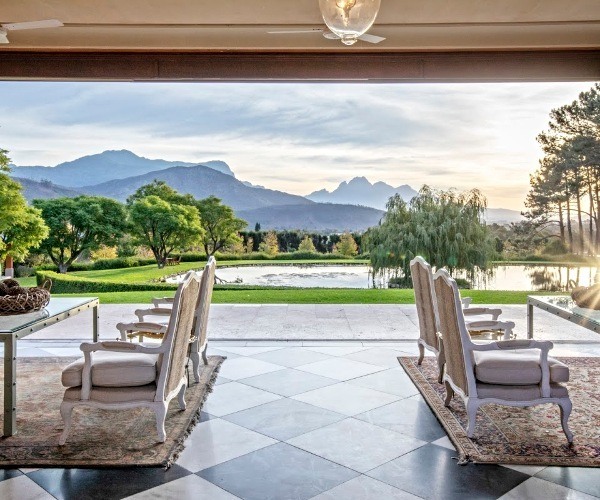 Located in the beautiful Franschhoek Valley, on a private 12-hectare estate, La Residence. Is probably Franschhoek's finest hotel. Surrounded by Cabernet Sauvignon and Shiraz vineyards, olive groves, plum orchards, vegetable gardens and fragrant flower beds, with a spectacular mountain backdrop, La Residence sets the benchmark for luxury accommodation in the Cape Winelands. The hotel was Travel & Leisure Magazine's 'World's Best Award Winner' in 2017.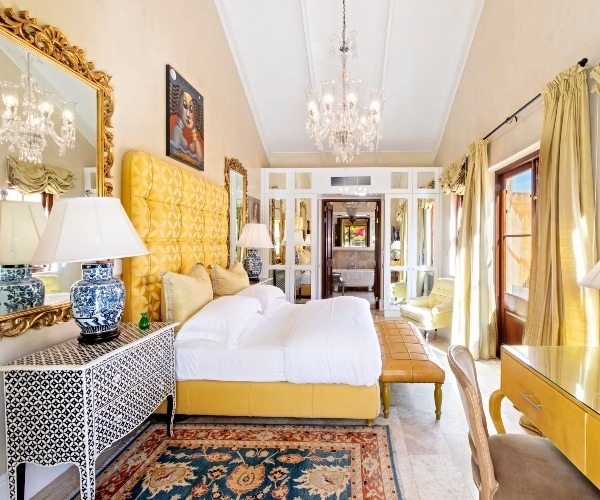 ---
IMPORTANT NOTICE:
If you are reading this article anywhere other than on A Luxury Travel Blog, then the chances are that this content has been stolen without permission.
Please make a note of the web address above and contact A Luxury Travel Blog to advise them of this issue.
Thank you for your help in combatting content theft.
---
Entering the hotel, enormous, glittering Indian chandeliers hang from vaulted ceilings. Original artworks and elegant antiques hang throughout the hotel and huge mirrors grace the walls. The furnishings are opulent and stylish. Peacocks, with their rich iridescent blue feathers, roam the grounds, and can sometimes to be found occupying the wooden chairs on your private verandah. Flowers are a recurring feature throughout the hotel, from beautiful tables laden with stunning arrangements as you enter the hotel, and the gorgeous posies guests are handed on arrival, to the flowers embroidered on the table napkins and the vases full of flowers in every guest room. I was told there are 300 floral arrangements in the hotel at any one time, and I believe it! Fortunately, there's a full-time florist on staff!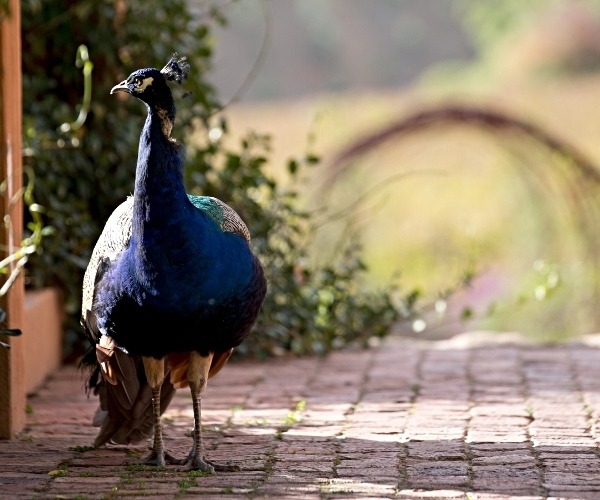 Beautifully decorated rooms, elegant antiques, great food and fine wines in stunning surrounding, I've heard La Residence referred to as the 'Versailles of Franschhoek' and I don't anyone would disagree! The hotel has 11 suites, with an additional 5 private suites amongst the vines. Each suite has its own colour scheme and design inspiration, ranging from the exotic Tibetan Suite with its oriental antiques, to the blue and yellow Chambre Bleu, with its Provençal antiques, velvets and silks. The hotel featured in BBC series "Amazing Hotels: Life Beyond the Lobby".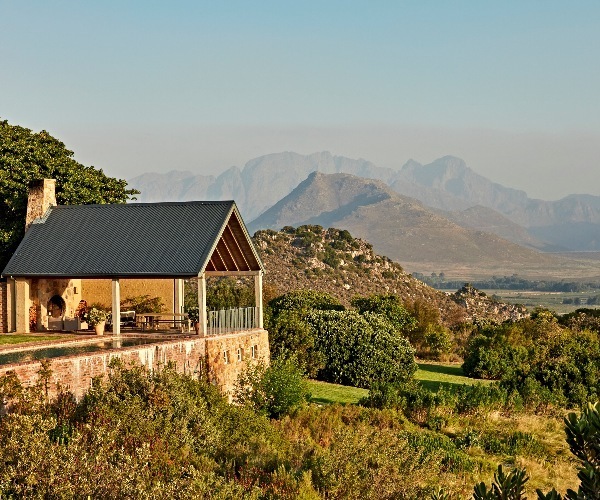 After leaving La Residence, any place we stayed was going to have a hard act to follow. We chose the eclectic and picturesque surroundings of 7 Koppies , a farmhouse retreat with a difference. Beautifully furnished, with trinkets and treasures from around the world, this refurbished farmhouse, and its imaginative, inspired décor, is a testament to the creativity of its owners James and Marc, who have breathed new life into the property, and created a really special place.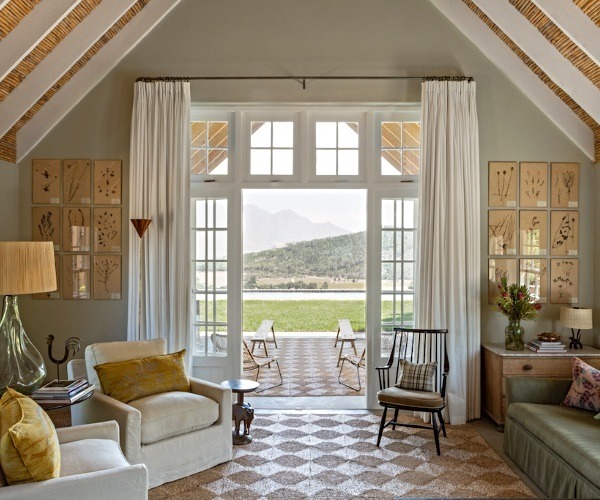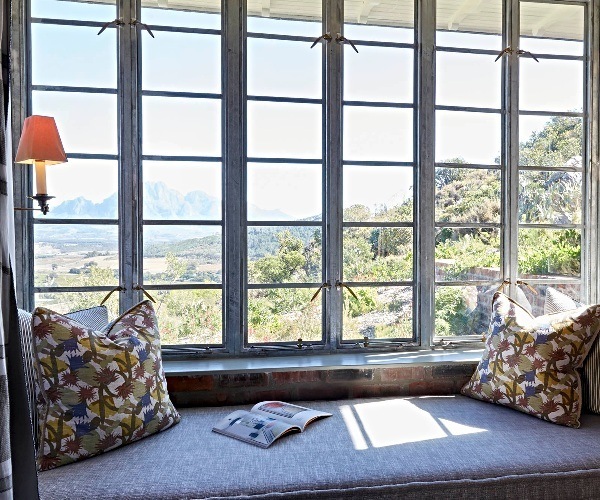 An exclusive guesthouse, set within 50 hectares of pristine fynbos, on a working farm, 7 Koppies gives you the sense of being fully immersed in the stunning natural surroundings. You feel removed and remote, yet in reality you're just a short drive from everything. We hiked the craggy and rocky koppies (hills) on the property, the wildflowers were beautiful, the birds colourful, and the views went on for miles. At night we sat by the outside fireplace, with a glass of wine, and watched the sun go down over the entire Franschhoek valley.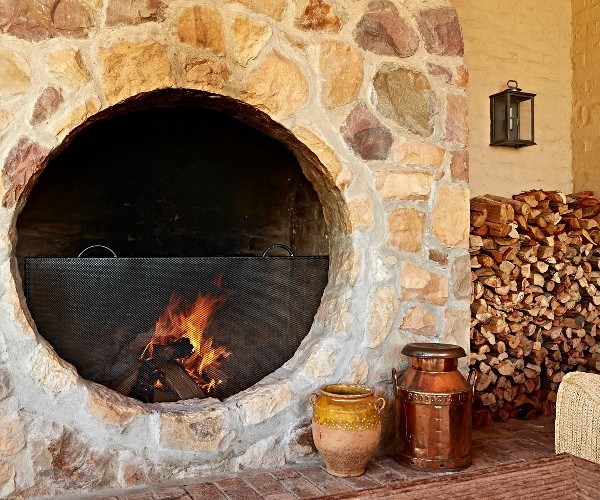 Breakfast on the terrace was a highlight. The sky was reflected on the still water of the pool, mist hid the hills and the horizon, and there was a crisp breeze in the air. With five individually designed, luxury rooms of various shapes and sizes, as well as a private cottage that's just a 5-minute walk away, this is a fabulous farmhouse retreat, deep in the South African Cape Winelands. A beautiful place indeed.
Nestled between scenic vineyards and towering mountains, Franschhoek boasts an elegant charm. Centuries old vineyards, Cape Dutch architecture, spectacular places to stay and wonderful places to eat. With art galleries and boutiques, history and hiking, museums and mountain-bike trails, and some of the world's top selling wines, you certainly shouldn't visit Cape Town without spending time in Franschhoek.