5 amazing rail journeys around the world
By Kerry Golds on Feb 16, 2021 in Asia, Australia, Canada, India, Japan, North America, Oceania, Peru, Rail Travel, Regions, South America, Speciality Travel
A journey by rail is one of the most romantic ways to travel. And, as passionate Bradshaw's devotee Michael Portillo will attest, it's also a fantastic way to discover remote landscapes, communities and cultures across the globe.
In the early days of the luxurious Orient Express, just a handful of train rides could claim to be bucket-list experiences. Since then, the range of experiential rail routes has grown ever greater. From the Belmond Andean Explorer, which slinks around Peru's stunning mountainscapes, to the famous Ghan, which whisks you through Australia's red-rocked outback – you're now spoilt for choice.
Here are five superlative rail experiences that showcase the breadth of what's on offer.
The Kalka-Shimla Toy Train, India
This UNESCO-listed mountain railway wends 96 kilometres from the town of Kalka, through a forested landscape, to the Himalayan hill station of Shimla.
Opened in 1903, it was commissioned by the British Raj to ferry officials to their summer capital – in a manner more befitting their status than ox-drawn carts. Today, the railway is for public use, facilitating everything from simple passenger commutes to more resplendent tourist services.
The railway was engineered to overcome the steep gradients, soaring peaks and curving cliffs presented by the topography of this northern region of India – quite a feat. That tricky landscape is also the reason trains running the route do so relatively slowly, giving passengers time to linger with the stunning Himalayan scenery.
The bullet train, Japan
Another feat of engineering, the sleek 'bullet trains' of Japan's Shinkansen network zip across the country at lightning speed (or rather, speeds of up to 320 kilometres per hour). Although a number of nations are catching up, Japan pioneered high-speed rail, beginning operations in 1964.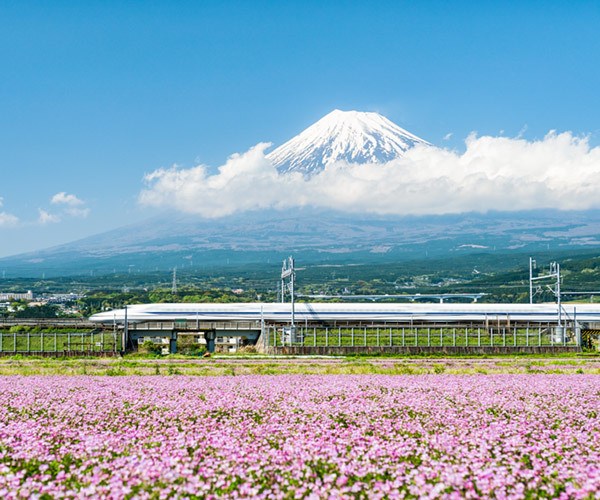 From a traveller's perspective, city hopping by bullet train remains a thrill. At present, the network spans the length of Japan's main island, Honshu, before crossing the water to Hokkaido in the north, and Kyushu in the south. That means you can easily navigate between the bright lights of Tokyo, tradition-rich Kyoto, culinary capital Osaka and beyond – all the while admiring the ever-changing landscape as it streams by your window.
Belmond Andean Explorer, Peru
Belmond's Andean Explorer is the first – and thus far only – luxury sleeper train in the whole of South America. Rolling through Peru's breath-taking altiplano, it's also one of the world's highest rail services. Its route takes passengers from Incan capital Cuzco, across the Andean Plateau to Lake Titicaca, then onward to UNESCO-listed Arequipa.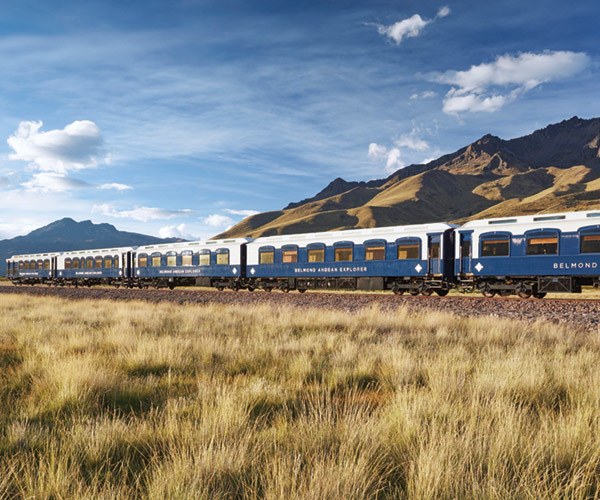 Travelling on the Andean Explorer, you can choose either a one- and two-night journey. Scheduled stops throughout allow you to alight and explore some of Peru's most exceptional scenery and archaeological sites. Come the evening, the train's 24 en-suite cabins promise a comfortable night's sleep.
The Ghan, Australia
For just over 90 years, The Ghan has been carrying passengers into Australia's scenic 'Red Centre'. The popular train is named after the 19th-century Afghan cameleers who helped open up new routes into the outback – hence the iconic camel with rider emblazoned on the Ghan's carriages.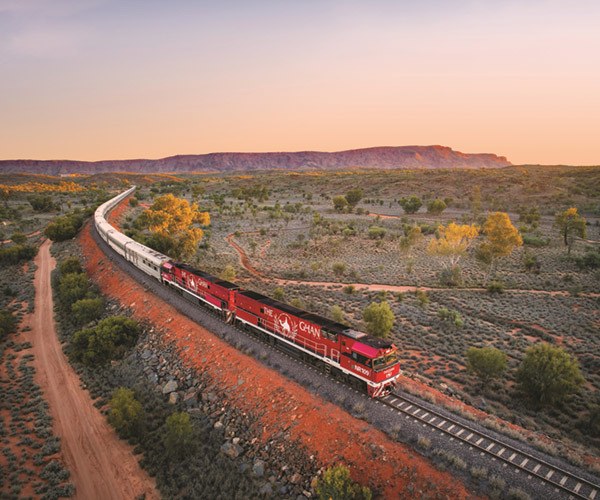 The Ghan journeys from the country's northern tip to its southern toe; from Darwin to Adelaide – a distance of more the 3,000km. You can choose to travel the whole coast-to-coast route – which takes three days – or part of it. Regardless, passengers can expect an all-inclusive, luxury rail experience with off-board excursions to key attractions.
The Rocky Mountaineer, Canada
Each of Canada's regions has its attractions – from towering mountains to thundering waterfalls, cosmopolitan cities to indigenous cultures. Perhaps the peak of travelling here – in more ways than one – is the Rocky Mountaineer. This lauded rail service sweeps passengers from Vancouver into the spectacular landscape of the Canadian Rockies in style.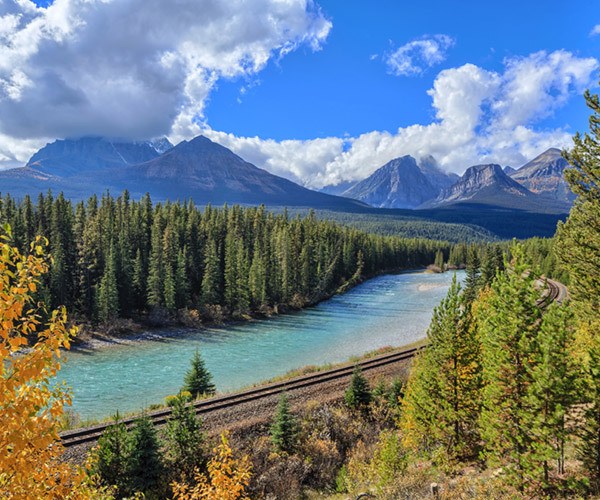 Michael Portillo described the Rocky Mountaineer as "a train of extraordinary luxury", and it's easy to see why. Glass-domed carriages offer uninterrupted panoramas, and there's even an outdoor viewing area. Cuisine served aboard is gourmet and authentically local, whilst the hosts offer exceptional service.
Kerry Golds is Managing Director of Cox & Kings. Cox & Kings is an award-winning tour operator with a history of over 260 years, specialising in luxury small group tours to the world's most captivating destinations.
If you would like to be a guest blogger on A Luxury Travel Blog in order to raise your profile, please contact us.