5 reasons to stay at an exclusive-use luxury safari villa
By Calvin Cottar on Jul 18, 2022 in Accommodation, Africa, Hotels, Regions, Resorts, Vacation Rentals
An exclusive-use villa gives you the space and privacy to have a luxury safari holiday with the most important people in your life all under a single roof. It might be a small group of close friends, families holidaying together, or a mix of both. These are the ultimate home-away-from-home options that are designed for those that want a truly bespoke safari experience with the freedom to create a personal itinerary for the group. They offer a wonderful escape for families and friends who love travel and appreciate being together in nature, but who also want a little space for privacy. You might like to think of it as your very own 'travel bubble'.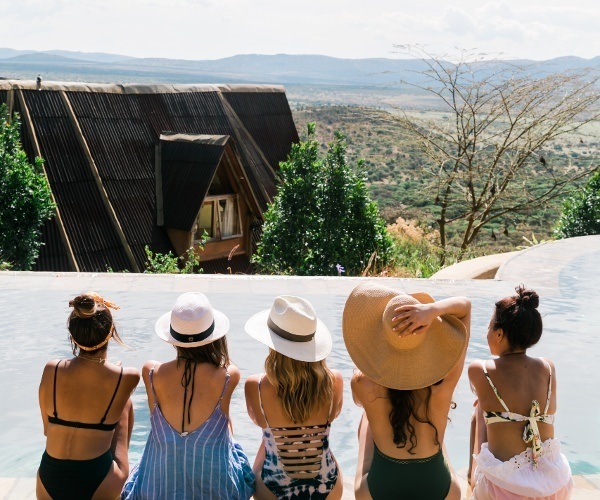 Intrigued and interested to find out more? Here's what you can expect when you choose to stay in an exclusive-use luxury safari villa, and why it might just be the best way to spend a group getaway together in the African bush. Because if it is, then this will be the holiday that you all reminisce about together for many years to come.
Private group dining experiences
Imagine clinking glasses with your nearest and dearest in your own cosy dining room, lunching by the pool followed by a leisurely swim, chatting over breakfast in the bush with your private guide. The dining experience at an exclusive-use safari villa is tailored to the group's preferences in all aspects – taste, time and setting – and is all yours to enjoy. And you don't have to share the space and this special time with any other guests.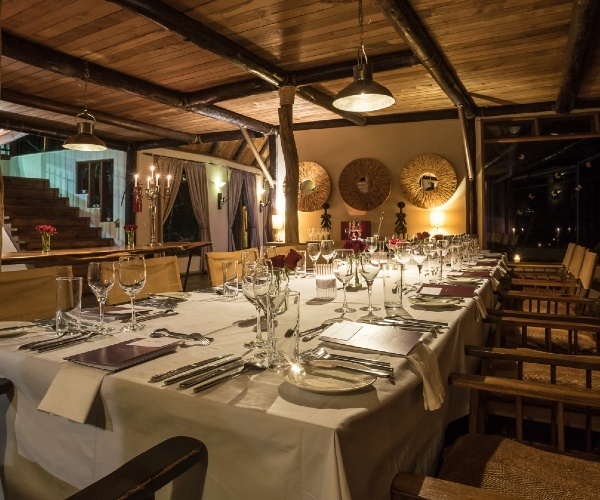 Part of the private safari experience is spending each day exactly how you wish, which includes when you want to eat. Because you aren't sharing a main lodge area with other guests, dining does not need to confined to regular mealtimes. It is part of the everyday experience, and food and drinks are there to be enjoyed at any time, just like you would back at home.
Personalised and discrete service
A truly exclusive and luxury safari holiday will come with warm and attentive staff that are there to look after you and your loved ones throughout your stay. Because when all your needs are considered and taken care of, you will get to have the ultimate carefree and relaxing escape, one where safari dreams come to life for everyone in the group.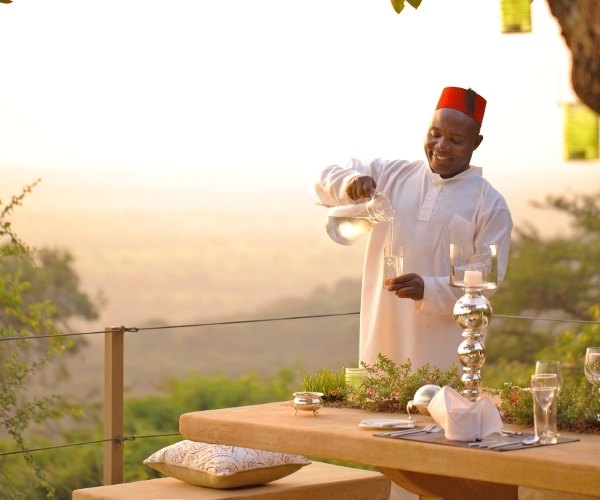 Who the team is made up of isn't necessarily standard across exclusive-use villas. At the minimum, you would want your own chef, nanny (if you are travelling as a family with small children), housekeeper, and guide. That way, you'll have everything you need right at your fingertips and won't need to worry about anything other than enjoying a completely effortless safari holiday.
Dedicated game drive vehicle and guide
Because staying in an exclusive-use luxury villa means a private safari, you will have a dedicated guide and game drive vehicle at the group's disposable throughout your stay. The same personable and experienced guide will be with you on every adventure in the bush, whether exploring the bush on foot or by 4×4. You can spend more time watching a leopard lazing about on a tree branch. Or marveling at a herd of elephants drinking and playing in a large pool of water in the late afternoon.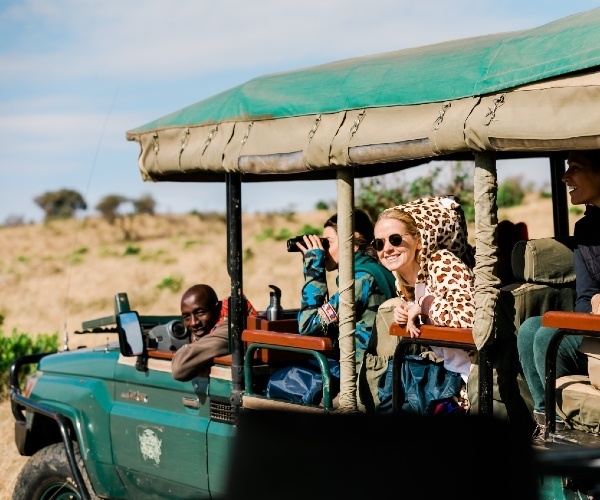 So you can spend each game drive or bush walk how you all want, while getting to really know your surroundings and someone who knows the bush best, your guide. A good private guide is so much than just your gateway to seeing and learning about the bush. Together with being an excellent game spotter and tracker, they will also be your friendly host host, storyteller, aide-de-camp and concierge. The insights, expertise and personable nature they bring with them are simply invaluable. In fact, they often become the go-to person, and best of all, a new friend of the group.
---
IMPORTANT NOTICE:
If you are reading this article anywhere other than on A Luxury Travel Blog, then the chances are that this content has been stolen without permission.
Please make a note of the web address above and contact A Luxury Travel Blog to advise them of this issue.
Thank you for your help in combatting content theft.
---
Balance of private and shared spaces
The beauty of a private safari villa is the general spaciousness as well as different options to retreat, whether it be altogether, as small breakaway groups, or couples. So you can unwind in peace with only your chosen company. Because they are designed specifically for families and friends that appreciate privacy and space, exclusive-use villas allow all members of the group to come together or spread out within a safe environment. This plays an important part in making sure you have a holiday experience that's unforgettable for all the right reasons.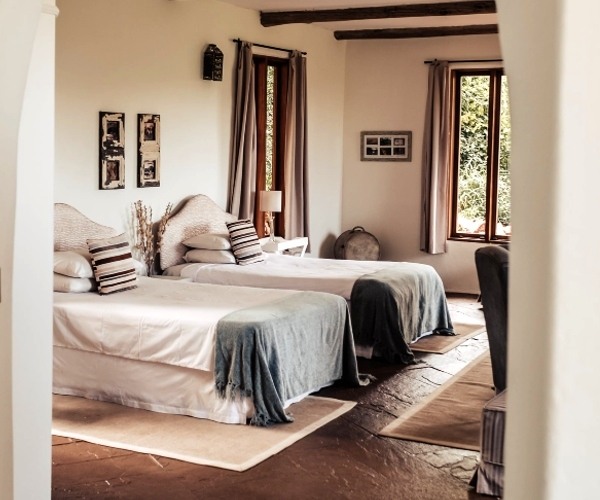 Open-plan shared spaces suit the comings and goings of different members of the group, while bedrooms and small decks are tucked away for maximum privacy and intimacy. You might want to follow a festive group lunch with downtime reading or napping in the comfort and quiet of your own bedroom. Or have drinks overlooking the bush as the sun sets with only your significant other, while the rest are either on a game drive or taking one last swim for the day.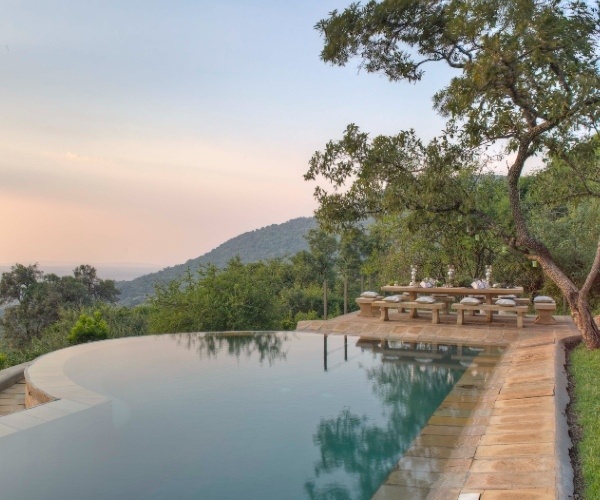 For safari-going groups that want absolute privacy combined with dedicated and discrete staff, and an abundance of wildlife, then an exclusive-use luxury safari villa is the answer.
Calvin Cottar is Director and Owner at Cottar's 1920s Safaris. Cottar's 1920s Safaris is an award-winning luxury 1920s safari camp and private bush villa located in the famous 'seventh' natural wonder of the world, the Maasai Mara in Kenya, and owned and managed by the oldest established and continuing safari family in Africa.
If you would like to be a guest blogger on A Luxury Travel Blog in order to raise your profile, please contact us.