5 reasons why a Galapagos cruise program is a unique experience
By Marcel Perkins on Jan 06, 2023 in Cruises & Boat Travel, Ecuador, Regions, South America, Speciality Travel
Charles Darwin founded his theory of evolution in this place, whilst others know it as one of the natural wonders of the world; truth be told, the reasons that make the Galapagos Islands special are endless. The Galapagos Islands are a natural wonder, that came to existence due to a volcanic eruption that took place millions of years ago. The fact that the Galapagos are an attraction that allows visitors to combine adventure with history, makes Galapagos a magical destination that wins the hearts of those who have had the opportunity to visit the archipelago. Since the reasons to visit are countless, we have decided on this occasion, to give you 5 reasons why you should consider visiting the "Enchanted Islands" on board a small yacht.
1. Visit the main islands, with all the comforts on board
One of the main differences that visiting the Galapagos on board a yacht is not having to worry about waking up so early to take a yacht ride to an island nearby, as by being already on a yacht, you will wake up on a new destination every day. When you go on a live aboard expedition, you can leave your worries about forgetting something behind as everything will be with you on your cruise. Instead of packing and unpacking your luggage every time you change destinations, you can enjoy all the on-board amenities your expedition ship has to offer. From the social areas and bars to the tanning decks and jacuzzis, there's something for everyone to enjoy as you travel from one island to the next.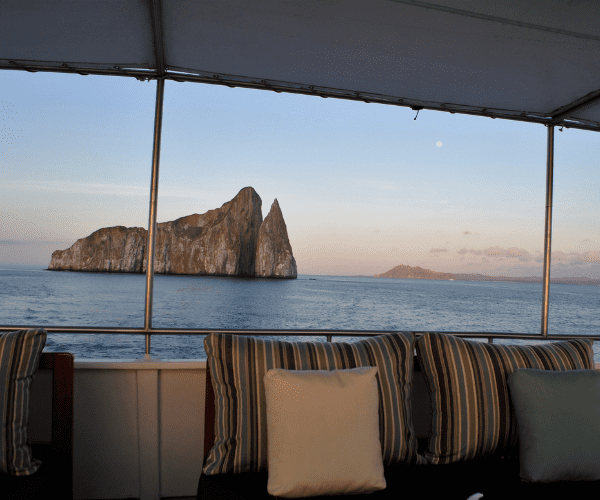 With a complete round around the archipelago, you can visit up to 13 main islands without wasting time in transfers from one hotel to another. This, therefore, allows you to have more time to observe all the endemic fauna and flora of the islands from the comfort of the expedition yacht. Imagine having dinner while sailing a few yards away from Kicker Rock or while lying on the tanning bed sipping your favourite cocktail.
2. Don't worry about the logistics – food, guides, adventure activities and transfers are included
We understand that traveller stress is common among holidaymakers who want everything on their trip to be perfect. Plus, the fact that you might be doing this trip once in your life. Hence, making it as memorable as possible is the least we can do. Exploring the Galapagos Islands on a cruise might be your secret key. When choosing a cruise program, passengers have very little to worry about because yacht-based exploration programs place great importance on the experience and adventure, whilst considering your comfort as much as possible. Galapagos small yachts provide passengers with a unique gastronomic journey, as each one of them has expert chefs on board that specialize in both national and international cuisine onboard. In addition, naturalist guides will be with you throughout the duration of the journey to answer any questions you may have about the experience while sharing with you all the knowledge they have about every island, every islet that you will be visiting because how can a trip be that memorable without knowing what makes that destination truly so worthy.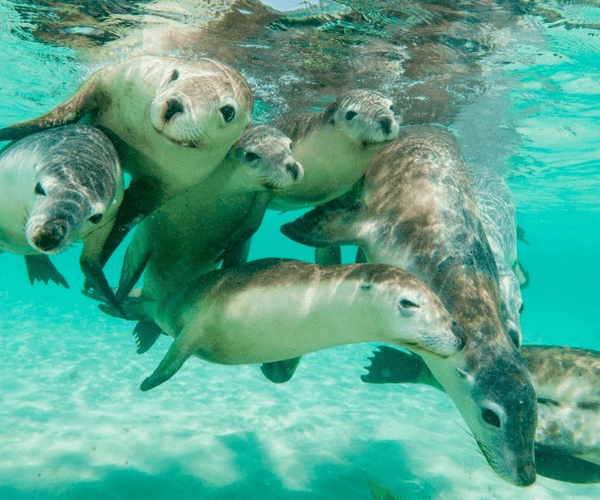 Galapagos yachts offer all activities, such as adventurous activities, as well the equipment included in their programs, for instance, the snorkeling and kayaking gear If you decided to do one of these activities, you will get up close and personal with species such as sea lions which are very friendly and playful. Let us not forget that we never touch any species in the Galapagos as they are endemic. Also, while diving you will see various species of fish alongside wonderful colors that appear amongst the water and the species. You'll never be bored on a yacht-based exploration as there's always something new to see and do – every moment aboard the ship is full of excitement and adventure!
3. Exclusivity and safety on your journey
The cruises that sail in the Galapagos Islands have a unique advantage that is highly valued by passengers – they offer exclusivity and privacy. Most small yachts have an average capacity of 16 passengers, so you can enjoy your space without interruption or fear of being one amongst the crowd. If you would like to make your Galapagos experience even more private and personalized, you can charter the cruise to travel privately with your family and friends.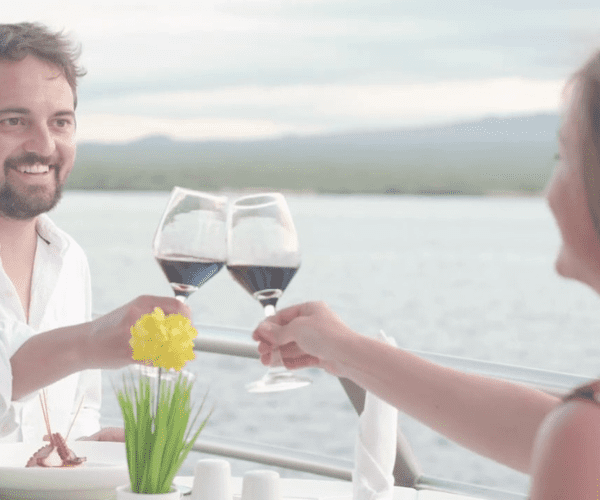 The expedition yachts are designed to give passengers plenty of space to enjoy all the different activities on board, all the crew services are personalized, so you can make the most of your cruise experience, you will feel like they have known you all your life. Spoiler alert: if you are lucky, the captain will invite you to the bridge when the small yacht has stopped, and you will be able to chat with the crew and experience a unique moment learning from them.
4. Visit remote and magical places, where you can only go by a live aboard expedition
Another and probably one of the most important reasons to visit the Galapagos according to many is being able to visit that would be impossible to reach if you were to stay at a hotel in one island. That is because there are certain destinations that can only be reached by expedition yachts, and these places are ones that should and must be visited because of the fact that they are less frequented, making its flora and fauna even more wonderful and worth experiencing. Two destinations that you can only explore by small yachts are the northern parts of Isabela and Fernandina. These islands are considered some of the youngest in the archipelago, and visiting them is a truly unique experience, places like Urbina Bay, Punta Vicente Roca, Elizabeth Bay, Punta Mangle, Tagus Cove and more are all worth exploring.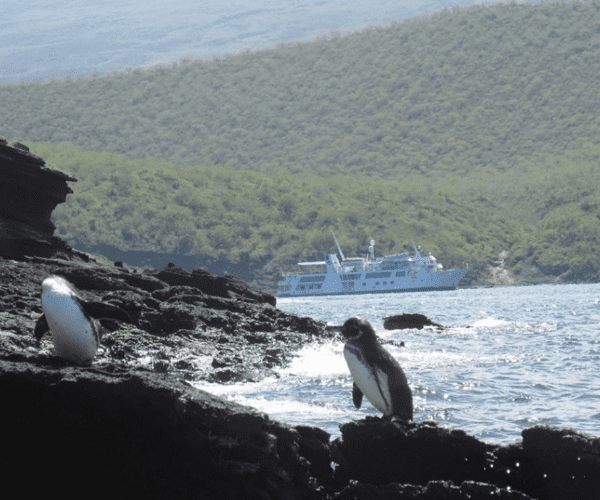 Also, if you're looking to explore amazing places like Genovesa Island – home to natural wonders like El Barranco and Darwin Bay – or Floreana Island where you can find destinations like Post Office Bay, Punta Cormorant, and Champion Islet; all of them can be reached by an expedition yacht only. These places are one-of-a-kind because they are a living example of untouched nature, you will see animals being in their own habitat, not afraid of humans because they know they are protected, truly a one-of-a-kind experience. At these locations, you will also be able to see penguins, pelicans, hawks, flamingos, red crabs, and more species in their natural habitat.
---
IMPORTANT NOTICE:
If you are reading this article anywhere other than on A Luxury Travel Blog, then the chances are that this content has been stolen without permission.
Please make a note of the web address above and contact A Luxury Travel Blog to advise them of this issue.
Thank you for your help in combatting content theft.
---
5. Enjoy the nights, see unique landscapes and experience wonderful night-time moments
One of the best things about live aboard expeditions is that you can spend your nights on the yacht, looking at the stars and enjoying the silence broken only by the waves. It's an unforgettable experience to see the stars so bright and clear, and the moon illuminating the sea as you journey along. At night is where you can really embrace the fact that you are far from society, far from stress and all the rush that society brings up to the table. You can truly disconnect and reconnect with yourself, your family, and your thoughts.
You can also listen to the sounds of the local wildlife, also a great way to relax and experience something new. Each dinner will also be the perfect opportunity to enjoy a wonderful meal while spending time with your loved ones or meeting new people from other parts of the world. You'll get to experience the magic of the evening while you are sailing, making it a truly memorable experience.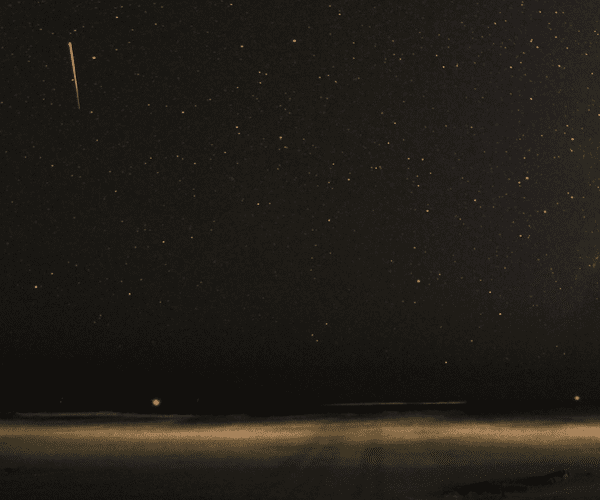 There is no doubt that when you travel on a cruise, you will live an unparalleled experience and that is why we wanted to narrow it down for you so that you did not have to. By sharing with you 5 reasons to go for this option to explore the Galapagos, we are hopeful that this will incentivize you to travel, to visit new places, destinations that are endemic and that are worth experiencing to reconnect back to life, to nature and thus to yourself. Truth is, visiting the Galapagos regardless of the option that you choose is a must in a lifetime, and we can only hope that through this article, we made you want to consider adding the Galapagos to your bucket list a bit more!
Marcel Perkins is CEO at Latin Trails. Latin Trails is an incoming destination management company specialized in bespoke tours, with a focus on offering unique experiences throughout Ecuador, the Galapagos Islands, and Peru.
If you would like to be a guest blogger on A Luxury Travel Blog in order to raise your profile, please contact us.