7 reasons to visit Porto, Portugal
By Michael Edwards on Apr 27, 2022 in Accommodation, Attractions, Europe, Going Out, Hotels, Portugal, Regions, Restaurants, Western Europe
North of Lisbon and south of the Spanish border, Porto is Portugal's second city in the green north. Porto is a city of cobbled squares and vertiginous hillsides clinging to the step hillside of the Douro Valley.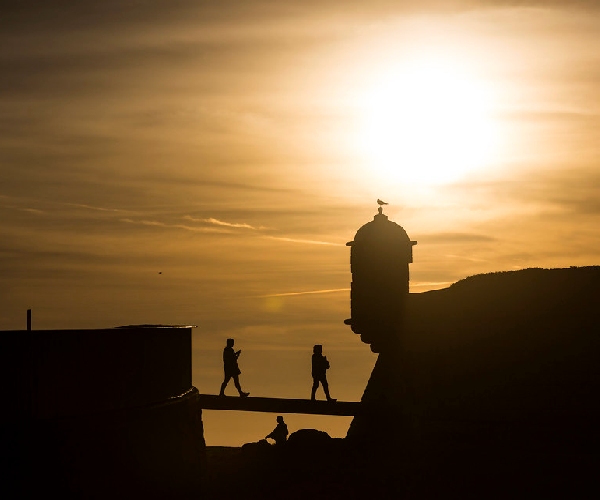 Port wine, where the grapes' fermentation is halted by the addition of brandy after 3 to 5 days, is at the heart of the city's heritage. For centuries, port wine has brought fame and wealth to the city. Until 1965, rabelo boats, laden with barrels, ferried port to the north banks of the river for storage at Porto's numerous port houses.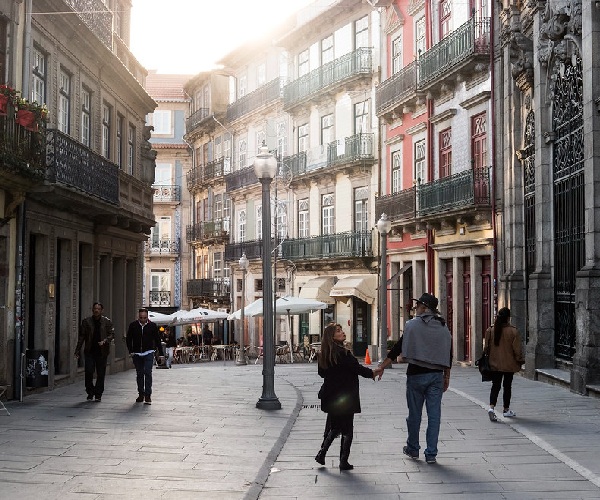 Now the port arrives by road and the rabelo boats have a new career carrying tourists along the Douro.
The Douro
A walk across the Luis 1 bridge, 45 metres above the Douro river, is an essential Porto experience. Completed in 1886 the double span iron bridge gives spectacular views of the riverside. Both riverbanks are lined with cafes and restaurants, perfect spots for a port tonica, chilled tonic water with port, on a warm day.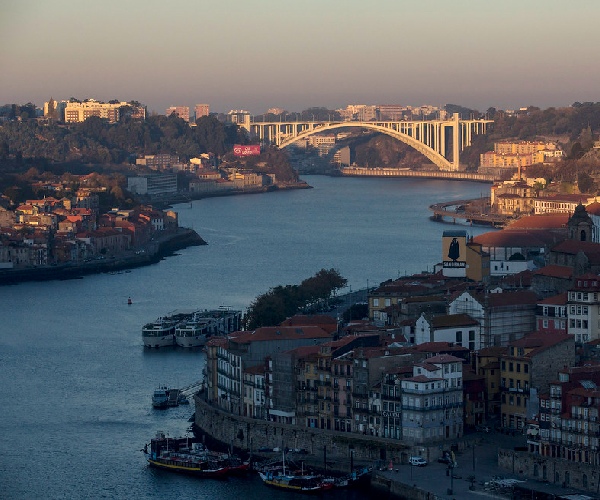 On the north bank, boats depart on the famous city river cruise that take in six bridges and give a tempting glimpse of the beaches close to the mouth of the Douro.
Ramos Pinto Port
In 1880, 21 year old Adriano Ramos Pinto founded a port house. Originally, Adriano had trained as an artist and it is his visual flair that makes the wisteria draped walls of Ramos Pinto one of the most appealing port houses to visit. The Ramos Pinto Museum displays decades of artistic marketing.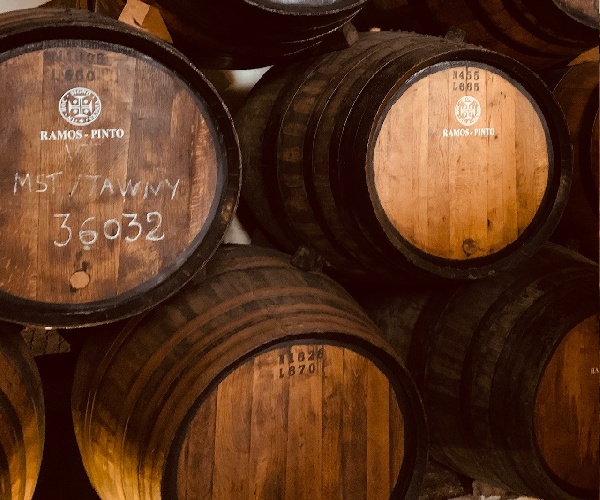 A controversial picture of Adam and Eve, tempted by Ramos Pinto port in the Garden of Eden, boosted sales. Finally, guests are talked through a tasting of three of Ramos Pinto's ports.
Tia Tia Restaurant
Although there are numerous restaurants along the river banks, TiaTia, high above the river, gives a light contemporary take on Portuguese cuisine. Tapas style, a sharing plates menu is popular with local foodies.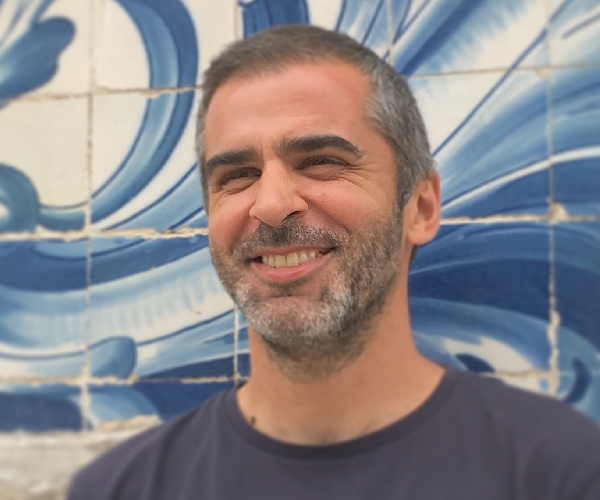 Chef Tiago, takes classic Portuguese flavours, such as cod and sardines, and tweaks them to bring vibrant new life to old favourites.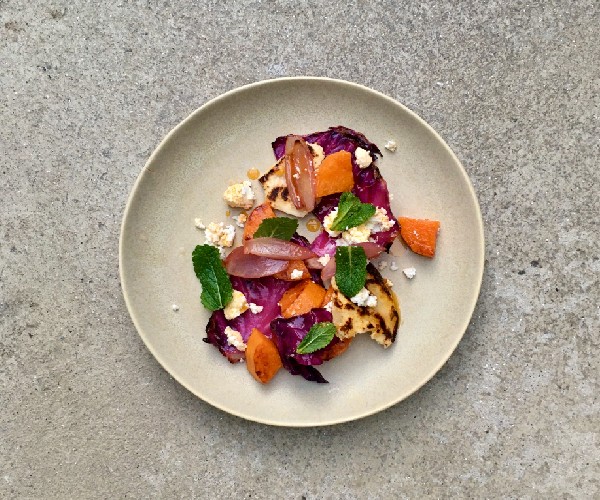 Serving a starter of beetroot shards, raspberries and the lightest of nan breads, on a simple white tile links the dish to its environment. After all, Porto is a city of millions of azulejo tiles.
M.Ou.Co Hotel
Quite simply, M.Ou.Co has to be the coolest place to stay in Porto. Just a short walk from Campanha railway station, it is perfectly located for those arriving in Porto by train. On the footprint of a former factory, M.Ou.Co's rooms are large. Even standard rooms have a kitchenette.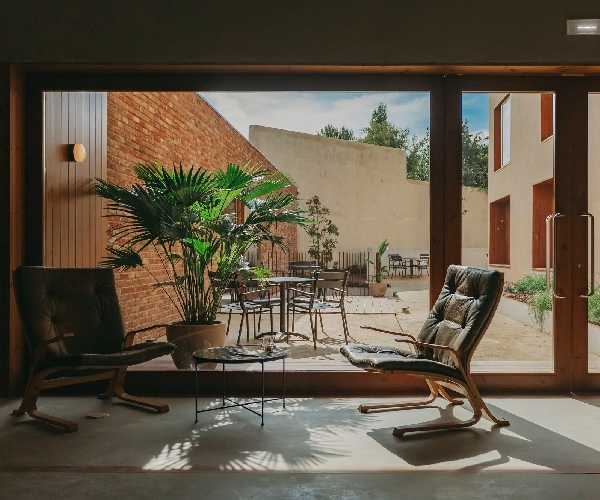 M.Ou.Co means "music and everything". The hotel has a large performance area for everything from classical recitals through Indie to children's music workshops.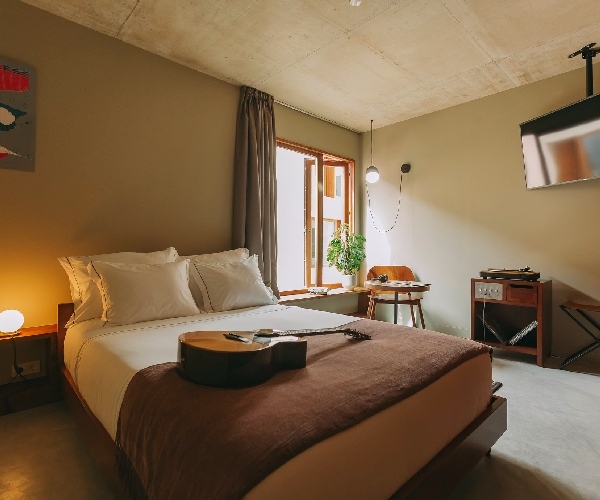 Every room features a record-player. Guests can borrow records and books from the hotel's music library. In addition, M.Ou.Co has music rehearsal rooms with musicians able to hire guitars and keyboards from reception. No surprise then that the exposed brick bar hosts DJ nights too.
Fado
An evening of fado is an essential part of the Porto experience. Originally, fado was the melancholic songs that women sang when their men were absent at sea.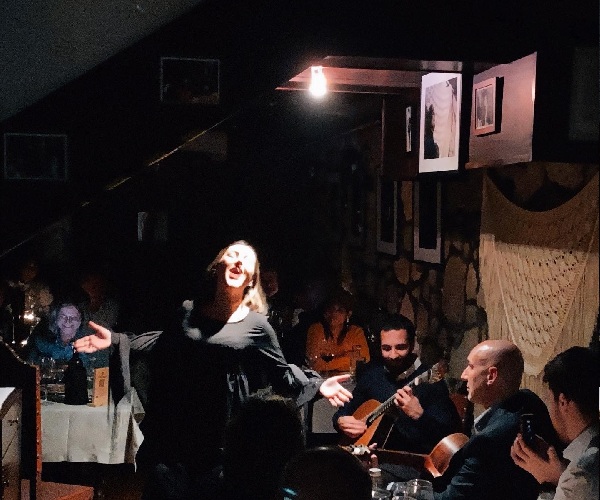 Fado literally translates as fate. At the Casa das Marinquinhas, in the shadow of Porto's Cathedral, fado has been sung in this intimate venue since 1968. Whilst guests enjoy their meal, the lights dim and the fado is sung. The fadistas are accompanied simply by acoustic guitars. A tear shaped guitarra is the classic instrument of fado. Casa das Mariquinhas follows a traditional format of four sets with male and female singers alternating.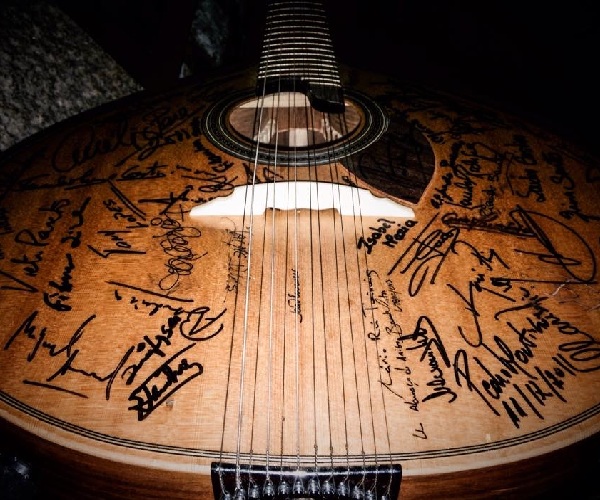 ---
IMPORTANT NOTICE:
If you are reading this article anywhere other than on A Luxury Travel Blog, then the chances are that this content has been stolen without permission.
Please make a note of the web address above and contact A Luxury Travel Blog to advise them of this issue.
Thank you for your help in combatting content theft.
---
A visit to Fado na Baixa, which offers a daily performance at 6 o'clock, with port, provides a history of Fado.
A trip to the Douro Valley
Porto is the gateway to the Douro Valley. Ships depart from Porto for a cruise through the Douro for a day, a few days or a week. Alternatively, visitors can book a day trip with Douro First Tours. Collected from their hotel, travellers are then driven east into the vine terraced Douro Valley.
A "Portuguese breakfast" of wine dipped in home-produced olive oil is taken at Quinta d'Oreans, followed by wine and port tasting. There is a look of Tuscany to the vines and olive trees covering the hillsides of an estate that the Moreira family has tended since the 18th century.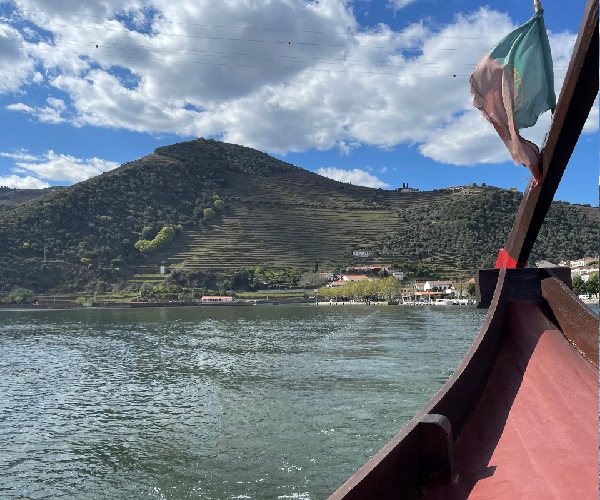 The Douro First Tour continues with spectacular river views on the way to lunch and then a Rabelo boat cruise. Heading back to Porto, the route curves along the N222, often called "The Most Beautiful Road in the World."
Porto's beaches
There are few cities in the world where, on the metro system, you see flip-flops next to stilettos and surf boards alongside briefcases. The metro takes travellers out to Porto's sandy beaches washed by the Atlantic.