Celebrate the Queen's Platinum Jubilee in Jersey
By Paul Johnson on Mar 29, 2022 in Accommodation, Attractions, Europe, Events, Going Out, Hotels, Leisure Travel, Regions, Speciality Travel, Travel Miscellany, United Kingdom, Western Europe
Jersey is the crown jewel in the English Channel and the sunniest spot in the British Isles, so where better to celebrate the Queen's Platinum Jubilee this June bank holiday weekend? June in Jersey is all about feeling the sand between your toes and embracing Jersey's curiously Brit…(ish) culture. Visitors can raise a glass to the Queen, who's also a Jersey Duke (!), at La Mare Wine Estate – the most southerly vineyard in the British Isles, take high tea on the high street, or place bets at Les Landes Racecourse as the sun sinks over the English Channel.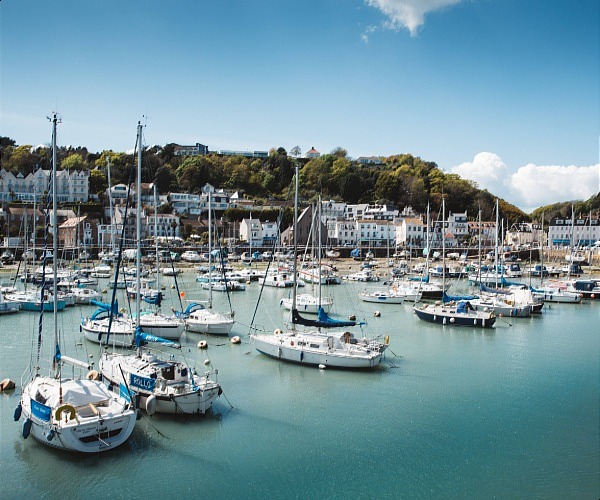 Stay: The Moorings Hotel and Restaurant
New to Jersey and the first island hotel to be listed on Mr & Mrs Smith, The Moorings brings together coast, countryside, and fine cuisine – all in the setting of a charming harbour village below a castle.
This 'restaurant with rooms' is a feast for the eyes and appetite, with its Gallic-flavoured fare, signature cocktails (barrel-aged negronis and Moorings Campari spritz are not to be missed), and a celebration of bonhomie that begins with aperitifs at the bar and culminates in nightcaps after dinner. Featuring cosy, luxe rooms and the addition of owners Matthew and Iselin's local knowledge, guests will be able to effortlessly maximise their time during a short stay. Located on Gorey Pier on the island's scenic east coast means beaches, Mont Orgueil Castle and cliff-top walks are nearby. Prices start from £145 per night.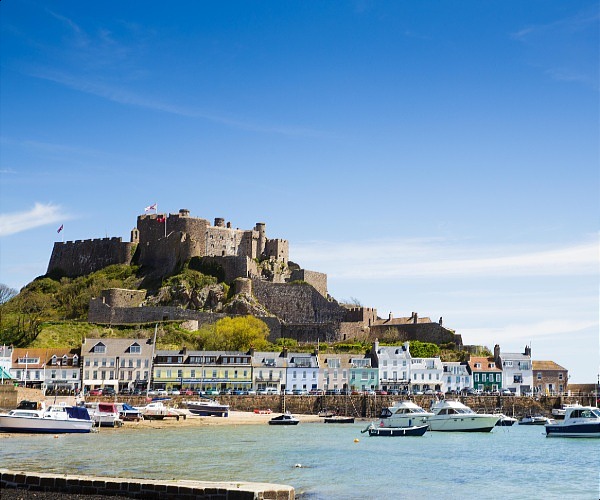 Jubilee events
Queen's Platinum Jubilee Beacon
To kick off the merry making, Jersey will take part in the Queen's Platinum Jubilee Beacons initiative, a coordinated national programme. The exuberant event will host live music, food and entertainment leading up to the lighting of a virtual beacon. Musical Originals will see a choir of 60 island primary school children singing the 'Song for the Commonwealth' as part of the ceremony. The celebration will be held on Glacis Field (south of Fort Regent), looking towards Elizabeth Castle which was named after Queen Elizabeth I in 1600. From 6pm on Thursday 2nd June; free entry
Jersey International Motoring Festival Pageant
For motor enthusiasts, Jersey's International Motoring Festival – held on the island's stunning south coast – is not to be missed. One of the largest motoring events in the Channel Islands, The Rubis Jersey International Motoring Festival sees competitive sprint and hill climbs for classic & vintage cars and motorcycles.
To commemorate the Queen's Jubilee, a pageant will take place, including a formal march from all uniformed organisations in Jersey followed by a vehicle procession representing the seven decades of the Queen's reign. Taking place along the scenic St. Helier waterfront, the event provides the perfect opportunity to wander around Jersey's main harbour or head inland to fuel up at Central and Beresford Street Market, where visitors can taste some of Jersey's delicious local produce and island classics. Don't miss La Bouche, a casual restaurant helmed by chef James Boothman, who recently appeared on the new Jamie Oliver series the 'Great Cookbook Challenge'. Pageant: 11am on Friday 3rd June; free entry
The Queen's Hat
Visitors should bring their fanciest hats and dress to impress for a grand picnic at Elizabeth Castle. The celebration, hosted by Jersey Heritage, welcomes guests to bring a picnic and spend the day at one of Jersey's oldest castles, which has defended the island for more than 400 years. Take in the breathtaking views of the south coast bay and stroll along the causeway at low tide for a festive family day out. From 10am on Saturday 4th June; free entry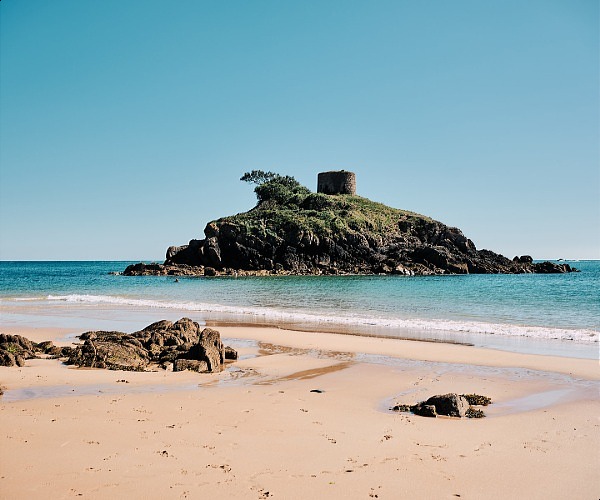 High Tea on The High Street
For a royal high tea experience, visitors can raise a glass with island locals for High Tea on the High Street. Here, a festive table will run the length of King Street, taking the jubilant afternoon tea to a giant scale. The commemorative high tea celebrations will feature live music, themed decorations, and afternoon tea for all. Tables will be available for purchase in the coming weeks. 12:00 on Sunday 5th June; booking required
Platinum Jubilee Race Meeting
Place bets at the Platinum Jubilee Race Meeting, which will be held at Les Landes Racecourse in St. Ouen, a picturesque coastal area in the northwest corner of the island. Whether or not you choose to take a gamble, the uninterrupted views over the historic ruins of Grosnez Castle (and the neighbouring islands of Guernsey, Sark, and Herm) are a sure winner. 2.30pm on Sunday 5th June; from £15 booking required