Lusaka, Zambia… what, why and where
By Sarah Kingdom on Mar 31, 2022 in Accommodation, Africa, Hotels, Regions, Resorts, Zambia
Zambia is one of the most beautiful, friendly, diverse and unspoilt countries on the African continent. For most travelers Zambia is best known as home to the majestic Victoria Falls and its many sensational National Parks, some of the best in Africa, and a great place to go on safari. But, to get to most of these destinations you'll need to pass through Lusaka. Too often travelers skip over the capital of this African country, and while Lusaka may not seem like the most fantastic of Africa destinations, it's worth digging a little deeper and spending a little time here.
As Zambia's capital, Lusaka is also the largest city in the country and one of the fastest developing cities in southern Africa. The city plays host to the country's commercial and government hubs, and is the starting point for the country's four major highways, each stemming out towards the country's borders. With its central position and rapid urban development, Lusaka is a melting pot of cultures, colors and community.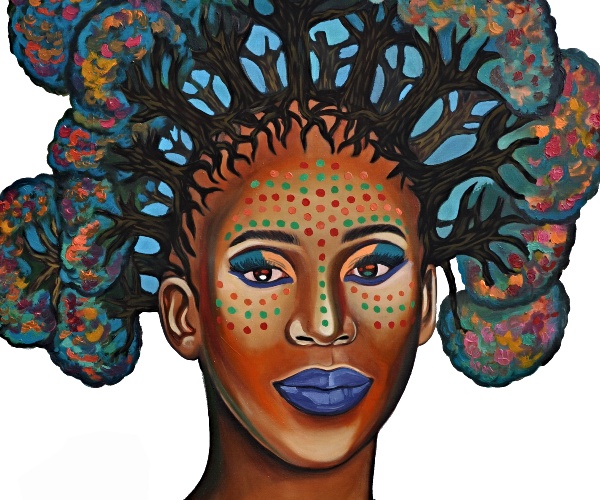 Where to stay
Ciêla Resort and Spa, a Tribute Portfolio
Handy for the airport, 11km away, and offering discounted 'day use' rooms for people flying out, Ciêla Resort and Spa is away from the chaos that can be Lusaka. This is a contemporary 249 room designer hotel, set in a scenic 100 hectare estate just outside Lusaka.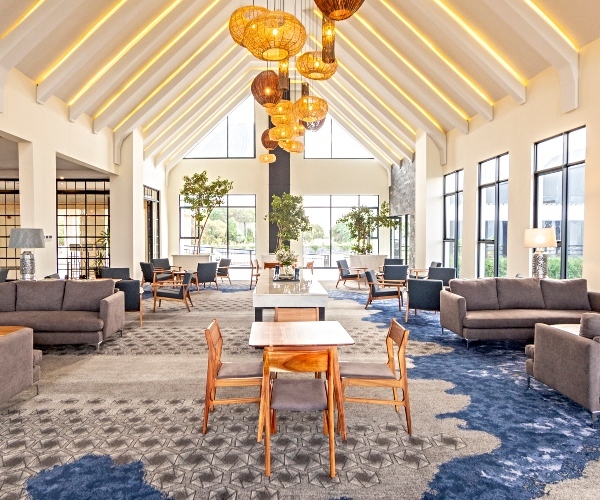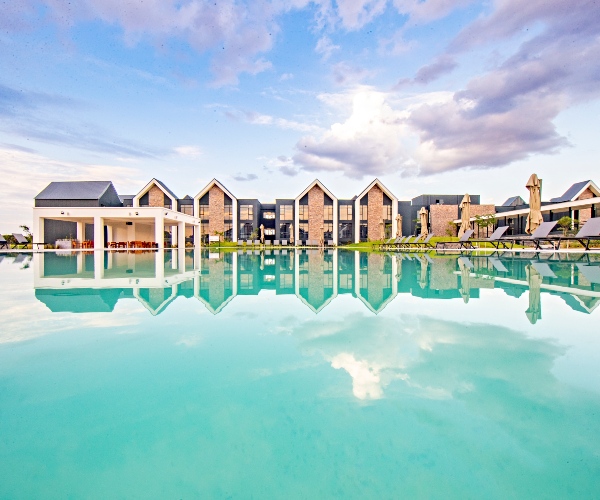 The property includes an 18-hole golf course designed by Peter Matkovich (who started as a pro on the European and South African tours, before switching to course design in the 90s). For non-golfers the resort also boasts a luxury spa, and I can definitely attest that you'll come out rejuvenated, both body and mind, if you indulge in one of their terrific treatments. From body wraps and scrubs, to massages, facials, manicures, steam room and plunge pool, and more, the spa has everything you can think of… and what better way to relax after a massage than with a glass of wine and fruit platter.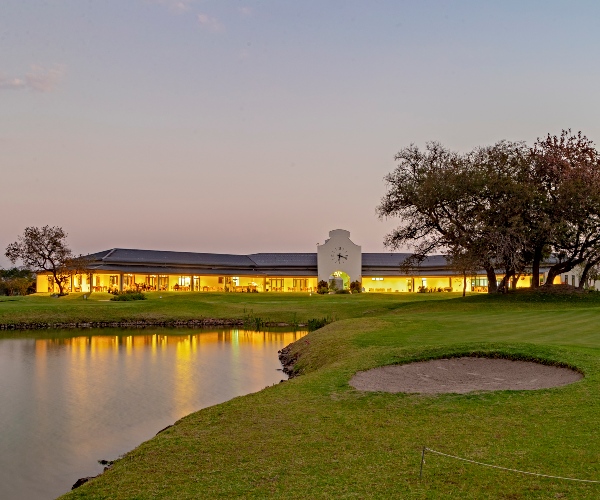 A definite highlight at Ciêla is the absolutely amazing food of Chef Sungani Phiri, served in his restaurant Botanica. This is world class fine dining, but what gives it that little something extra, is his ingenious way of incorporating traditional Zambian ingredients with world class culinary ideas. This is the best food I've ever eaten in Zambia.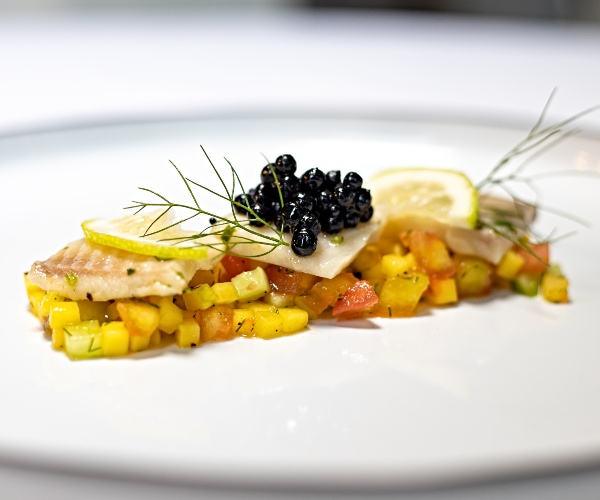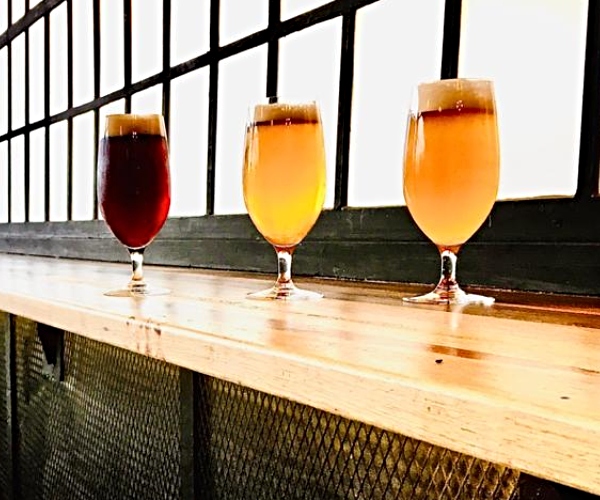 Another 'must experience' at Ciêla is The Brewery, pub and restaurant. With over 20 years' experience in the brewing, wine and spirit industries, brewery manager Brad Dinner has created craft beers that are rapidly becoming popular in the Zambian market. Now, I'm not a beer drinker normally, but a sit down, a chat, and tasting with Brad, of his Premium Lager, Pilsner and Dark Lager definitely had me converted! And he's just launched a Pale Ale as well, which I may just have to go back and taste!
Lilayi Lodge
On the opposite side of town and situated just outside the hustle and bustle of Lusaka, is the lovely oasis of Lilayi Lodge. There are only 12 spacious chalets here (10 deluxe and 2 family), nestled amongst 650 hectares of bush and grassland, home to a wide variety of wildlife (including giraffe, roan antelope, Lichenstein's hartebeest, and tsessebe), many of whom you will spot grazing right on your doorstep! We stayed here with friends over New Year's Eve and took a wildlife walk with all the kids the next morning (while their actual parents slept in!), and much fun was had. There are walking/running trails ranging from 2.5km up to 10km should the fancy take you, and no visit would be complete without a game drive, led by one of the lodge's knowledgeable guides.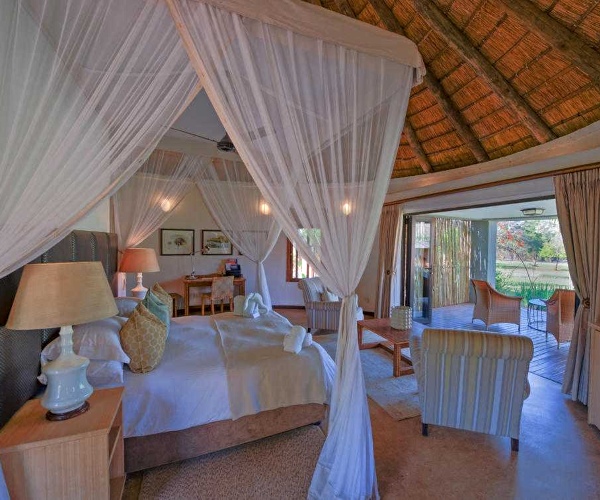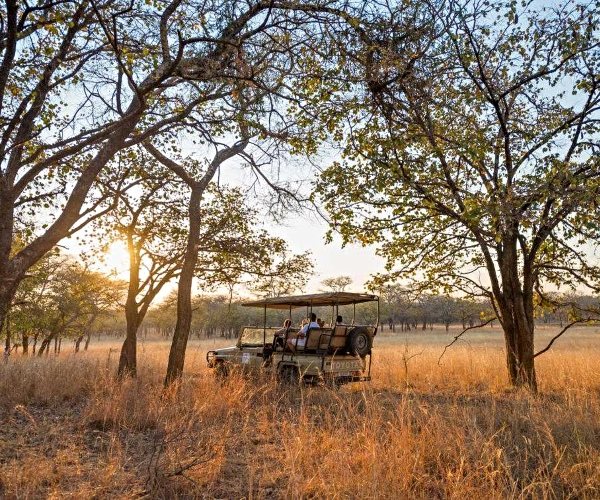 Dining at Lilayi is a fusion of African and contemporary, with an emphasis on local ingredients, especially incorporating venison from the game farm. With an in house wine cellar of over 120 wines you won't have a problem finding something suitable to accompany your dinner, and if you are looking for something a little different perhaps try the Lilayi Wine Tasting Experience, with wine tasting and food pairings.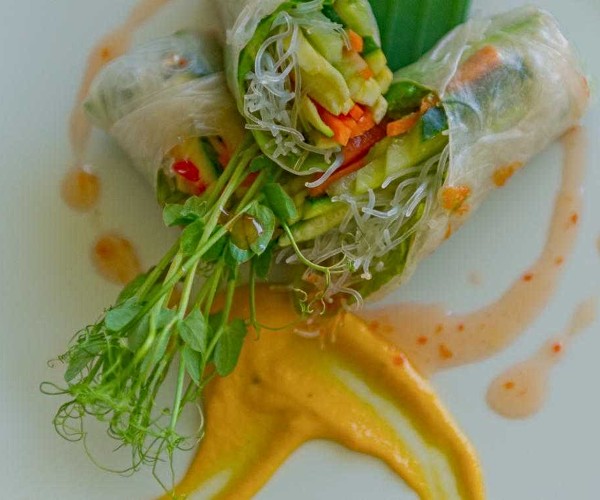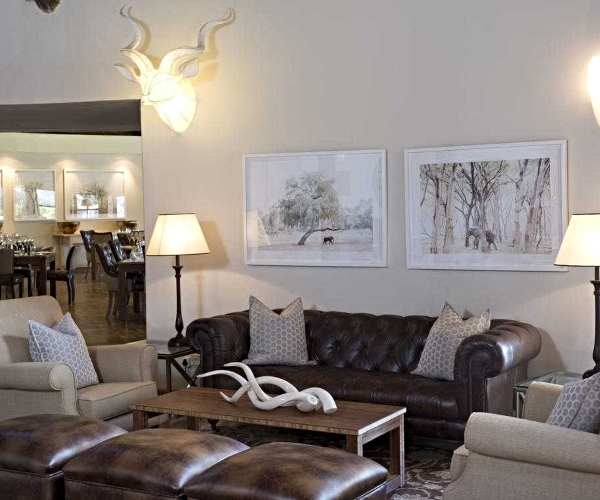 Something else that's kept us coming back to Lilayi for many years is the Elephant Orphanage, (currently housed within the property, but scheduled to move later in 2022). Run by Game Rangers International the elephant orphanage at Lilayi is the first port of call for any orphan elephant rescued anywhere in Zambia, and its here that these fragile babies are looked after twenty four hours a day by dedicated keepers (a milk dependant orphan requires bottle feeding every three hours!). You can witness 'feeding time' for yourself and learn about the programme by calling in at the orphanage during your stay.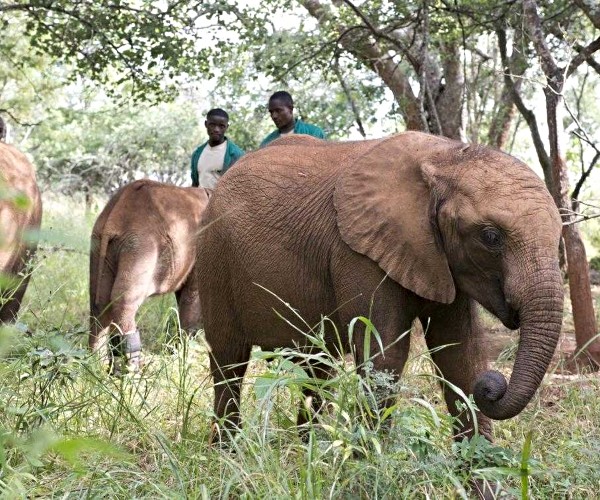 Latitude 15°
Set amidst tree-lined avenues in the south-east corner of Lusaka, only 20 minutes from the city center is Latitude 15°. With 32 guest rooms and two self-contained suites, plus a restaurant, bar, lounge and poolside terrace, this is a great hotel that seamlessly blends modern Africa with a cosmopolitan twist. Stylish furnishings combine with original and bespoke artwork to generate a really funky vibe, and the hotel attracts an eclectic mix of people, locals and visitors alike.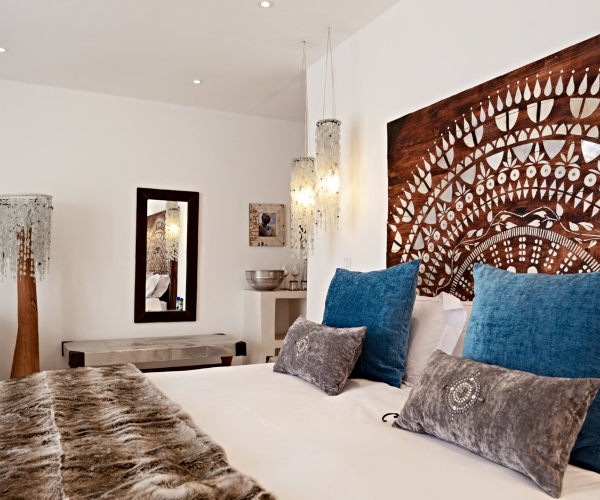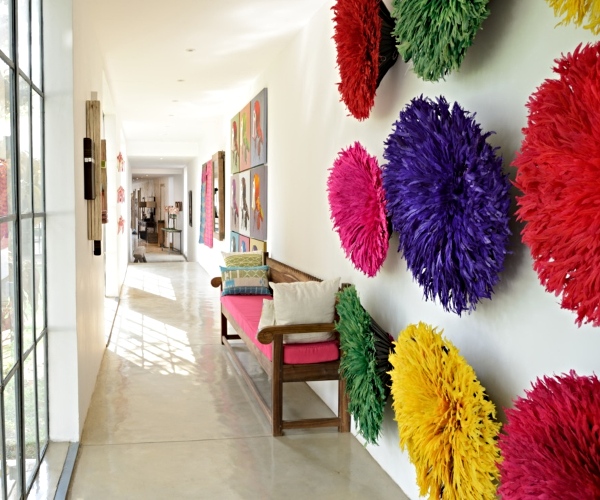 Latitude 15° also offers a private members' club, The Other Side, which offers hotel guests and members, a separate dining, drinking and socialising spot, as well as a heated pool, spa and gym. For those travelling for work the hotel has created a contemporary set of work spaces, available on short or long term usage, perfect if you have work to finish off or some meetings you want to hold, but need something a little more professional, a little more 'cool', than your room or hotel lobby.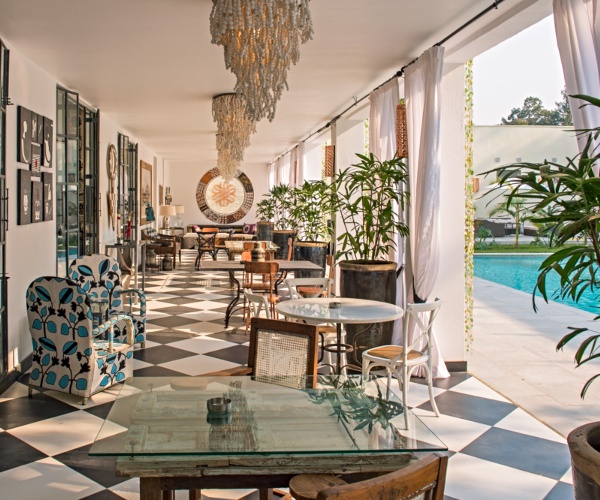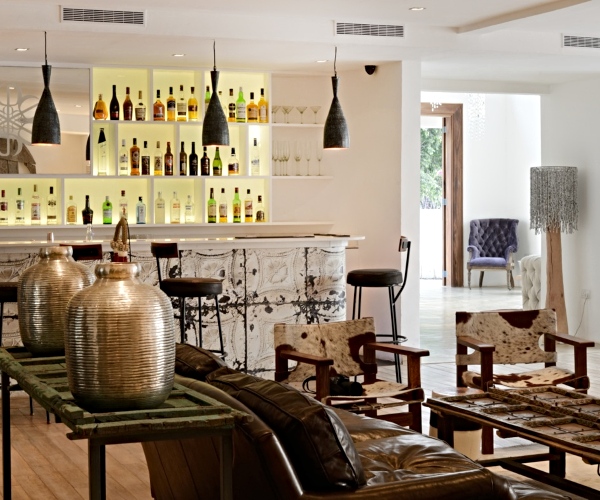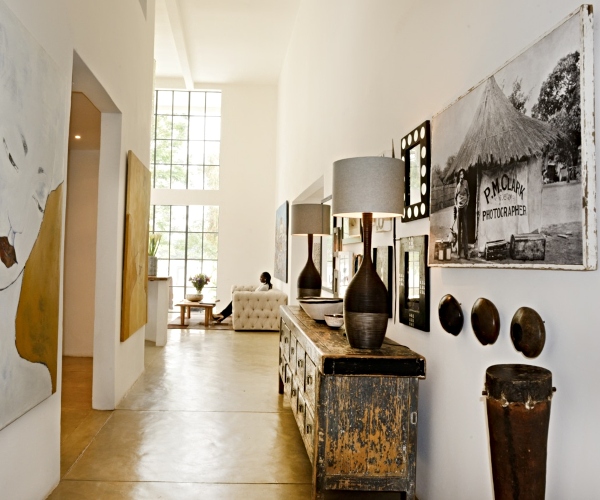 Cocktails by the pool, sharing dishes at The Other Side or a candle lit dinner under the trees at the main restaurant, the food here is international and delicious (and the fish tacos in particular are outstanding!), and both restaurants have an impressively long South African and European wine-list. A word of caution… don't fill up too much on dinner, because come breakfast time, the sheer variety and quantity of delicious things on offer will have you wishing you had space for more!
Radisson Blu
Whether you're in Lusaka for work, perhaps a conference, or even heading out on safari, the 142 roomed Radisson Blu, is centrally located and well positioned for getting around Lusaka. The hotel is walking distance to two of Lusaka's main shopping centers, which also host several places to eat, as well as local craft markets on weekends, in case you fancy picking up some local souvenirs or artworks to take home.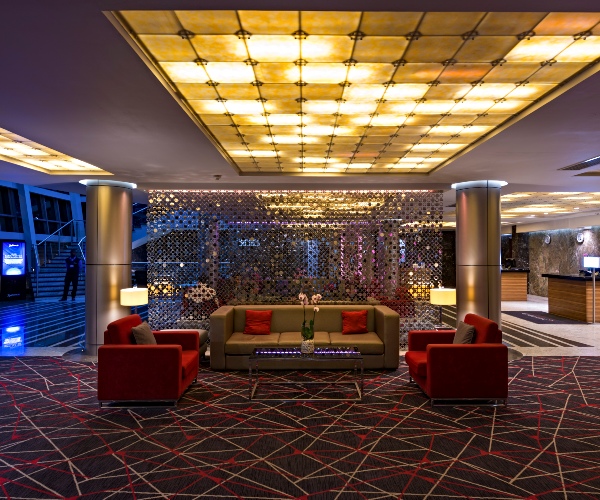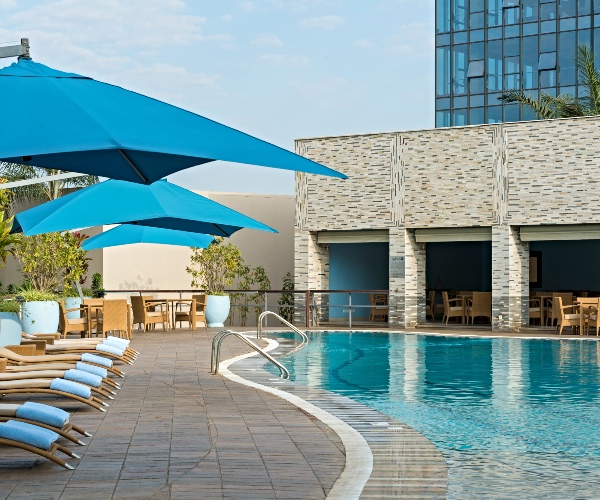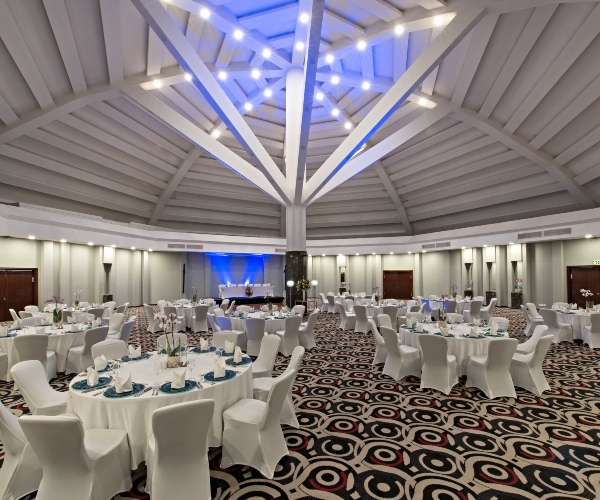 With its various meeting and conference rooms (they even have a conference coordinator) this is the perfect hotel if you are in Lusaka on business, and after your work day is done, relaxing with a drink by the outdoor pool, or perhaps in the jet tub in your bathroom, is a good option. This is also the ideal place for large groups travelling together. On my last stay an entire Libyan football team, complete with players, coaches and support staff, were staying in the hotel and the logistics of their stay, from meals to transport to and from matches, seemed to be pretty seamlessly handled by the hotel staff, who I must say are some of the friendliest and most helpful hotel staff I've met for a while.
What to see
Whilst there are several sites and suggestions that feature regularly on the list of things 'to do' in Lusaka… think museums, monuments and markets, I don't find most of these all that exciting or interesting. If you want to scratch beyond the surface though and get a real feel for Zambia there are a couple of innovative things I'd like to suggest, particularly for those travelers who want a deeper connection and understanding of Zambia.
In&Out of the Ghetto
In&Out of the Ghetto is a small non-profit organisation based in Bauleni Compound (township) on the outskirts of Lusaka, whose aim is to empower youth and encourage them to take an active role in the development of their community.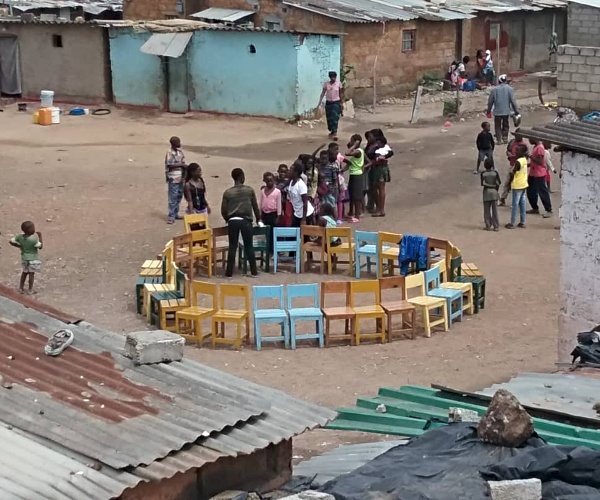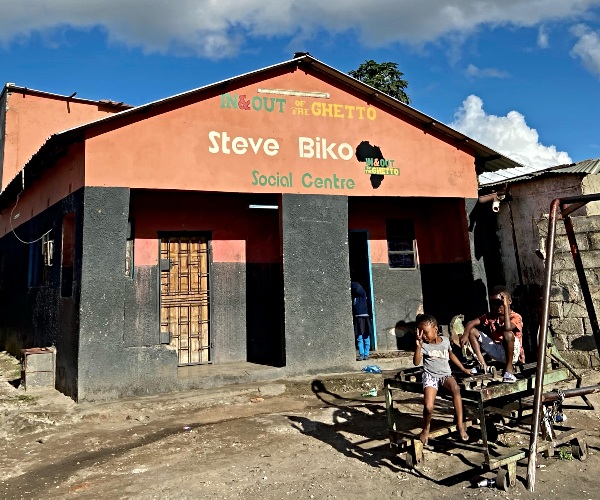 If you are looking for a 'no filter' experience of 'real Africa' rather than some choreographed 'cultural tour' then consider signing up for a tour of Bauleni Compund with In&Out. This is a 2 hour walking tour that will give you some real insight into the historical, cultural and social background of a traditional Zambian compound. This is not a sightseeing tourist trip for 'entertainment', but rather a respectful approach to the realities of life in the compound, a way of raising awareness of everyday living conditions, and an attempt to remove invisible the barriers that exist between us. Included in the itinerary are the local markets (the beating heart of the compound), the small local clinic (the only public health center serving the approx 80,000 people who live in Bauleni), and the government basic school. You'll also see for yourself the local bars and nightlife area, and get some insight into how alcohol and drug related problems are hampering local resident's lives. But all is not doom and gloom, your visit includes calling in at the community center established by In&Out where you'll see the how the library, fledgling computer room, after school activity center and more are bringing positive changes to people's lives.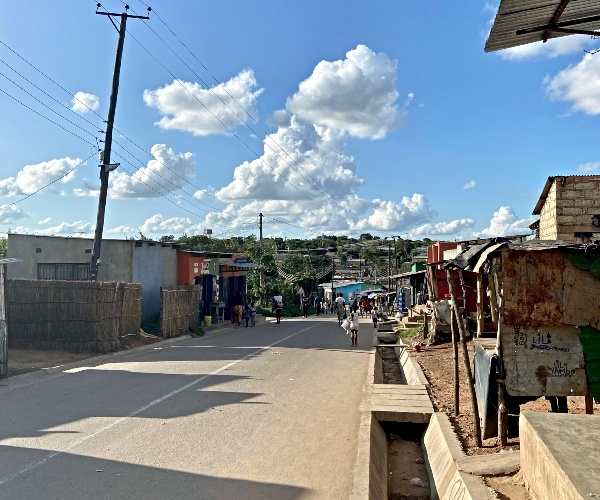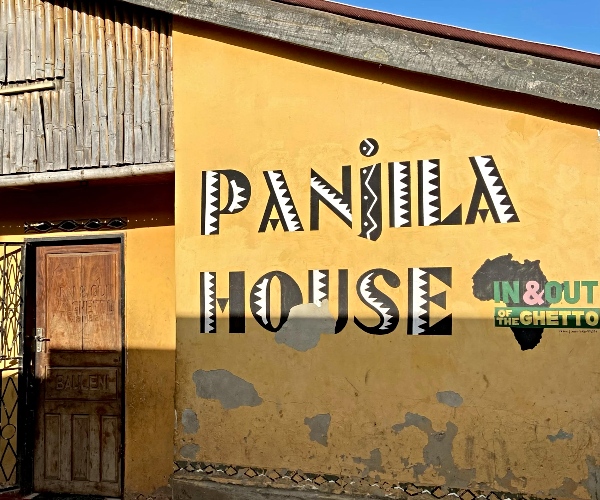 An afternoon spent here will give you an experience of real Zambia, and the proceeds raised by the tours are used to support In&Out's projects. (Those looking to really immerse themselves might like to consider staying in the In&Out guesthouse, Panjila House, for a night or two).
Lusaka Collective
What holiday would be complete without shopping for a few mementos to take home? Again you can shop in any number of places in Lusaka for your souvenirs, but I'd like to suggest you try the Lusaka Collective. Founded by friends and business partners, Rosanne and Talitha, this is more than just a 'shop', this is a Collective in the true sense of the word, with a social conscience and commitment that aims to support small local businesses, independent makers, and promote the best of Zambian design.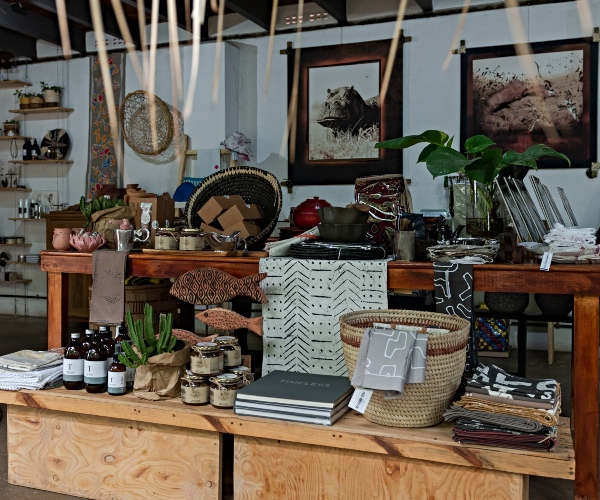 The Collective's goal is to work with grass root producers, with an emphasis on community outreach. The majority of the artists and artisans are women, and 75% of sales' proceeds goes directly back to these producers. The Collective is a positive and creative space, focussed on uniting and supporting Zambian artisans, and its story is one of opportunity, collaboration, and empowerment. Each item in the store tells of the culture and customs of Zambia and all products on sale are proudly Zambian. The goal of the Collective is to find the best and most creative artists and artisans from across the country, bringing them together in one beautifully curated location. The Collective is creating positive change in marginalised communities, by promoting ethical practices, including fair wages, safe working conditions and heritage preservation.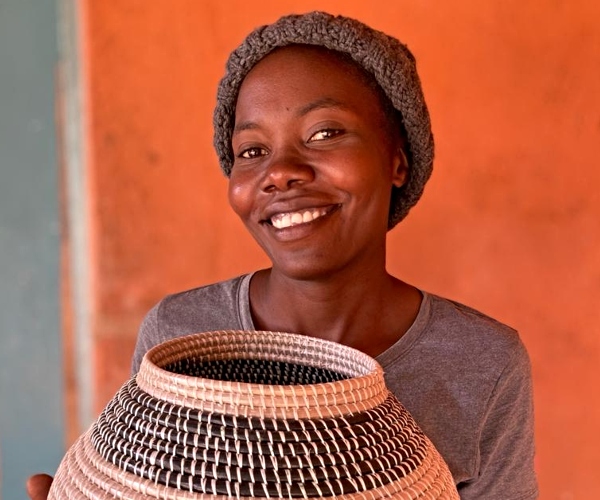 Ceramics, textiles, woven baskets, visual arts, jewellery and more, you'll find the perfect memento of your trip to Zambia here, as well as stylish and practical items for your home, or the perfect gift for someone you love. (They also offer national and international shipping if you want to buy something that just won't seem to fit in your suitcase).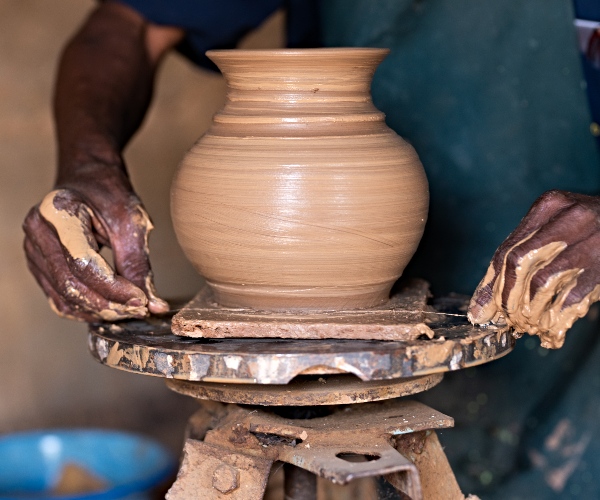 Located within the hustle and bustle of one of Lusaka's small markets, the Lusaka Collective is not just for shopping, you can also stop in for some great local coffee and a bite to eat. Just outside the Collective's doors you'll find some colourful street art, a newly introduced recycling project and an innovative bio-digester that aims to convert organic waste from the local market into gas to fuel the nearby government school's canteen and science labs.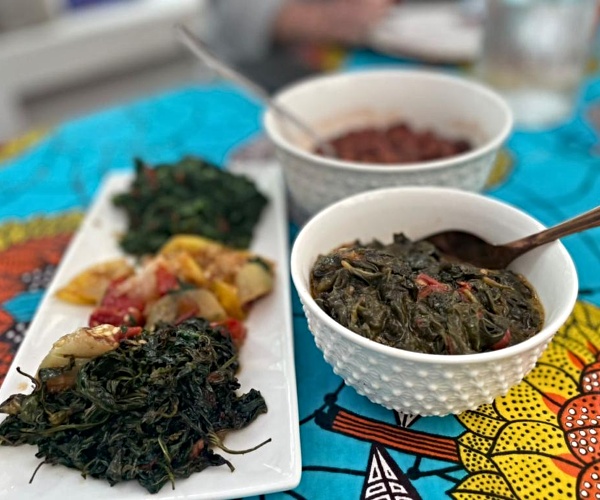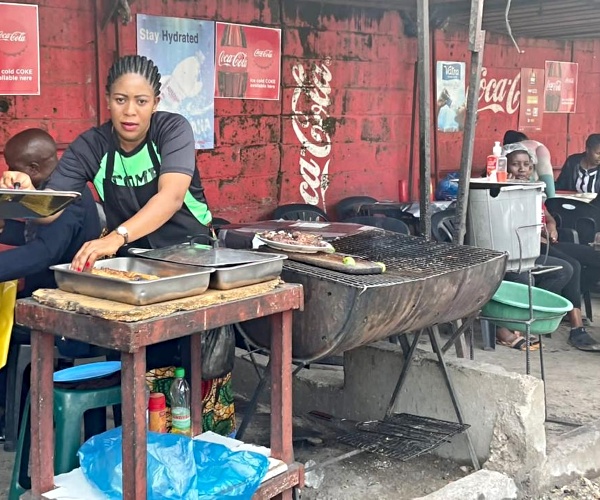 Travel is all about adventure and that includes trying out new foods! Zambia has a colourful collection of delicious local dishes that truly need to be experienced. The market around the Collective is home to an array of traditional Zambian street food vendors. You can eat at the stalls themselves, or ask to have your food delivered within the Collective's premises if you feel more comfortable eating there.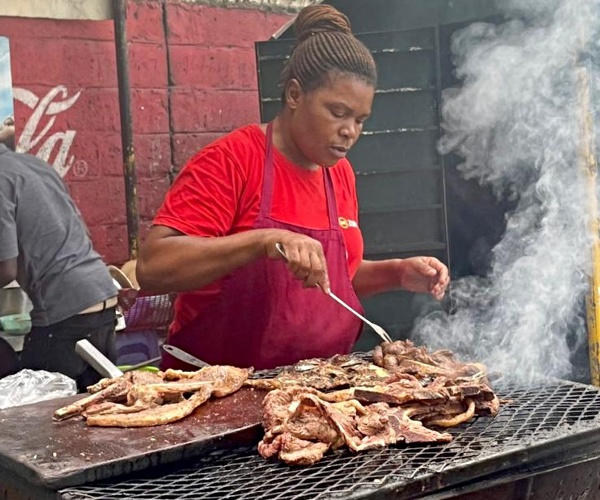 All in all the Lusaka Collective is somewhere that should definitely be on your Lusaka itinerary.
Iconic African Gin
What better way to round off your time exploring Lusaka than with the perfect sundowner, a Gin & Tonic. And what better gin to use than one handcrafted and manufactured in Zambia, and infused with the very flavour and essence of the country. Infused with 21 botanicals, the roots, herbs and berries of Africa, 12 of which are collected right here in Zambia, including baobab, mpundu and water berry fruits, as well as the God of the Wind (Aeollanthus suaveolens), known for its essential oils, and traditionally used for digestive problems and Perfumed Bush (Myrothamnus flabellifolius), sometimes called the resurrection plant, as its leaves dry up in winter and the plant appears dead, but then it springs back to life within hours of the first shower of rain… much like you'll do with your first sip of Iconic African Gin after a hard day's sightseeing and shopping in Lusaka!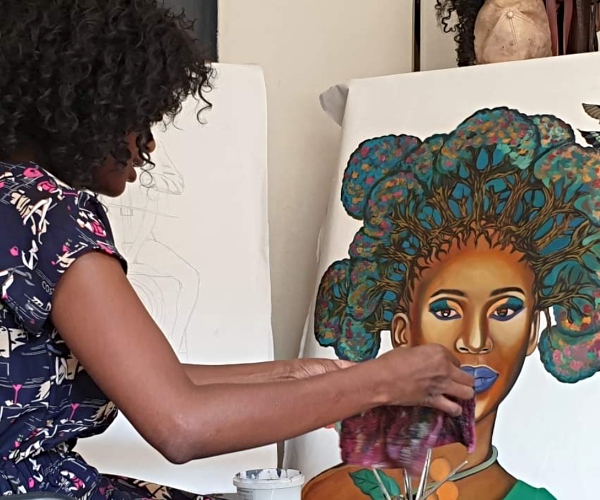 In a fitting touch the 'lady on the bottle', the beautiful woman who graces the bottle of Iconic African Gin, was painted by local Zambian artist Nukwase Tembo. Her 'forest hair' symbolises the source of the botanicals used in the gin, her clothes, make-up and the leaves are painted using Zambia's national colours, and if you look closely are her eyes, you will see that one (the right) is done using the colours of Zambia and the other (the left) is done using the colours of Switzerland, the original home of Nathaly and Gue, the gin's creators, all symbolising the company motto "Handcrafted with Zambian Passion and Swiss Precision".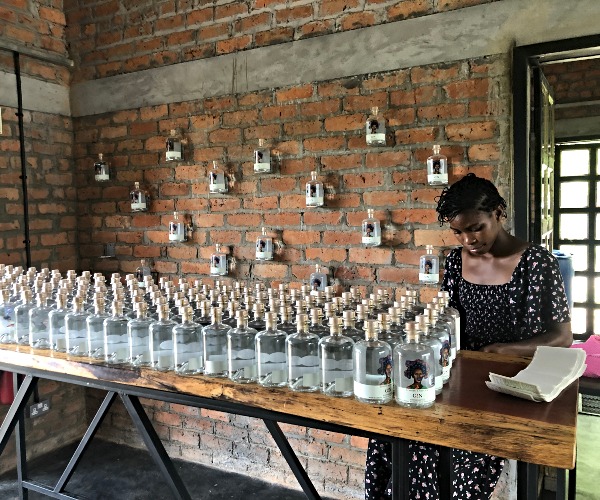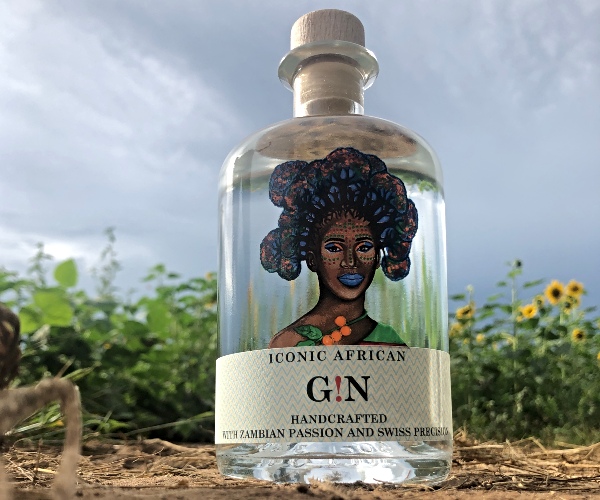 If a gin and tonic is not your thing, how about a refreshing alternative, a Tom Collins…
60ml Iconic African Gin
30ml lemon juice
15ml sugar syrup (1:1)
Ice
Top it up with sparkling water and a slice of lemon or perhaps a maraschino cherry.
There's an African proverb that goes something like this… "If you drink from a source, you'll always come back"… so hopefully, if you finish exploring Lusaka with a Gin & Tonic (or Tom Collins) in hand (BTW the aforementioned Radisson hotel serves Iconic African Gin at the bar!), you'll return to visit Lusaka again, and with a bit of luck even venture further afield.