Discover the 5 best hotels in Fiji
By Guido Graf on Mar 07, 2022 in Accommodation, Fiji, Hotels, Oceania, Regions, Resorts
The crystal-clear water and volcanic peaks make Fiji a spectacular place to visit. The five-star resorts are some of the best globally, so it's no surprise that people flock to Fiji for their holidays. The beaches in Fiji are also some of the best in the world, and at these resorts, you can enjoy plenty of luxury as well.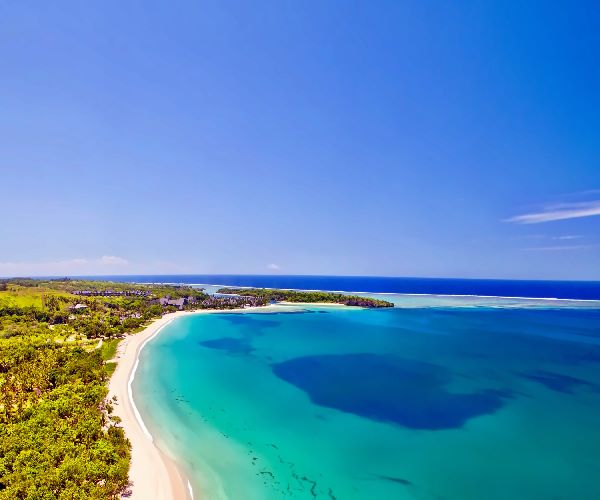 InterContinental Fiji Golf Resort and Spa
If you're looking for a luxurious and relaxing escape, look no further than the InterContinental Fiji Golf Resort and Spa. This resort is on Natadola Beach on Viti Levu, Fiji's main island. It also offers guests stunning ocean views and an authentic Fijian experience. Swim and snorkel in the clear blue waters, relax on the white sand beach or take in the breathtaking scenery. The choice is yours!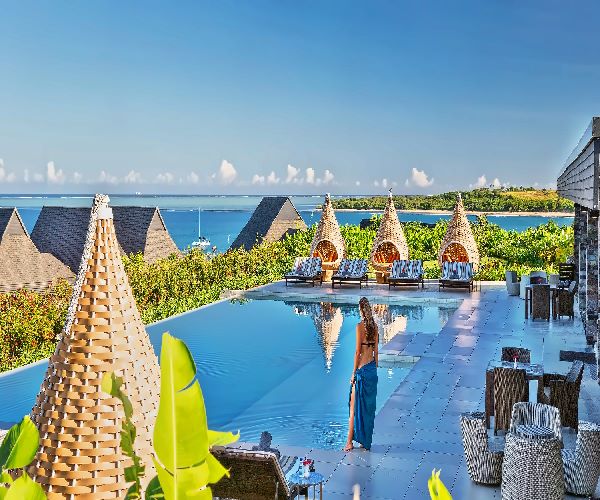 Moreover, there are 266 guest rooms, each with exotic gardens and stunning views of Natadola Bay. Plus, the resort has a sugar cane train that passes by. Perfect for a fun day out.
Plus, there's no need to venture far from the property if you're in the mood for some cultural or recreational fun. Besides, the drive from Nadi International Airport will have you immersed in all the excitement.
The gym and fitness center are available 24/7. And don't forget about Spa InterContinental. This is where you can enjoy some relaxing treatments with plants and herbs that have been used for healing for generations.
The resort also offers an exciting array of dining experiences. Enjoy dining with a view of the sparkling ocean to relaxing open-air beachside alternatives. Furthermore, there are a lot of activities, including four pools and a beach activity center. It's perfect for people who love the outdoors.
Como Laucala Island
Como Laucala Island is the South Sea archipelago's hidden paradise. Here, days are spent in the sun and water, with outdoor living a way of life. This luxurious escape is lost among the pristine South Seas and soaring mountains.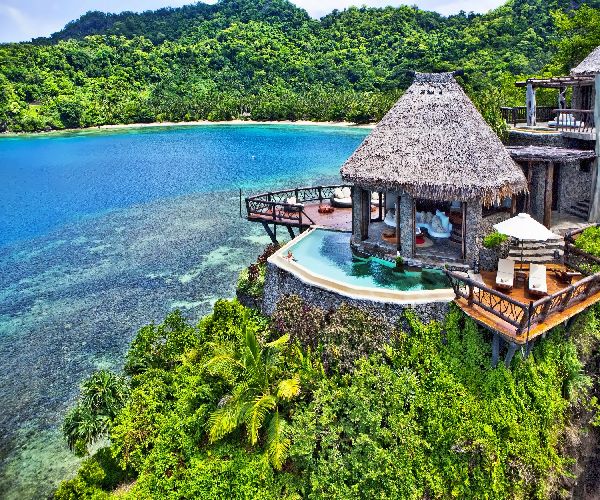 This island resort is the perfect place to get away from it all. Dietrich Mateschitz, the founder of Red Bull, ensured that the privacy here is top-notch. So if you're looking for some peace and quiet, this is the place for you.
As you explore Laucala Island's villas, you'll find that each one is unique in its location and style. Whether perched atop a hill, in the heart of a coconut plantation, or out over the lagoon on stilts, every villa has been designed for natural light and stunning views. And with island decor in warm earth tones, each one also features a touch of color to make it memorable.
Fine dining simple, elegant, private villas await you on the Fiji island of Luacala. Enjoy the sandy beaches calm, clear azure waters of the South Sea while relaxing on your private beach or deck.
Dive into the crystal-clear waters, and enjoy a variety of delicious seafood straight from the ocean. Then, indulge in a slice of paradise. With its lush tropical landscapes and peaceful atmosphere, this resort is the perfect place to relax and rejuvenate your mind, body, and soul.
---
IMPORTANT NOTICE:
If you are reading this article anywhere other than on A Luxury Travel Blog, then the chances are that this content has been stolen without permission.
Please make a note of the web address above and contact A Luxury Travel Blog to advise them of this issue.
Thank you for your help in combatting content theft.
---
Kokomo Private Island
Kokomo Private Island is the perfect place to escape the hustle and bustle of everyday life. With plenty of space to relax and unwind, you can do as much (or as little) as you please.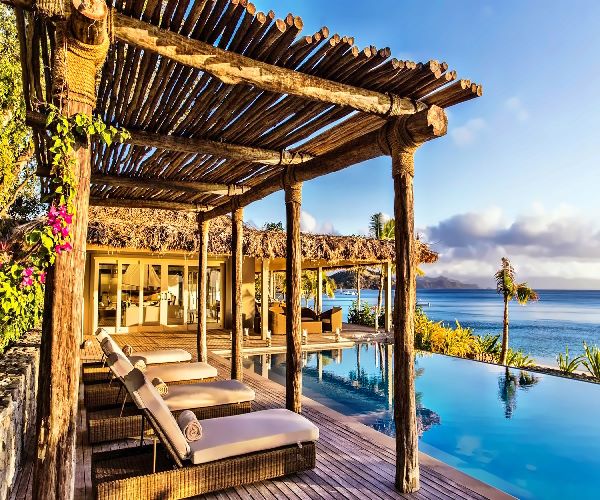 Moreover, the Great Astrolabe Reef is the perfect place to relax and take in the island's stunning natural beauty. This unspoiled paradise is a haven for scuba divers and snorkelers. So whether you're here for a few days or a few weeks, the island is your home away from home.
The accommodations are also perfect for couples, families, and solo travelers alike. So whether you're looking for a quiet spot to relax or a fun getaway, Kokomo has everything you need to make your vacation dreams a reality.
Additionally, the resort strives to set the new standard in Fijian cuisine. The fresh and locally sourced produce is transformed into decadent gourmet meals. So, you can indulge your senses in all the beauty this island has to offer.
Furthermore, you can enjoy the beachfront, poolside, and destination views all day long. And when you get hungry, the in-villa dining service will take care of you. They have a new menu every day, and it's full of delicious Fiji flavors.
Whether you're looking to enjoy some peace and quiet or explore all that the island has to offer, Kokomo Private Island is the perfect place to relax and recharge.
Wakaya Club & Spa
For a place to let loose and have some fun, the Wakaya Club is the perfect spot. With its state-of-the-art facilities and professional staff, they'll ensure that you'll have a great time. So whether you're looking for a place to relax or to party hard, this is the place to be.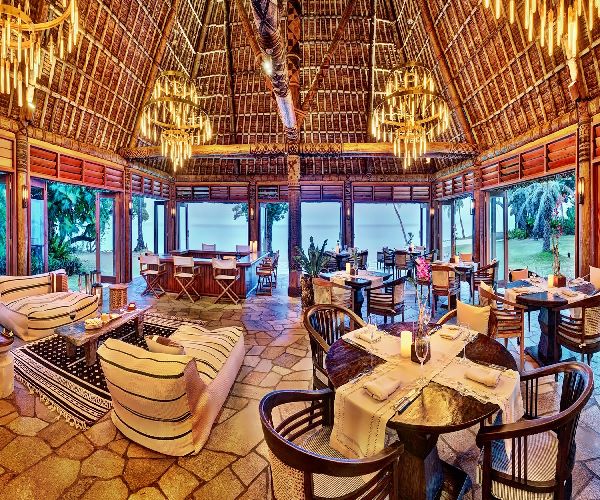 The private beach picnics, golf, couple's spa treatments, and more are sure to please. Not to mention the attention to detail and barefoot elegance – perfect for a romantic retreat.
Moreover, Wakaya is one of the best spots in the South Pacific for foodies. Everything is locally sourced, so you know the ingredients are fresh. Plus, there's lots of variety – whether you're in the mood for seafood, meat, or produce.
Wakaya Club & Spa has everything you need. You can enjoy the beach, the forest, and the sea or participate in some fun activities like golf or tennis. No matter what you're into, the resort has something for you.
Six Senses Fiji
Six Senses Fiji is the perfect place to relax and forget all your troubles. With beautiful views of the bay and unique tropical flora, you'll feel like a king or queen!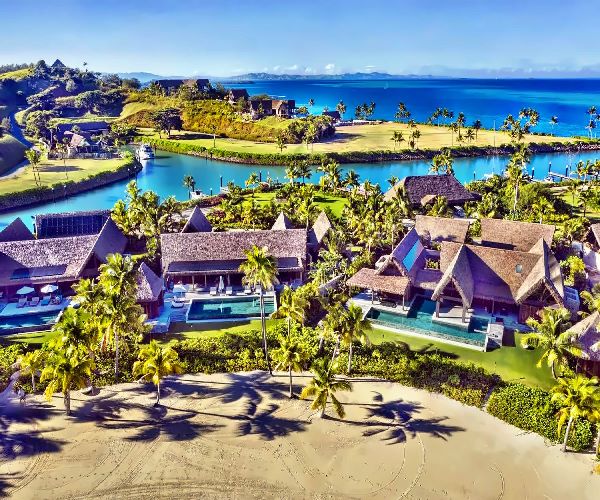 Besides, the resort is one of the most incredible places on Earth. It's part of a global community that shares resources and cares for the environment. Plus, they make sure everything is clean and safe for guests.
However, that's not all. Six Senses Fiji also provides guests with luxurious amenities and impeccable customer service. They also have private pools in each of their accommodations, but the beaches here are stunning with crystal clear waters.
Furthermore, if you're feeling hungry, there are plenty of dining options, or you could just enjoy some recreation instead. And finally, no trip is complete without a stop at the spa. This is a great place to relax and have a wonderful time.
If you're looking for a breathtaking and luxurious travel destination, Fiji should be at the top of your list. With some of the most opulent hotels in the world, you'll be able to relax in style during your stay.
Guido Graf is Founder of Privateupgrades. Privateupgrades is a global luxury travel club with over 20 years of experience in luxury hotels, ensuring exclusive VIP privileges like upgrades, free breakfast, free nights, rate discounts, free airport transfers, free massages and much more.
If you would like to be a guest blogger on A Luxury Travel Blog in order to raise your profile, please contact us.