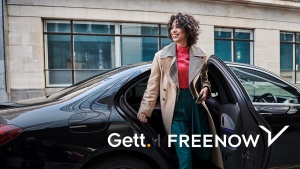 Gett – one of the leading taxi platforms operating in the United Kingdom – and FREE NOW – Europe's mobility super app, and Top 3 minicab provider – have joined forces to provide businesses with a more robust and reliable way to book private hire vehicles (PHVs).
Gett's business customers will now be able to book and manage rides with FREE NOW PHVs via Gett's feature rich platform and user-friendly app. The new vehicles – which are a mix of Standard, EV and Comfort cars – add 20,000 PHVs to Gett's platform.
"We're thrilled to have found a PHV partner like FREE NOW that shares our values and takes the same customer-centric approach to applying technology to solve real-world problems. We're confident that our seamless booking platform, combined with FREE NOW's diverse range of vehicles, will lead to even more innovations to the PHV booking experience," noted Guy Gaash, VP Global Partnerships at Gett. He continued, "As the market continues to stabilise post-COVID and demand for PHV services grows, we're excited to bring our business customers an increased level of convenience and reliability across the UK."
Mariusz Zabrocki, General Manager of FREE NOW UK, added: "We are delighted that Gett has chosen to enrich its platform with our exceptional minicab fleet, reinforcing our position as a leading ride-hailing operator in London. Our partnership with Gett is a milestone in our two major areas of focus: driver's earnings and customer experience. Drivers are our priority, and as they face increased operational costs, the increased demand will drive greater earnings potential via the FREE NOW app. We also look forward to more and more of Gett's business customers enjoying the best in class service, extra choice and flexibility of riding with FREE NOW."
Gett and FREE NOW are currently rolling out this new service, taking a phased approach throughout early 2023 to introduce it to Gett's roster of business accounts. After the current roll-out phase is complete, any customers who open a business account through Gett's automated self-registration option will automatically have access to FREE NOW's PHV fleet for on demand bookings. In the phases that follow, Gett's existing customers are expected to be able to request the new service for their teams, before the service is then offered more widely to all business customers.
FREE NOW's vast array of Standard vehicles are a popular choice for business travellers heading to client meetings or conferences, while its Executive vehicles offer a luxe, comfortable option perfect for VIPs and airport journeys.
Gett is one of the leading taxi platforms operating in the United Kingdom and Israel, offering its corporate clients a comprehensive ground transportation management solution. Corporate clients benefit from Gett's wide range of services designed to fit any budget and business need, from reliable pre-book options to quick on-demand solutions. As of the end of 2022, Gett serves more than 10,000 B2B clients and has more than 700,000 quarterly active B2C customers across both the United Kingdom and Israel.
Forty-eight million users, including FREE NOW's corporate clients, take advantage of FREE NOW's multi-mobility offer across Europe. In the UK, FREE NOW is one of the top 3 ride-hailing providers, being the only consumer app offering both taxis and minicabs (private hire vehicles). The platform has been registering year-on-year growth, with the number of new users in the UK growing by over 80% between 2021-2022, and over 200 new drivers a week are joining the app to meet the growing demand.