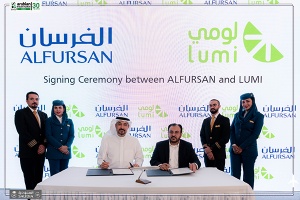 SAUDIA, the national flag carrier of Saudi Arabia, and one of Saudi Arabia's largest car rental firms, Lumi, announce a Memorandum of Understanding (MoU) to explore the provision of an array of benefits for members of SAUDIA's ALFURSAN loyalty program.
With a fleet of around 25,000 cars, Lumi is one of the Kingdom's top-performing rental companies with a commitment to embracing digitisation and innovative technology for a highly personalised and intuitive service.
SAUDIA has recently announced several new partnerships to further bolster its ALFURSAN loyalty program to provide a range of unprecedented benefits to members. This included the opportunity to redeem more miles through the introduction of the "Reward" and "Reward Plus" categories.
Essam Akhonbay, VP Marketing & Product Management at SAUDIA, commented: "Our partnership with Lumi is further testament to our dedication to working with best-in-class partners to deliver a truly seamless traveller experience. The collaboration also forms a vital part of the complete transformation of the ALFURSAN loyalty program and we hope that this latest MoU will further support our aim to grant more exclusive benefits than ever before whilst rewarding our highly valued guests for their continued loyalty."
Azfar Shakeel, Chief Executive officer of Lumi, commented: "We are delighted to announce this MoU with SAUDIA, and we are excited to be offering the opportunity for our car rental customers to participate in and benefit from the ALFURSAN loyalty program. This is another important step in our ambitious growth journey, as we build our network of blue-chip partners across the Kingdom – spurring the expansion of our business and widening the opportunity set for our customers. We look forward to working closely with the SAUDIA team on what we are sure will be a long and fruitful collaboration."
The launch was announced as part of SAUDIA's participation at the annual Arabian Travel Market in Dubai