Review: Andaz Vienna Am Belvedere, Vienna, Austria
By Michael Edwards on Jul 04, 2023 in Accommodation, Austria, Europe, Featured, Hotels, Regions, Western Europe
Sixteen storeys of the Andaz Vienna Am Belvedere soar into the Vienna sky. Towers perched on 9 metres stilts are linked by futuristic glass enclosed walkways. Back in 2021, when the hotel opened, renowned architect Renzo Piano picked up an award for the design of this luxury hotel of 303 rooms and 44 suites.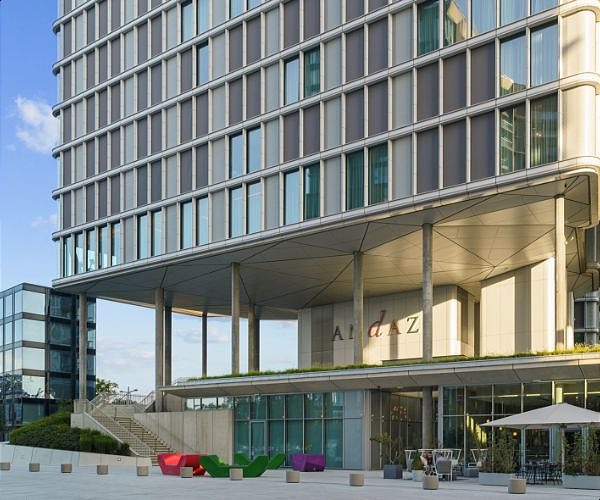 Interior art and design develop the legacy and Austrian adoration of Prince Eugene of Savoy. When his application to join the French Army was rejected, Eugene, born in 1663, moved to Austria and became a national hero after his leadership helped save Vienna from the invading Ottoman army.
Inspired by Versailles, Prince Eugene built the Lower Belvedere Palace as his home and then the Upper Palace as his summer home. Both are within walking distance of the Andaz.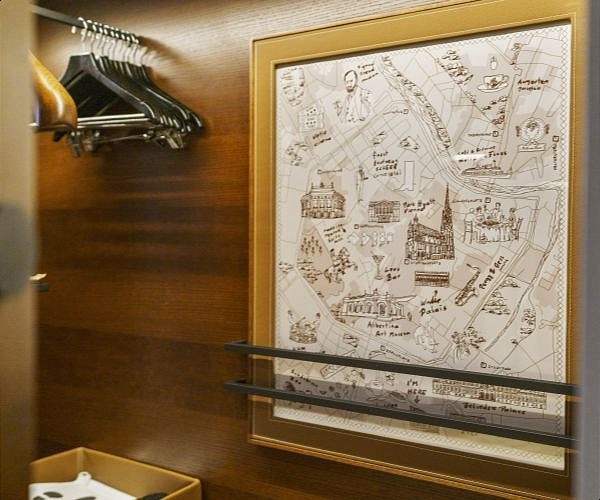 Hyatt has rebooted Prince Eugene worship for the 2020s at the Andaz Vienna. Imagining how a mythical young descendent of Prince Eugene, Eugen 21, would curate the hotel's collection of art.
The welcome
Arriving at the tall reception, with its cool jazzy playlist, formalities are quickly completed, and keys issued.
The room
Tall windows, the width of the room, look down across Arsenalstrasse and towards the greenery of Schweitzer Garten.
A light grey wallpaper runs above the wide double bed: a collage of reclining Adonis-like figures and chubby cheery cherubim from classical mythology.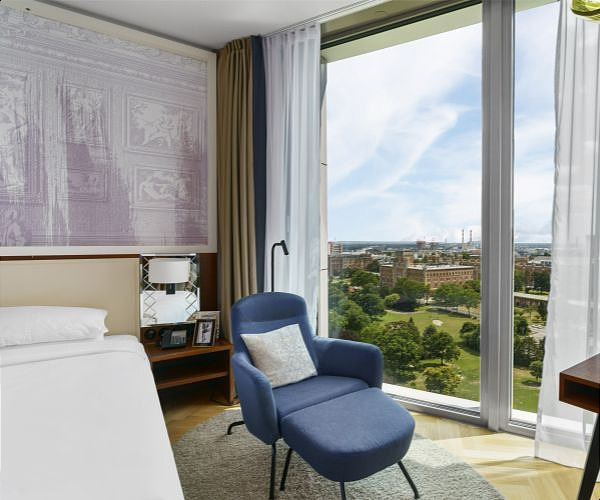 As even the wide flat-screen television is framed like a work of art, the room with hanging art work has a gallery feel to it. The ambience is airy, light and spacious.
The bathroom
Developing the Andaz's arty, out of the box personality, the inside of the loo door is a mural. A cartoon incorporating images of Rome, Pisa, pizza, a Vespa and high fashion shoes takes guests on a jaunt round Italy. Quirkily, the door slides across either the loo or bathroom.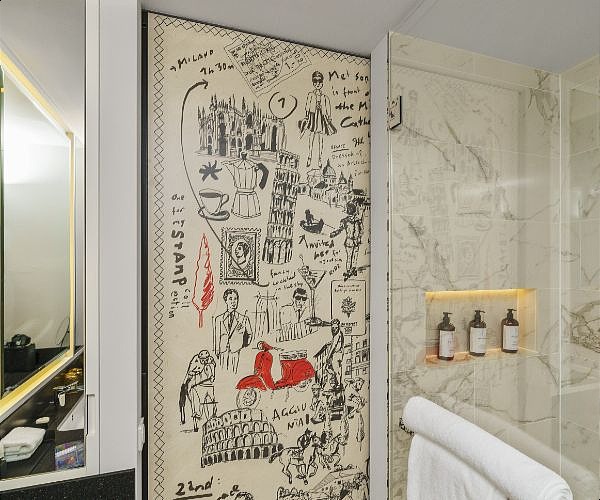 The main bathroom features a large shower, either rainfall or directional, and plenty of shelf space for toiletries.
The facilities
A drink at the rooftop bar, on the 16th floor, looking down on the Belvedere Palaces and across to central Vienna is an essential part of the Andaz experience.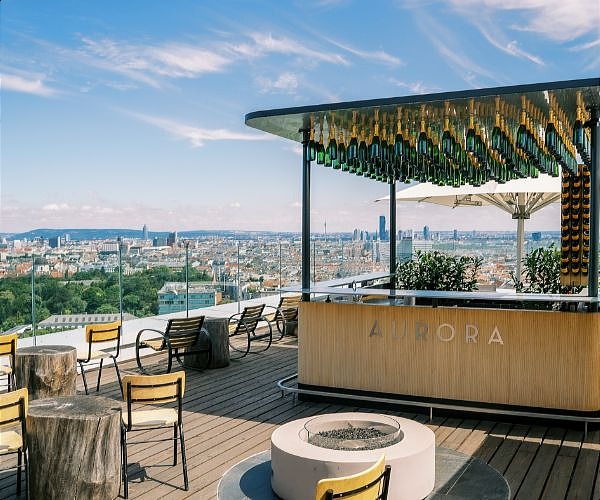 Developing the descendent of Eugene concept, the Eugen 21 restaurant is contemporary cool with its olive green banquettes and dark wood tables. Waiting staff in pin-striped waistcoats and jeans straddle the boundary between formal and casual dining.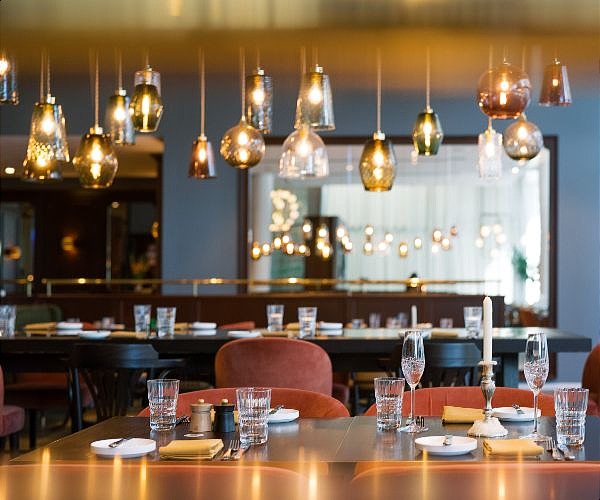 An amuse bouche of a delicate cup of chilled cucumber and dill soup, with small boules of warm crusty bread, announces serious, high-class dining.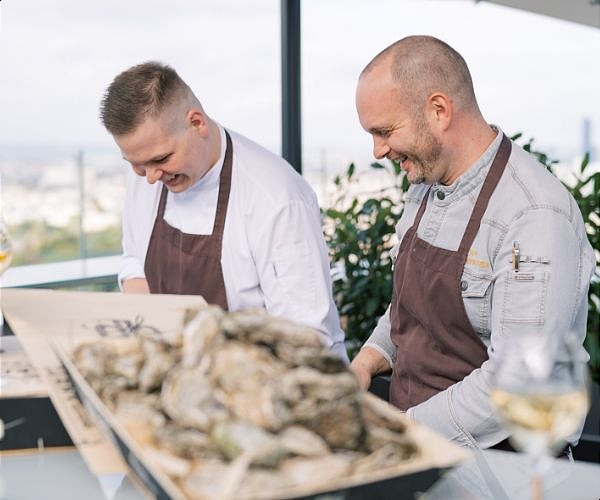 As this is Austria's capital, the star attraction is light slices of veal in the Viennese Schnitzel served with a potato salad, lingonberry sauce and lemon butter. Though there are plenty more options including a vegetarian risotto, paprika chicken, boa pork roast, herb crusted tenderloin beef, scallops linguini and halibut.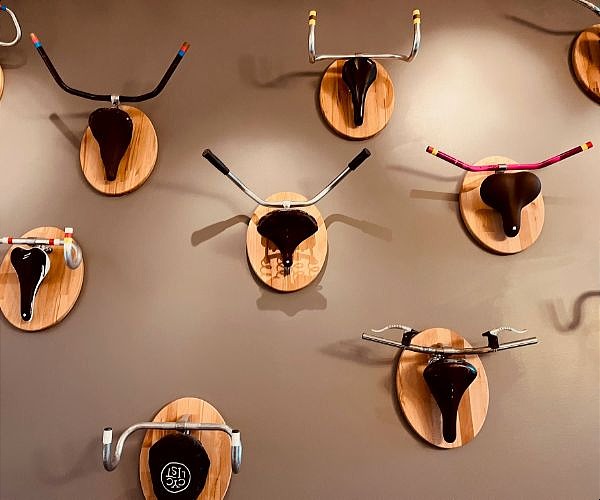 Alongside Eugen 21 there is the coffee shop Cyclist. Bike saddles and handlebars mounted like stags heads and bar stools with pedals prompted the award of a design award. Obviously the menu is a Cyc List.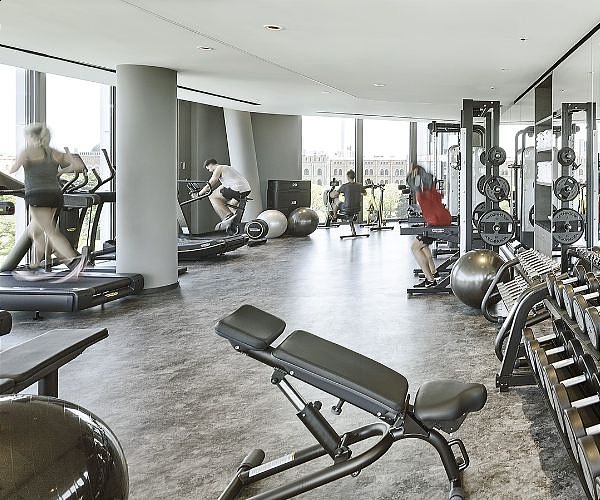 On the 4th floor a 24 hour gym, again with large windows, gives great views for those on bikes and tread mills.
---
IMPORTANT NOTICE:
If you are reading this article anywhere other than on A Luxury Travel Blog, then the chances are that this content has been stolen without permission.
Please make a note of the web address above and contact A Luxury Travel Blog to advise them of this issue.
Thank you for your help in combatting content theft.
---
Location
Located close to Vienna's new main railway station, Belvedere is an up-and-coming district. Andaz's lifts display railway timetables of trains departing for Bratislava, Budapest, Munich, Prague and other major cities.
Belvedere 21, a contemporary art museum opposite the hotel, with some thought-provoking surreal displays, gives free admission to Andaz guests presenting their room keys.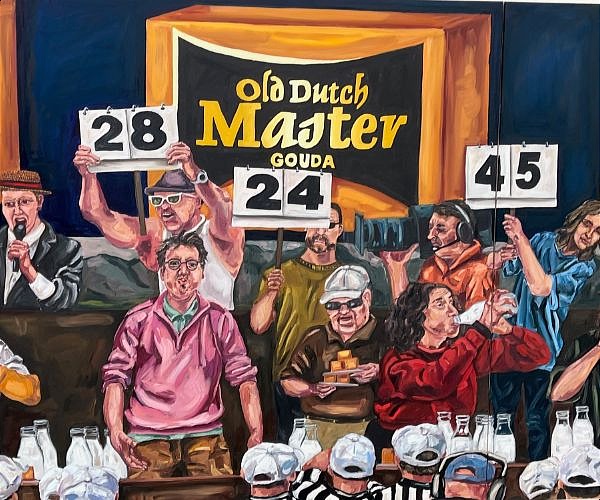 Upper Belvedere Palace, a baroque creation, has Gustav Klimt's sensuous The Kiss amongst its permanent collection.
Other nice touches
Following in Prince Eugene's tradition in acquiring a large library, throughout the lobby there is a huge selection of glossy coffee table books on art, automotive design, fashion and travel.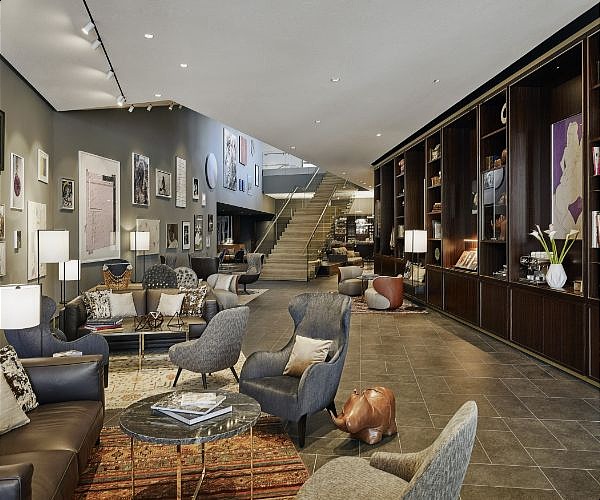 During the day and evening guests can help themselves to free coffee. tea and cookies as they settle to read a book or admire the artwork.
The cost
Double rooms, including breakfast, begin from €229 per night.
The best bit
The abstract sculpture of Prince Eugene, welcoming guests to the hotel, sends a message that art at the Andaz is a visual and intellectual feast.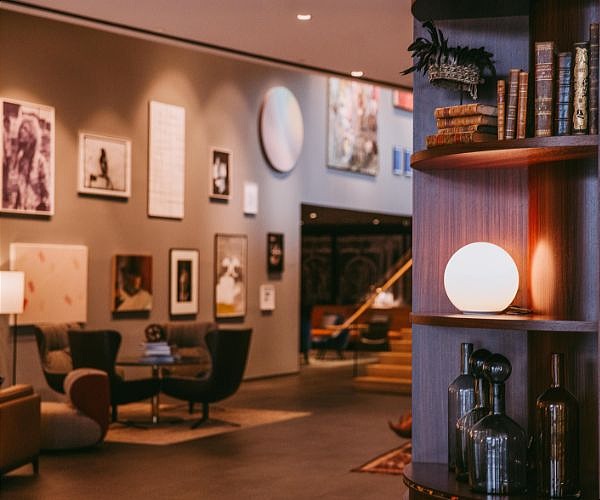 Two Viennese galleries have curated a large art collection, paying tribute to Prince Eugene's role as a collector, that runs through both public areas and guest rooms too.
The final verdict
Andaz derives from a Hindi word for personal style and the Andaz Vienna Am Belvedere delivers a memorable eclectic style.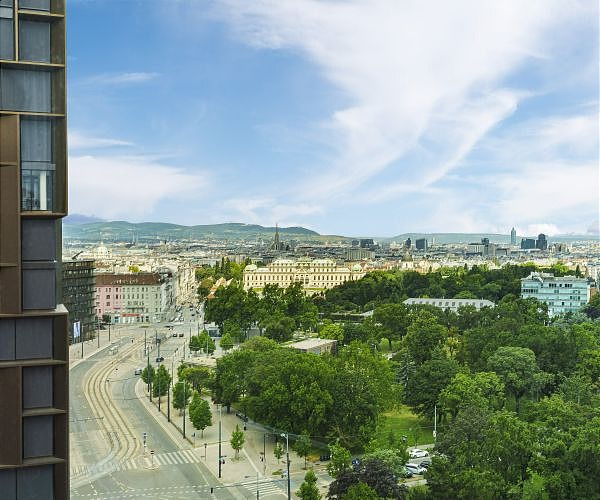 This luxury lifestyle hotel has both a view and a vision
Disclosure: Our stay was sponsored by Andaz Vienna Am Belvedere.