Review: Brocket Hall, Welwyn, Hertfordshire, UK
By Michael Edwards on Jul 26, 2023 in Accommodation, Europe, Featured, Food and Drink, Going Out, Hotels, Leisure Travel, Regions, Restaurants, Speciality Travel, Travel Miscellany, United Kingdom, Western Europe
Back in the 19th century this vast Hertfordshire estate was the home of two British Prime Ministers, Lord Melbourne and Lord Palmerston. Now, with two championship golf courses named after the former premiers, it is a leafy Mecca for golfers.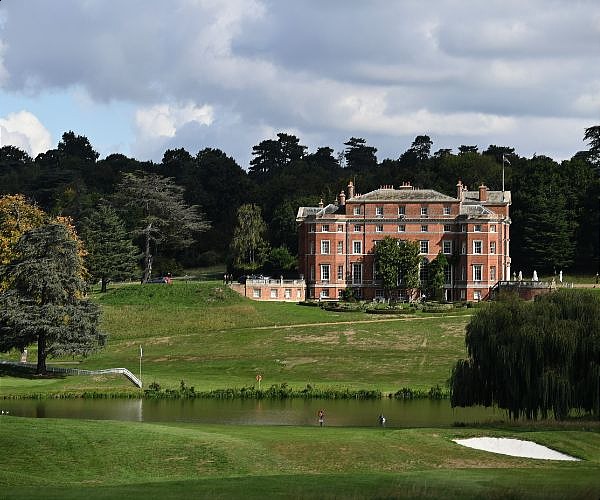 Brocket Hall, a neo-classic house completed in 1760, stands at the heart of the 536-acre estate. Working around its elegant symmetry, landscaper Richard Woods, heavily influenced by Capability Brown's ideas, redirected the River Lea, built bridges, broadened the ornamental lake and planted specimen trees. Criss-crossing the estate with "ridings", paths for horse drawn carriages, to showcase the splendour of the estate.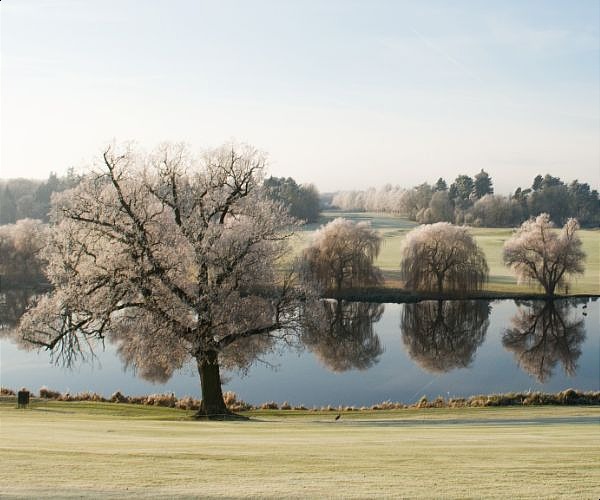 Grade 1 listed Melbourne Lodge, formerly the stables where horses were kept for hunting and racing on the estate's very own race-course, now houses 16 stately, high-ceilinged en-suite luxury rooms.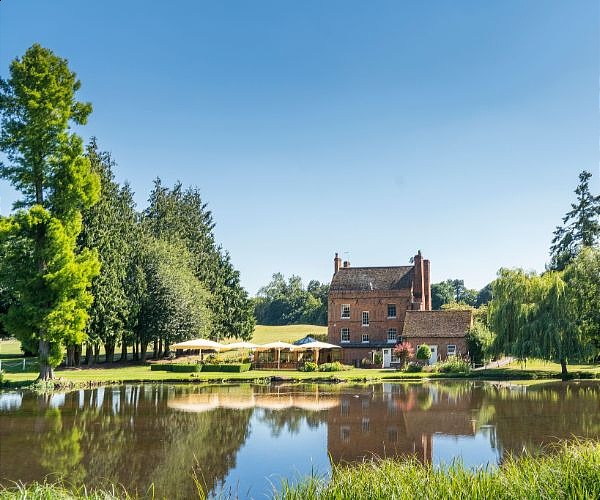 Overlooking the lake, the golf clubhouse, serving both golf courses, is the place for a pre-round breakfast or lunch. It gives views of Auberge du Lac, one of the most beautifully located restaurants in the country.
The welcome
Tactics for check-in are to park close to the golf clubhouse in the conveniently located pullover point to pick-up your key. Drive up to the entrance to the Grade 1 Listed Melbourne Lodge to drop off your luggage, then drive to the Lodge's car park.
The room
Named Northern Dancer after the famous racehorse, this dual aspect corner room has views over the parkland. Portraits from the good, the great and the galloping of the equine world line the walls. The decor runs through a subtle palette of creams and greens.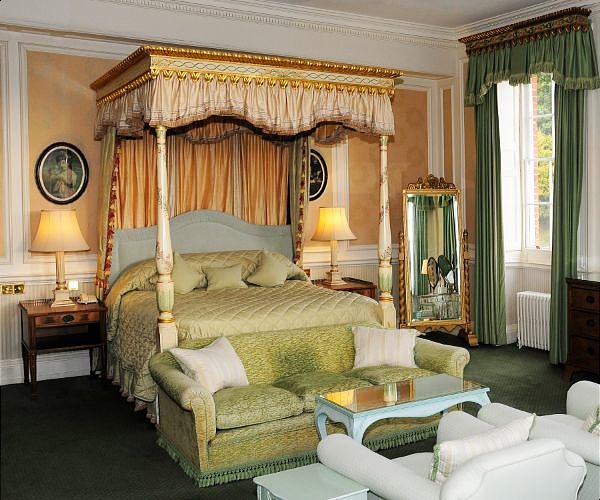 Silky, tasselled curtains frame a bed of lordly dimensions. Two large built-in wardrobes, large enough for a stay of many weeks, stand either side of an expansive dressing table and gold gilded mirror.
The 21st century is kept at arms length with intricate patterned radiator covers and a small television obscured by the tall mainsail of a curtain.
The bathroom
The deep bath would relax many a Lord after a day of rollicking hunting. Or if preferred there is a shower too. It is a large tiled and wallpapered bathroom with his and her wash units. Toiletries are the Pelican Island range by Duck Island. Exfoliating loofahs are another decadent aristocratic touch.
Facilities
Most guests arrive for top quality golf on courses so well drained and cared for that they rarely close. Bunkers are Maldivian beach white and temporary greens are as infrequent as a home winner at the British Open.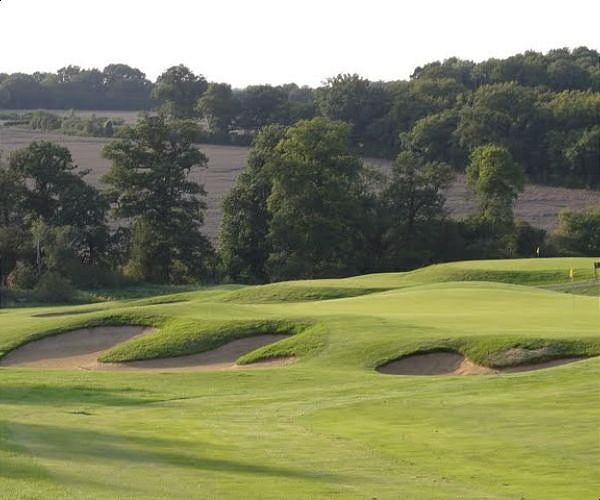 For a two-day golfing extravaganza it is probably best to start with the par 73 Palmerston's 18 holes. The Palmerston tree-lined fairways pass by some of the estate's ancient woodland of Hornbeam, Scots and Corsican Pine as well as oak trees over five centuries old.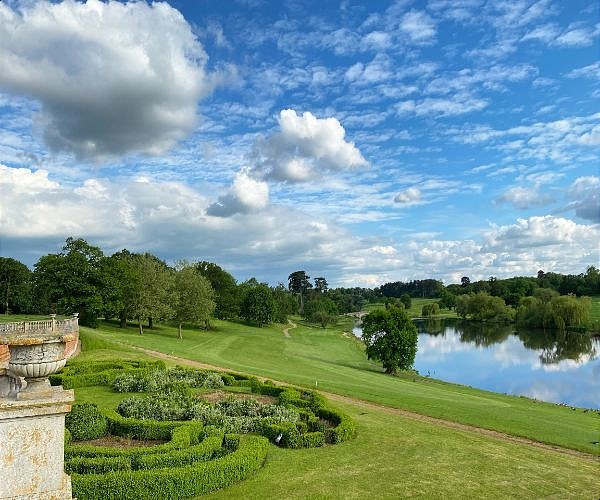 The second day could be devoted to the Melbourne Course, designed by Peter "the voice of golf" Alliss and Clive Clark which crosses the River Lea four times. It not only the river which challenges golfers who stray from the sweeping fairway lawns: there are also strategically placed clumps of trees and dense wispy-tipped rough. Finally, golfers take a short ferry ride from the 18th fairway to the final green.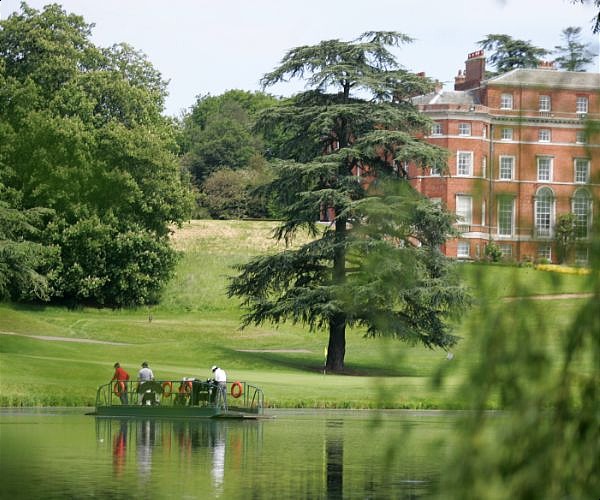 For golfers who feel that their game has been tested to beyond its limits, there is also the golf academy. An indoor swing studio, driving range, chipping green, putting green, short par-3 and experienced instructors are all there to help develop a golfer's skills.
Once a lake-side hunting lodge, Auberge du Lac, is now a relaxed restaurant for lunch and dinner from Thursday to Saturday and also for Sunday lunch.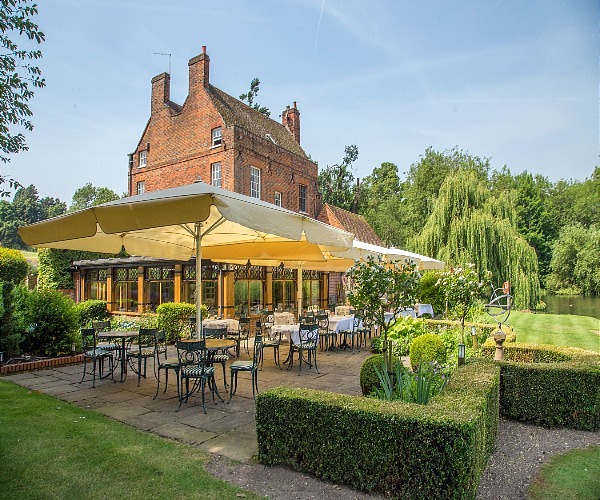 Drinks can either taken on the lakeside terrace or in a lounge where framed menus celebrate some of the world's great menus and occasions such as New Year's Eve at New York's Maxim.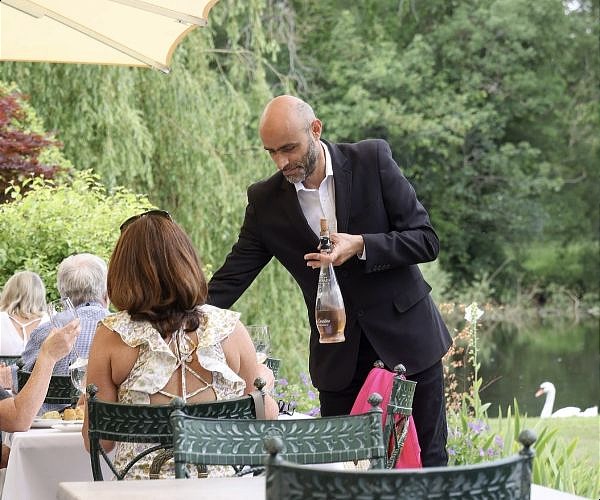 New Head Chef John Barber has created a seasonal, modern British menu. Although his vision of a more relaxed and accessible style of dining is perfect for post-round golfers it is a style and a location that also attracts diners from afar. No surprise that much of the fresh produce comes from the estate's kitchen garden.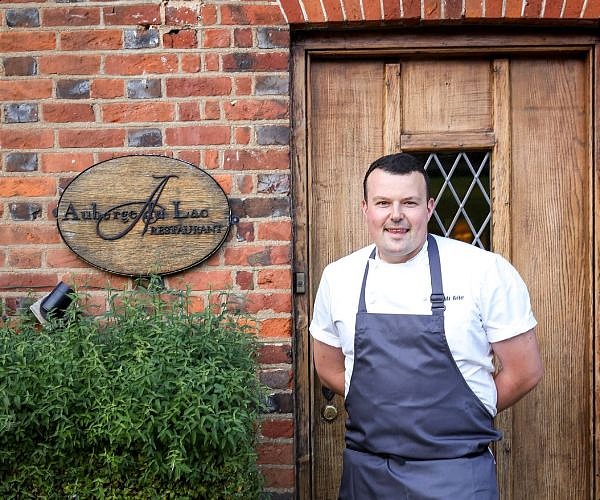 Whilst many restaurants have restricted their options, the Auberge offers six starters including beef tartare, burrata, duck liver pate, ricotta tartlet, scallops and sea bass ceviche. There are daily specials too.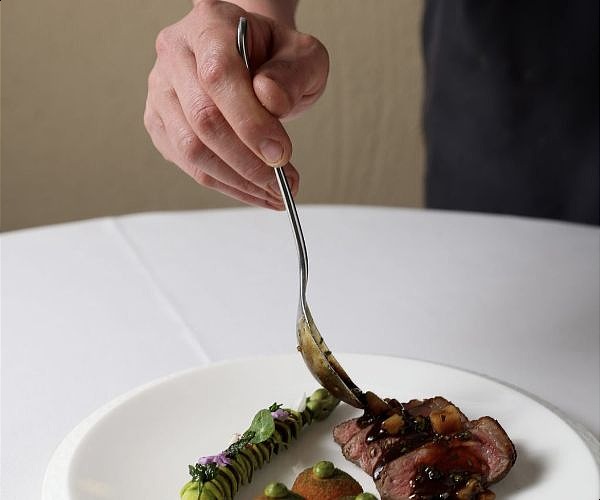 A main course of lamb is so tempting that we both opt for tender rose harissa lamb loin with a gently piquant pepper piperade contrasting with cool cucumber yogurt and chickpea panise. That leaves the aged sirloin, halibut, cod and risotto for another day.
Location
Welwyn Garden City, despite the grandeur of its name, is really a fascinating town. An idealistic planned concept, merging town and country, worth a visit for its heritage trails, museums, mix of shops and Roman Baths. But visitors spend most of the time on the estate playing golf or walking the trails, taking in the views and looking for deer.
Other nice touches
Head into the clubhouse from 7 am for a quick breakfast. Staff are adept at rapidly delivering a full English, scrambled egg and salmon or whatever you choice prior to your tee-off time.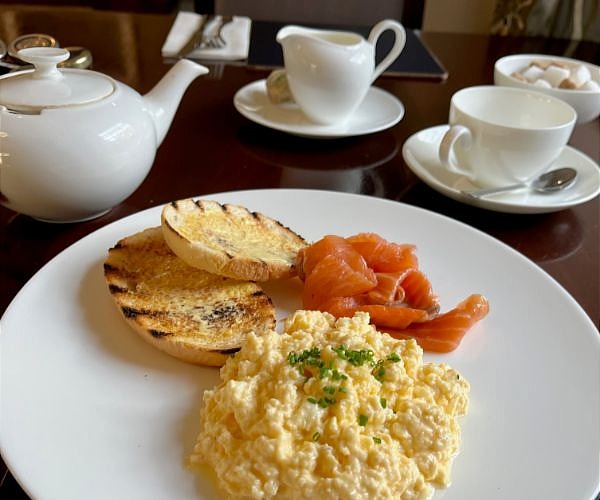 Take time to peruse the artwork in the Clubhouse. Limited edition photographs by David Cannon focus on some of the golfing world's most spectacular holes and memorable moments from the majors.
The cost
One-night, one round stays start from £190 per person which includes a traditional full English breakfast served in the clubhouse.
One-night, two round packages begin from £285.
The best bit
A visit to Brocket Hall is a visit to another era, a step back to a time to when landscapers had a vision for a future still decades and centuries away. The trees that Richard Woods planted, neither felled for Nelson's fleet nor Second World War fuel, are now in their maturity.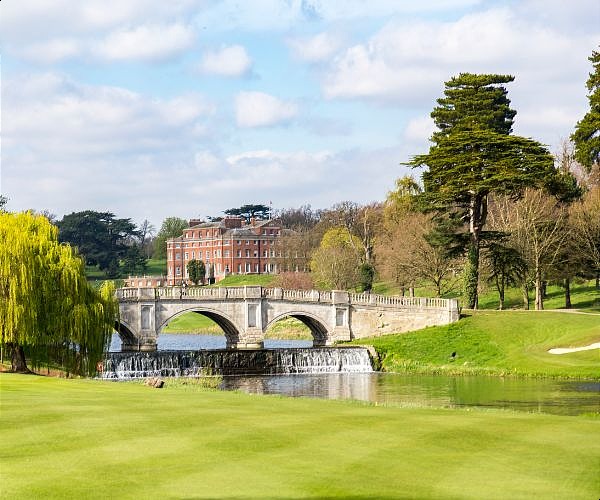 Brocket Hall's estate is a classic example of the concept of the English Landscape that is admired and copied globally.
The final verdict
A breathtakingly beautiful location for a couple of rounds of great golf, a luxurious night at Melbourne Lodge and a superb meal at the Auberge du Lac restaurant.
Disclosure: Our stay was sponsored by Brocket Hall.