Short stay: Indigo Hotel, Stratford-upon-Avon, Warwickshire, UK
By Michael Edwards on May 21, 2022 in Accommodation, Bars, Europe, Featured, Going Out, Hotels, Regions, Restaurants, United Kingdom, Western Europe
There is no doubting that this is Shakespeare country. The half-timbered, mullion-windowed Indigo Hotel Stratford-upon-Avon, leans out over Chapel Street, as it has for centuries. Yet, after a lengthy multi-million pound make-over, the Indigo Hotel, now part of IHG group, reopened in 2019.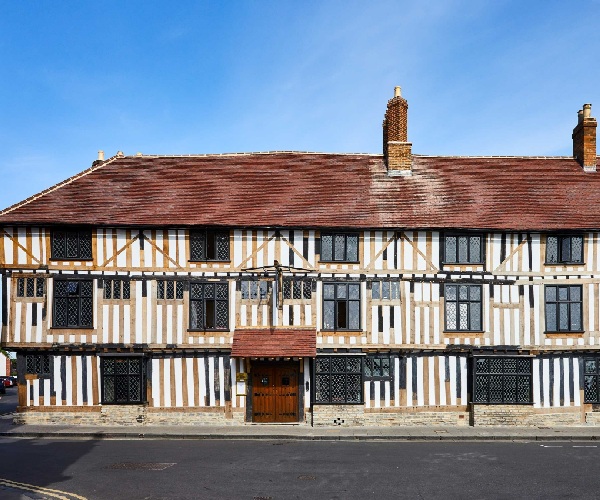 The boutique hotel has taken on a new life, blending history with contemporary style. Indigo Hotel, sits at the heart of Shakespeare's Stratford-upon-Avon.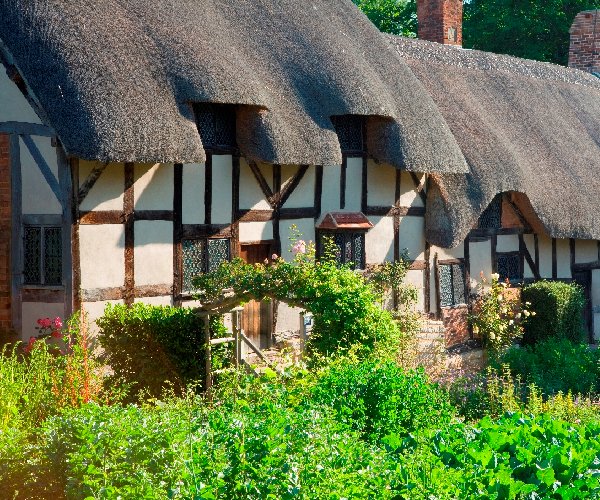 Across the road there is New Place, once Shakespeare's home. Less than a stone's throw from the schoolroom, now open to the public, Shakespeare learned his skills at the King Edward Vl School.
The welcome
Having parked in the hotel car park, with spaces exclusively reserved for guests, we quickly complete the formalities of check-in. The receptionist leads us along a path through a Tudor inspired garden of lavender, rosemary and roses.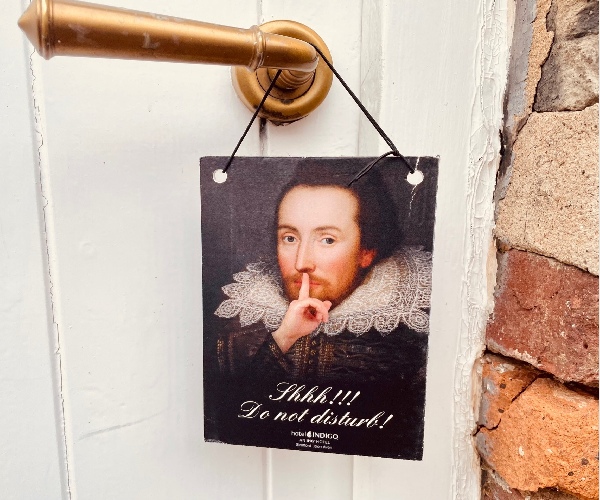 We arrive at a terrace of Georgian Townhouses with their white timber doors surrounded by red-brick.
The room
From our spacious room, French windows open out onto a small garden of table and two chairs, ideal for afternoon tea. Greys and teals are contemporary but black-and-white photographs of Stratford-upon-Avon provide a sense of place and history.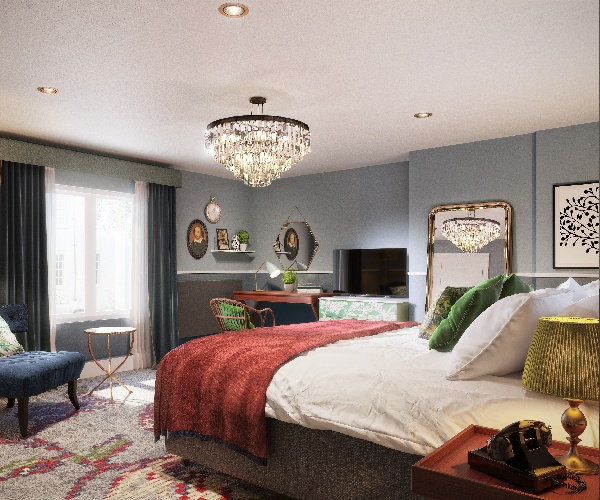 Above the wide Hypnos bed with its Egyptian cotton bedding there is a mini-museum of eight clocks, all stopped at twenty past four, presumably to make afternoon tea last for eternity. As Shakespeare would possibly have said, had he checked in, "To sleep, perchance to dream."
The bathroom
Perhaps the tiles in the bathroom are the shade of the green-eyed jealousy in Othello, contrasting with other glossy white tiles.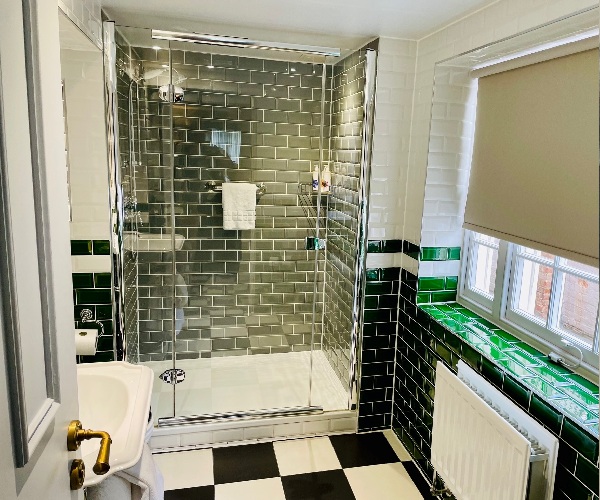 And the Moor may well have been envious of a rainfall shower and Bramley's toiletries.
The facilities
When the Woodsman Restaurant opened it took the Good Food Guide's award for Best New Restaurant. Opening onto the central garden courtyard, The Woodsman, with it's wooden flooring and tables, is light and airy. Smiling staff are evidently pleased and proud to be here.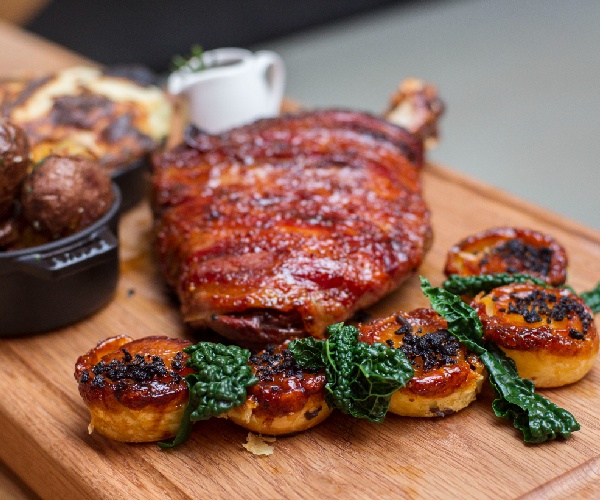 As English as the watercolour prints of birds adorning the wall, the menu makes the most of local sourcing. For the venison, Cotswold fallow deer are harvested. Wherever possible vegetables are from farms in the Vale of Evesham and steaks originate from Herefordshire dry-aged beef. Contrasting tastes and textures are key.
A wild wood pastrimi of pigeon starter comes with smoothly creamed pecorino, the bite of pickled miniature mushrooms, the crunch of sunflower seeds and plump grapes. Still essentially English, there is charred asparagus with the Lavinton Lamb, pickled walnuts accompanying a grilled chop of saddleback pork and more walnuts with the roast king oyster mushroom.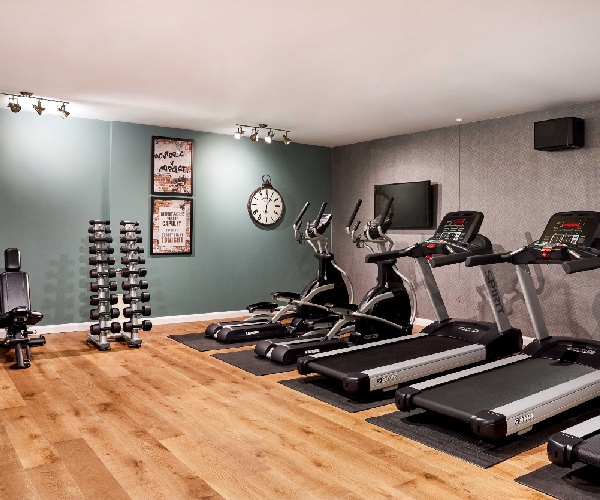 If guests fear a Falstaffian girth after indulging in the menu and wine list, a small fitness facility is available on site.
---
IMPORTANT NOTICE:
If you are reading this article anywhere other than on A Luxury Travel Blog, then the chances are that this content has been stolen without permission.
Please make a note of the web address above and contact A Luxury Travel Blog to advise them of this issue.
Thank you for your help in combatting content theft.
---
The location
Many of the properties marking Shakespeare's remarkable life are within walking distance and even Anne Hathaway's Cottage is just a brisk 30 minute walk away. Shakespeare's Birthplace is the place to start. It introduces the writer of 37 plays and a 154 sonnets, putting his life and his family into the context of his age.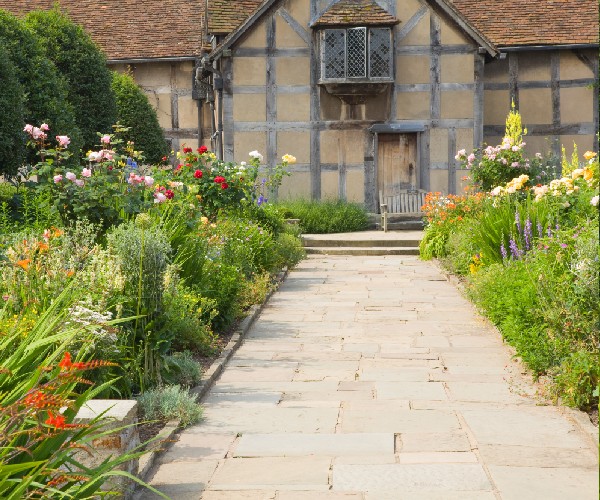 Within the grounds, a wall display summarises the plot of each play with drawings and key quotations. For those visiting for a production at the nearby Royal Shakespeare Company Theatre, guests will have walked back to the Indigo before Hamlet, Macbeth and Co will have even cleaned off the greasepaint.
A half mile walk, taking in the bridge over the River Avon, arrives at the Stratford Butterfly Farm. A vibrantly colourful paradise showcasing the UK's largest collection of tropical butterflies. Depending on the season, there are usually between 2,000 and 4,000 butterflies, representing around 60 species, fluttering around.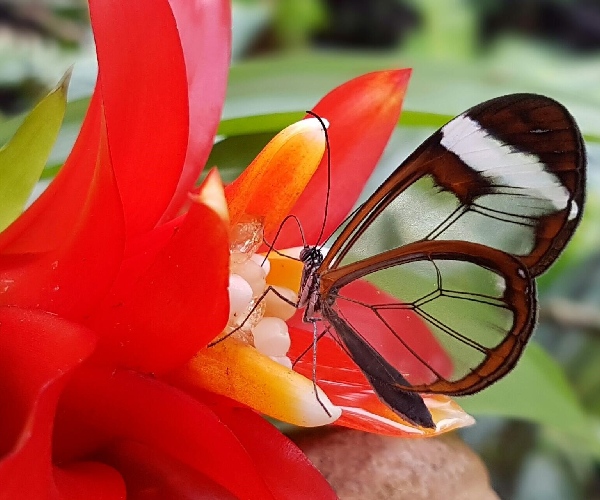 Beyond walking distance, taxi is the advised mode of transport for a visit to the Shakespeare Distillery. A guided tour concludes with gin tastings from the stainless steel stills appropriately named Portia and Ophelia. During lockdown, the distillers discovered that seven day distillations in Auntie Titania, a much larger still, produced a very flavoursome Jester Rum.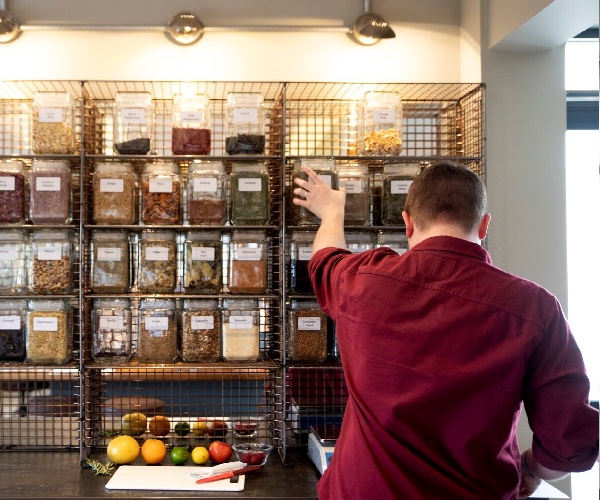 Representing the spirit of Tudor England, Elderflower and Quince gin is frequently purchased in the shop. Though guests can go to gin school to select from the botanicals on offer, or bring their own, to create a customised gin.
Other nice touches
Within the dressing room of our Georgian Town House there is a fridge with fresh milk, soft drinks and some local ciders. Next to the tea tray there is a small bottle of Malbec. All of these offerings are complimentary.
The cost
Rooms begin from £129 including breakfast.
The best bit
Everywhere there are historic nooks and crannies for a peaceful ale, coffee, cocktail or afternoon tea. Entering from Chapel Street, the spirit of The Falcon Bar is preserved with sumptuous chairs and sofas.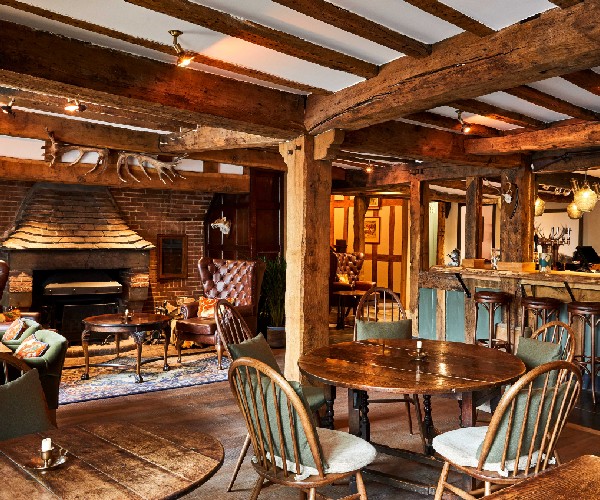 There is a hushed book-lined library too.
The final verdict
Appropriately, Indigo is a colour of contemplation and deep thought. As well as painstakingly paying homage to the past, using 18 year dry-aged beams, where necessary, for the restoration, the Indigo Hotel also prioritises contemporary comfort.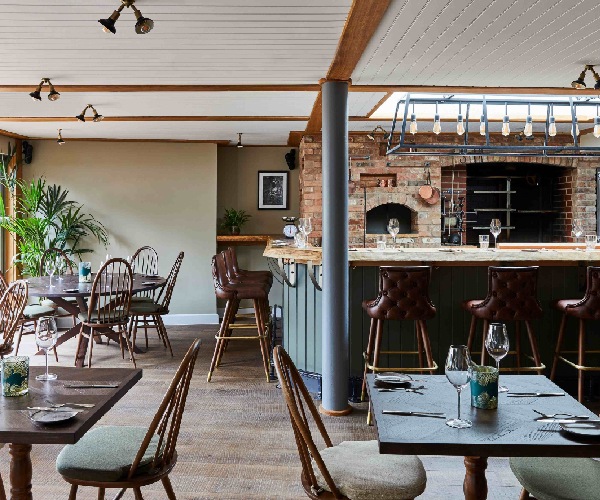 Even if you are just flying through Stratford-upon-Avon, without time for an overnight stay, the Woodsman is a restaurant of unmissable quality.
Disclosure: Our stay was sponsored by Indigo Hotel Stratford-upon-Avon.