Why a safari is one of the best family holidays abroad
By Calvin Cottar on May 21, 2022 in Adventure Travel, Africa, Family Travel, Kenya, Leisure Travel, Regions, Speciality Travel
Going on a safari in Kenya with your children has to be one of the most unforgettable trips – and dare we say it, one of the best family holidays abroad – you'll ever have together. What could be more magical than a child's delight at seeing a lion for the very first time, or sharing tales with a Maasai warrior by the campfire? Nature can provide a lifetime of bonding experiences and memories. This family holiday is an authentic way of being immersed in the African wilderness in a private, comfortable and safe way. Going on a safari as a family in a famed destination like the Maasai Mara in Kenya teaches you about celebrating life and living it to the full.
With action-packed itineraries, infinite options for every mood, and all-included logistics, a safari has got every family member covered, from grandparents to grandchildren. It is a fantastic first adventure for the kids; for the older ones, it is the ideal journey to tune in, reconnect and watch your family be captivated by Africa. Everyone will be treated to an adrenaline-filled, life-enriching experience where they see and feel first-hand how they are connected to the world around them.
Luxury safari accommodation designed for families
On an exclusive family safari in Kenya every last aspect will have been anticipated, planned, and arranged, from itineraries to logistics. You will feel right at home, and with a team that will ensure everyone has fun. Your family will be under the care of a personable and professional team that will have lots of experience hosting families of all sizes before. They will be constantly on hand to ensure that everyone is taken care of, so that it is a carefree holiday for all.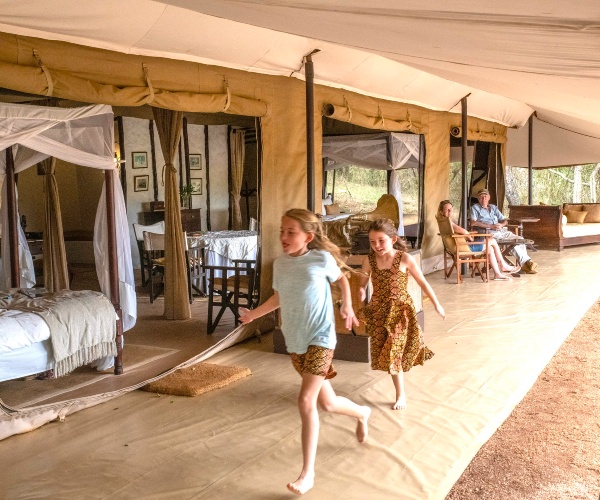 A luxury safari camp or villa with suites designed specifically for families makes for an intimate safari experience in a spectacular setting like the Maasai Mara. Private vehicles, private guides, and private use of the camp are all available. Spacious open-plan tents allow you to keep your children close by at bedtime, and indoor and outdoor living areas mean you can enjoy private dinners and downtime together when you aren't at the main camp. An exclusive-use bush villa is perfect for those wanting a more permanent style, with everyone under one roof and a floor plan that is spaced out with several distinct living areas, including a private pool.
Safari activities for all ages
The bush is the best classroom, and the best teachers are those that have grown up deeply connected to it. During a family safari in Kenya, you will be astonished at how the guides and trackers find endless opportunities for entertaining and captivating young (and 'old') minds with adventures and lessons in the bush. The little (and 'big') ones will be kept enthralled and amazed on this trip of a lifetime.
From learning to make a bow and arrow and light a fire (bush style) in a Maasai Warrior School, to beading with one of the expert Maasai beaders, to drawing and finding out about different birds, animals and insects, to identifying constellations in the starry African night sky – there really is no shortage of exciting and educational activities to keep everyone engaged. Being in the remote wilderness is an excellent way to expose your kids to the interconnectedness of nature, wildlife and humans, whilst also enjoying some downtime together as a family. A safari also helps contribute to local community and conservation projects that are critical to the survival of Africa's wildlife and human communities.
---
IMPORTANT NOTICE:
If you are reading this article anywhere other than on A Luxury Travel Blog, then the chances are that this content has been stolen without permission.
Please make a note of the web address above and contact A Luxury Travel Blog to advise them of this issue.
Thank you for your help in combatting content theft.
---
Your holiday, at your family's pace
Having the same guide and tracker assigned to your family throughout your safari means you have the freedom and flexibility to plan deeply immersive days on safari, both on and off the vehicle. Days on safari are supposed to unfold at your own pace, depending on your interests and the time of year. Nothing is set in stone, and the only schedule is your own.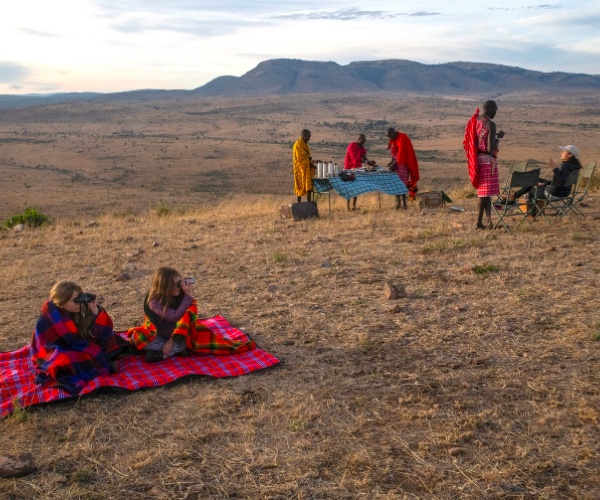 When it comes to travelling, often our happiest memories are those spent exploring new places with our family or people closest to us. On a safari in Kenya, these experiences shared together are possibly even more memorable owing to the nature of being in the wild, far removed from the rush of commuters, traffic congestion and shopping malls. When you are out in the bush, there is time to slow down and be more mindful of our imprint on the earth and absorb what's unfolding all around us in a magical wilderness.
Calvin Cottar is Director and Owner at Cottar's 1920s Safaris. Cottar's 1920s Safaris is an award-winning luxury 1920s safari camp and private bush villa located in the famous 'seventh' natural wonder of the world, the Maasai Mara in Kenya, and owned and managed by the oldest established and continuing safari family in Africa.
If you would like to be a guest blogger on A Luxury Travel Blog in order to raise your profile, please contact us.