Snowmobiling in Iceland – a snowmobile adventure on Mýrdalsjökull glacier
By Paul Johnson on Oct 09, 2022 in Adventure Travel, Attractions, Europe, Family Travel, Going Out, Iceland, Leisure Travel, Regions, Speciality Travel, Western Europe
One of the highlights of our trip to Iceland was a snowmobile adventure on Mýrdalsjökull glacier, Iceland's fourth largest glacier, with Icelandic Mountain Guides. If a snowmobile tour in Iceland is something that appeals to you, read on to learn more about what you can expect.
Icelandic Mountain Guides' main base is at Ytri-Sólheimar 1 in Mýrdalur, about 25 km west of Vík and about 11 km east of Skógar. If travelling from Reykjavik, the distance is around 160 km and the driving time is approximately 2 hours. From the main Iceland ring road to the base, it's a 1.2 km drive on road 222.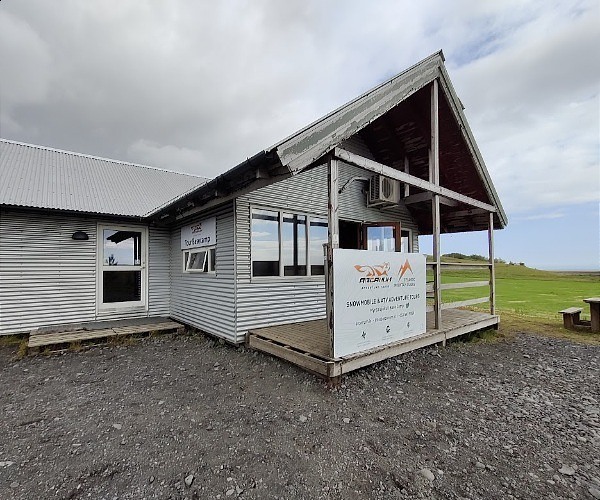 You'll most likely need to book in advance but, once at the base and your booking verified, the first thing you'll do is get kitted out. Icelandic Mountain Guides provide you with an overall that goes over the clothes you are already wearing, boots, a balaclava, a helmet and gloves… and then you are good to go!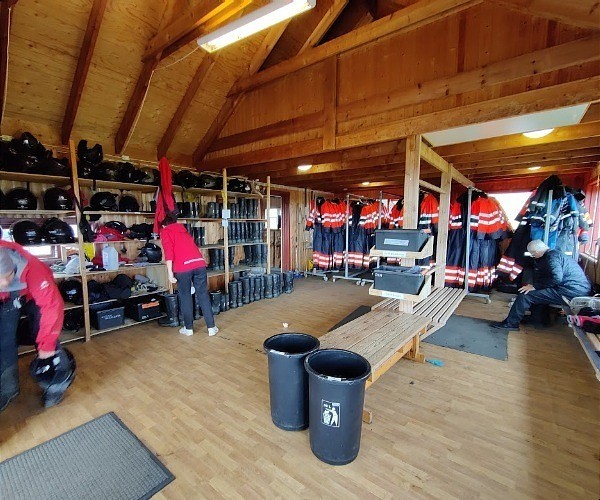 There's a large truck waiting to take you and your fellow snowmobilers up to the glacier.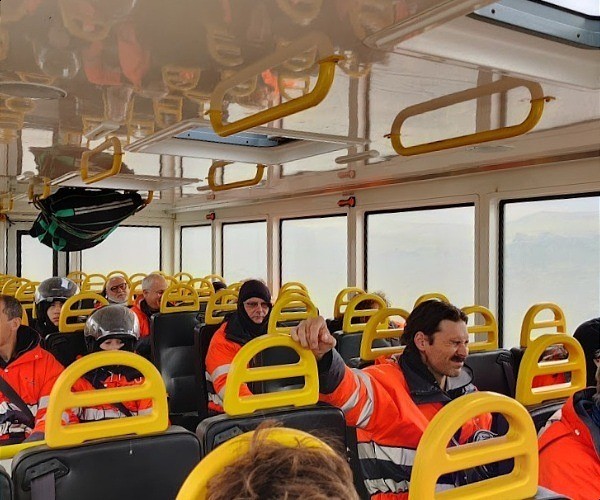 It's around a 30-minute drive over rough terrain and then on to the glacier itself.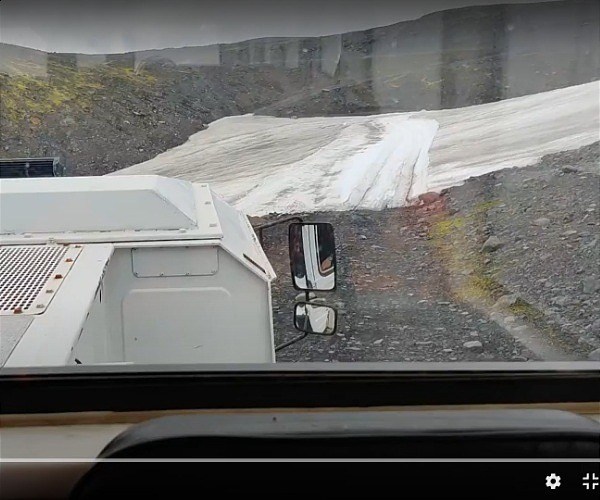 There are a number of snomobiles waiting for us at the end of the truck ride, and we are accompanied by two instructors who provide us with an introduction to the machines and a safety briefing.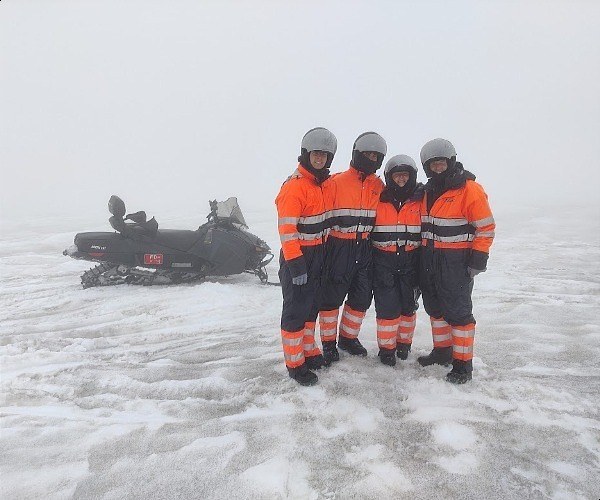 First, we are shown how to switch the snowmobile on. We turn the ignition halfway to turn the electrics on, wait a short while and then turn it fully to start it up. Similarly, we use the key to turn it off or, in the event of an emergency, a big red button that kills the machine. Once on the snowmobile, we do not need to engage it gear – we just press a button to apply constant, steady pressure – that way you have a nice and steady ride. The easiest way to stop is to release the gas but there is a brake that can be used in case of an emergency. There are hand warmers also – put them to the right and they get really warm, put them to the left and they get a little bit warm, middle they are off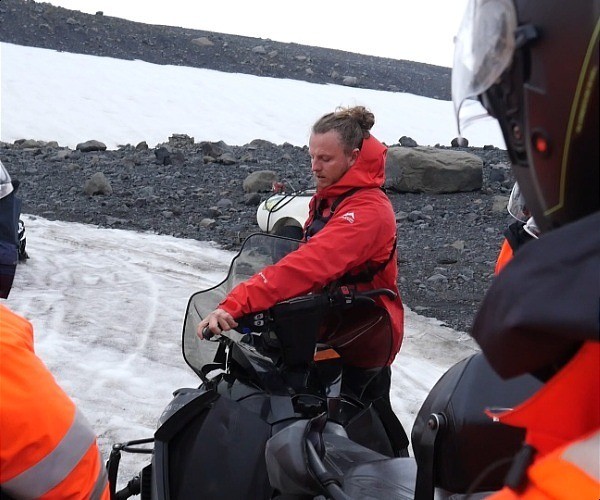 With the basics covered, we're on to the subject of safety. The one really important safety aspect to cover is what happens if you fall over the machine. It can happen and apparently actually happens pretty frequently (although there were no such incidents from anyone on our trip). But you still need to remember a few really basic things and, should you be prepared, falling over will just be something to laugh about rather than something serious.
The one most important thing to remember is that, if the machine is falling over, you do not stick your arm or your leg out to catch it. If you do that, the machine weighs about 350kg (approximately 600 lbs) and all of that weight goes on to your arm or onto your leg which, as you can imagine, is not fun.
So, what do you do? As the driver, you're holding on to the handlebars – you simply grab them really tight, and keep your legs to the centre of the machine, brace yourself and fall over holding on to the machine. For the passenger, you have some handles near your hips that you similarly hold on to (rather than holding on to the driver in front). As long as you do this, you will be perfectly safe. Snowmobiles are built as crash boxes and are designed to protect you. Just don't stick your limbs outside of the machine and you're going to be safe. Your instinct will be to be put your hand or leg out, so it's important to be quite aware so you don't let this happen.
With that explained, we're told how not to fall over in the first place. We learn that, whenever you're driving, you need to counteract the force that's trying to pull you off the machine. If you turn to the left, the force will pull you to the right, so you lean to the left with your body. The opposite, of course, is true if you turn to the right. Similarly, if you are driving up a hill, gravity will try to pull you backwards, so you would lean to the hill to counteract this force. And even if you should fall over, the staff are on hand to help you if that happens.
With all that explained, we drive in single file, with one instructor at the front and one at the back. We keep to paths in the snow, maintaining a safe distance of at least 5 metres between each other.
There's no overtaking as this can be quite dangerous. And, if we should have a problem, we are told to just stop and raise a hand, and they'll be with us shortly.
---
IMPORTANT NOTICE:
If you are reading this article anywhere other than on A Luxury Travel Blog, then the chances are that this content has been stolen without permission.
Please make a note of the web address above and contact A Luxury Travel Blog to advise them of this issue.
Thank you for your help in combatting content theft.
---
The whole operation is very slick with at least one stop in the trip where we can change drivers.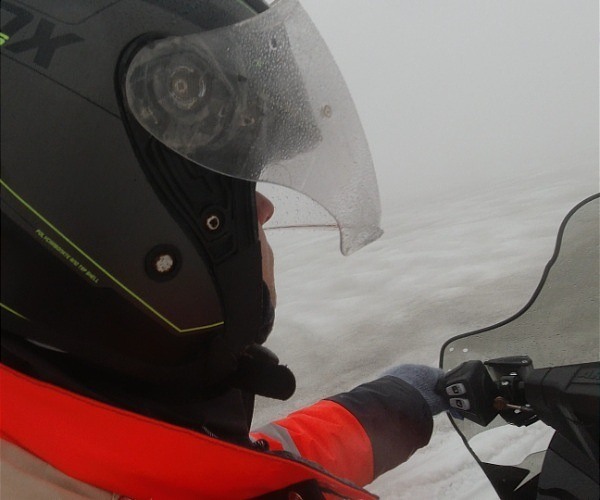 The weather had turned a little from how it was earlier in the day, and visibility was quite poor. This didn't spoil our enjoyment however!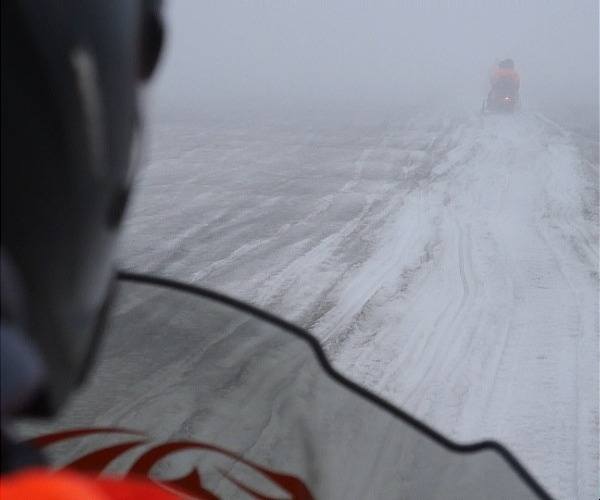 We follow an 'out and back' route – climbing from a height of 915 metres up to just over 1,290 metres, before switching drivers and heading back down the glacier. It's an exhilarating ride and ou can see the exact route we took here:
No previous snowmobiling experience is required, but all drivers must be 17 years of age or older and have a full, valid driver's license. A learner´s permit, tractor or motorcycle license is not sufficient according to Icelandic law. Fortunately for our eldest son, he passed his driving test not long before our trip to Iceland, so this was a great experience for him!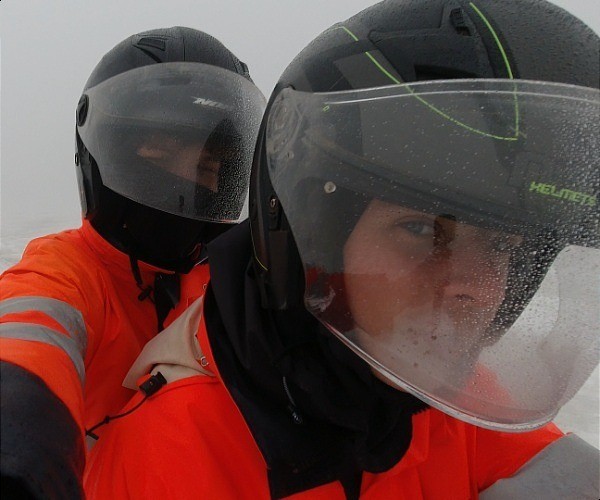 Ordinarily on this tour, you'd be able to enjoy the glacial landscapes and scenery over south Iceland, but the weather was sadly not in our favour for that.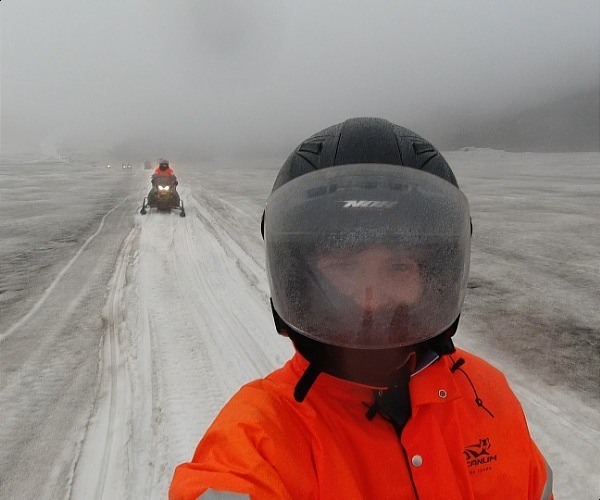 The lack of views aside, this was still a really fun excusion and, for us, a completely new experience as a family. We would jump at the opportunity to do it again one day, because the location is reportedly very scenic, with absolutely fantastic views on a sunny day!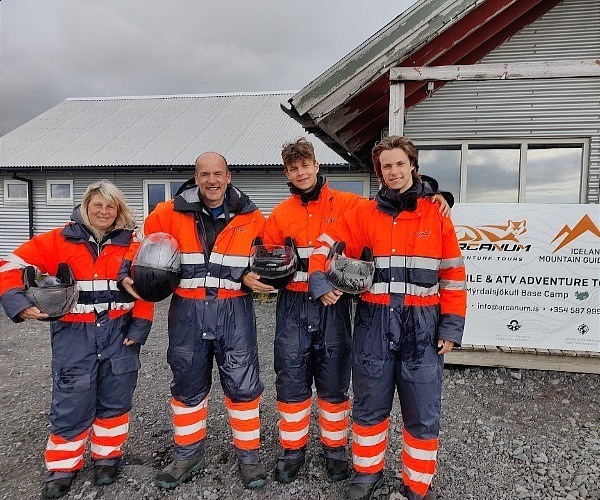 Planning a trip to Iceland yourself? You can watch a video from our trip to Iceland here. You can see the snowmobile experience between 4m 28s and 4m 47s:
Disclosure: This post is sponsored by Icelandic Mountain Guides. Our trip to Iceland was also sponsored by Helly Hansen.