The 5 best resorts in Sri Lanka to experience true luxury
By Kristof Eyckmans on May 26, 2022 in Accommodation, Asia, Hotels, Regions, Resorts, Sri Lanka
Sometimes we just want to leave everything behind and jet off to one of those unique places where you know you'll be able to relax and live life just that little bit slower and more intense. Sri Lanka is the perfect place to do so, and there are several luxurious options available to make sure your stay in this beautiful country will be memorable. To make it easier I selected 5 of my favourite ones across the island of cinnamon and tea which will ensure you'll have a luxurious stay, no matter what.
Tri, Koggala
Perched on the banks of Lake Koggala, this unique place will give you the sense that you're staying in your own little paradise. With only a handful of rooms and villas, it quickly becomes clear that this place is all about tranquility, relaxation and finding your inner peace which we all loose too often in our hectic lives. And that is exactly the luxury its guests are looking for. While the rooms do provide all the modern day amenities you desire, it's their understated charm and bright interiors that will make sure you feel right at home. You can however also hire the whole property, giving you the chance to truly unwind with 22 members of your family and friends. It doesn't get much better than that, does it?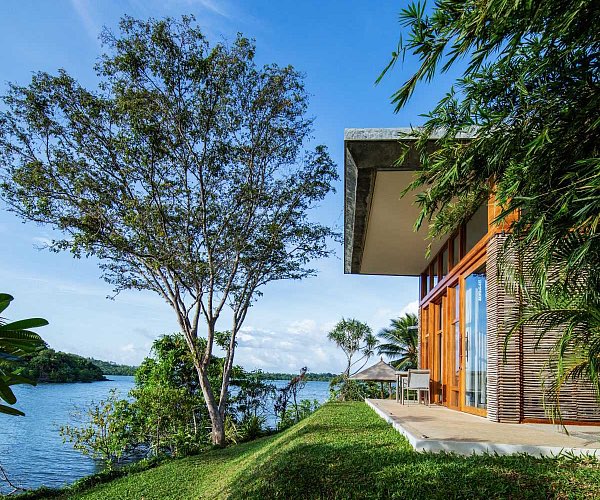 Unless you are a true yogi and like to get your mind and body connected, and for that you're at the right place. They created an elevated retreat space where the physical and spiritual practice are the main focus. Equally important is the spa which overlooks the treetops and the vast abundance of green that is right in front of you sets the perfect atmosphere for a relaxing treatment. You might even feel a light breeze which only enhances the overall experience of being so close to nature.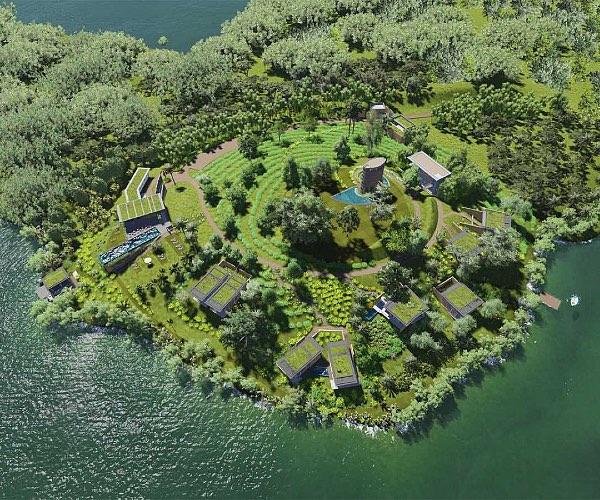 It's obvious that this property is all about nature and sustainability while indulging its guest in the most amazing experiences, but physically, spiritually as gastronomically. While initially you might not notice the fact that all the structures are built in a sustainable way thanks to its sleek lines and modern accents, it will surprise you how much thought has gone in all the details to make sure the ecological footprint is as minimal as possible. Natural local materials like the locally recycled jak wood which is just one of the examples used at Tri. All in all this place deserves its spot on the list thanks to its unique way of getting its guests to relax and live in the moment and that's true luxury.
Anantara Peace Haven, Tangalle
When it comes to hospitality brands, we all know what Anantara stands for. Its ability to create unique hotels and resorts around the world, combined with great service and superb facilities has been a proven recipe over and over again. Anantara Peace Haven is no exception and from the moment you drive up the estate you can sense the eye for detail, the little touches that make a difference, the extra smile from across the room,…. Its location on the beautiful southern coast of Sri Lanka is truly stunning and the property is so vast that it even has its own private beach where guest can enjoy that leisurely stroll or just lounge around while listening to the waves crushing on the soft sand.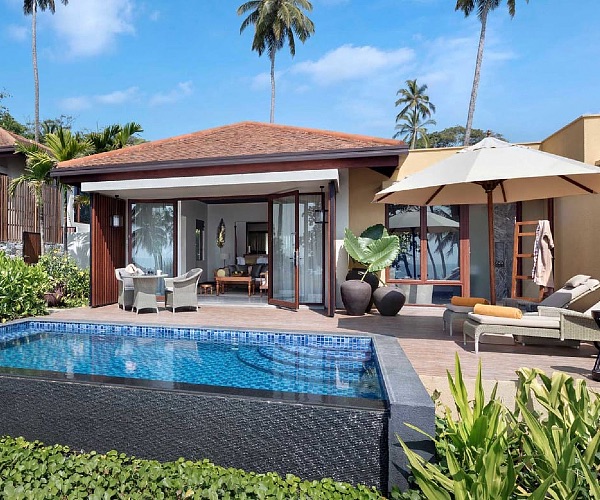 With a little over 150 rooms and villas there's a wide variety of accommodation available. The lush green gardens covering the hills that lead straight to the sea are the perfect setting for a luxurious resort like this one and the quality materials that are used in the rooms and villas are a testimony of that. Irrelevant which category off accommodation you book, you'll feel right at home in the massive beds or the beautiful bathrooms. Besides the extra room and added privacy, the villas come with a private plunge pool, which is perfect for those who like to relax in their own little sanctuary without having to leave their villa. It's also great for families as the pool will be a certain hit with the kids. Good luck getting them out to go for dinner! Luckily you can call your butler to pick you up for dinner with the golf cart which for most kids is equally entertaining.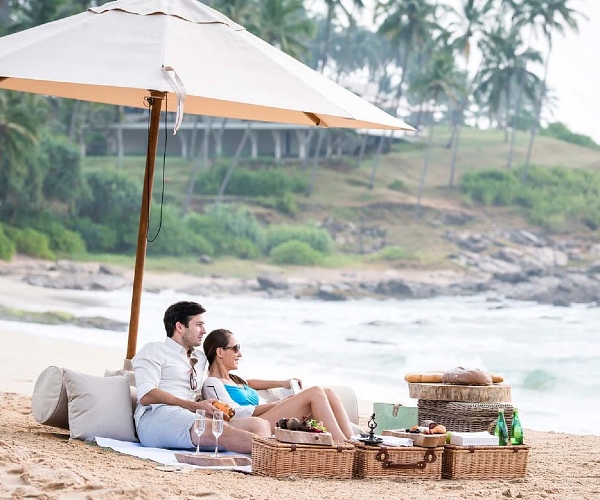 But of course, Anantara wouldn't be Anantara without some world-class facilities like an amazing spa, or some of the best restaurants in southern Sri Lanka. Verala is their Japanese restaurant which is housed in an open air dome from where you can hear and see the ocean which provided all the wonderful produce that are celebrated in this venue. Make sure to taste some of their amazing sashimi's and feast your eyes while the chef is showing off his skills on the teppanyaki. Il Mare is another one of my favourite restaurants and here your tastebuds will be whisked away to the Italian coastline where they will be pampered with all the yumminess that is available in this gastronomical walhalla. Perched on the top off a cliff, the views from the massive outside terrace surely add to the overal luxurious experience. This is also the perfect spot to enjoy sunset cocktails while overlooking the private beach and a large part of the resort. Truly a remarkable place and one you should definitely add to your journey in Sri Lanka.
Shangri-La, Colombo
Another brand that has earned its reputation is Shangri-La and their property in the capital Colombo isn't going to change that any time soon. This high-rise has around 500 luxurious rooms and suites to welcome their guests in all the comfort they're looking for during a journey on this amazing island nation. At the same time the height of the property allows for some amazing views over the city or ocean, depending on what your preference is. It's also situated next to one of the best shopping malls in Sri Lanka and offers direct access for your convenience. Question remains; will you ever want to leave the hotel once you step inside?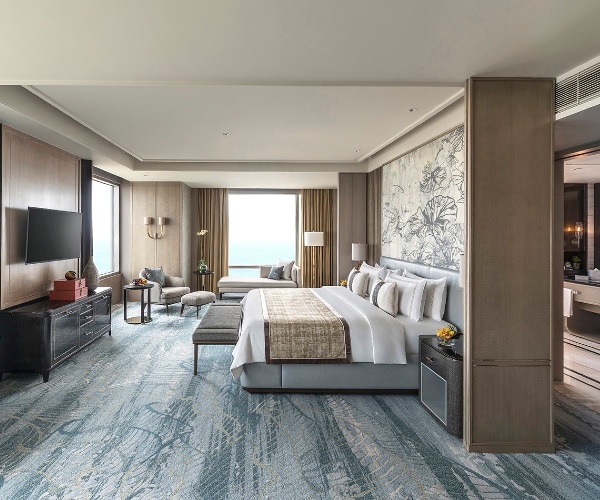 The rooms and suites are truly spacious and with all the amenities you could ask for there's really nothing much that makes you want to step outside once you entered your personal oasis. The light colour accents are the perfect addition to the abundance of light that comes in through the massive windows. Some even have a balcony which in my personal opinion is always a winner. However nice the rooms may be, I strongly suggest to discover the rest of the hotel too as there is surely more to experience than just your bedroom for the night. The pool is the perfect example and is a great mix of sleek and minimalistic lines to which they added some colour in the form of bright yellow sun loungers. It couldn't be much further from the local style which often uses dark woods but nonetheless a stunning place to hang out and enjoy a light breeze while having some cocktails at the pool bar.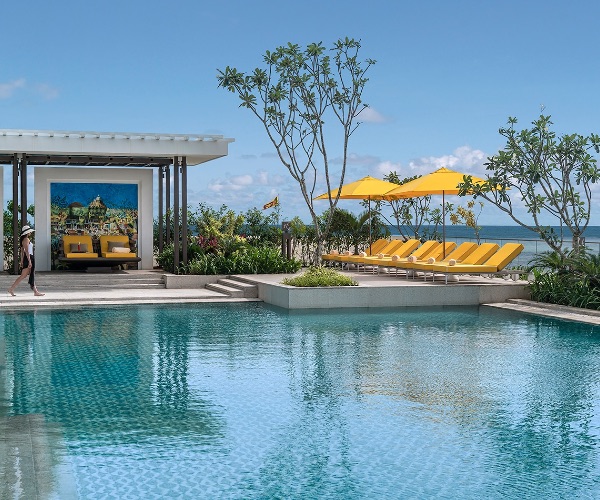 Talking about drinks, don't miss out on the beautiful Sapphyr lounge which is the perfect place for sundowners. Once the night sky is in full swing, head over to one of the restaurants where the chefs prepare some of the best food in the city. My favourite must be the Capital Bar and Grill where you'll find some of the best steaks on the island. Don't worry about all those added calories, that's something you can take care of the day after. And you even have the choice, either you go to the gym and work your body there, or you head over to the amazing Chi spa where the staff will pamper your body and soul for as long as you like. When it comes to city hotels, they don't come much better than this.
Fort Bazaar, Galle
What do you get when you transform a 17th century townhouse into a unique and luxurious boutique hotel? Right…you get Fort Bazaar which is truly the perfect example why the beautiful coastal town of Galle should be on your "to visit" list. From the moment you enter the old fort section of Galle you're transported back in time with old houses, small cobbled streets, cute little shops and restaurants and so much more. Fort Bazaar is no exception and oozes old time charm while adding some contemporary elements into the equation. Overall the marriage between old and new is beautifully done and it certainly gives your stay an extra dimension.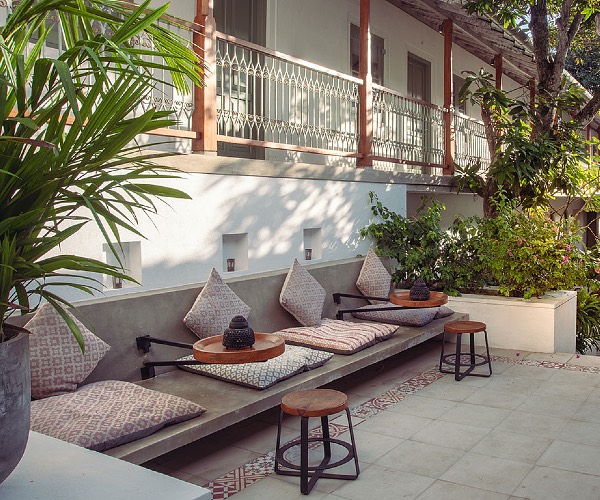 With only 18 rooms and suites available, this place does make you feel like you're staying in your own private townhouse in the middle of the action. The four-poster beds in all the rooms are without a doubt one of the eye-catchers when you walk in. But don't be fooled, all the modern amenities and facilities can also be found once you take a closer look. The light and airy rooms also often have balconies which look out over the courtyard or the quaint streets. Freestanding bathtubs give the suites that extra touch and there's even a family suite where the kids have their own mezzanine, allowing for the parents to enjoy their own little slice of private comfort.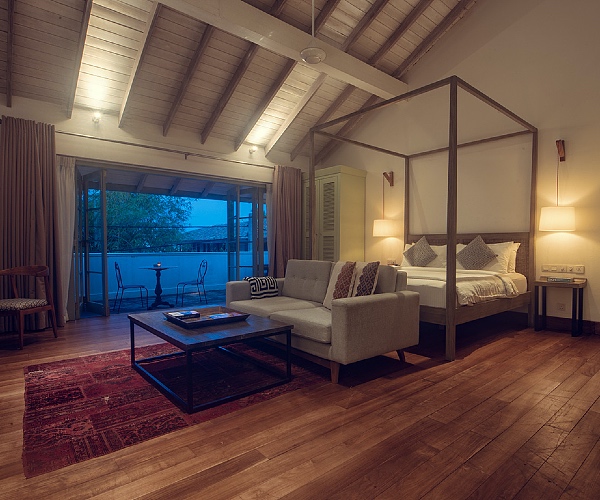 Fort Bazaar not only offers the perfect setting, it also has some of the best high-end service found in the area. The Church Street Social is not only the place where guests enjoy their breakfast, lunch or dinner, it is also one of the hot-spots in Galle thanks to its vibrant cuisine with influences from the Middle East. No worries though, there's also a lot of Asian inspired dishes leaving the kitchen, making sure everyone's tastebuds are treated to some deliciousness. Luxury is sometimes hard to describe but when a boutique hotel with a mere 18 rooms has a dedicated spa with 3 treatment rooms you know that you're in safe hands. Using locally produced products makes the overall experience even more unique and it's certainly worth it to try some of their treatments out. Fort Bazaar once again proves that boutique hotels can rival the big boys when it comes to delivering luxury stays.
Santani, Kandy
This wellness resort couldn't be left out of this list and it all starts with its location. What used to be a 48-acre tea plantation got transformed into the first and only purpose-built wellness resort in Sri Lanka. Nestled in a massive untouched forest Santani provides its guests with the perfect setting to let go of all their daily struggles in order to focus on their own well-being. All this while keeping sustainability very much in the back of their mind, and the result is truly a masterpiece of eco-friendly construction.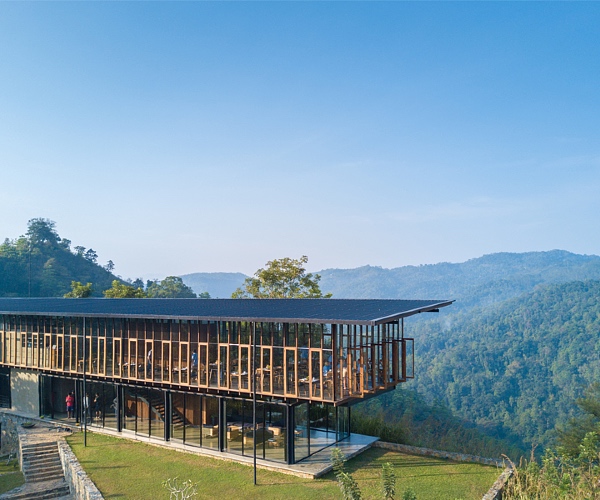 ---
IMPORTANT NOTICE:
If you are reading this article anywhere other than on A Luxury Travel Blog, then the chances are that this content has been stolen without permission.
Please make a note of the web address above and contact A Luxury Travel Blog to advise them of this issue.
Thank you for your help in combatting content theft.
---
There are 16 rooms, all overlooking the mountain range in which it is located. The style is rather minimalistic and this helps to clear your mind and focus on the important stuff. On top of that there are also 4 chalets which overlook the lush vegetation outside and these are ideal to accommodate families (note only 12 years and older are welcome at the resort). All the modern amenities you need can be found in all the rooms, but I suggest you grab a seat on your balcony in one of the safari chairs which are made out of recycled teakwood, and just breath in the clean air while taking in all the views and sounds. Beats anything on Netflix, HBO,… anytime!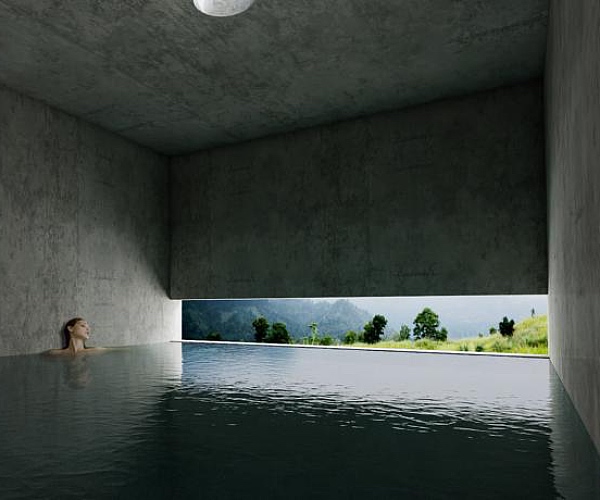 A healthy soul goes hand in hand with a healthy body, and for that you're at the right address at Santani. No only will their wellness program guide you in the right direction, their food is equally focussed on getting you to the place you want to be. How? By creating personalised menus in collaboration with the Head of Wellness and the in-house Ayurvedic doctor. Indeed, no stone is left unturned to make sure you reach your goals at this resort. H