The 5 best resorts to stay with your family in Sri Lanka
By Kristof Eyckmans on Apr 14, 2022 in Accommodation, Asia, Family Travel, Hotels, Regions, Resorts, Speciality Travel, Sri Lanka
When it comes to family travel there's a plethora of destinations out there from which you can choose. However, not all of them offer an array of unique activities like the ones you can find in Sri Lanka. Visiting tea plantations, going on a safari or exploring old forts from the time when the spice traders roamed the seas. Combine all of that with the ever-smiling people from the island in the Indian Ocean and you just found the ideal location for your next family trip. To help you along I listed the best resorts to stay at when travelling with the kids, making sure the whole experience will be a joy for every member of the family.
Àni Sri Lanka
While technically a resort, it is also one that you can only stay at when renting the whole property as Àri prides itself to be a private experience. And while that might come with a hefty price tag, you do get an insane resort which sole purpose is to give your family a holiday of a lifetime. Some things just can't beat staying at a private luxury resort and as there are 15 suites you can easily bring along the in laws or even your whole cricket team if you wish to do so. And trust me, they all want to join you cause Àri is one of those places where literally everything is included. Unlimited spa treatments and massages is just one example but who wouldn't want to spoil the family with mani's and pedi's or give their loved ones an endless array of massage options?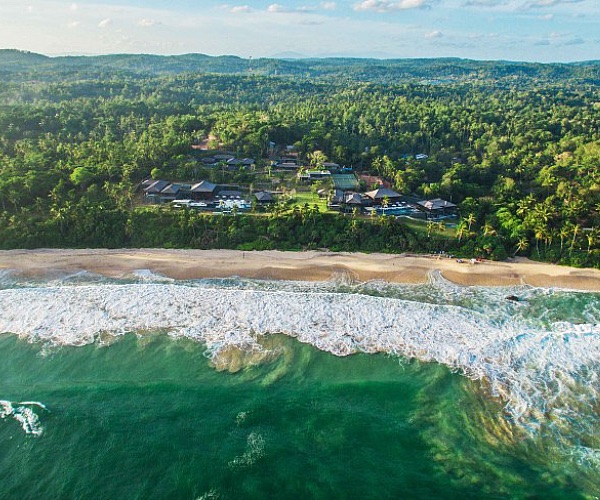 Food can make or break a stay but as you have your own private chef that shouldn't be an issue here. Same with the drinks as the in-house mixologist will shake up any cocktail you desire, or even create new ones to your specific taste. Of course, this wouldn't be Àri if they didn't offer private cooking classes with the executive chef in case you wanted to learn how to prepare some of the gourmet dishes that are being presented to you throughout your stay. Want to burn some of those earned calories, then head over to the tennis court where a real pro will give you some tennis lessons and will gladly be your hitting partner.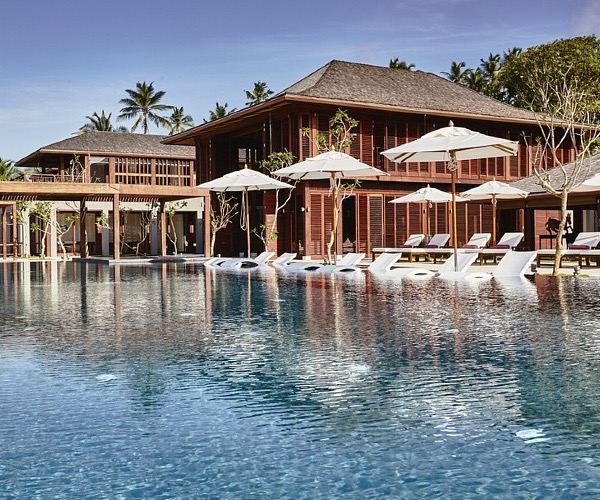 Of course, being one of the best resorts for families, you can expect some of the best kids entertainment and activities out there. When we used to go on a family trip we were happy to have a play area, but here they take it to the next level and offer a full blown kids club. And it doesn't matter if there's only one child or 10 in the group, they'll have the time of their lives. Treasure hunts, karaoke, local cultural experiences and so on are just a few of the activities on offer. For those who are a little bit older there are mountain bike tours, paddle boards,….you name it they have it. And the best thing of it all is the free babysitting cause let's be honest, we all want to have some quality time with our partners once in a while, irrelevant how much we love our little ones.
Anantara Kalutara
We all know the Anantara brand pretty much guarantees a luxurious holiday anywhere you go and the one in Kalutara is no different, on the contrary. It's only half and hour south of Colombo, making it the perfect place to discover this part of the island without being caught up in a concrete jungle. Upon arrival you will be warmly greeted by a traditional welcome dance which leads you to the actual reception area. Talking about making a first impression it doesn't get much better than this. All the staff are truly hospitable and make sure you and your family feel right at home. When it comes to accommodation there's a wide variety going from the regular rooms all the way to a two bedroom pool villa. Irrelevant of the choice you make, they're all wonderful with some local touches and all the modern amenities you would expect in a resort like this.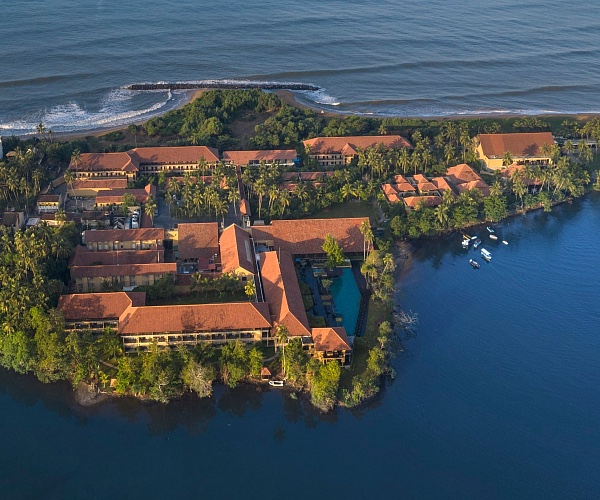 You won't go hungry either as the food is really on point, from the yummy breakfast buffet with fresh coconuts, waffles, juices, charcuterie and so much more all the way to the themed restaurants which are truly superb. My personal favourite is Spice Traders where your tastebuds will go on an epic Asian adventure while the relaxed atmosphere with soft lights, lounge music and cozy decor turn everything into a picture perfect dining experience. Acquolina is another great option and especially if you are craving some Italian culinary masterpieces. Don't forget to leave some space for dessert cause you don't want to miss out on those! Most of you might wonder if all these amazing food adventures are family-friendly, yet from the moment you arrive they make sure the whole family is having a wonderful experience, irrelevant of the age. It immediately sets the tone for the rest of the dining experience and it surely makes you enjoy these precious moments even more.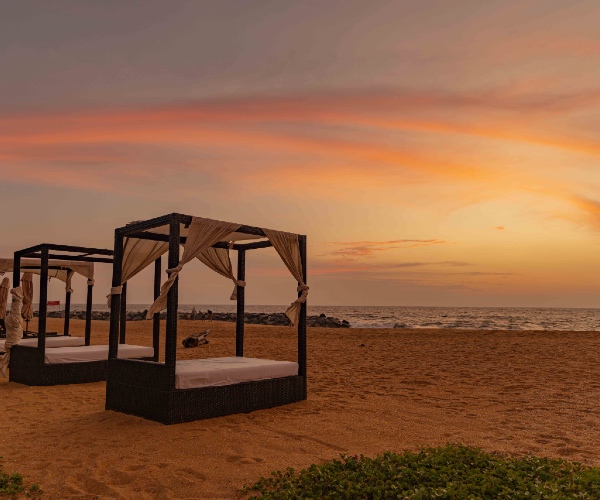 Now that you got a great place to sleep and food is the least of your worries, you only need to work up an appetite. And Anantara Kalutara knows just how to do that. There are a bunch of activities you can choose from, some more physically demanding than others of course. The fact that the resort is located on a wonderful green patch of land in the middle between a lagoon and the ocean gives the guests even more options to choose from. You can even do some zip lining over the lagoon, that is of course if you're not relaxing in the amazing spa or lounging on the beach in one of the cabanas. And the kids? Well….don't you worry about them as they will be active the whole day thanks to the kids club and plenty of other activities which the resort has planned for them. The staff truly go above and beyond to make sure your little ones are having the best time at the resort. What more could you ask for?
Shangri-La Hambantota
Another brand that is synonymous with luxury holidays and the Shangri-La Hambantota which is located on the southern coast of Sri Lanka is yet another testimony of that. The resort has 58 hectares to play with, making it the largest resort of the country. Yet, don't expect to feel like you're staying in a gigantic resort where you're just a number and waiting lines are as common as a financial crisis. None of that as most of the space is used for its tropical gardens and of course its own resort golf course (the only one in Sri Lanka).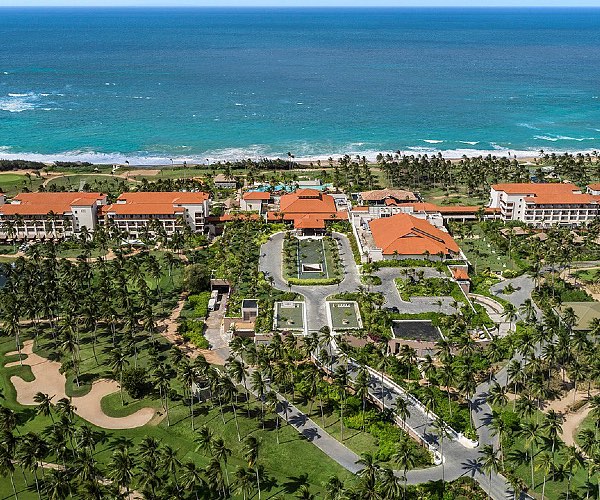 The style of the rooms and suites is a nice mix of relaxing beach retreat with stunning wooden floors and dark wood finishes. It really doesn't matter if you go for the tropical garden or the ocean views as each room will give you that undeniable island feeling. There are only 2 restaurants (I would have liked to see a bit more but who am I), one being Bojunhala which will serve you buffet style while the other one is Sera where you'll have all the amazing Asian classics waiting for you to be tasted. Rather just want to have a drink, then head over to the Gimanhala Lounge which is the perfect spot to enjoy some sunset views while sipping a fancy cocktail. The clubhouse at the golf course is also an option for both food and drinks, but it's much more casual than the rest of the places I just talked about.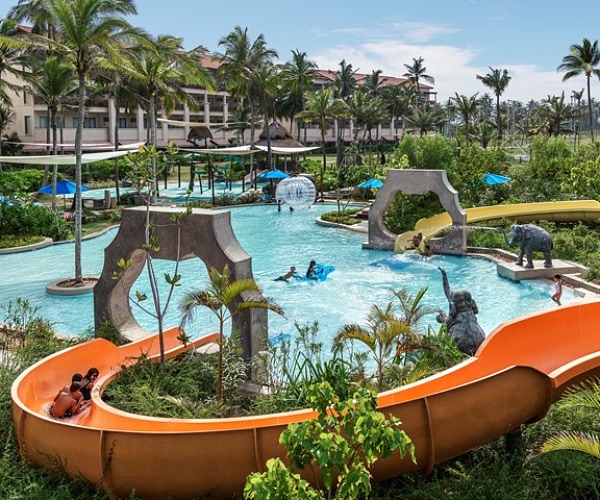 So why is this the ideal place to stay as a family when all you talk about is the golf course, restaurants and the 19th hole? Well, the Shangri-La Hambantota has a great kids club where the youngsters can release all their energy instead of doing that in your room or while you're trying to have a nice meal. Besides the club with all kinds of entertainment for all ages, there's also the Aqua zone. Imagine water slides, sprinklers and elephants spraying water all over the place. Yup, it might sound like a challenge for us as a parent but trust me, your kids will love it and in the end that's all that matters on a family holiday….right?
Centara Ceysands
This little slice of heaven is located in Bentota on the west coast of Sri Lanka right where the Bentota Ganga river meets the Indian Ocean. As it is nestled between these two you can imagine the amount of water activities that are available for your entertainment. One of my favourites is going on a river safari to explore the in's and out's of the eco-system. If you want to explore a bit more of the ocean there's also a Paid dive centre which will make sure you'll see all the splendours of the underwater world. But if you prefer to keep it dry you won't be bored either as there are plenty of options to keep you busy.
One of those options is to rent bikes to discover what the area has to offer. There's plenty to see and do, and it's a great way to meet the locals. Rather stay in the comfort of the resort? No problem, the massive swimming pool (with jacuzzi) is certainly not a punishment to hang around. For the kids there's also a children's pool but they might be too busy for that as the kids club will certainly attract their attention! For the teenagers there's even an E-zone and games room which will be an instant hit.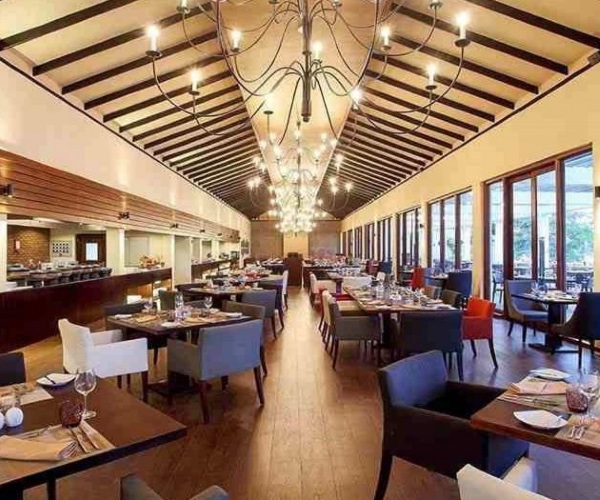 ---
IMPORTANT NOTICE:
If you are reading this article anywhere other than on A Luxury Travel Blog, then the chances are that this content has been stolen without permission.
Please make a note of the web address above and contact A Luxury Travel Blog to advise them of this issue.
Thank you for your help in combatting content theft.
---
So how about the accommodation? Well, there's certainly a wide choice of options but the family suites are perfectly suited for those who come over with younger kids as it features bunk beds for the little ones and who didn't love those during our childhood? The views from all the rooms are either on the river or the ocean which isn't too shabby either of course. F&B options are also very suitable for families which is always a bonus and the menus will please even the most demanding guest, irrelevant of their age.
RIU Sri Lanka
Equally located on the west coast of the island, this hotel is the first RIU branded property in Sri Lanka. Those of you who's been to one of their other properties know they do deliver a solid product and their all inclusive is truly worth it. Sitting on a beautiful patch of beach, I can highly recommend the ocean facing rooms which will give you that extra holiday feeling when waking up in the morning overlooking the vast water mass. The style of the room interior is less to my liking, but of course that's a personal feeling and for the amount of time you'll spend in the room I'm sure you can ignore the fact that the rooms are a bit boring and too mainstream.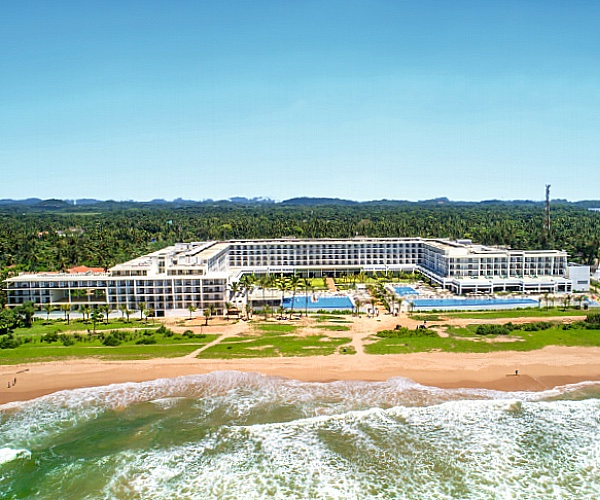 Luckily the main attraction for the kids is spot on….the Riuland kids club which will make every child's heartbeat go into overdrive. They also have a great playground and if you prefer to play in the water there's the dedicated kids pool which is an instant success with all the younger guests. What more could you ask for? Unlimited ice cream? Well….it is an all inclusive resort after all.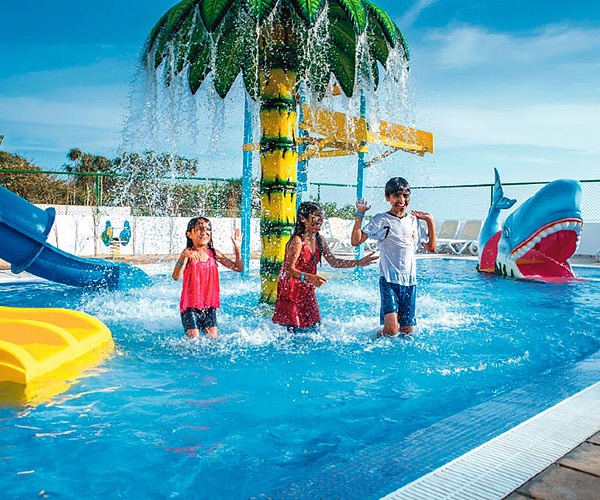 Of course the resort also though about the adults (in the end it's them who settle the bill isn't it) and the Renova spa is the perfect place to truly unwind yourself. From a relaxing massage to a manicure and even a hair dresser is on site. No excuses anymore to rock up at dinner with that bewildered hairdo. Talking about dinner time, you really want to try some of the food that's served in one of the 5 restaurants. Italian, Asian, Sri Lankan,….all your favourite kitchens are here. And when the kids are asleep and you still want to have that little nightcap before going to bed yourself, just visit the "after hours" bar which I'm sure will serve you just what you're looking for.