The best and most luxurious trips to consider for this upcoming Autumn!
By Kristof Eyckmans on Jul 30, 2022 in Accommodation, Africa, Asia, Chile, Europe, Hotels, Italy, Maldives, Rail Travel, Regions, Resorts, South Africa, South America, Speciality Travel, Western Europe
While Summer is in full swing, many are already looking forward to the upcoming Autumn season because they prefer to avoid large crowds, high season prices or just the scorching heat in some of the most popular holiday destinations on this planet. Personally I always try to plan most of my trips during shoulder seasons cause in my opinion it offers the best bang for your buck while avoiding all the hassles peak season brings with it. To give you some examples I listed a few of my favourite trips below which I suggest you to consider for the upcoming autumn holidays!
Waterside, South Africa
Those who've been on a safari in South Africa before will surely agree with me when I say "there's not a bad moment to visit the rainbow nation". While it will be spring in the southern hemisphere which results in some of the rains to return, especially towards the end of season, it also means the cold winter temperatures are gone and believe me…you'll appreciate that when you wake up at 5am to go on a morning game drive. It is also the season to witness an abundance of life sprawling and there is no better time to see the newborn wildlife in their natural habitat! If there's one brand that knows exactly how to make sure your safari experience is going to be one to remember, it's the Royal Portfolio. Known for it's ultra luxurious properties across South Africa it has been one of the most sought after brands for those who look for a carefree experience or if you're talking about all the celebrities and high-profile guests that stay at their properties it's all about the privacy they can and will provide.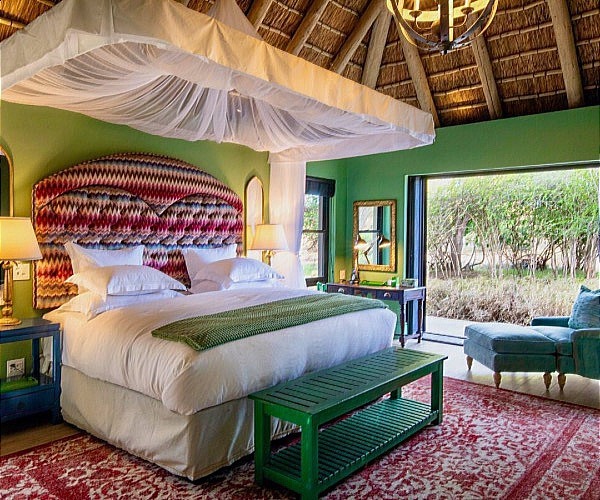 This year they opened up a new lodge called Waterside. Located in the Greater Kruger, just around the corner of the Royal Malewane and the Farmstead (two of their other lodges in this part of SA) it offers some of the best wildlife experiences to be found anywhere in the world. Add to that the amazing guides, rangers and trackers and you know you're in for a treat. The style of Waterside is very much in line with all the other properties of the brand thanks to Liz Biden, one of the founders of the Royal Portfolio, who has a keen eye to snatch up beautiful furniture and decorations all across the globe during her travels and later incorporates these into the lodges and hotels she creates. Young and upcoming local artists are also often showcased and by doing so given a platform on an almost international level due to nature of the guests. It's a unique and sometimes eclectic style which is instantly recognisable and makes any repeat guests feel right at home.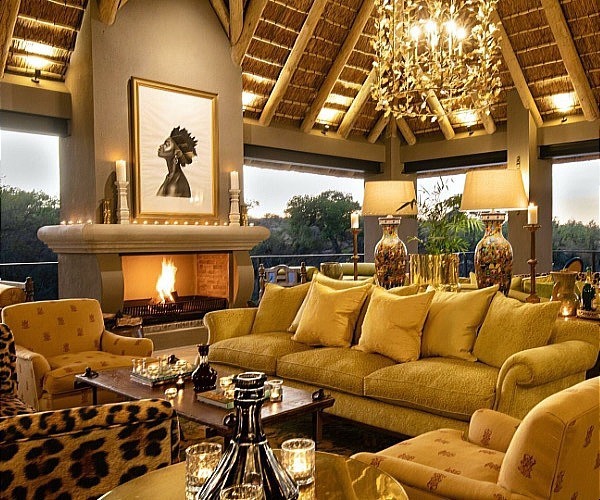 With only 7 suites and 1 four-bedroom Waterside house the lodge feels very boutique and you are more than welcome to bring the kids along! They will have the time of their life with special kid-friendly game drives, jungle gym, games room and so on. But not to worry, this is still very much an adult playground with photographic safaris, endless culinary delights accompanied by some amazing wines from the impressive Waterside cellar, endless wellness opportunities at the Reflections spa,…and of course the highlight of the show being the game drives with the most qualified guiding team in South Africa. And the latter truly pays off as I have rarely had such knowledgable guides and successful game drives as I did over here. Waterside is a place which you need to see, feel and taste before you'll truly understand the lifetime memories you'll create over here.
Belmond Cipriani, Italy
This hotel doesn't need any introduction as it's one of the most iconic hotels to be found on European soil. The Cipriani, located in the stunning city of Venice, has been home to well-travelled guests who can appreciate its location, space, atmosphere and impeccable level of service. The fact this also attracts countless celebrities, high-profile guests and even royalty is just a testimony that the luxurious Cipriani knows how to treat its guests, and this for over 60 years already! Giuseppe Cipriani who's the founder of the hotel wanted to create an oasis near the centre of Venice, yet away from the hustle and bustle, hence why he came up with the brilliant idea to construct his dream on Giudecca island, right across the St Mark's Square.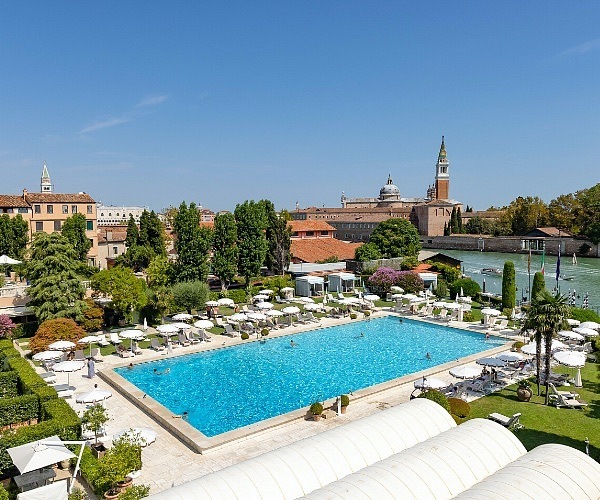 With the location on point, he only had to find a showstopper to make sure his hotel would become the place every jet-setter wanted to stay. The solution was found by building an olympic-sized pool on the hotel grounds together with the garden which is named "Casanova's garden" thanks to the fact that he frequented this lush green oasis to have many of his famous "meetings". Added to this came the beautiful rooms and immaculate service and all the rest is history. The Cipriani continued innovating but yet always kept the main pillars of its success and it shows today where you'll have a hard time not to fall in love with this place. And when Belmond took over it only secured the future. You come to the Cipriani when you want to visit Venice but want to feel like staying with friends. This place has a real soul, a character that is hard to beat and as princess Diana once said during her stay: "home at last". It's that feeling you can't physically grasp yet mentally instantly feel.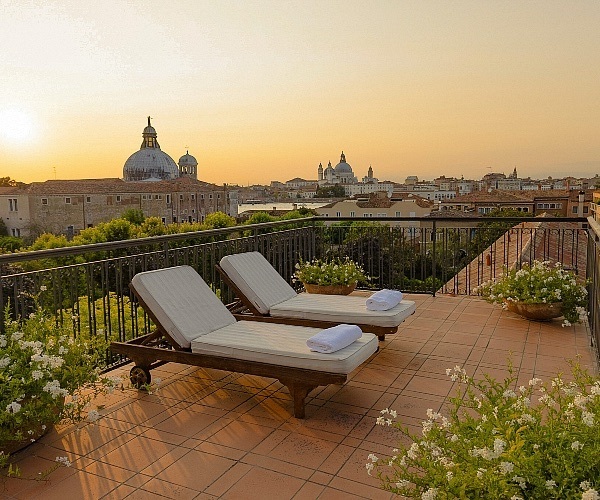 So what are my (and should be yours) favourite things to do when I stay here? First of all start the day right, with an amazing breakfast at Caffè San Giorgio overlooking the water where the everyday life of Venice passes by. Next up is a quick visit to the city which can be reached thanks to their complimentary shuttle service that runs 24/7 to visit some of the countless monuments or just to stroll around to work up yet another appetite. Why? Because I really enjoy having lunch at Cipriani's Cip's Club or Il Porticciolo depending on which view I'ld like to have that day. Afternoons are for a swim in the famous pool or a wellness session at the spa before retreating to my room to get myself ready for pre-dinner cocktails at the Gabbiano bar where you certainly need to order the original Bellini which was invented by Giuseppe himself! Ending the day with a dinner at Oro, Cipriani's Michelin-star restaurant, is truly a feast and will make you want to do it all over again the next day! Trust me, when you stay here, you won't have a single complaint besides the fact that you need to give back your roomkey at the end of your stay!
Gili Lankanfushi, Maldives
Indeed, the Maldives couldn't be left out on this occasion and while many hands might start to get itchy at this moment as they would love to reply that autumn in the northern hemisphere is the end of the rainy season in the Maldives, it is equally a fact that the dry and rainy season in this part of the world isn't as black and white anymore as it used to be. I personally witnessed this during my last visits at the archipelago in October and equally in February where at both occasions the weather was the total opposite of what it "supposed" to be. So save some of that hard earned cash and visit these amazing islands during the shoulder season. You can buy me a drink afterwards as a gesture of thanks. 🙂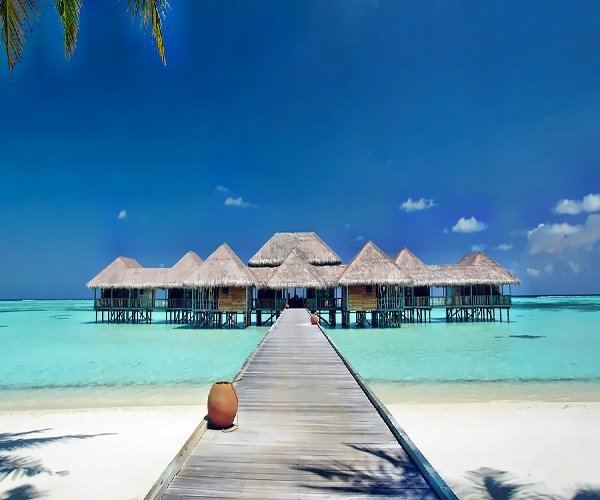 So why Gili Lankanfushi when there's an endless array of resorts to be found here? Well, for those who've been I don't have to explain a single thing. For those who haven't…I can only say Gili is without a doubt among the most eco-friendly, luxurious, exclusive and heartwarming places you'll ever stay. Its location at only a mere 20 minutes speedboat ride from the international airport is an added bonus. I timed it and it took me 55 minutes from de-boarding the plane to being welcomed by the most genuine and friendly staff on this paradise island. Don't get me wrong, I love seaplanes and I always enjoy the ride, but being able to truly start your holiday a mere hour after you landed is just unrivalled and hard to beat. And it only gets better once you enter one of the 45 overwater villas. They all offer a ridiculous amount of space, a rooftop terrace where you can spend the night under the stars in case you feel like it (you really don't want to miss this experience) and from which you have a gorgeous view over the lagoon, … the list is just endless.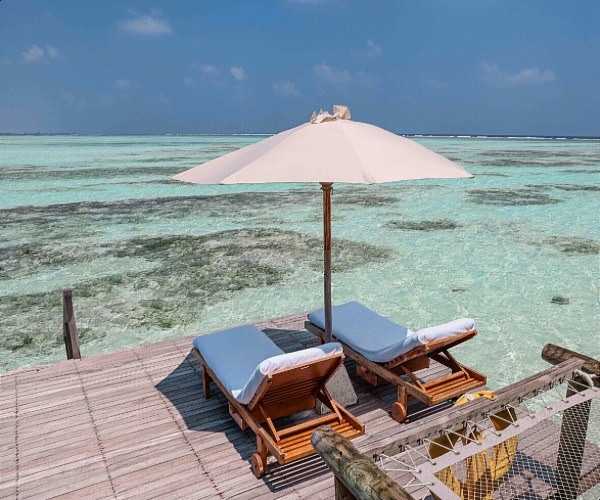 One of the ways Gili Lankanfushi sets itself apart from the others is the way they approach their guests. The perfect example is their Mr and Mrs Friday (also known outside the resort as a butler) who will take care of every need you might have, and that goes beyond just another bottle of wine which you would like in your villa or to organise a private outdoor cinema evening under the stars. For example, there's no kids club or anything similar at the resort, yet you hardly see any of the younger guests because your Mr and Mrs Friday take them along on driving lessons with the golf buggy, or to build sand castles on the beach. They even join them on some of their daily duties is case they like to and by doing so they create a bond that is truly beyond what your kids experience anywhere else. Of course, we haven't even started to talk about the amazing food which you'll be able to enjoy on the island, or the cheer beauty of the resort and lagoon which is among the best in the Maldives, or the utter peace and quiet which you'll be able to find over here. There are simply no words that will be able to describe what a stay over here feels like, but "pure perfection" is pretty darn close.
andBeyond Vira Vira, Chile
Located along the Liucura river in the Chilean Lake District, this beautifully designed lodge will welcome you in its arms and instantly starts radiating its warmth and hospitality. Lots of wood, carefully selected patches of colour, an abundance of natural light and endless quality details will make you feel right at home. The atmosphere is relaxed and it's clear everyone is enjoying the surroundings and everything it has to offer. From September till December you'll witness spring in all its glory and because the transition from winter to summer goes relatively fast, you'll be able to experience plenty of activities of both seasons, depending on the time you visit the lodge of course. With only 6 suites, 12 villas and 1 five-bedroom sole-use hacienda this place feels intimate and more like visiting a family estate instead of yet another luxury lodge.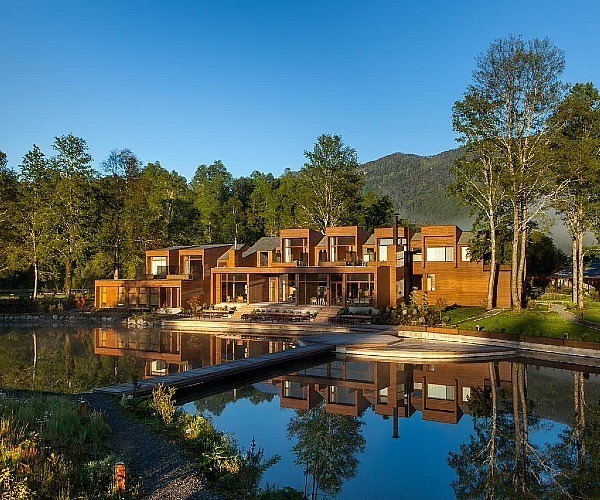 One of the many examples of luxury you'll find over here, is the group of guides which are among the best in the area and who will be able to show you the terrain and surroundings in ways you can't imagine. This of course is due to the fact that most of the staff are from this area and know it as the back of their hand. This only enhances the quality and overal comfort you'll find at andBeyond Vira Vira. For the foodies there's a state-of-the-art cheese factory and organic vegetable garden on site, and in the hands of the chef these ingredients are transformed into true culinary masterpieces where regional flavours and fresh seasonal produce are key for the overal dining experience.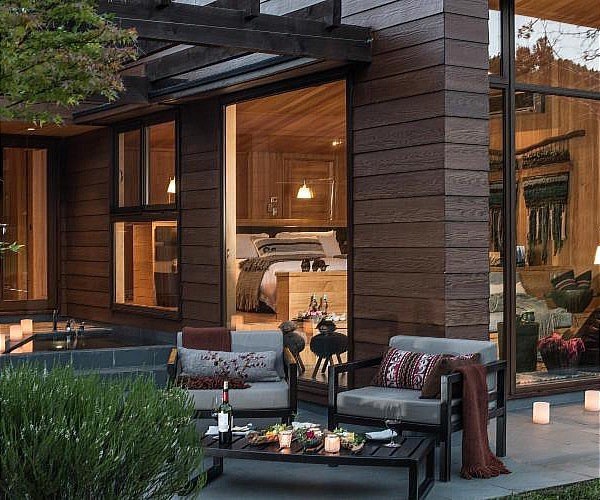 After reading this you might ask yourself how you're going to burn some of those calories but believe me, there's a plethora of activities which you can enjoy either seasonally or year-round that you'll have a hard time picking which one you'll do first! Paddle boarding, mountain biking, yoga, forest therapy, a visit to a local community, horseback riding… it's all possible year-round. The ascension of the Villarrica volcano, kayaking, white water rafting, heli-fishing and even skiing (among many other leisure activities) can be done during the shoulder season so there's really no excuse for sitting on the terrace of your villa while enjoying the amazing scenery around the lodge. Then again, nothing wrong to enjoy some quality time while savouring one of the many delicious wines which your private butler brought to you from the vintage wine cellar stocked with the best chilean wines you can find. This place assures you'll experience South-America the right way!
---
IMPORTANT NOTICE:
If you are reading this article anywhere other than on A Luxury Travel Blog, then the chances are that this content has been stolen without permission.
Please make a note of the web address above and contact A Luxury Travel Blog to advise them of this issue.
Thank you for your help in combatting content theft.
---
Rovos Rail, all across Southern Africa
I've mentioned Rovos Rail before and I'll continue doing so as I still believe it is one of the most amazing ways to travel across the southern parts of Africa. For those not familiar, Rovos Rail is a family owned business where you can travel in true luxury over the extensive railway network while being treated like royalty. Forget having to compromise on everyday comfort while riding on these trains as all the suites (indeed, no such thing as a small cabin to be found over here) have their own private bathroom which includes a separate toilet, basin and a shower or if you go for the royal suite even a Victorian bath! Another thing that stands out to me is the fact that the beds sole purpose is to serve as a bed, unlike many other sleeper trains where the beds often also serve as couches during the day.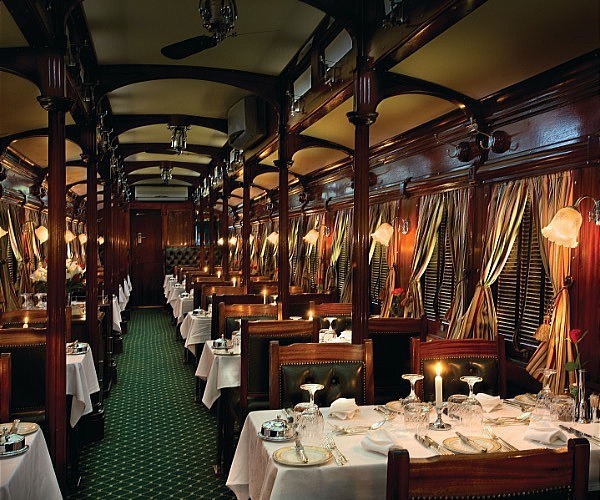 You might want to spend a lot of time in your suite, but believe me, you really want to explore the rest of the train too and enjoy everything it has to offer. The showstopper for me is without a doubt the observation car where you choose either to sit in one of the many comfortable sofa's inside or opt to have some fresh air outside on the open-air balcony where you can truly experience the smells and sounds from the landscape you're going through. The observation car has another big advantage, being the bar where you can literally order any drink you can imagine and the staff will happily provide it to you. The immaculate and very impressive South African wines which you can enjoy are certainly worth to consider! All drinks and food are included in your fare in order to truly make sure your mindset is focused on the journey and nothing else. The dining cars also deserve their slice of attention cause they are beautifully restored carriages where you can relive the grandeur of a bygone era, especially during the gala dinners where guests will go all out to dress up and turn the evening into a wonderful event.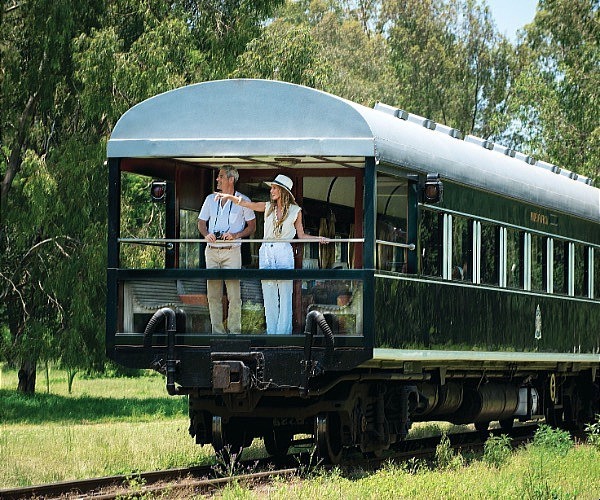 In recent times Rovos Rail has increased the amount of routes from which you can choose and now it will be even harder for you to make a choice as all of these epic journeys hold something special for everyone. Trips range between 3 to 15 days with all kinds of variations in between in order for everyone to find something they like that fits the budget. If you are tight on time I would go for the Pretoria-Cape Town journey giving you a great impression of South Africa while stopping at some wonderful places where you can enjoy the complimentary excursions. Rather want to spend more time onboard, I suggest taking the Dar-Es-Salaam – Cape Town route which will bring you through 5 different countries over the course of 15 days, stopping at some of Africa's most amazing gems like the Victoria Falls or the South Luangwa National Park. No matter the journey you pick, it will be a mind-blowing experience which will fast become addictive. Don't tell me I didn't warn you!
Looking forward to hear your thoughts and if you might have any plans already…