Ultra-luxury suites on Seabourn's new expedition vessel
By Paul Johnson on Jul 20, 2023 in Cruises & Boat Travel, Speciality Travel
Seabourn is excited to introduce the luxurious Seabourn Pursuit, the second purpose-built expedition vessel in its fleet. With a launch scheduled for Summer 2023, Seabourn Pursuit will offer 132 oceanfront veranda suites, providing guests with a comfortable and elevated experience during their voyage.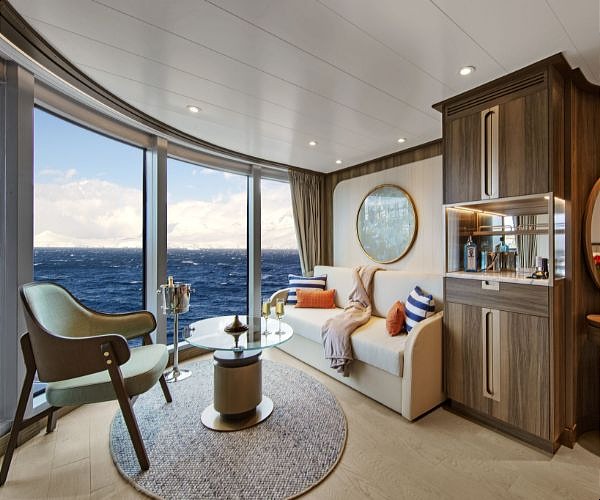 Tihany Design, led by Founder Adam D. Tihany and Managing Partner Alessia Genova, has created sumptuous interiors for Seabourn Pursuit. The design combines comfort, elegance, and ruggedness, with color palettes, materials, and textures that reflect Seabourn's signature luxury. Every detail, including retro-style light switches, showcases the thoughtfulness and custom design of Tihany Design.
The suite accommodations on Seabourn Pursuit consist of 132 individual oceanfront suites, each with a private ocean-view veranda. These suites offer a spacious living area, a choice of a queen-size bed or two twin beds, a walk-in closet, an interactive TV with music and movies, a fully stocked bar and refrigerator, a writing desk with personalized stationery, and a makeup vanity. The marble guest bathrooms are generously sized and feature a full tub, separate shower, and luxury beauty products.
One unique feature of the suites is the built-in heated jacket wardrobe, allowing guests to quickly dry their outdoor gear, including the complimentary PolarShield Parka, or warm their coats on cool mornings before venturing out. Additional amenities include a personal safe, plush robes, slippers, and a hairdryer. The bedding is luxurious, with a custom-built mattress, comfortable cotton linens, a fluffy all-season duvet, and a selection of firm or soft pillows. The in-suite bar is regularly replenished with a variety of beverages, including complimentary wines and spirits upon request. Guests can also enjoy access to favorite newspapers and magazines through the complimentary PressReader app on their personal devices. SWAROVSKI OPTIK binoculars are provided for guests to appreciate the natural beauty from a distance.
The exclusive custom furniture collection in the suites was developed by Tihany Design and manufactured by Italian furniture maker Roda, renowned for its craftsmanship and innovation. The bespoke furnishings feature wood and metal frames, textured fabric, and leather, combining luxury with ruggedness and setting a new standard for expedition cruise design. The suites also incorporate design elements inspired by maritime craftsmanship, such as natural curvilinear arches and parchment-inspired wall panels. Digitally printed wall laminate material mimics wood with intricate details, while heated flooring with wooden-look tiles adds a touch of warmth. Custom bedside panels feature toggle switches, an analog clock, and a fold-away reading lamp. The carpeting showcases organic shapes, and premium bedding and accessories ensure supreme relaxation, with custom-designed blankets and finely textured throws made from sustainable materials.
---
IMPORTANT NOTICE:
If you are reading this article anywhere other than on A Luxury Travel Blog, then the chances are that this content has been stolen without permission.
Please make a note of the web address above and contact A Luxury Travel Blog to advise them of this issue.
Thank you for your help in combatting content theft.
---
Seabourn Pursuit offers a range of suite categories, each with its own specifications and unique features:
Veranda Suites: These suites are the most abundant accommodation option and feature a separate seating area with a coffee/dining table for two. Each suite offers approximately 355 sq. ft. (33 sq. m.) of total space, including a private furnished veranda of 78 sq. ft. (7 sq. m.). There are four categories of Veranda Suites available, with sizes varying by suite.

Veranda Spa Suites: These suites are identical in size and layout to Veranda Suites but include additional in-suite spa amenities and access to a dedicated spa concierge service.
Panorama Veranda Suites: Exclusive to the expedition ships, Panorama Veranda Suites offer a semi-circular living area with comfortable seating and expansive floor-to-ceiling windows, providing guests with stunning views of the outside world. The bathroom features a separate shower and a large soaking tub positioned next to a window, allowing guests to relax while enjoying the scenery. These suites are located on Decks 5, 6, 7, and 8 and measure 420 sq. ft. (39 sq. m.), including a private furnished veranda of 86 sq. ft. (8 sq. m.), although sizes may vary.

Penthouse Suites: Located on Deck 8, each Penthouse Suite features a living area with a dining table for two, allowing for in-suite dining and ample natural light through large windows. The Penthouse Suites offer approximately 527 sq. ft. (49 sq. m.) of space, including a furnished veranda measuring 97 sq. ft. (9 sq. m.).

Penthouse Spa Suite: These suites combine the spaciousness of a penthouse with access to the onboard spa and wellness facilities. They include the same amenities as the Penthouse Suites, along with additional in-suite spa amenities. Located on Deck 7, these suites stretch across 635 sq. ft. (59 sq. m.) and feature a private furnished veranda measuring 205 sq. ft. (19 sq. m.).
Grand Wintergarden Suites: Positioned on Decks 7 and 8, these two-level suites combine two suites into one, offering a spacious living area, a dining table for four, a second bedroom, a separate guest bath, and a pantry with a wet bar stocked with a selection of spirits. The upper level features a master bedroom with expansive windows, a wall of closets, and advanced technology, including a roll-up LG OLED TV. The suites also include a separate walk-in closet, a five-piece bathroom with a whirlpool spa tub and separate shower, and a Swarovski ATX Interior spotting scope for wildlife and vista spotting. The Grand Wintergarden Suites offer a total area of 1,399 sq. ft. (130 sq. m.), including two furnished verandas totaling 205 sq. ft. (19 sq. m.). Wintergarden Suites without the additional bedroom and full bathroom on the lower level are approximately 1,044 sq. ft. (97 sq. m.), including a private furnished veranda of 129 sq. ft. (12 sq. m.).

Owner's Suites: Located above the bow on Deck 7, the Owner's Suites feature a comfortable living area with high-definition TV, a writing desk, and a dining table for two. A glass door leads to a curved veranda with sun loungers and a table for four, offering a perfect space for socializing with fellow guests. The separate bedroom includes a queen-sized bed, a large window, a makeup vanity, and a walk-in closet. The five-piece bathroom is designed with multiple doors that can create a half-bath and features a separate shower and bathtub. The suites measure 1,023 sq. ft. (95 sq. m.) and include a private veranda of 484 sq. ft. (45 sq. m.).

Signature Suites: Positioned at the stern of Seabourn Pursuit, Signature Suites feature a foyer entry, a living area with a dining table for four, a guest bath, and a pantry with a wet bar. Large windows flood the suite with natural light. The separate bedroom includes a queen-sized bed, a makeup vanity, generous closet space, and a glass door leading to a large curved veranda with a canopied whirlpool spa tub, sun loungers, a sofa, and chairs. A five-piece bathroom with a separate shower and tub completes the suite. The Signature Suites offer approximately 1,377 sq. ft. (128 sq. m.) of space, including a 592 sq. ft. (55 sq. m.) furnished veranda.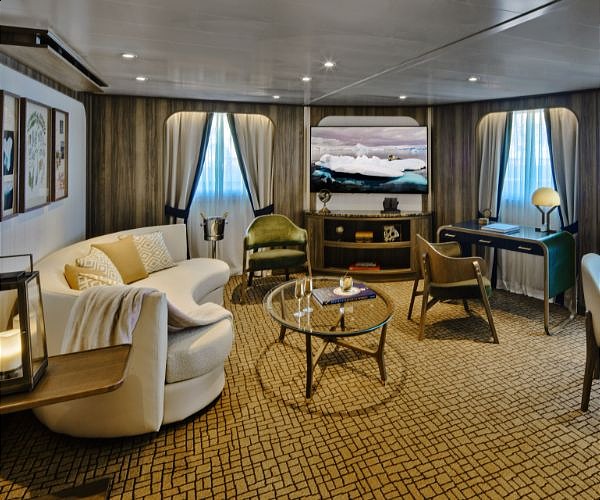 Guests of the vessel will enjoy the signature services and attentiveness that Seabourn is known for. Each suite is assigned a Personal Suite Host and Suite Attendant to ensure every detail is to guests' liking. These dedicated staff members provide personalized touches, including welcoming Champagne and canapés, nightly turndown service, assistance with special requests, regular replenishment of ice and bar setup, management of laundry service, and the drawing of Pure Pampering baths upon request.
Seabourn Pursuit promises an unparalleled luxury expedition experience, where guests can relax, explore, and indulge in the comfort of their home away from home.