Antarctica – The White Continent: a guide to this extreme yacht charter destination
By Trina Howes on Jul 21, 2023 in Antarctic, Cruises & Boat Travel, Polar Regions, Regions, Speciality Travel
Antarctica was once only the domain of explorers, whalers and scientists, but now with advances in naval architecture and navigation, it is possible to charter a specialist vessel and make the epic journey to The White Continent.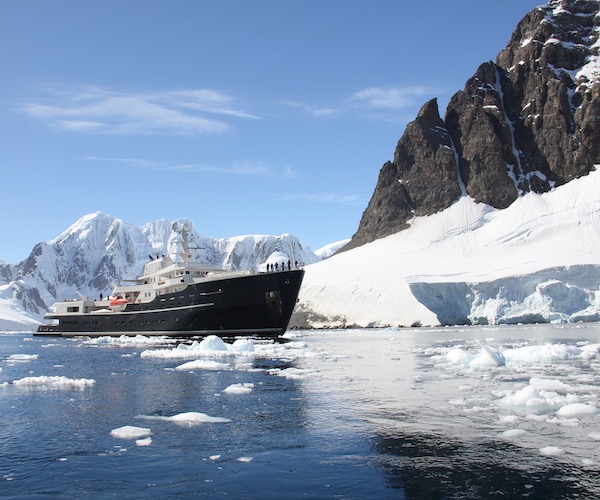 The extremes of weather and demanding conditions make a charter to Antarctica a unique adventure and one which must be undertaken with careful planning and specialist capabilities. A tough new breed of exploration yachts has emerged in recent years which are ideal for this type of adventure offering long range, high levels of safety and reliability plus the same interior luxuries and décor as the best superyachts. Explorer yachts are also high volume with plenty of space for guests, crew and equipment making them desirable for extended cruising in the challenging Antarctic environment.
In short… they get you where you want to go.
The otherworldly landscape of Antarctica is dominated by the ice, which in places is 2 miles thick and covers 98% of the continent. Unlike the Arctic, Antarctica has land beneath the ice cover and is the size of the USA and Mexico combined with more than 70 sub-glacial lakes. Icebergs appear with a blue hue and are carved and polished into giant towering structures which move eerily through the water and past permanent cliffs of ice.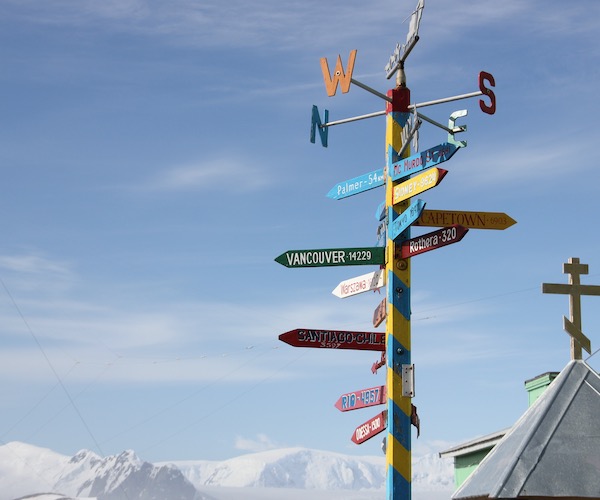 The inhospitable environment makes permanent human inhabitation impossible, but the continent is home to prolific wildlife … penguins, seals and whales – who have found remarkable ways to survive in the coldest, driest, windiest place on earth.
The ice and wildlife are what fascinates visitors and on an expedition charter yacht it is possible to enjoy every comfort as you explore: large staterooms with superior facilities, bubbling deck hot tubs, specialist water toys and chef-prepared meals served by a professional crew. Highly skilled captains and guides with expert ice navigation experience will keep visitors safe on board and strive to get the most out of conditions to maximize guests' experiences.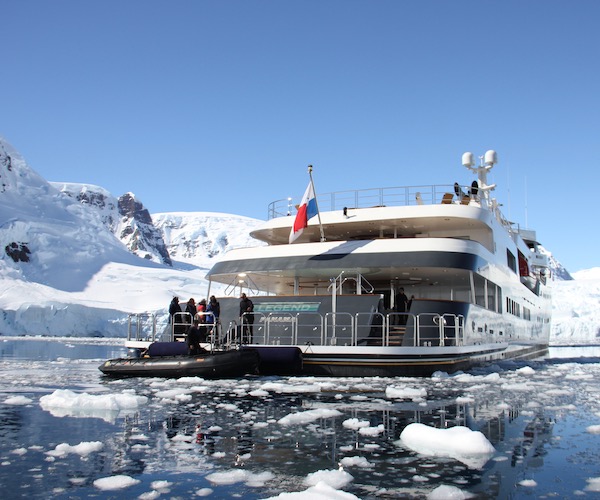 Despite the harsh conditions it is still possible to explore away from the yacht as many carry specialist watercraft, toys and diving equipment. Hard-sided tenders can support fishing expeditions, small submersibles will visit underwater landscapes, while stand-up paddleboards or kayaks allow guests to enjoy the silence punctuated only by sounds of ice moving and penguins skimming through the water. Some of the larger yachts also have helicopters which can whisk guests to remote spots where custom all-wheel drive vehicles can drive across glaciers and snowfields in complete isolation. Visitors with the relevant qualifications can make the most of onboard diving equipment and dive master to experience a unique polar dive. A plunge into some of the world's coldest water will leave guests invigorated and grateful for the onboard hot tub and sauna!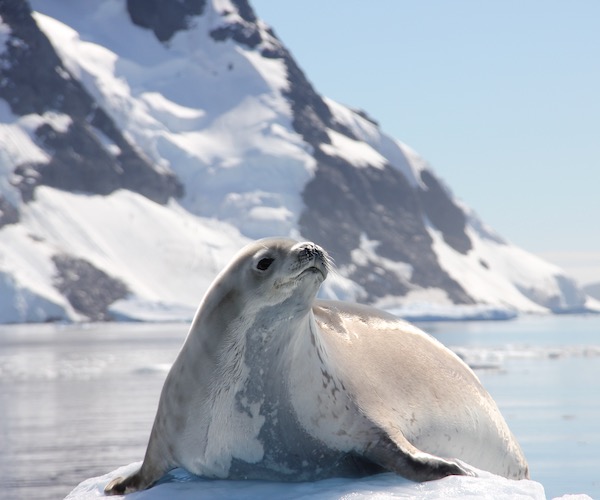 As the sun barely sets for 6 months of the year, 24-hour daylight creates a mysterious backdrop for al fresco dining on deck in the evening. The sky glows with the southern lights, or aurora australis and clouds made from tiny ice crystals create a phenomenon known as 'diamond dust'. The polar 'summer' between November and March is the best time to visit and when the temperatures range from 20-30 degrees Fahrenheit – warm for Antarctica!
---
IMPORTANT NOTICE:
If you are reading this article anywhere other than on A Luxury Travel Blog, then the chances are that this content has been stolen without permission.
Please make a note of the web address above and contact A Luxury Travel Blog to advise them of this issue.
Thank you for your help in combatting content theft.
---
Detailed itineraries depend on the sea, ice and weather conditions and will be determined by the captain or expedition leader on board, who will likely be knowledgeable about the wildlife, historical sites, Antarctic research and the historic explorers that first voyaged to the South Pole at 90 degrees South.
Most charters set off from Argentina in South America, but it is possible to depart from New Zealand or meet your vessel by helicopter further South. Tourism is closely monitored by the International Association of Antarctica Tour Operators (IAATO) – an organisation devoted to promoting and practising safe and environmentally responsible travel on the continent.
Longer charters can also include visits to the Falkland Islands and South Georgia where vast colonies of King Penguins crowd the beaches of Salisbury Plain and thousands of giant elephant seals fight for space and breeding opportunities – fur seal pups can be seen in the right season. It is en route to the Antarctic Circle when the importance of a long-range yacht becomes clear as the 850 nautical miles take two days to reach the Antarctic Peninsula. Arrival at Elephant Island evokes thoughts of early Antarctic explorers as it is here that 22 of Sir Ernest Shackleton's men spent four long months awaiting rescue.
The South Shetlands are the most accessible land mass in the Antarctic and where guests can discover the controversial history of the sealing and whaling industries. It is also where the Antarctic research stations are located, which may be visible from your charter yacht. The next stop is the Antarctic Peninsula and into the Weddell Sea – the main ice cruising area. Icebergs break away from ice shelves before moving into the Antarctic Sound. Guides may spend some time searching the ice for Emperor Penguins, which you might be lucky enough to see, even though they tend to disperse in the summer after the breeding season.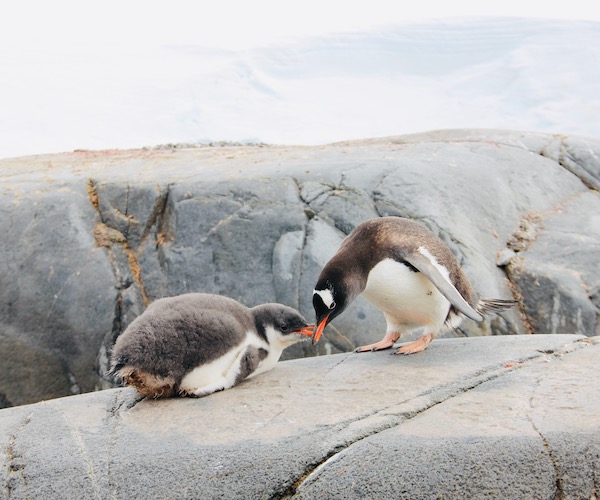 For those looking for the most remote and challenging environments to visit on board a charter yacht, a trip to the Ross Sea takes you 2,000 nautical miles south of New Zealand. The sea is ice-bound for much of the year, but a short window in summer allows the sturdiest explorer yachts to venture in to see the vast icescapes and the hundred-year-old expedition huts of the first explorers Scott, Amundsen and Shackleton.
As days are spent in the extreme elements it is important for explorer yachts and their crews to provide their guests with a warm welcome. Many explorer yachts have expansive suites and there is often an owner's suite where primary charter guests can enjoy a superior level of privacy. Other facilities include full bathtubs for a relaxing soak after a long day, saunas and even wellness spas. All the suites will likely be equipped with blinds and drapes to cut out the 24-hour light to allow guests to sleep peacefully. The main salon needs to be spacious, comfortable and welcoming with a large dining table to seat everyone on board – dining indoors is more common on Antarctic charters. Given the crew are also on a long voyage, their accommodation will likely be generous and clearly defined so privacy for guests and relaxing space for crew can be guaranteed.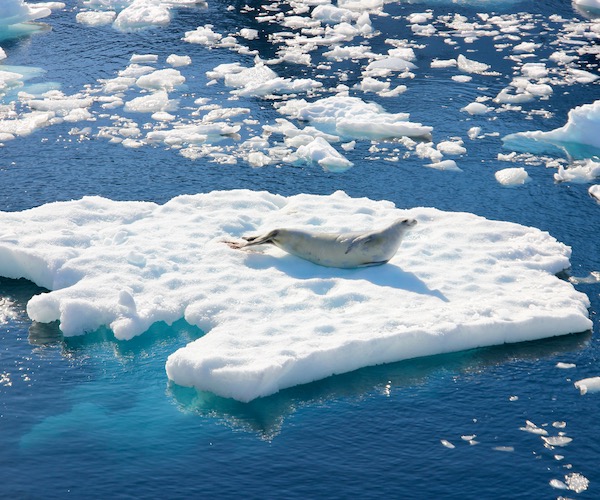 The first vessels to travel to the Antarctic, such as The Discovery and The Endurance, are a far cry from today's luxury explorer charter yachts which are safe and stable in extreme ocean conditions and may have a reinforced, ice breaker hull. But the navigators and crew on board those boats, whose names are forever linked to the area, paved the way for the lucky few to visit in the modern era of extreme charter vacations.
Trina Howes is a Director of CharterWorld America. CharterWorld is a luxury private yacht charter company that creates outstanding vacations with excellent yachts at amazing prices – worldwide.
If you would like to be a guest blogger on A Luxury Travel Blog in order to raise your profile, please contact us.