Unique places to stay in South Africa
By Kristof Eyckmans on May 16, 2021 in Accommodation, Africa, Hotels, Rail Travel, Regions, Resorts, South Africa, Speciality Travel
South Africa is one of those destinations that has everything to offer for travellers, irrelevant if they are looking for culture, natural wonders, history or even culinary delights. It does't matter how many times you've visited this stunning country, there is always more to explore, more to experience and certainly more to learn. Those who have been will know it's hard not to fall in love with South Africa and why shouldn't you, after all it's a place where everything is possible, and certainly when it comes to luxury travel. I've listed 5 of my favourite places to stay, all in different regions just to show you there's not a single area where you can' indulge yourself into some of the most extravagant accommodation.
Cheetah Plains
This modern sophisticated safari lodge is what you would expect to see in a James Bond movie. The beautiful combination of sleek architecture, warm accents and unique vast open areas where you can relax alone or with half a rugby team will leave even the most demanding guests speechless. Not only the look and feel is modern, also what goes on behind the scenes is state of the art technology to make sure the lodge is as eco-friendly as it can possibly be.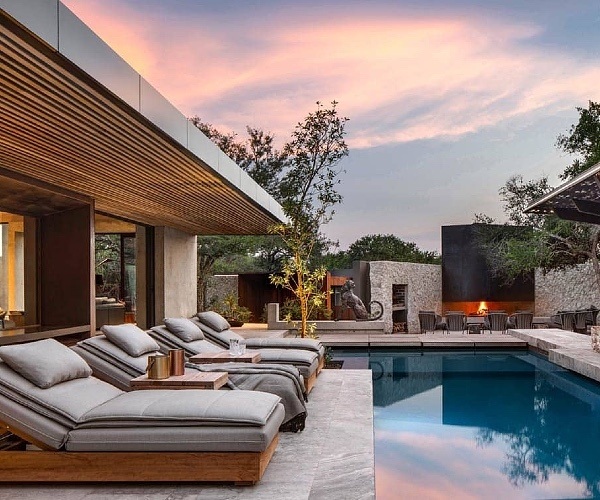 And they didn't hold back in any way as even the game vehicles have been transformed into electrical jeeps that have zero-emission but equally important make zero sound. This ensures its guest the best chance to see those elusive animals in the wild. And there are plenty of them as this lodge is located in the famous Sabi Sands game reserve, a place which is widely regarded by experts as one of the best reserves on this globe to spot wildlife. Sustainability might be at the forefront of the whole operation, as a guest you will have a hard time to notice anything from that massive effort as everything flows like it would in the most luxurious hotels in New York or Hong Kong. There's really no roughing it here as the lodge sets the example for future lodges that want to reduce their impact on the environment while equally increasing the guest experience with the surrounding nature and wildlife. One question remains…did 007 sink a submarine in one of the many waterholes that surround Cheetah Plains?
Rovos Rail
Unique places don't necessarily need to be stationary, and the beautiful Rovos rail trains are everything but! For those who haven't heard of Rovos before, I suggest you get your bucket list by the hand as I'm pretty sure any avid traveler wants to experience this luxurious train. Their main hub is Pretoria yet they travel far and wide on all kinds of different routes. Some of these routes are truly epic like Cape Town to Dar Es Salaam or the Trail of Two Oceans, linking the Indian with the Atlantic Ocean along the copper trail. The cocktail of amazing guest service, vintage yet luxurious coaches, sumptuous culinary dinners (no worries, breakfast, lunch and afternoon tea are equally impressive) and seemingly endless amount of excursions just hits the spot.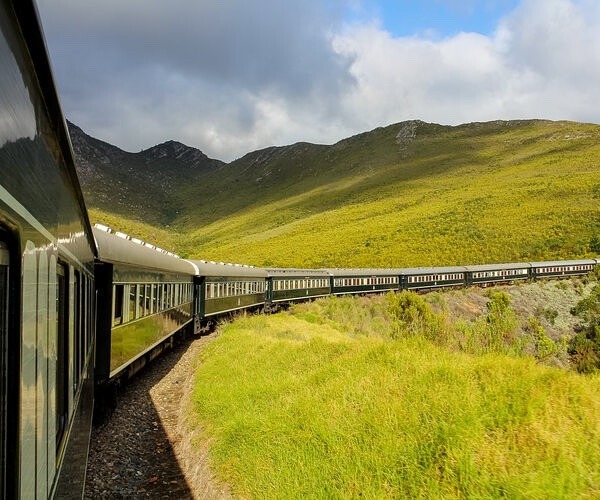 Once you've experienced this way of traveling it becomes addictive, as it takes you back to the good old days where wifi would be regarded as a word from an alien language and where people interact with each other while taking it all in. The comfortable, spacious (especially for a train) and warm suites onboard the train are like perfect individual heavens where you can retreat if you feel like it, but where you also unwind and enjoy the time passing by. Did I mention every suite has its own private bathroom with shower and some even with a bath? Yes, that's the level of train travel we're talking about. Nothing beats the views from the open-air balcony at the end of the train while passing through some of Africa's most stunning scenery. The warm wind in your hair, a gin-tonic in your hand, the slow motion of the coach and the steady rhythm of the tracks are all you need to fully relax and live in the moment.
Birkenhead House
With over 2800 kilometers of coastline, South Africa offers an endless array of beachside retreats, yet very few stand out the way Birkenhead House does. It used to be the seaside holiday home for the owners of the Royal Portfolio, a luxury brand with collection of unique and exclusive hotels and lodges spread across the country. Having the possibility to share the prime location of the house with its guests was the best decision the could have made as it sits on a cliff overlooking the ocean which not only provides endless views but also some of the best ingredients that are being used in the kitchen. If you like, you can even join the chef down the cliff to go foraging for ingredients which he'll then prepare for you a few moments later. Coastal cuisine doesn't come much fresher than that.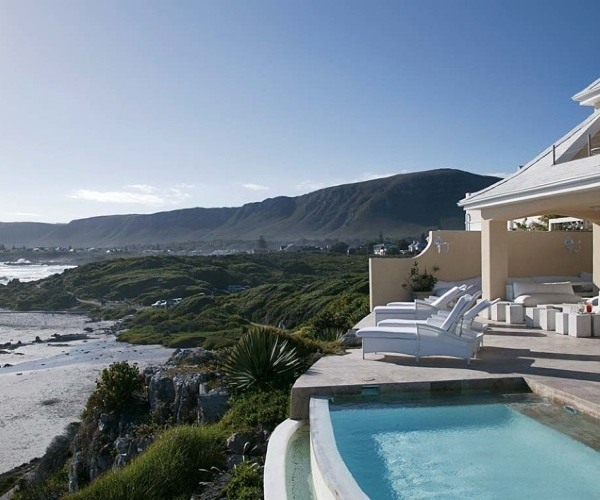 And that's not all. The magical Hemel and Aarde Valley is a 10 minute drive away, and hosts some of the best wine estate in the country. Perfect for a food and wine pairing. The contemporary yet eclectic collection of art and decoration give this place its unique character, and while the views outside are stunning, it is equally pleasing on the eye when looking at the interior. Hermanus, the town where it is located, is world renowned for its whale watching and from June till December you'll be able to see these giants swim past, often very close. And the best place to enjoy this spectacle is without a doubt the terrace of Birkenhead House which offers unobstructed views for all its guests.
Tswalu
Imagine the vast southern Kalahari and in the middle of it all there's a luxurious lodge, so remote they had to build their own runway allowing guests to fly in as it would otherwise take too long for them to arrive from any major hub in the civilised world. That lodge….is Tswalu. Like a mirage it sticks out of the landscape yet once you arrive it feels like this place belongs here as the materials and colour they used are perfectly blending in with its surroundings. This eco-lodge is just a small part when looking at the bigger picture as the owners of Tswalu have conservation of the area as their main target, and bringing in guests not only helps fund these goals but also the awareness regarding endangered species, eco-systems, history of the land and so much more. It's a place where you arrive as a guest but where you quickly realise that you are helping to save and restore an area that has been compromised by farming.
It's the full package though, as you can wake up in your beautifully designed villa and go on a game drive to spot some elusive wildlife like the pangolin or aardvark. Coming back at the lodge a little later to be pampered at the spa or edit some of the pictures you took in their own photography studio, only to get out in the afternoon to meet up with researchers that are doing some amazing fieldwork in the reserve. But there's more, cause all of this works up an appetite and while their wine cellar is impressive, it's their latest restaurant addition, Klein Jan, the latest star that's been added to the Tswalu galaxy that will blow your taste buds into overdrive. There's so much going on, you just have to visit in order to experience it all.
Delaire Graff
Looking for a place where you can stay in style, enjoy a vast art collection, shop for the most exclusive jewellery, taste some of the finest wines that are made on site, and all of this while enjoying some of the best views in the Western Cape Province? Well, Delaire Graff just delivers all of that and then some. This wine estate sits on the Helshoogte Pass, overlooking Stellenbosch and it surroundings on one side, while on the other side the beautiful landscape of the winelands gives you views for days. Laurence Graff, one of the worlds most prestigious jewellers turned this estate into another precious gem, yet not one you can wear around your finger, but one in which you can indulge yourself on every level.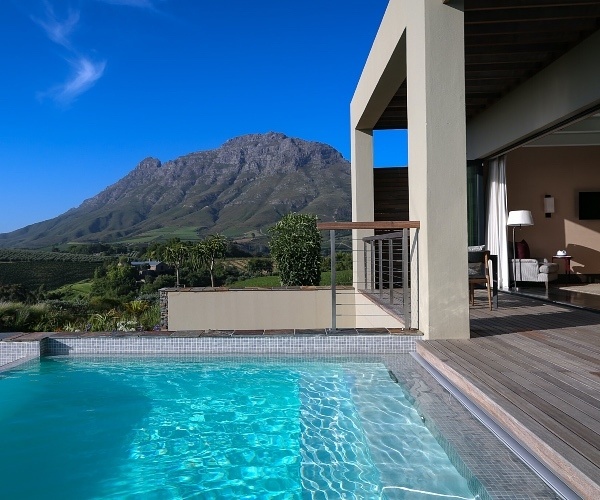 The villas are stylishly decorated and the service that comes along with a stay here will make you want to extend your stay. And why not, there are so many activities that it's hard to experience all of them during one stay. A wine tasting is a must, but so is lunch or dinner at one of the two restaurants. The spa it widely regarded as one of the best in the area and make sure to enjoy some time after your treatment in the outside jacuzzi or pool while enjoying the views and a healthy drink (wine is also healthy in my books). And while it might sound strange for some, there are a few very exclusive shops on the estate where you can buy jewels, clothes, art or exclusive artefacts. All in all, this is a must if you are going to visit the Cape Winelands and while there are countless activities and sights to be seen outside Delaire Graff, it will be hard to even leave your villa, let alone the estate.
Have you been to any of the above, or is there another unique place which should be added to this list (trust me, there are several if you would ask me but I don't want this blog to become an endless fairytale)? Let me know, I would love to find out.