White water rafting in Iceland's Golden Circle
By Paul Johnson on Oct 04, 2022 in Adventure Travel, Attractions, Cruises & Boat Travel, Europe, Family Travel, Going Out, Iceland, Leisure Travel, Regions, Speciality Travel, Western Europe
Have you ever wanted to experience the thrill and beauty of river rafting in the heart of Iceland's Golden Circle? Since 1985 Arctic Rafting have been doing exactly that, enabling you to enjoy a perfectly-balanced mix of serene canyons and adrenaline-pumping waves and rapids. Read on to learn more about their most popular tour – River Fun Rafting.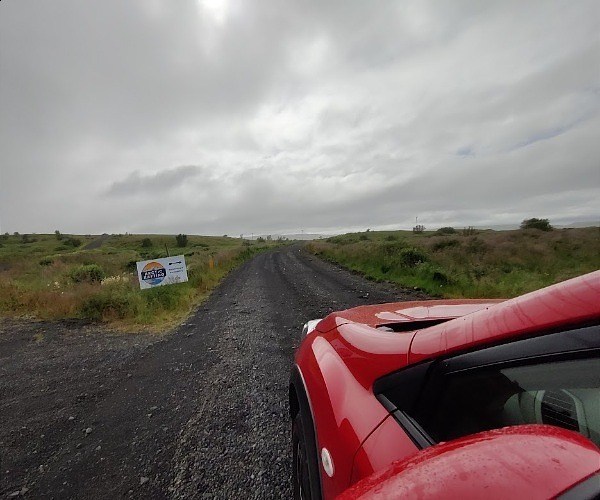 What to expect
You'll raft down 7 kilometres of the Hvítá River fed by the Langjökull glacier, enjoying the view, whilst floating downstream in an inflatable raft, with a few surprises along the way.
Who's it for?
The rapids are described as "easy to moderate"; this stretch of the river is graded 2+, with 1 being the gentlest and 6 being the most extreme, so means it's accessible for most people. No previous rafting experience is required, and children from 11 years of age are welcome to participate. Just be prepared to get a little bit wet and a little cold… but it's all worth it!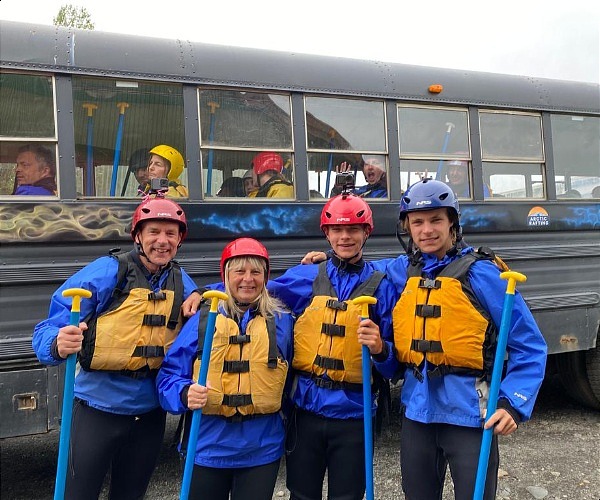 The location
Drumboddsstaðir – aka Drumbó River Base – is where all Arctic Rafting's rafting tours begin and the home of their raft guides. It's 98 kilometres from Reykjavik and takes about 1.5 hours by car to get there from the capital. Drumbó is conveniently located on the route of the Golden Circle. The rafting takes place on the Hvítá River which comes from the Langjökull glacier – the second largest glacier in Iceland – and creates Gullfoss, one of Iceland's most iconic waterfalls.
The drive from Drumbó River Base takes about 20 minutes to the start of your river journey. The river journey itself takes about 1 – 1.5 hours rafting down a 7-kilometre section with Class 2+ rapids, which which means it's accessible for most people. It's considered 'easy to moderate'.
What's included
The tour includes a river rafting experience down the river with an expert guide, in rafts that hold 8-10 people. All necessary rafting equipment is provided, and that includes wetsuit pants and splash top, life-jacket, neoprene shoes, helmet and paddle.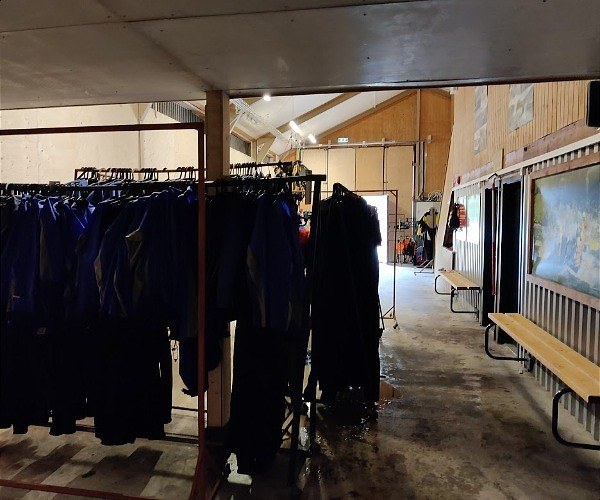 Also included is a visit to the famous Brúarhlöð canyon via the river, and a hot shower and sauna after the cold river trip. If you wish, you can hire a GoPro with a Arctic Rafting-branded memory card already loaded, which you get to keep after the tour. Some of the helmets come with helmet mounts; alternatively, you can mount the GoPro to the front of the boat (and choose to have it facing either forwards or backwards).
What to bring
All you need to bring is a bathing suit (for use under your wetsuit), a towel (for the shower and sauna after the rafting), a warm top layer to wear under the splash top… and a sense of adventure!
The experience
Our experience began with a briefing from Julia at the Drumbó River Base. We were advised that we could leave things like iPhones behind in the changing rooms because… well, they already had their own. Everything was delivered in a fun, jovial manner, whilst still getting important safety information across to us.
Once we'd changed and grabbed a paddle, it was time to get on to a bus. Two buses headed down to the riverbank from the base, each pulling 4 rafts behind them – a journey of probably just 10 minutes or so.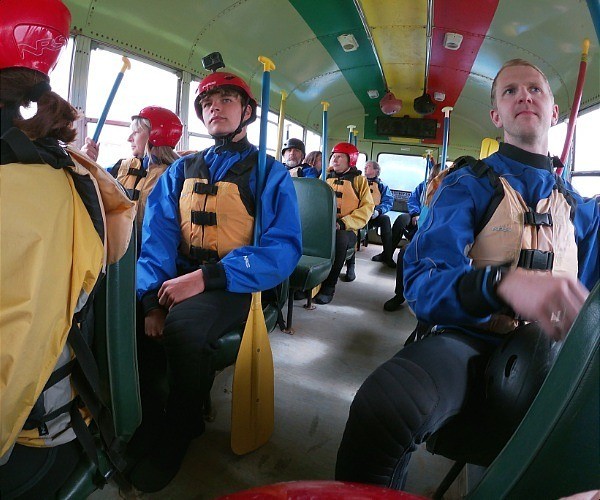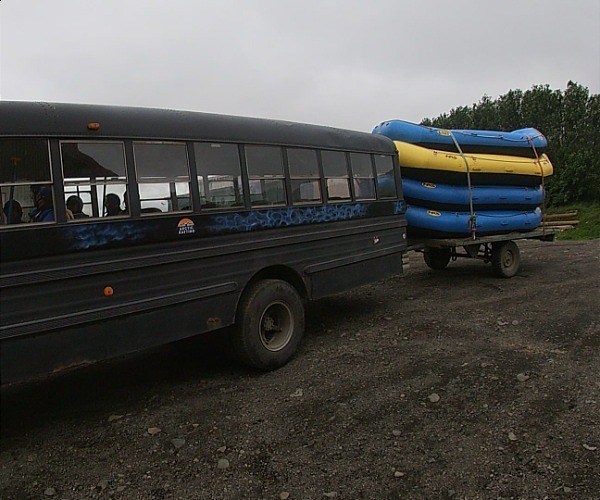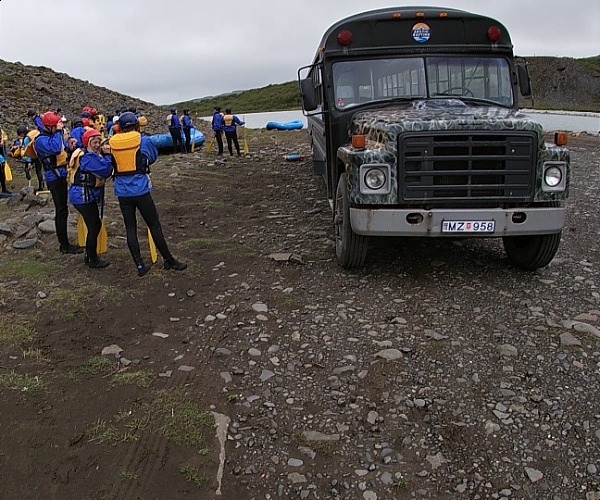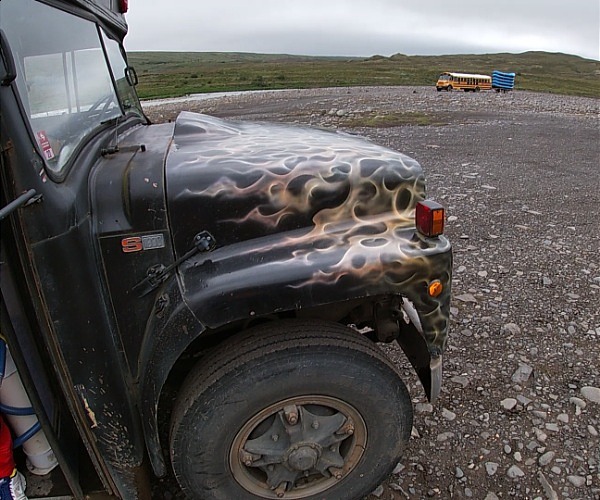 We then had a second briefing by the river as the guides transported the rafts to the waters edge. We were talked through some basic safety measures, again all done in a fun yet professional manner. The paddle had to be held with your hand over the T-bar at the end, otherwise we would end up with faces like the guides. And we were told that the rope that runs around the outside of the raft is called the "oh, shit!" line because, if you're ever find yourself falling out of the raft, you need to grab it and will most probably shout "oh, shit!" in the process!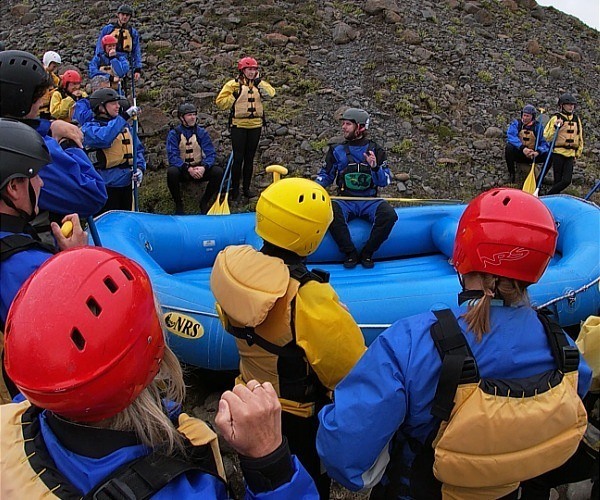 With the briefing over, everyone was put into groups and assigned a guide. We shared a raft with another family with two girls, and our guide was Anshul. At first it was a very calm stretch of water, and we just got used to paddling on Anshul's command.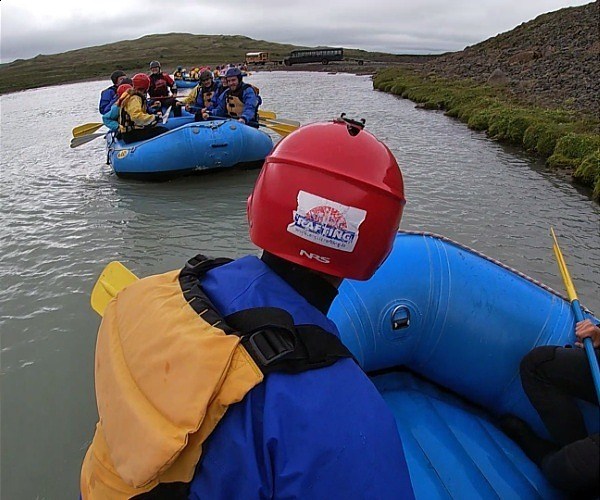 But, before long, we were taking on more challenging conditions – rapids where we being thrown about a bit more and splashed with icy cold meltwater!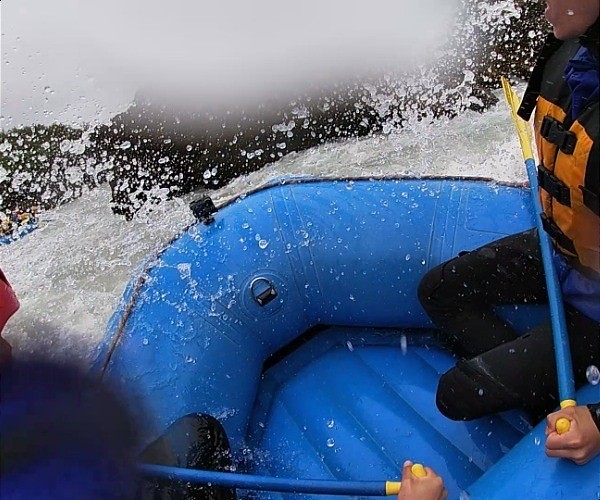 It was al good fun, though… and, after one set of rapids, we looked back, only to find our guide was no longer sitting on the back of the boat!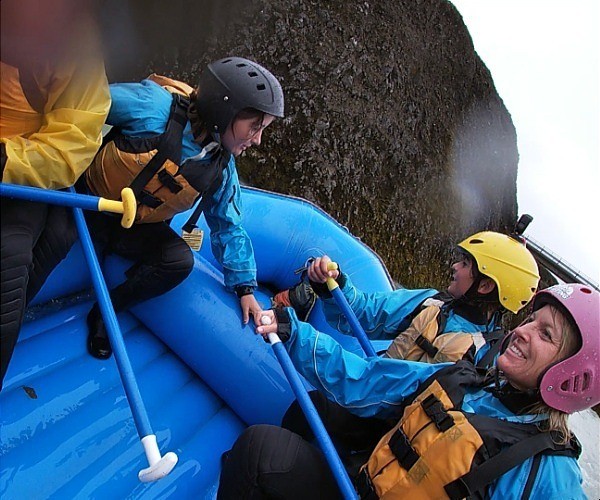 Anshul was in the water and had grabbed the "oh, shit!" line!!! At first, we thought he was just messing about… but he wasn't. This had never happened to him before, he said, once he'd managed to clamber back on board.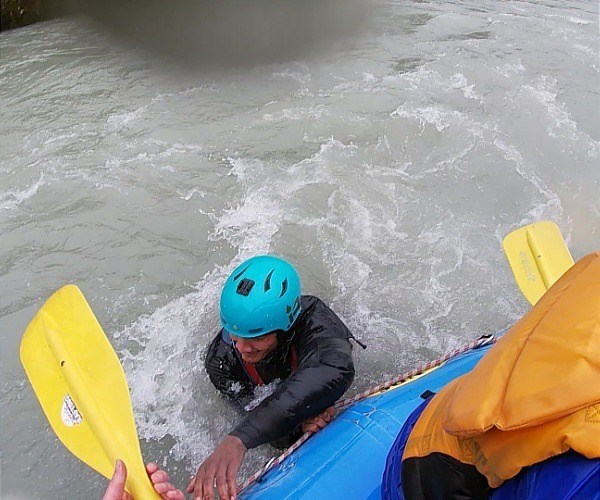 Our journey continued down river, navigating rapids of different severity but never anything too drastic, until we had a stop on the river bank at Brúarhlöð canyon. This was a time when people could stretch their legs, enjoy the view and, if they so wished, do a cliff jump into the icy river!
---
IMPORTANT NOTICE:
If you are reading this article anywhere other than on A Luxury Travel Blog, then the chances are that this content has been stolen without permission.
Please make a note of the web address above and contact A Luxury Travel Blog to advise them of this issue.
Thank you for your help in combatting content theft.
---
And, of course, we were stupid enough to give it a go. There was a mini-briefing for this – we were simply told to form a queue if we wanted to do it and, when our time came, we were not to dither… he would say "3… 2… 1… jump" and you must go there and then. This was actually a good idea as it stopped people over-thinking it. The only other two pieces of advice were to jump out as far as we could so as not to be close to the rocks, and to land like a pencil for a more comfortable landing.
As we neared our turn to jump, one of the guides checked our lifejackets to ensure it was tight and secure, so that it did not 'ride up' when hitting the water.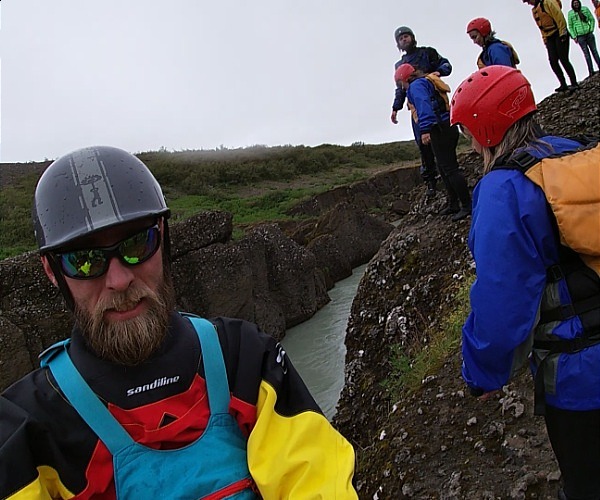 Another stood by to say "3… 2… 1… jump"…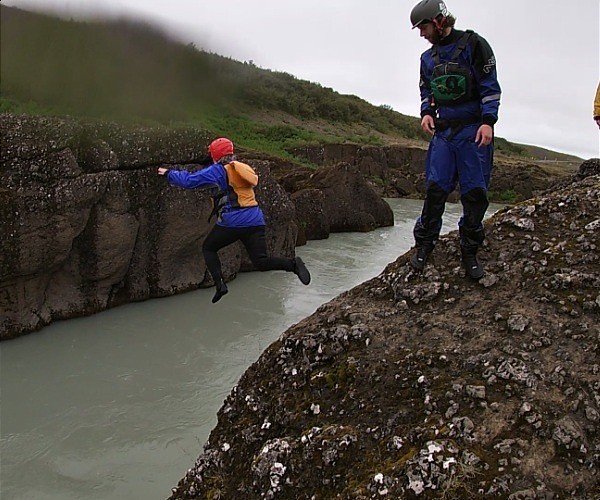 …and then there were guides, making sure that you swam to the edge after jumping.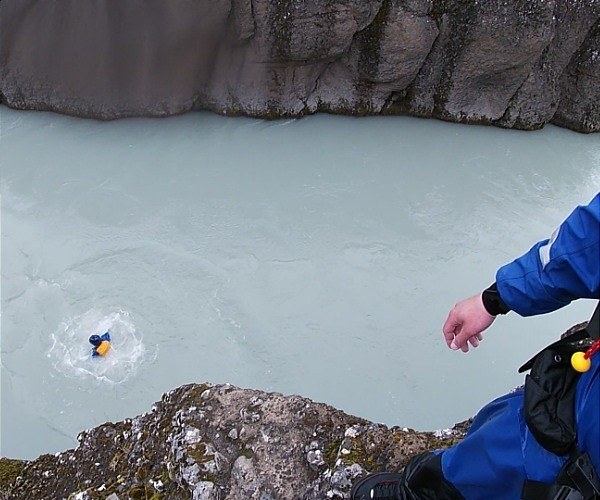 With all those who wanted to jump having jumped, it was back on to the rafts for more fun. There were not many rapids, but plenty of opportunities to lark about.
There was lots of splashing, guides pulling people into the water, games balacing on the inflatable sides of the raft, and so and so forth.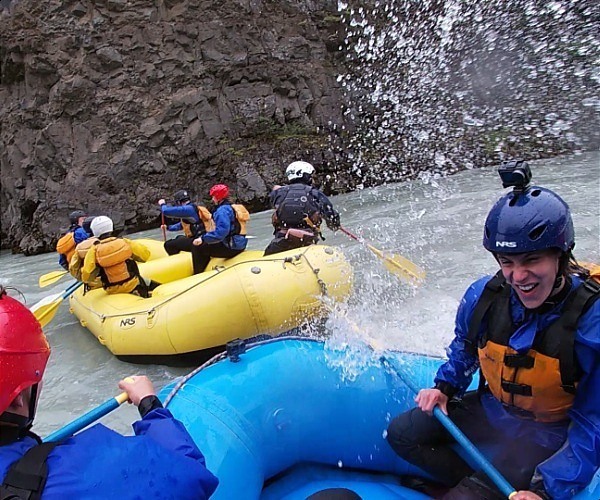 Other guides would call out "where's your guide?" and we would look back in alarm, only to see he was still there. We were particularly gullible for this one, given that our guide had actually fallen out once already!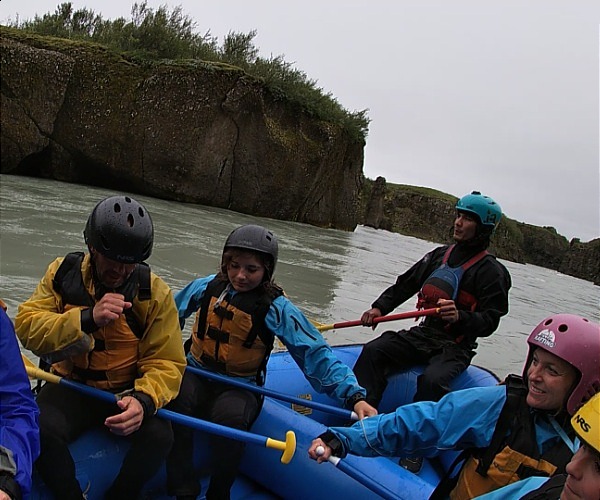 Back at the river base, we had access to hot showers and a sauna. Our next stop after this adventure was the Friðheimar tomato restaurant but Arctic Rafting also has its own restaurant and bar on site.
The whole tour had been great fun, and the guides really entertaining and engaging. It is a very efficiently-run operation from start to finish and an experience that we would heartily recommend.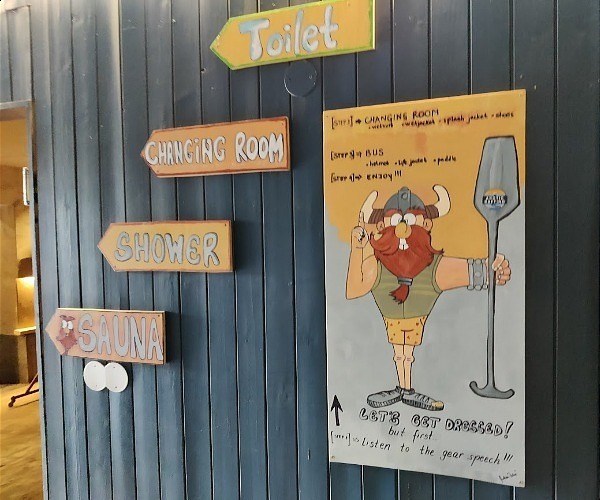 Planning a trip to Iceland yourself? You can watch a video from our trip to Iceland here. Footage from our adventure with Arctic Rafting can be seen between 2m 22s and 3m 30s.
Disclosure: This post is sponsored by Arctic Rafting. Our trip to Iceland was also sponsored by Helly Hansen.