Why Yala in Sri Lanka should be on your travel bucket list
By Paul Eyers on Jun 30, 2023 in Accommodation, Asia, Hotels, Regions, Resorts, Sri Lanka
After multiple previous visits to the enchanting island nation of Sri Lanka, we finally visited Yala National Park in the southeast of the island. Considered to be the principal national park in Sri Lanka, it was designated a wildlife sanctuary in 1900 before receiving national park status in 1938. Not only is it home to a rich diversity of flora and fauna (did someone say elephants and leopards?) but the national park status goes a long way to ensure that the vast area covering nearly 1000 square kilometres is protected from poaching, gem mining and illegal logging, problems that continue to impact areas of outstanding natural beauty throughout the region.
Feel good about the impact of your travel
The national parks in Sri Lanka are managed by the Department of Wildlife Conservation and the park entrance fee that you pay is one of their main income streams. This revenue is used to ensure that the flora, fauna and natural resources are protected and in turn, remain untouched for future generations. Yala National Park is home to more than 300 of the remaining Sri Lankan elephants, of which there are an estimated 2,500 in total. However, when you consider there were more than 20,000 wild elephants in the 19th century it makes it very clear why they, and their habitat, need protecting.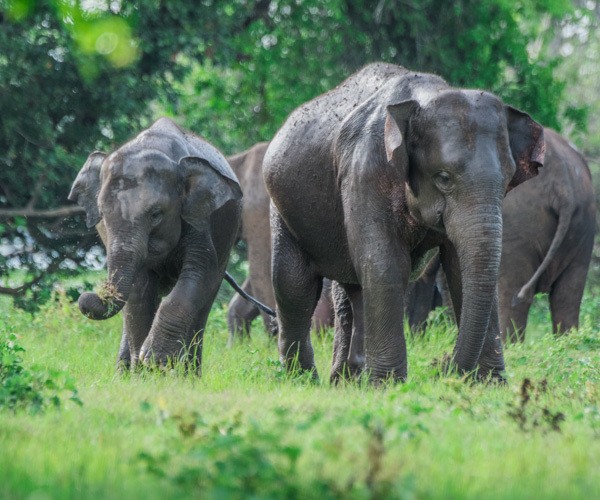 Experience your Yala safari with a knowledgeable guide
There are many operators who offer safari day trips to Yala National Park and as with every choice you make, it's alway best to do your research. We read multiple reviews, in addition to asking friends and colleagues for recommendations. Your Yala safari will likely be the highlight of your trip so 'investing' in a knowledgable guide is essential in our opinion. For sure they will enhance your experience with their ability to identify, track and locate many of the park's harder to find inhabitants.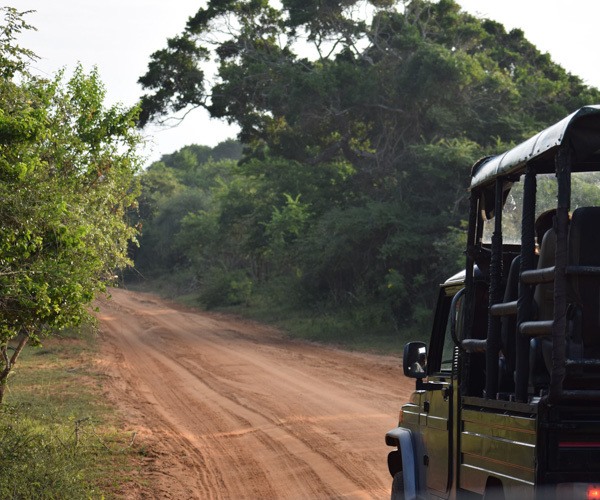 Get up close (well, not too close) and personal with elephants and leopards
The magnificent wildlife that calls Yala National Park home includes the Asian elephant and the leopard. Despite Yala being one of the places in Sri Lanka where you are most likely to see leopards, there is of course no guarantee. But with lots of patience, an excellent guide and a small slice of luck you may just get up close and personal to these magnificent creatures. Yala National Park has the highest density of leopards on the planet with an estimated 60-80 leopards calling the park home, so your chances are quite high that you may indeed have that close encounter with one of these graceful and powerful big cats.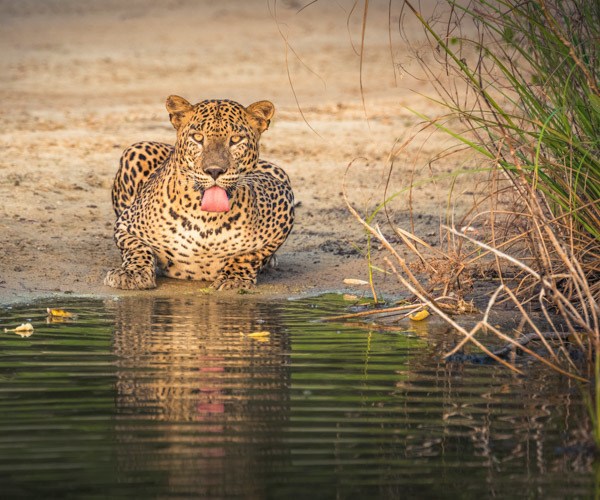 Stay at the perfectly located Jetwing Yala
Perfectly located near to the Palaputana entrance of Yala National Park, Jetwing Yala is the perfect retreat for anyone wishing to explore the area. This eco conscious luxury hotel boast a 75m pool and is situated within vast grounds from which you have direct access to the dramatic sand dune backed beach. This unique location, with both the Indian Ocean and the magnificent Yala National Park as neighbours makes Jetwing Yala an excellent option for anyone spending time in this enchanting corner of southeastern Sri Lanka. At the end of an exhilarating day exploring, there is nothing better than enjoying the expansive pool with its ocean views, or pampering yourself with a treatment in the blissful spa, all before heading to a sumptuous Asian Fusion culinary adventure at Thambapanni,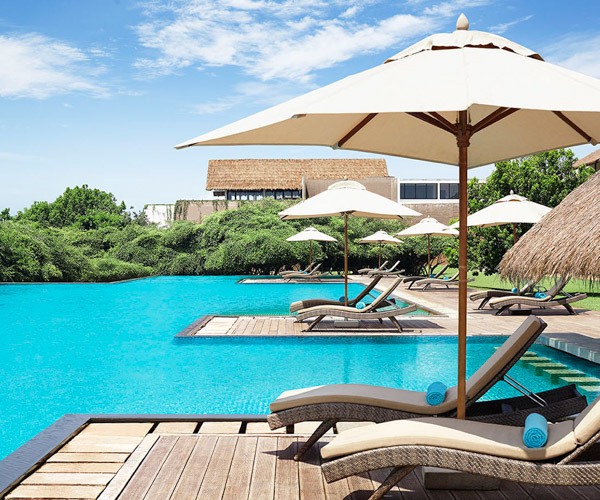 ---
IMPORTANT NOTICE:
If you are reading this article anywhere other than on A Luxury Travel Blog, then the chances are that this content has been stolen without permission.
Please make a note of the web address above and contact A Luxury Travel Blog to advise them of this issue.
Thank you for your help in combatting content theft.
---
Marvel at the rugged and wild Sri Lankan coastline
The majestic plains and forests of Yala National Park have an equally illustrious neighbour, the Indian Ocean. Separated by seemingly never ending wind swept dunes, they exist harmoniously. This area of southeastern Sri Lanka is not only where you can be amazed by the beauty of Yala, but you can also marvel at the rugged Sri Lankan coastline. It's no surprise that at certain times of the year, surfers travel from far and wide to hone their skills at beaches nearby. This is the Indian Ocean at its wildest; prepare to be impressed.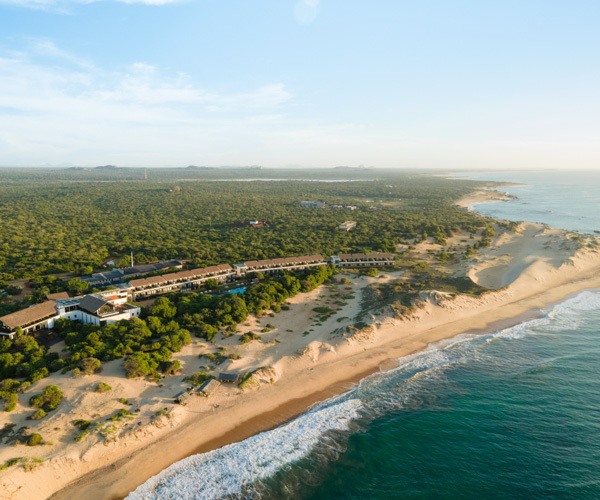 Enjoy an array of delicious Sri Lankan cuisine
Despite having guests from all over the world who expect varied culinary offerings, the team at Jetwing Yala have ensured that Sri Lankan cuisine is very much at the fore throughout the resort. We were able to enjoy a wide array of Sri Lankan dishes and we were perfectly catered for as vegan guests during our stay. Trust us when we say that the simple sounding 'rice & curry' in Sri Lanka is far from simple. Instead, it's an explosion of flavours and mini curries served with local rice. Sri Lankan 'rice & curry' is colourful, exciting and delicious making it one if our favourite meals on the planet.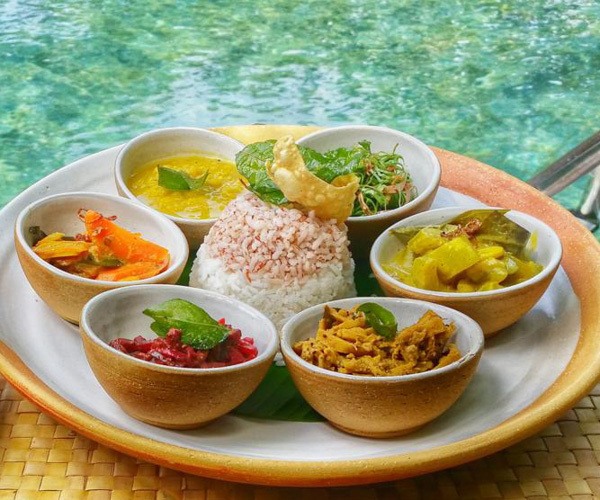 These are just some of the reasons why Yala in Sri Lanka should be on your travel bucket list. Going on safari is a common bucket list feature and a visit to Yala National Park offers the perfect opportunity to transform one of your dreams into a reality. We feel blessed that we've now 'ticked off' another one of our travel dreams. Thank you Yala and thank you Sri Lanka for your warm welcome and wonderful hospitality.
Paul Eyers is Founder of Vegan Food Quest. Vegan Food Quest have become luxury vegan travel specialists as they continue to find, eat and write about the best vegan food in the world.
If you would like to be a guest blogger on A Luxury Travel Blog in order to raise your profile, please contact us.