Jamaica: The ultimate destination to re-connect with loved ones
By Paul Johnson on Jun 22, 2023 in Accommodation, Caribbean, Food and Drink, Going Out, Hotels, Jamaica, Regions, Resorts, Restaurants, Travel Miscellany
With brilliant blue seas, sublime beaches and a blistering range of extraordinary things to see and do, Jamaica makes a fantastic holiday for anyone and everyone. And if this year you have decided you need something extra-special – you're celebrating perhaps, getting married or engaged, or just because you deserve it – there are few finer places where you can relax and recharge in ultra-comfort, body and soul, than this idyllic island.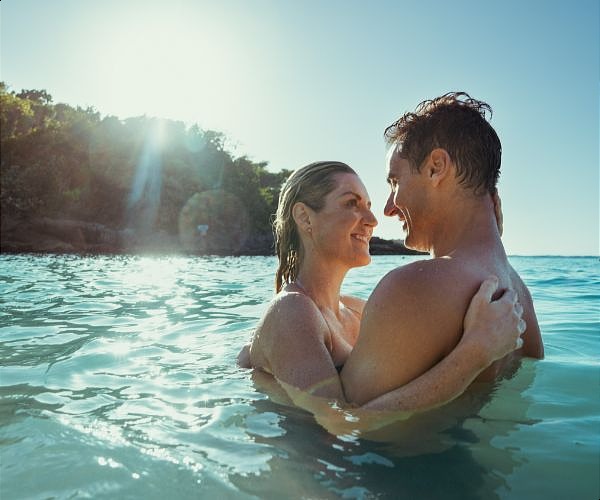 Luxury comes in many forms, and Jamaica has it all. Every creature comfort you need is available at a selection of first-class hotels offering superb accommodation, from cottages and villas with private pools to beachfront rooms and spacious suites with oversized balconies and terraces, in picturesque settings by the beach, lush rainforest or with stunning mountain views.
Excellent service means you'll be well-looked after wherever you choose, allowing you another priceless luxury – unlimited time to reconnect with loved ones.
Pay attention to partners and enjoy some much needed me time, chilling on the beach; having a relaxing massage in the spa perhaps; savouring a delicious meal in a fine-dining restaurant; or sipping a refreshing sundowner cocktail as you watch a shimmering sun set over the Caribbean Sea.
Luxury also means having the opportunity to try some of the extraordinary experiences Jamaica's best resorts offer, from intimate private dinners in the Caves of Negril, to sweetheart swims in the warm waters of the Blue Lagoon; from adventure climbs up natural waterfalls to unforgettable horse rides along a pristine beach.
Outstanding places to stay
You'll find wonderful hotels and resorts spread all over the island, each with its own special appeal and wow factors.
These luxury retreats include, in the west, Half Moon, Montego Bay, where guests can choose to stay at Eclipse, Founders Cove or  Rose Hall Villas. There are 210 elegant rooms and suites and 27 villas with easy access to resort amenities, along two miles of beachfront. How about sunrise yoga and meditation in an overwater bungalow or truly unforgettable horse-riding on the beach?
Round Hill Hotel & Villas, near Montego Bay, offers timeless elegance and understated luxury villas, Ralph Lauren designed oceanfront guestrooms and an exquisite spa nestled on a tropical hillside. Nearby attractions available include floating through a pristine tropical river on a bamboo raft, ziplining through lush island foliage, or dancing the night away on a private sunset cruise. The resort itself offers beachside or poolside treatments, you can tuck yourselves away and enjoy a massage together – Strawberry Herbal Back Cleanse, anyone?
For something special and full of character, head for The Caves, Negril, for exclusive cliff-side accommodation with enchanting surprises…
Jamaica Inn in the northeast is an iconic, elegant hideaway beloved of celebrities, with 55 suites, cottages and bungalows and a stunning beachfront setting.
Goldeneye is another iconic hotel, hidden away in tropical grounds and the former home of James Bond author Ian Fleming. If you crave something a little more active, Goldeneye offers guests complimentary non-motorised waters sports, including paddle boarding and kayaking.
The Trident Hotel, near Port Antonio on north-east coast of Jamaica, features lovely oceanfront villas with plunge pools. Special services it can provide include helicopter transfers.
There's the unforgettable Geejam Hotel in a magical setting in the rainforest at the foot of the Blue Mountains, near Port Antonio, another celebrity haunt.
Or why not escape to the mountains to Strawberry Hill in the fantastic Blue Mountains, where fine cuisine and exceptional far-reaching views have attracted the elite for decades.
Jamaica has a wealth of things to do for all holidaymakers, but luxury holidays allow guests access to a range of extra-special experiences.
Unforgettable fine dining
Jamaica is home to many fine dining restaurants that will whet your appetite. You'll find popular stand-alone restaurants such as Summer House in Tower Isle near Ocho Rios where you will find delicious freshly cooked meals or visit the seaside restaurant, Christopher's at Hermosa Cove for farm to table gourmet meals.
The fine dining seafood restaurant, The HouseBoat Grill, located in Montego Bay welcomes guests to enjoy Alfresco dining in an intimate setting, choose from an ever-evolving fusion menu whilst savouring a one-of-a-kind dining experience.
In Portland, you'll find Belinda's Riverside Restaurant, where some of the biggest A List celebrities have dined, including Beyonce, Usain Bolt and Daniel Craig. Fill your stomach with traditional Jamaican food such as curry goat, fried and steamed fish, chicken or pork, each served with rice and peas, festival or bammy.
The Sugar Mill, at Half Moon is one of Montego Bay's long-established, fine-dining options, while The Caves, Negril, offers unforgettable dining at a private table for two in caves illuminated with flickering candles. You'll also find the extraordinary Blackwell Rum Bar at The Caves where you can sip a nightcap and watch the moonlight dancing on the waves… can you imagine anything more romantic?