8 life-enriching family vacations in Ecuador and its Galapagos Islands
By Alfonso Tandazo on Oct 15, 2022 in Ecuador, Family Travel, Regions, South America, Speciality Travel
Disneyland is fine, but for a family travel experience that's illuminating as well as entertaining, consider South America. Ecuador in particular is a destination that combines sheer fun and fantasy with life-changing encounters.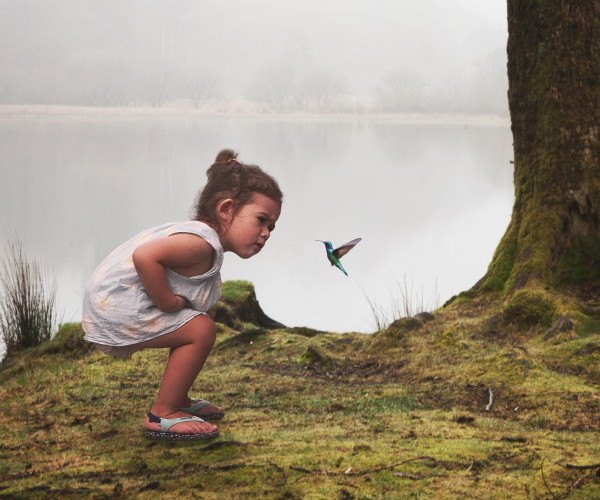 Imagine you and your family biking down a volcano to fathom the physical power of nature; or picture yourselves coming face-to-face with exotic wildlife species, or making direct contact with diverse cultures firmly rooted in ancient traditions. Undoubtedly stronger bonds will be formed by these shared experiences that crystalize into cherished memories.
And consider the benefits of your children's education and their ability to adapt socially as they participate in new sports, pick up a few words in a new language, or experience different customs and diverse ways of life. Visiting Ecuador is not only about the pure enjoyment we all find in travel, it's also about widening one's perspectives by exploring a dissimilar world.
Here we continue from our previous article on family-friendly destinations in Ecuador to present eight additional ideas for an entertaining and enlightening adventures for you and yours.
1. The Amazonian Rainforest: A jungle tour with all the creature comforts
The mere thought of going on an Amazon jungle tour can conjure up both fear and fascination in even the most intrepid explorer. Yet these days, travel to here offers you and your family a chance to safely immerse yourselves in the rainforest and discover a virtual Garden of Eden that's home to the world's most exotic wildlife.
As we know, the Amazon is the most bio-diverse area on the planet thanks to its incredible array of exotic plants and bewildering animal species. Given this, a wildlife-watching itinerary can be designed for you to encounter the hair-raising roar of a troop of howler monkeys high in the forest canopy, spot the glowing eyes of caimans on the riverbank during a nighttime jungle safari, and observe families of Giant otters as your canoe crosses a lake.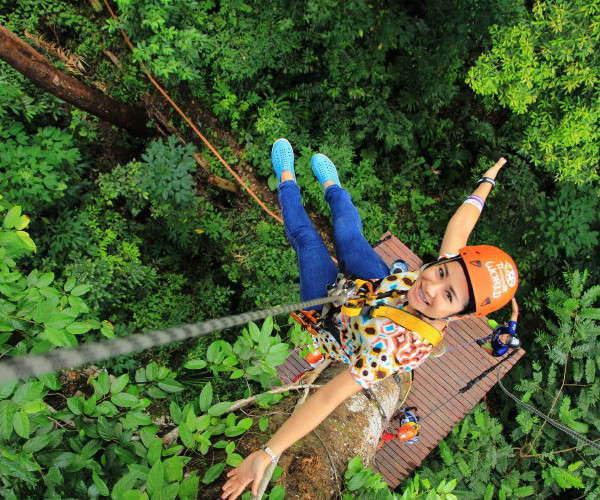 In addition to jungle sports such as ziplining, bungy jumping and blowgun practice, a unique cultural experience awaits you in the rainforest, given the extraordinary indigenous peoples who populate the region. Visit a remote indigenous community and take part in a magical ceremony led by a traditional shaman. And keep your camera at the ready, as nothing compares to experiencing an Amazonian river and the rainforest first-hand.
La Selva Lodge
The luxury La Selva ("Jungle") Lodge is the perfect Amazonian base for any kind of adventurous traveler, be they families, couples, friends or groups, and people of all ages. Situated deep in the Amazon rainforest, the lodge is on the border of Yasuni National Park, around sixty miles from the town of Coca, in north-eastern Ecuador. Winner of the Ecotourism Award from the World Congress on Tourism, La Selva Lodge is stylistically rustic, supremely comfortable and provides fully appointed cabins reached by boardwalks overlooking the lake.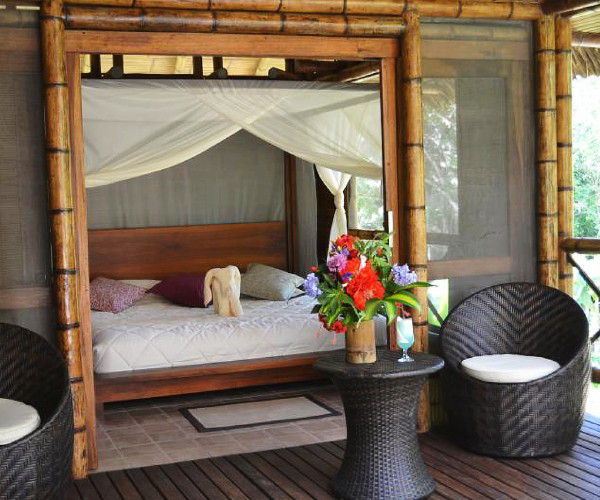 During this Amazon rainforest vacation — which includes hiking, canoeing, bird watching, swimming, fishing, and much more — guests are divided into small groups, each with its own local and naturalist guide. After hiking in the rainforest, be sure to enjoy a relaxing massage at the lodge's Butterfly Spa.
What better way to dispel the jungle's foreboding image than by experiencing the Amazon first-hand? An experience rarely found elsewhere, the Amazon holds surprises of wildlife, flora, and fauna that can amaze and captivate even younger children.
2. Cotopaxi National Park: Explore the volcanos
Exploring the Ecuadorian Andes with kids wouldn't be complete without witnessing at least one volcano up close. This is why Cotopaxi National Park, with its namesake Cotopaxi Volcano, is yet another great place to visit on your family tour.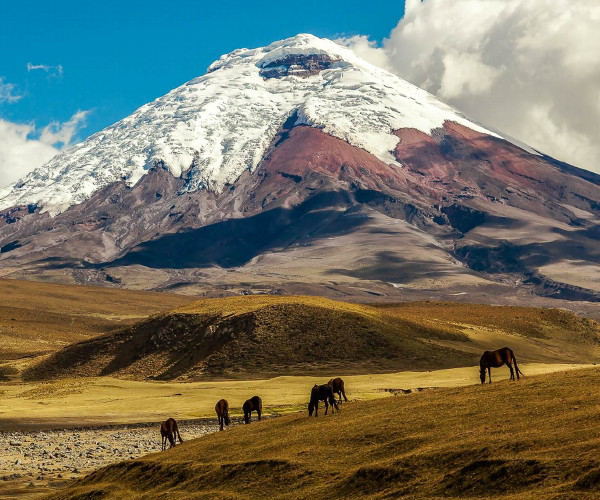 The second most visited destination in Ecuador after the Galapagos Islands, the reserve's main attraction is the Cotopaxi Volcano, which itself is the largest active volcano in the world and the second-highest mountain in Ecuador. Cotopaxi's proximity to Quito gives this easy access for a quick visit or an extended stay, depending on the type(s) of activities you and your family have in mind. Create everlasting memories with your kids as they learn about the power of natural phenomena when exploring various volcanic terrains, hiking around Lake Limpiopungo, going horseback riding, or daring a fast and furious "volcano biking" excursion.
Cotopaxi Pungo Finca Lodge
The postcard-perfect Cotopaxi Volcano can be observed at its best from Cotopaxi Pungo Finca, a hotel situated a mere 18 miles (31 km) from the city of Quito. In fact, this strategic location places visitors smack in the middle of the "Avenue of Volcanoes," an area with eight of Ecuador's ten highest summits. From this vantage point, your family can take in a breathtaking view of all the volcanoes in the central Andes. This experience combines adventure, nature and the culture of the inhabitants of the Andes while allowing all of you to enjoy all the comforts and culinary delights at the hotel.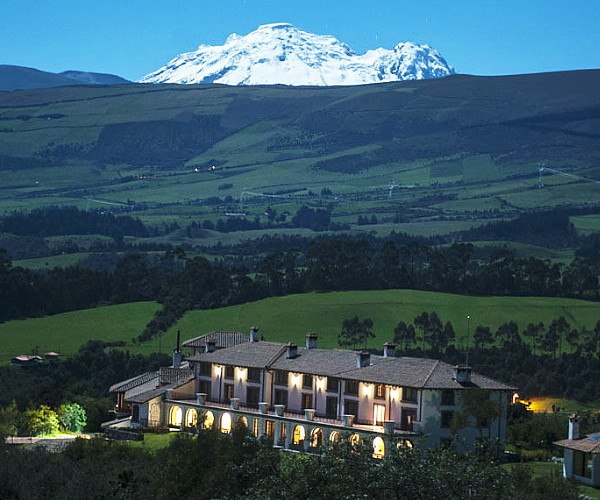 Along with its 20 comfortable rooms—each with either a balcony or a terrace for taking in even more of the amazing scenery — Cotopaxi Pungo La Finca Hotel offers guests a variety of activities such as horseback riding, biking and volcano hiking. The staff will be more than happy to learn about your interests and help you arrange a private tour of this magical place for relaxing, unwinding and discovering nature.
NOTE: Twice a year (May & September), visitors can enjoy the "Chagra" (Ecuadorian cowboy) Festival. This consists of local cowhands riding for more than 4 hours through the area wearing traditional outfits. Their parade passes through the hotel grounds, where you too even ride a horse along with the cowhands.
3. Mindo Cloud Forest: An enchanted natural world of mega-biodiversity
Ecuadorian cloud forests are mystical locations. Located along the slopes of the Andean Mountain range, these mossy woodlands are clocked in the canopy-level mist that gives these forests a surreal, almost supernatural character. The Mindo cloud forest, located only 2½ hours from the Ecuadorian capital, is one of these stunning settings. This destination is popular for the amazing biological diversity that surrounds the pint-sized pueblo of Minda, which serves as the base for adventurous families seeking to experience this region.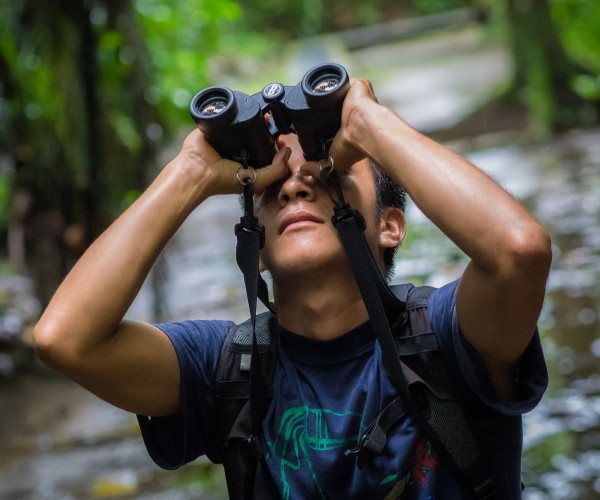 Not only is the Mindo area home to 428 different species of birds — including the exotic umbrella, the cock-of-the-rock, and mountain toucans, as well as more than 20 species of hummingbirds — this cloud forest boasts upwards of 35,000 species of plants (more than 50% endemic) and more than 664 of different species of amphibians – the greatest variety per square mile in the world! What this means for travelers is that children of all ages — from 8 to 80 — have chances to witness a multitude of hummingbirds, visit a butterfly farm, or even enjoy a frog concert. For the more active, the cloud forest provides an impressive range of activities, everything from rafting, canyoning and tubing to waterfall treks, ziplining and sky gondola rides through the forest canopy. All of this makes Mindo a great spot for family trips in Ecuador.
For visiting the Mindo cloud forest, we recommend your family stay at the Sachatamia Lodge, located in a privately owned ecological reserve near the town of Mindo and only an hour and a half from Quito. Nestled in the cool cloud forest, the lodge's reserve covers 120 hectares (300 acres), with an average altitude of 1,700 meters (5,575 feet) above sea level.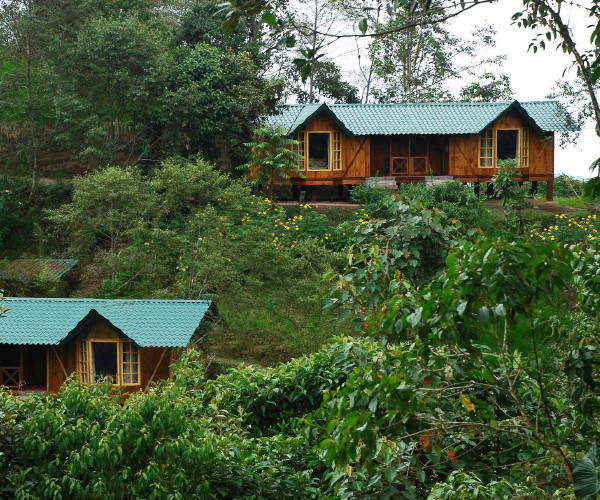 The lodge consists of comfortable but simply decorated rooms and traditional wooden cabins, as well as a restaurant serving savory meals. While dining, you'll have a great view over the gardens, where a relaxing pond, a variety of tropical flowers and hundreds of hummingbirds are there to capture your interests. The surrounding area is renowned as one of the richest in terms of the biodiversity of its flora and fauna and is an amazing place for birdwatching. At Sachatamia, guests may walk through a natural subtropical jungle, passing pristine rivers while enjoying and observing a variety of endemic trees, plant and wildflower species such as orchids, bromeliads, heliconias and anthuriums, among others.
4. Baños: Ecuador's adventure-sports capital
For families seeking the freshest air and plenty of outdoorsy activities, the Ecuadorian mountain town of Baños has plenty to keep adults and children of all ages active. Known as Ecuador's adventure-sports center, Baños has it all – from mountain biking and whitewater rafting to ziplining, hiking, jungle tours and waterfall visits. Also, at the base of a volcano is the famous hot springs after which the town is named, as well as a small but interesting zoo that younger ones especially delight in visiting.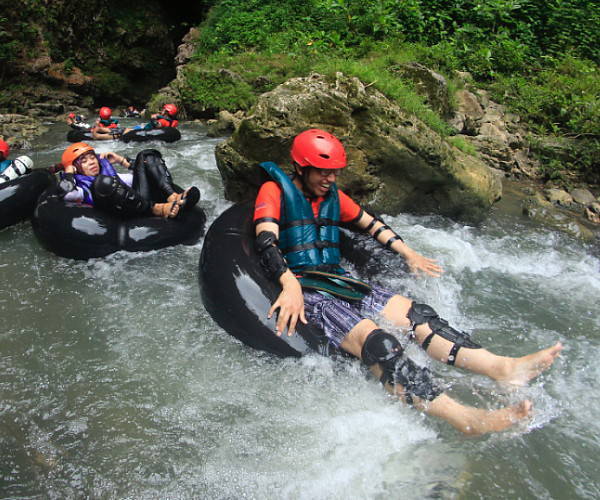 Though you'll be surrounded by nature, you'll also be able to enjoy the town's more urbane features, including several upscale restaurants and various boutiques and shops. And for those of us who marvel at South American traditional culture, you can visit any one of the town's craft markets that are brimming with unique items such as elaborately designed handwoven rugs, carved wood and leather goods. Have no doubt, everyone in your family is sure to absolutely love the town of Baños.
Samari Spa Resort:
Located close to Baños and perfect for those seeking relaxation and some serious pampering, the Samari Spa Resort is an elegant and luxurious spa resort. Built around the remnants of a 300-year-old Jesuit monastery, Samari Spa Resort offers some of the most refined and luxurious accommodations in the Baños area.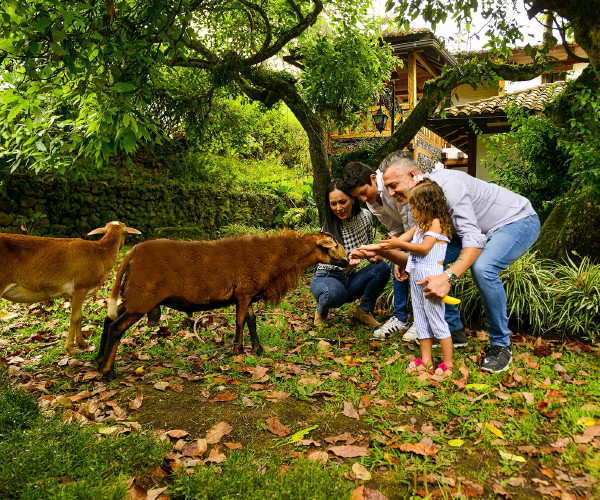 Rooms feature red-tile floors, brick walls, and beautiful stonework in the bathrooms. This modern and well-equipped spa is built around a large, inviting, heated indoor swimming pool set under a glass roof, not to mention Samari's sauna, Turkish bath, hydro-massage, polar bath, and individual sauna boxes.
---
IMPORTANT NOTICE:
If you are reading this article anywhere other than on A Luxury Travel Blog, then the chances are that this content has been stolen without permission.
Please make a note of the web address above and contact A Luxury Travel Blog to advise them of this issue.
Thank you for your help in combatting content theft.
---
5. Otavalo & the Highlands: The heart of Ecuadorian artisanry
The Ecuadorian Highlands, just an hour to the north of Quito, is the artisanry heart of the country, set amid a panorama of mountain lakes and a patchwork hillside crops. The highland town of Otavalo is best known for its famous artisans' market, where skilled indigenous craftspeople have traded their handicrafts for hundreds of years – even before the arrival of the Incas.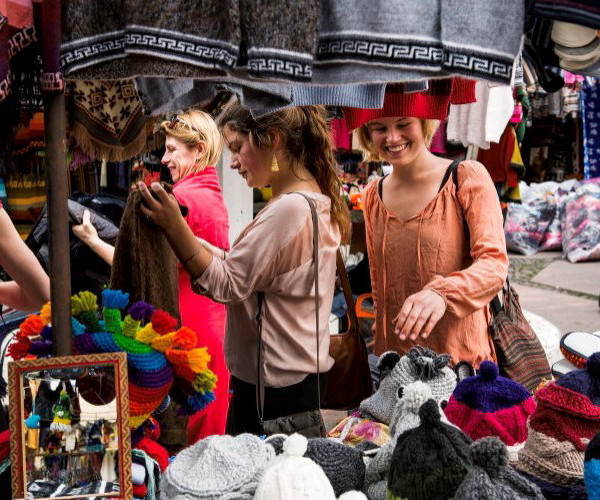 Today, the sprawling array of vendors, stands, and merchants trade all kinds of locally produced crafts such as colorful blankets, handwoven shawls, scarves and sweaters, as well as artwork, jewelry, and fine leather goods. Here, you and your kids can find much more than unique souvenirs of your time in Ecuador. By visiting Otavalo and its surrounding communities, your family will have a chance to explore workshops where trades have been passed down for generations – it's a fascinating insight into these ancient handicraft traditions. Surrounding this town, which is arguably the best handicraft market in all of South America, you'll also find rolling hills, lush forests, waterfalls, world-class haciendas, and plenty of activity offerings too.
The expansive though rugged terrain of the region is wonderfully scenic, with picturesque lakes making way for sharp cliffs and volcanic peaks. The wider province is also known for its working haciendas and horse ranches that dot the landscape; Throughout the area, it's not uncommon to see farmers herding cattle and sheep on the roads. We highly recommend staying a few days to get a full and authentic experience of this wild and beautiful place.
Hacienda Cusin
For a family vacation that includes Otavalo and the highlands, you'll find a stay at Hacienda Cusin offers a peaceful and ideal getaway. With all the charm of an old colonial home, this accommodating hacienda is set within expansive and well-landscaped gardens where the rooms are quaint but smartly decorated. Hacienda Cusin has 30 individually decorated rooms, some are located within the house itself, others in the charming buildings next to the house and others in small cottages located in the beautiful gardens.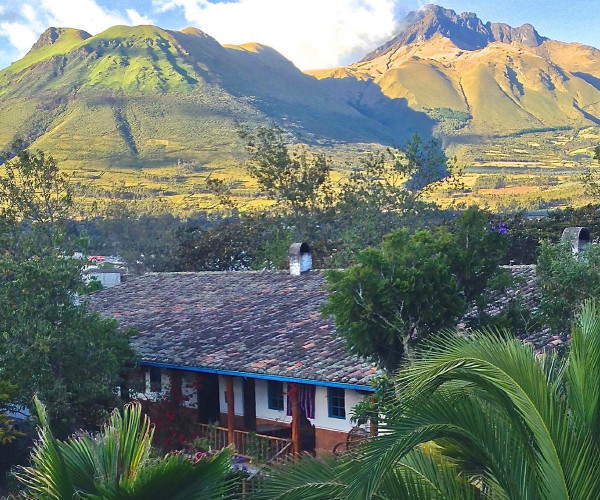 A short walk away but still within the grounds of the Hacienda, the owners have converted an old monastery into separate accommodations – ideal for larger groups and incentives tours. Overall, you'll find Cusin to be family-friendly, with features like llamas, a playground and a basketball court, and a secret room that kids can't wait to discover. There are also plenty of opportunities here for horseback riding, biking or hiking in the surrounding countryside or perhaps even a visit to a rose plantation.
6. The Tren Crucero: Exploring the Andes by train
Exploring by train is a great way for children to see the country and have fun along the way. Several day excursion rail routes can be found throughout Ecuador, and many are suitable for your whole family. A custom-designed locomotive, the 50-passenger Tren Crucero (the "Cruise Train") is currently the most stunning example of vintage transportation. With its lines using either modern electric-diesel engines or lovingly restored antique steam locomotives, these train journeys take you on exceptional cross-country trips, allowing you to experience different locales and ages of the Ecuadorian past and present.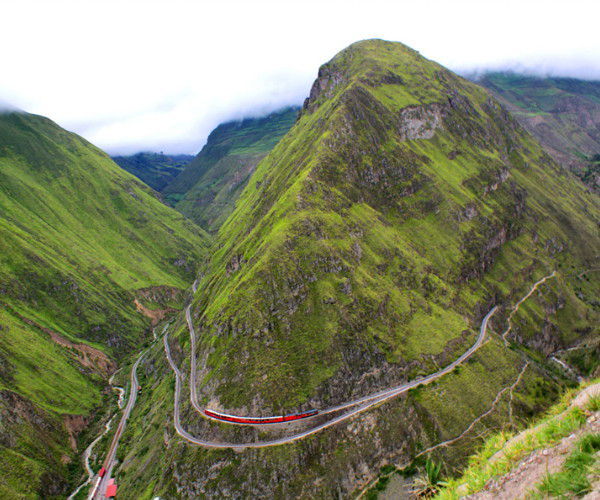 Your locomotive adventure from the Andean mountains down to the Pacific coast begins in Quito, where you will head south along the "Avenue of the Volcanoes." That was the name given by explorer Alexander Von Humboldt to this stretch peppered with more than 20 volcanoes and mountains, among them being the Chimborazo Mountain, whose summit is the earth's closest point to the sun… given our planet's equatorial bulge. On this trip, you will learn more about Andean cultures and their particular worldviews. In fact, while visiting the authentic indigenous local market of Guamote, you're likely to even feel part of it.
Embark on board the mythical train to the "Devil's Nose" and experience unparalleled adventure as you descend this intricate zigzagging route into scenic Sibambe valley. As the trip concludes, you'll ride through lush sugarcane fields and extensive banana, cocoa and rice plantations as you discover the captivating landscapes of the Ecuadorian coast. Come along and enjoy this magical journey!
7. Papallacta Hot Springs: The Andean pampering you deserve
Thanks to the tectonic and volcanic origins of the mountainous Andes, hot springs are common throughout this region. And, because these waters have various medicinal and healing properties, resorts and spas have sprung up, welcoming travelers who wish to undergo hydrotherapy treatments during their trips to Latin America.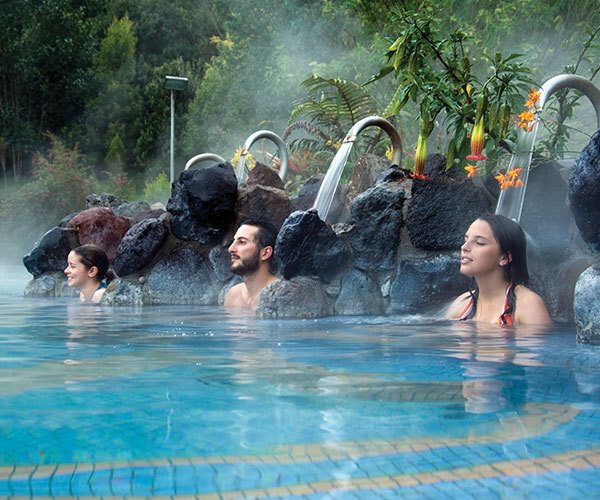 In Ecuador, the town of Papallacta is one of these destinations. This small mountain town possesses volcanically warmed mineral waters containing sulfates, sodium, calcium, chloride and magnesium, which give the water characteristics that are anti-allergic, de-inflammatory, diuretic, anti-rheumatic and sedative, and are even said to improve bowel movement. To journey to this mountain village, your tour operator will meet you in the morning at your hotel in Quito and then drive you across eastern Ecuador via an inter-oceanic route that links the Atlantic to the Pacific.
Termas de Papallacta Resort & Spa: Once you reach Papallacta, you can soak, swim, play and relax in the medicinal hot springs of the exceedingly natural environment of the Termas de Papallacta Resort & Spa. If the sky is clear, you will have a spectacular view of the Antisana Volcano looming above your pool. Depending on the season, the average outside temperature ranges from 50° to 57°F (10° to 14°C); however, the water temperature can reach a soothing 104°F (40°C).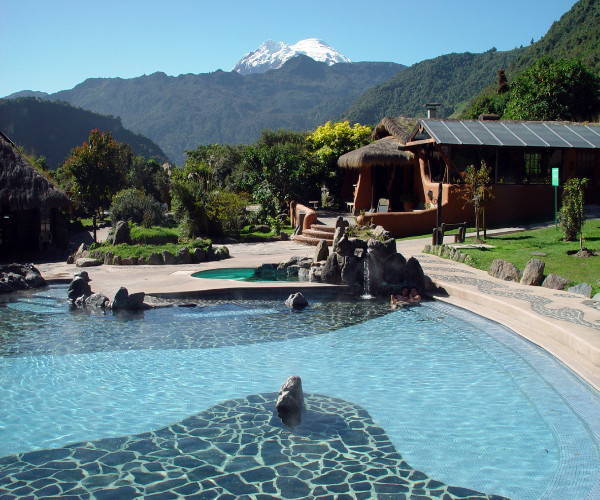 During your visit to the Termas de Papallacta, if you wish, you can enjoy additional optional activities that include bird watching, hiking and the massage of your choice at the spa (these include hydro-massage baths, body treatments with medicinal Andean mud, pressure massages, aromatherapy and therapeutic massages, face and body treatments, and more!)
Sound interesting? Just get in touch with an experienced Ecuadorian tour operator that will get to work organizing a family excursion that's just for you.
8. The Galapagos Islands: A fun and adventure-filled educational experience
Marvel at awe-inspiring landscapes and meet the exotic endemic wildlife on a luxury family tour of the Galapagos Islands. A cluster of volcanic outcrops strewn off the coast of Ecuador, the Galapagos Islands are home to some of the most extraordinary flora and fauna in the world. This is owed to their general isolation up until the mid-20th century, allowing an astonishing array of creatures and plant life to evolve according to the unique geography of these far-flung islands.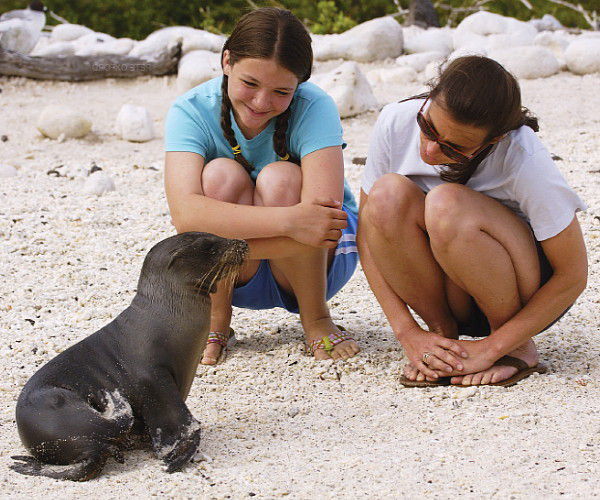 So, you can expect the unexpected in the Galapagos, with everything from languid Giant tortoises to playful sea lions, loved-up Frigatebirds to brightly-footed Boobies; and much more in between. A family in the Galapagos means snorkeling with turtles in crystalline seas; hiking over lava-sculpted landscapes; getting up close to Marine iguanas, and snorkeling to your kids' delight. You can wake up in a different location each day on a luxury cruise, or stay on terra firma at one of the many sumptuous lodges found across the region, hopping from island to island and making the most of fantastic day trips. In whatever way you decide to discover the Galapagos, prepare to enter an utterly unique world, beloved by explorers, scientists and Charles Darwin himself.
Hotel Safari Camp
For your Galapagos adventure, Hotel Safari Camp is a great place for a land-based family stay. This 130-acre farm is a marvelous example of what can be done with a bit of imagination mixed with a good dose of determination and a lot of love. What the owners did was to create a grand "African-style" safari camp in the highlands of Santa Cruz Island, with giant Galapagos tortoises taking the place of the big cats. Indeed, the idea seems to have worked, as this camp — the first eco-luxury tented camp in Ecuador — has been named among the "101 Best Hotels in the World" and was cited as one of The 18 Best Family Summer Vacations to Take by Conde Nast Traveler.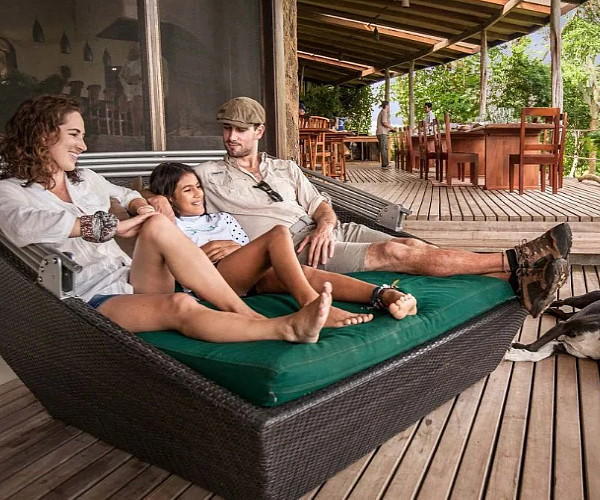 Located in the highlands of the central island of the Galapagos archipelago — Santa Cruz Island — Safari Camp Hotel Safari Camp has nine luxury "tents," all with private balconies and absolutely stunning views. As an alternative to these plush luxury tents, Galapagos Safari Camp now offers a three-bedroom suite. It's situated adjacent to the central lodge, making it an ideal option for families who prefer more privacy while retaining all the conveniences. This family suite sleeps six people, featuring a master bedroom and two twin rooms, all with en suite bathrooms.
The area around the farm is a mixture of rich vegetation, agricultural land and the Galapagos National Park. There are a number of attractions, from the tortoise reserve to lava tunnels and extinct craters. Walking, cycling or horse-riding trips can be arranged upon request. As the lowlands of Santa Cruz Island boast pristine turquoise waters and white sandy beaches, this means that you and your family can also snorkel, dive, kayak, surf, swim or just work on your tan as you learn the true meaning of "glamping" (glamorous camping) – providing upmarket experiences, amenities and service that make life easier for children, parents and grandparents.
Conclusion: Ecuador checks all the boxes
While many people planning a family vacation might consider the Galapagos Islands, most people overlook the wonders also in store on mainland Ecuador. Few realize that both the islands and the continent are family-friendly and brimming with activities for spending a week or more. The reality is that a family tour in Ecuador and its Galapagos Islands offers you and yours a range of fun and educational experiences. All you have to do is reach out to local Ecuadorian travel experts who can offer you tailor-made and customized tours to suit your family's exact vacation needs.
Alfonso Tandazo is President and CEO at Surtrek Tour Operator. Surtrek Tour Operator is a well-established firm, specializing in custom-designed luxury tours in Ecuador, the Galapagos and throughout the rest of South America.
If you would like to be a guest blogger on A Luxury Travel Blog in order to raise your profile, please contact us.